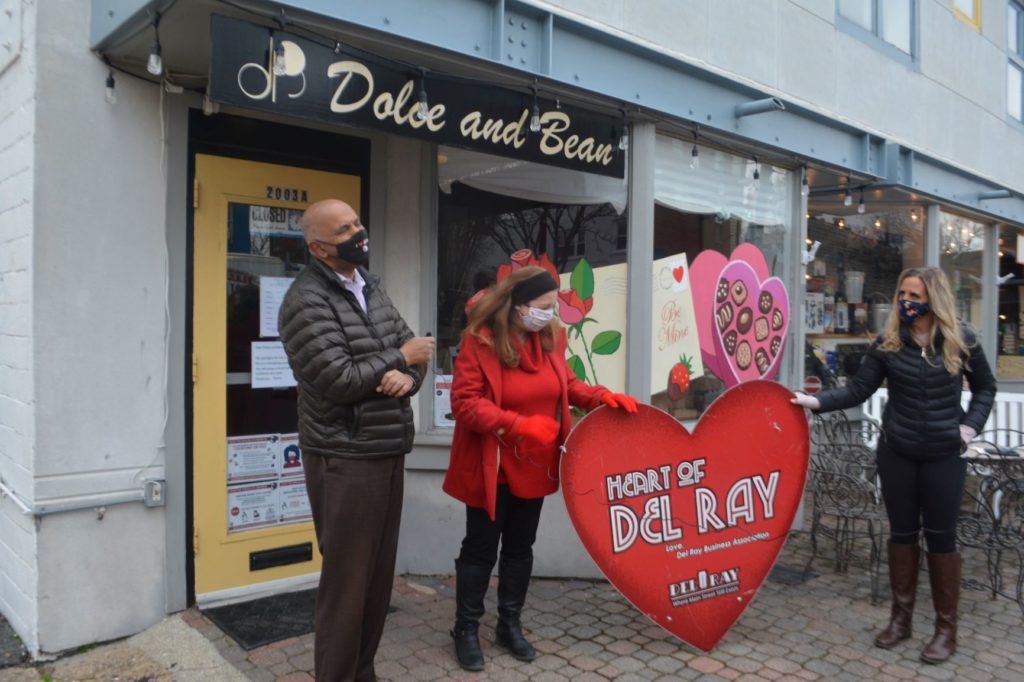 ALEXANDRIA, VA – Voting is now open for the 2022 Heart of Del Ray award, sponsored by the Del Ray Business Association. Every February, the Del Ray Business Association presents the Heart of Del Ray Award to the business that represents the heart and soul of Del Ray, as determined by a vote of neighbors and customers. Selection is based on which business best demonstrates their warm and welcoming attitude to the community and customers; their commitment and generosity to the community; and their overall contribution to the Del Ray community. The nominees for the 2022 Heart of Del Ray — plus comments from the customers who nominated them — are:
· LENA'S WOOD-FIRED PIZZA & TAP: With their thoughtful dining experiences throughout COVID, it's clear that Yates family's heart is in Del Ray. "Lena's didn't just put up a tent with tables outside," wrote one nomination. "They recognized people needed an escape during COVID, so they created an elevated dining experience — and it changes with the seasons!" Another nomination noted their involvement in community events: "Lena's always opens their door to the community, sends pizza for volunteers, sponsors community events, and is always there to support our community."
· ST. ELMO'S COFFEE PUB: Known as "Del Ray's living room," St. Elmo's Coffee Pub has been a community gathering place for over 20 years. "When I think of a heart, I think of a beating hub of activity. I think that perfectly describes the role St. Elmo's plays in Del Ray," wrote one nomination. "They provide a safe and inviting space for everyone to gather and be a community. This neighborhood has been built around St. Elmo's. It's time to recognize the place that started it all!" wrote another.
· STOMPING GROUND: Stomping Ground is not only known for its incredible food, but also for treating staff and customers like family. "Nicole pours her heart and soul into the restaurant. She has been a vocal advocate for other small businesses, and cares for her staff and neighbors during the most challenging time of the pandemic," read one nomination. "We admire her incredible business practices like providing a living wage and sourcing materials from great vendors," read another nomination. "This woman-owned business was willing to stick their neck out during the pandemic … They love and care for their staff like family, and it shows in how they treat their customers. Plus the food is delish!"
· THE DOG STORE/YOUR DOG'S BEST FRIENDS: The Dog Store fosters community among both two- and four legged friends in Del Ray by participating in community events, decorating for all the holidays, and doting on the pups in the neighborhood. "The staff are so friendly and show us such kindness each and every visit, and know many of their customers by name," read one nomination. "They have the heart of every dog in Del Ray!" wrote one another.
· WINDMILL HILL DESIGN BUILD: The best contractors can anticipate potential issues and thoughtfully figure out solutions — a quality that Windmill Hill brings to the community. "Mike Dameron is always willing to help in the community — he and his crew put the Christmas tree up and take it down every year," wrote one nomination. Another noted how Windmill HIll quietly sponsors many Del Ray events and causes behind the scenes: "They are always willing to jump in to help."
Voting is now open at visitdelray.com/heartofdelray; voting closes at 12 p.m. on Th., Feb. 10. A large heart-shaped award will be displayed on the winning business on Fri., Feb 11 to greet them for the Valentine's Day weekend. Past winners of the award include A Show of Hands, Jen Walker of McEnearney Associates, Bobi Bomar Homes of Alexandria, The Neighborhood Pharmacy of Del Ray, Greener Cleaner of Del Ray, Del Ray Pizzeria, Mind the Mat Pilates & Yoga, Caboose Cafe, Del Ray Cafe, Pork Barrel BBQ/Holy Cow/The Sushi Bar, Taqueria Poblano, Ms. Preeti's 7-11, and Dolce & Bean.