School News
Fifty High School Students Walkout of ACHS in Opposition Towards Mask Mandate Repeal
Leaders organized demonstration in under one week.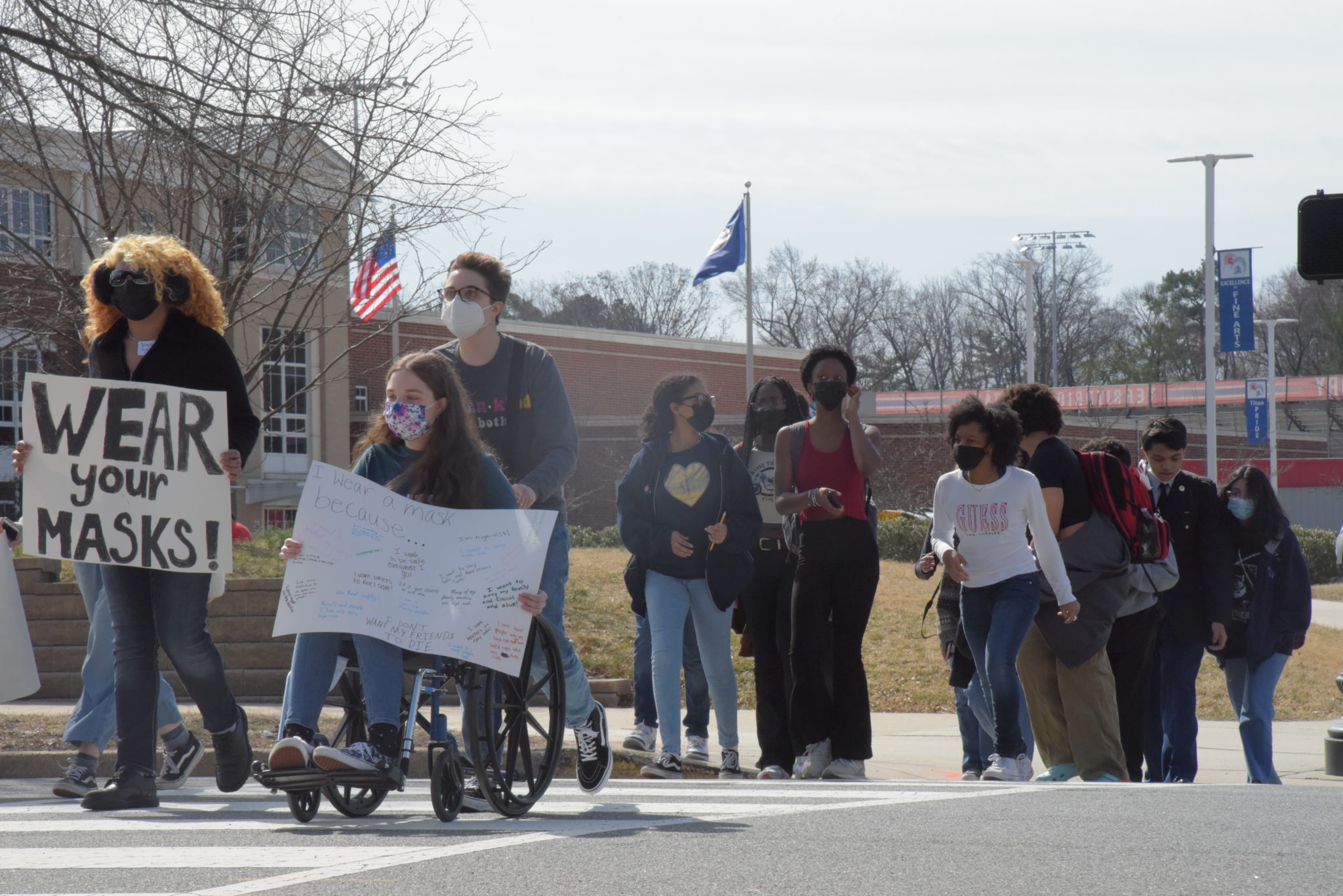 ALEXANDRIA, VA–On March 2, at Alexandria City High School King St. Campus, dozens of students came together in a demonstration against the state's mask-mandate-repeal. This demonstration of over 50 students included multiple student speeches, hand-made signs, and a march to a crowd of media across the street.
On Thursday, one student brought up the idea to a group of friends. Shortly following, that group connected with the leaders of the ACHS Disability and Illness Alliance. "We each signed on in support of our high risk students," stated one Disability and Illness Alliance leader.
Then shortly following that union, an Instagram page was created, posts were shared online, 3 Zoom meetings (each lasting over an hour) were held, flyers were designed, and comments and criticism were dealtwith gracefully.
What ended up as a mix of grade levels from a mix of affiliations, this group of students represents a large percentage of ACHS students: strong students, impassioned students, involved students, caring students.
One demonstration leader noted, "We feel the student body at large is very supportive of wearing masks… In terms of school staff, the wide sentiment is they support what we are doing and they support wearing masks."
The use of a face mask is now optional for students in all Virginia schools, leaving the freedom of choice in the hands of the parents and children.
"Since parents have a lot of influence over decisions their children make, we plan to connect with the PTAs," stated another leader. "Currently we are planning on making an educational video to be shown in elementary, middle, and high schools. We hope to continue outreach, and hopefully work with schools across Virginia."
Organized in less than a week, the demonstration was a true representation of what student collaboration and passion can accomplish.
A third leader concluded the demonstration with final words of affirmation, "We hope students in our school can remember that even if the action you take on an issue that you care about makes a small impact, any impact in progress is important."
For more information on ACHS, ACPS, and local mask mandates, visit acps.k12.va.us.