Cover Story
Zebra Misc
The What, When and Where on the Big Alexandria Dog Walk April 2
The ALX Dog Walk Will Next Month!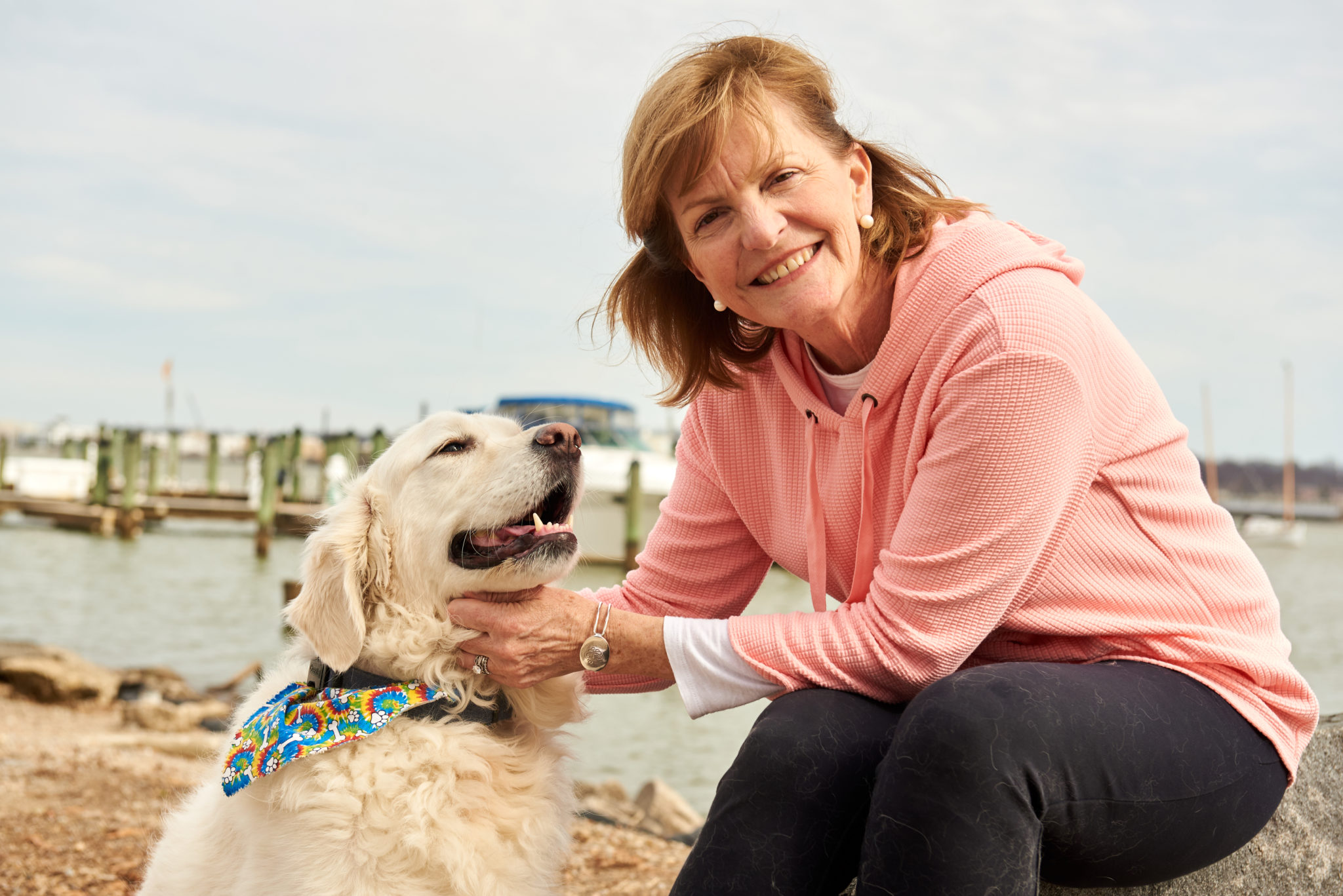 Alexandria, VA – After seven fur-flying months of planning, the ALX Dog Walk is happening Saturday, April 2, in Old Town. Founded by Julie Chapman, this new walk is sure to become an annual Alexandria tradition.
"The vision from day one was that it become a coveted, annual tradition for Alexandria, that draws people from all over the DMV to come into our city, attend a fun event, and enjoy our city," says Chapman.
Beginning in Oronoco Bay Park, over 500 dogs and their owners will stroll the waterfront walk to the Robinson Landing pier, pause before a judging panel, and then circle back to Oronoco Bay Park.
The judging panel will choose winners for the following categories: funniest personality, biggest ears, fluffiest tail, best groomed, and best recycled costume. The Dog Store in Del Ray will bestow a $100 gift card on each winner. Upon check-in, which starts at 7:00 am, guests will be entered into a raffle. Walkers will also receive a goodie bag, a t-shirt, and breakfast refreshments at check-in.
Once registered and fueled up, an 8 am photo shoot kicks off the 8:15 am start of the walk. Raffle and costume contest winners will be announced at about 9 am. Participants can enjoy music and taste delicious light refreshments throughout the event, such as vegan dogs from the Haute Dogs and Fries food truck. Everyone is asked to bring their own water bottle, as this is a plastic-free event.
Don't worry; the pups haven't been left out! The pet brand Chippin will provide sustainable, healthy dog treats throughout the morning as well.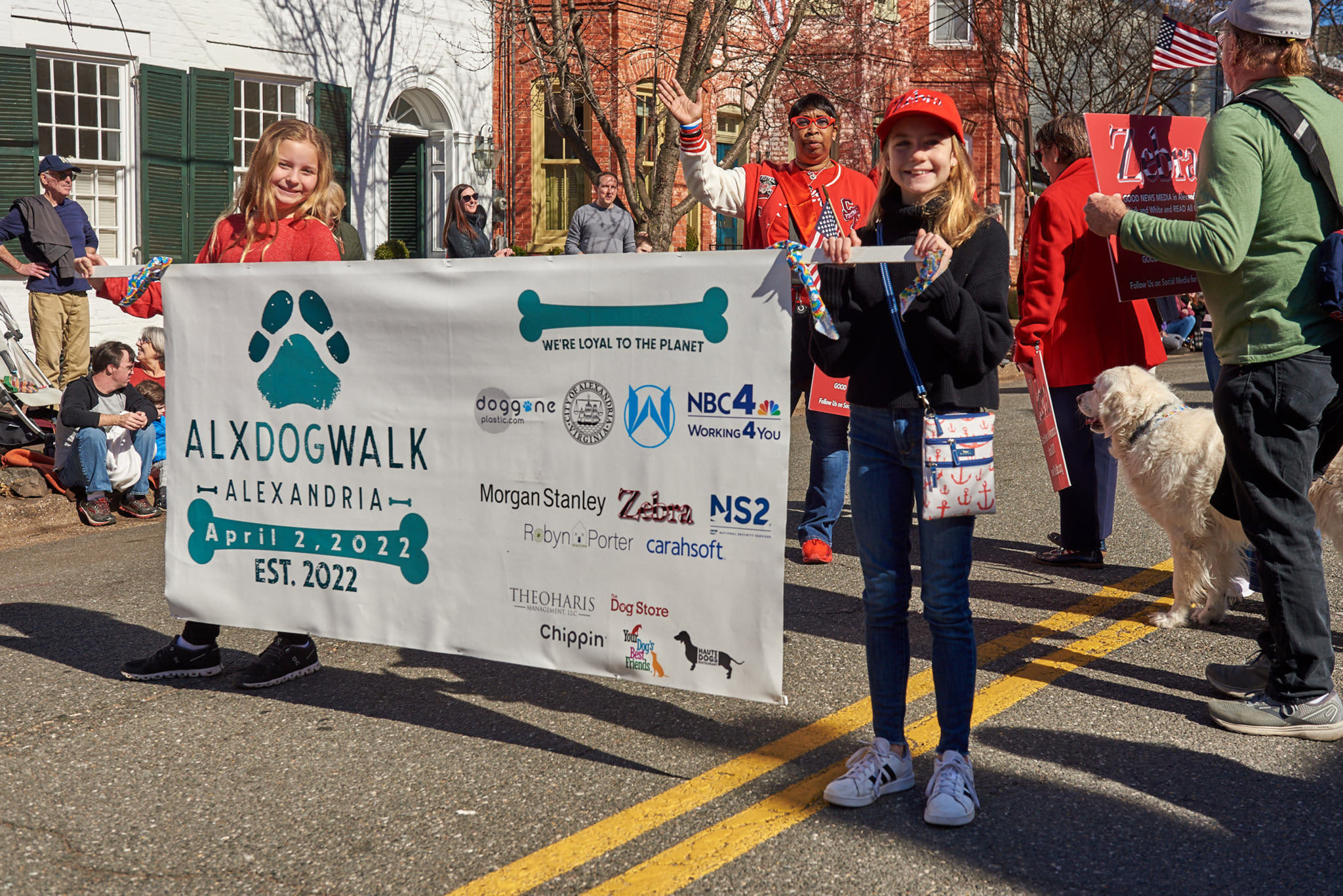 Plastic-free and sustainability are two key focus points of the day's event. Chapman says, "A big inspiration for starting this event was that my passion for the environment was equal to my passion for dogs. Both of those are equal to my passion for helping the city. All these factors will come together in this one day."
In her 20s, Julie lived in the heart of Old Town. But she grew up in Potomac, Maryland, and headed back there to raise a family. Now embarking on her empty-nester chapter, she and her husband have returned to Alexandria, along with their two white-golden retrievers, Indy (after Indiana Jones) and Kirby.
"We've always been a golden retriever family," she says. "I love dogs, and my kids love them. They've always been family members, and they add such a special dimension to family life."
Chapman wants to ensure her dogs live the best life they can, including living in a clean, beautified city. "Dogs and the environment go hand in hand," she says. This connection between her pets and the environment has formed Chapman's three core missions of the ALX Dog Walk: To beautify the City; to protect the environment; to educate citizens throughout the DMV about the importance of both.
"We always need another voice," says Chapman about conveying her message. "I think the ALX Dog Walk voice is special because dogs are involved in it, which conveys a warm, lighthearted tone. We want to keep it simple, we want to convey hope. Start small in your home, in your living space, in your community, and then, believe it or not, you will be contributing."
Thirteen generous sponsors have contributed to making the ALX Dog Walk possible. Chapman, who previously opened two other organizations promoting public causes, understands the value of the public-private partnership. "We are better when we come together on behalf of a social cause, and we have a fantastic group of people who came together for this," she says.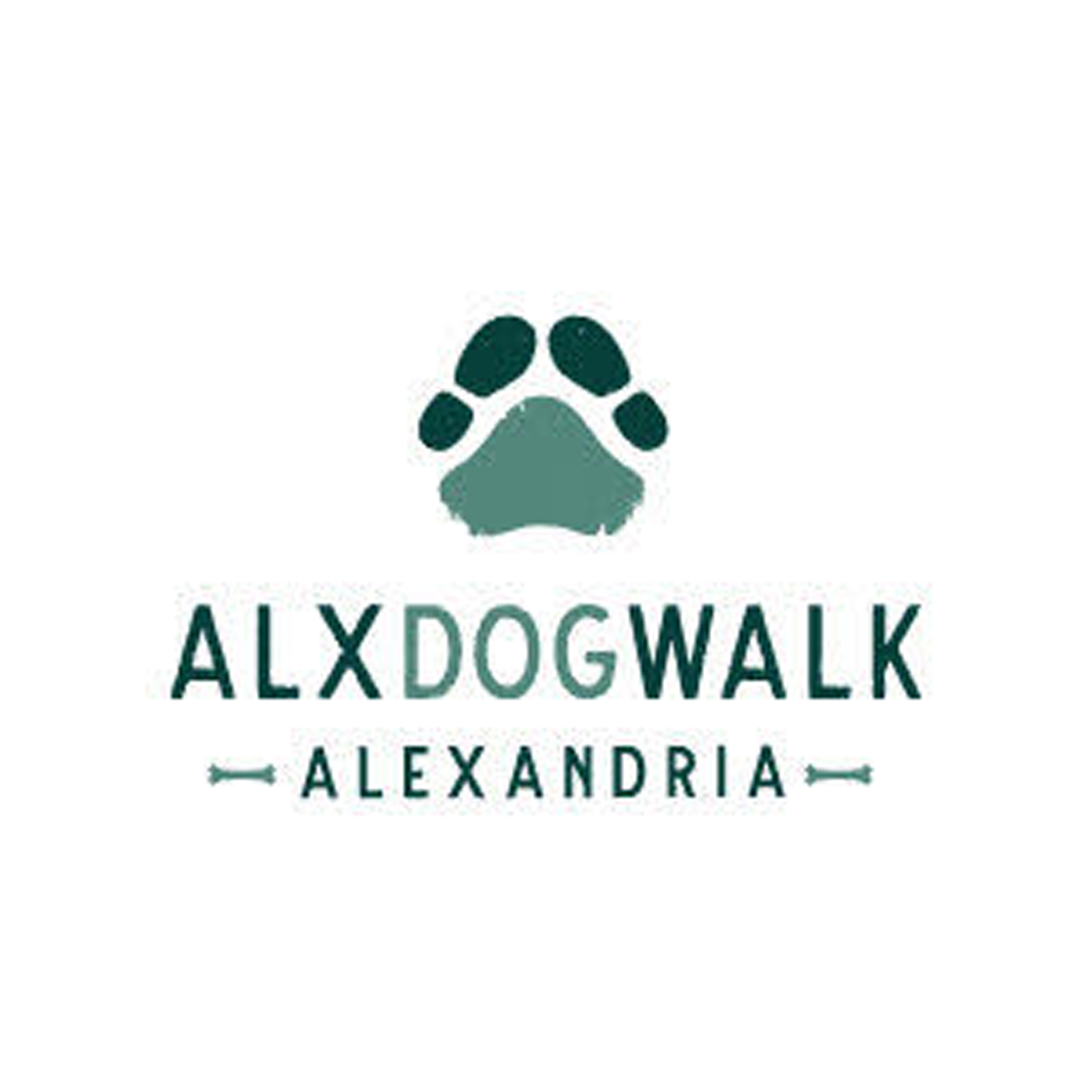 Chapman started planning this event during the pandemic, so everyone needed to come together as they did. She filed for 501(c)(3) status in August 2021 and immediately began outreach efforts. In addition to sponsors, Chapman got help from many City officials, small business owners, and local individuals.
"I give a lot of credit to Ellen Eggerton, the sustainability coordinator for the City and overseer of Alexandria's Earth Day celebrations," says Julie. "She recognized the value of an event like this, especially in the context of her Earth Day agenda.
"It takes visionaries like her to help set things in motion. Chuck Bell, Mayor Wilson, and Monte Durham were among others who came on board very early. Every partner made me more confident and more emboldened to move forward."
Adding to sponsorship funds, walkers will have the opportunity at check-in to donate an extra $25, which will go to planting 20 trees to increase Alexandria's tree canopy.
After the event, 100% of funds raised will be allocated towards achieving the core mission points, specifically refurbishing the historic King Street Garden Park, planting those 20 trees in a local hot spot in need of more greenery, eliminating trash and debris pollution, and improving upon the event next year.
"No doubt, we are learning a lot this year," says Chapman, "but in the years ahead, we hope to expand the lessons learned. We want to grow and flourish in many ways. We are excited about that."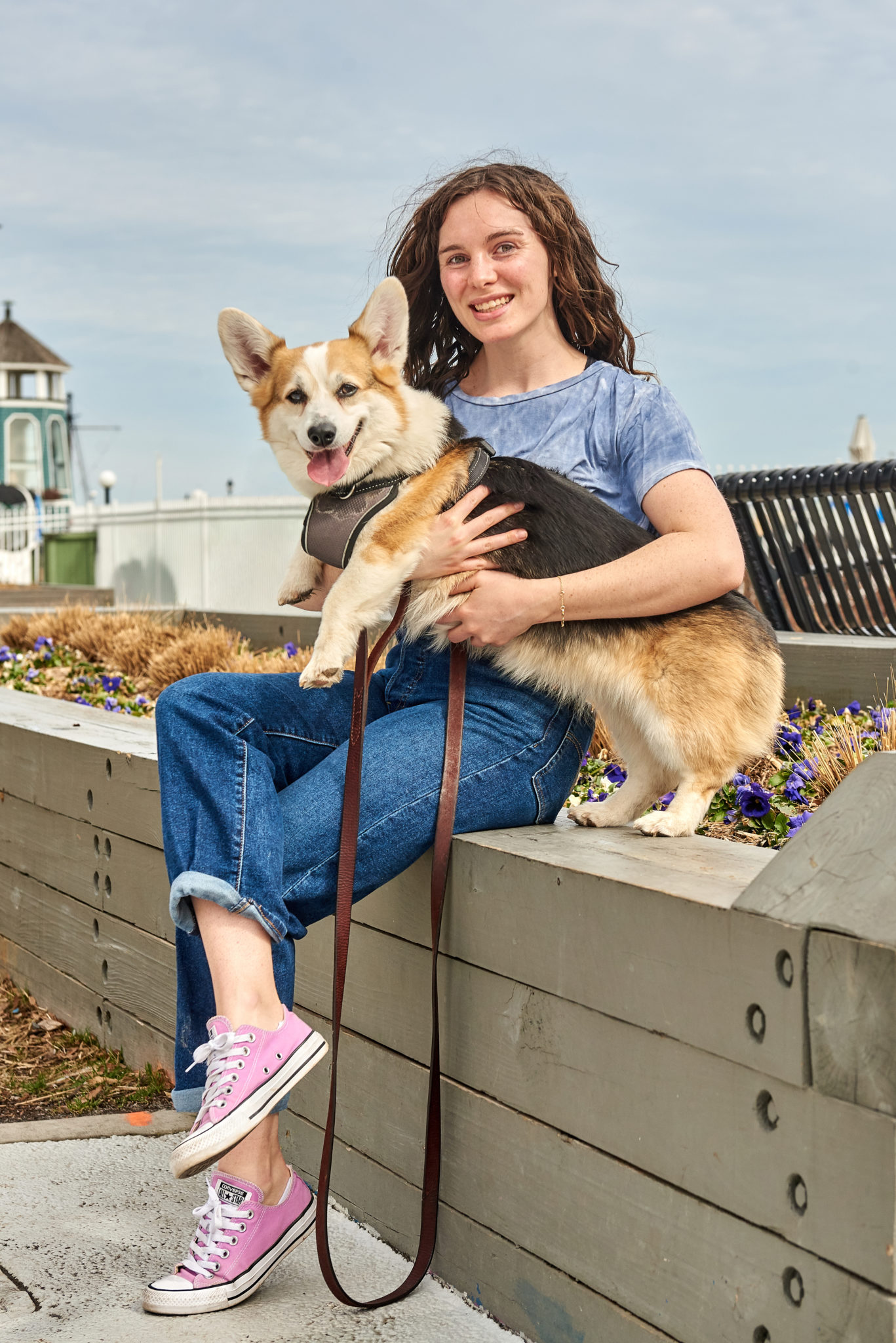 With the ALX Dog Walk exhibiting best sustainability practices and being plastic-free, it will be an excellent start to Alexandria's Earth Day celebrations in April. It is sure to uphold those three core mission points and be lots of fun.
For more information on the 2022 ALX Dog Walk or register, visit www.alxdogwalk.com. Want to sponsor next year's walk? Contact Julie Chapman at [email protected] or (703) 717-3672.
ALX Dog Walk Partners
Honorary Emcee:
Chuck Bell, NBC Storm Team 4 Meteorologist
Honorary Co-Chairs:
Mayor Justin Wilson
Monte Durham, Salon Monte, Host of "Say Yes to the Dress Atlanta"
FOUNDER Sponsors:
City of Alexandria
NBC4 Washington
Wexler LLC
PACK Sponsors:
Carahsoft Technology Corp.
Morgan Stanley
NS2
Robyn Porter Realtor
Zebra Press
TAIL WAGGER Sponsors:
Chippin Pet Nutrition
The Dog Store
Haute Dogs and Fries
Theoharis Management
To learn more about how to sponsor the ALX Dog Walk this year and in the future, go to ALXdogwalk.com.
We're a plastic free/recycled plastic event.
For us, it means doing our very best to use only plastic free/recycled plastic items on Walk Day. More specifically, we're:
· Using canvas banners, not vinyl (a highly toxic plastic).
· Repurposing old election signs for the Walk route signage – we're pasting paper signs on top of the old plastic sign. We'll use a few metal signs too.
· Asking all partners to refrain from distributing plastic items at the event.
· Asking all participants to bring their own bottle of water/drink versus providing a plastic bottle that gets quickly tossed.
· Using Goodie Bags made of canvas and burlap, and no plastic treats inside the Goodie Bags.
· Giving away sustainable raffle prizes which you're going to LOVE!
· Passing out sustainable doggie treats.
· Borrowing storage containers, tables, chairs, and as many other supplies as possible.
We're not perfectly plastic free, but we're giving it our best effort.
A Word To Alexandria from Julie Chapman
The Dog Walk feels like my personal love letter to the City of Alexandria. It combines all the things that I love most about our city. It
· Brings the community together
· Celebrates dogs
· Lifts-up businesses and nonprofit organizations
· Helps Alexandria beautify and protect the environment
Plastic Pollution Quick Facts & Resources
– 8 million tons each year in oceans
– 300 million tons produced each year
– 9% of all plastics are recycled
– Every piece of plastic ever made still exists on this planet
– We've become a throwaway culture – everyone is responsible
– Laundry detergent: 700 million jugs dumped annually
– Toothbrushes: 1 billion thrown away in US each year
More Resources
Online Retailers: Search eco-friendly products, plastic free products
Recommended Book: Life Without Plastic: by Chantal Lamondon and Jay Sinha
Website: Check out OceanCleanUp.com
Educational Videos:
Great Pacific Garbage Patch, :02 minutes www.youtube.com/watch?v=0EyaTqezSzs
Documentary film, A Plastic Wave, :24 minutes www.youtube.com/watch?v=9-dpv2xbFyk
A PBS NewsHour Documentary, The Plastic Problem, :54 minutes www.pbs.org/video/the-plastic-problem-7kdvzo/
Dog Friendly Restaurants
Lost Dog Café
Bastille
Le Refuge
Joe Theismann's
Chadwicks
Virtue Feed and Grain
Lena's Wood-Fired Pizza & Tap
Misha's
Mai Thai
Vaso's Kitchen
Buzz Bakery & Coffee
Blackwall Hitch
The Dairy Godmother
St. Elmo's Coffee Pub
Haute Dogs & Fries
Foxfire Grill
Taqueria Poblano
Cosmopolitan Grill
Vola's
Southside 815
Jackson 20
Two Nineteen Restaurant
Pork Barrell BBQ
The Warehouse
Sweet Fire Donna's
Rockland's Barbeque & Grilling Company
Fontaine Café & Creperie
Did we miss any? Send your favorites to [email protected]
ICYMI: Find the Best Dog-Friendly Hiking Trails in Virginia to Complete this Summer with your Furry Friends