Arts
Spreading Love in Alexandria: New Art Installation Coming To Waterfront Park March 25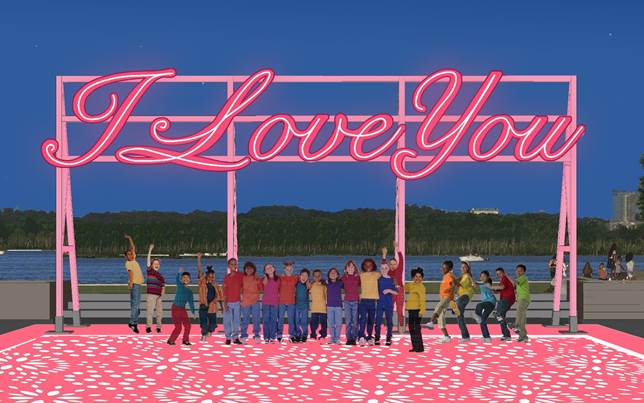 ALEXANDRIA, VA – On Friday, March 25, a new art installation will be unveiled in Waterfront Park on 1 Prince St. The temporary installation, "I Love You," will be on view until November. It is 15 feet high and will astound visitors with its light, giving off a pink hue. Below the neon sign's glow, a mural of a pink and white carpet will serve as an open invitation for everyone to join together in harmony.
"We are moving into our third year in the COVID-19 pandemic and people are looking for bright spots," said Diane Ruggiero, the deputy director of the Department of Recreation, Parks and Cultural Activities. "With this installation, we are hoping to bring a bit of whimsy and goodwill to Alexandria."
Commissioned to create an original installation by the city, Behar and Rosario Marquardt of R&R STUDIOS focused on how art can foster community. As such, the piece captures the spirit of comraderie among residents. 
This is the fourth installation commissioned for Alexandria's public art series, The Site See: New Views in Old Town. R&R STUDIOS was selected by a community task force with approval from the Alexandria Commission for the Arts.
In a statement R&R STUDIOS wrote: "[This work] provides physical evidence of the possibility of the fantastic as part of everyday life. It is an instant landmark that brings people together with a simultaneously universal and personal message."
'Goodnight Moon' Comes to Life at Torpedo Factory Art Center