School News
Cora Kelly Assistant Principal Lauren Holthaus Recognized With National Award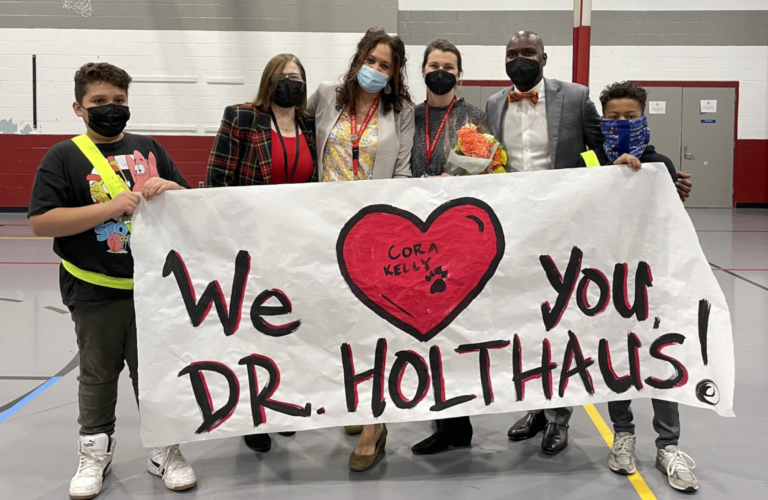 ALEXANDRIA, VA – Dr. Lauren Holthaus, Assistant Principal at Cora Kelly School for Math, Science and Technology, has been recognized for her work by two organizations the Virginia Association of Elementary School Principals (VAESP) and the National Association of Elemetary School Principals. She recently received the award for National Outstanding Assistant Principal of the Year.
Holthaus has served as Assistant Principal since 2018.
Principal Jasilbi Crews nominated Holthaus, pointing out how she quickly took to the role and cares about helping students, especially those with autism, and social and emotional challenges.
"Dr. Holthaus has excelled at her role as assistant principal at Cora Kelly," Crews said "[A]nd her dedication in working with our students, staff and families – staying after work countless times – is commendable,"
"I appreciate how Dr. Holthaus puts into practice what we strive for each and every day in ACPS," said Superintendent Dr. Gregory C. Hutchings Jr. "[A]nd that is educational equity, helping to ensure every student's academic and social-emotional needs are met."
Before Holthaus joined the Cora Kelly staff, she worked for Alexandria City Public Schools' Department of Accountability and Research. She has also worked as a teacher.
The official presentation of the award will take place during the VAESP Annual Conference in June.
Bishop Ireton Varsity Cheerleaders Crowned National Champions in North Carolina