Business News
Popular Chiropractic Clinic The Joint Opens at Landmark Plaza
6244-E Little River Turnpike Alexandria, VA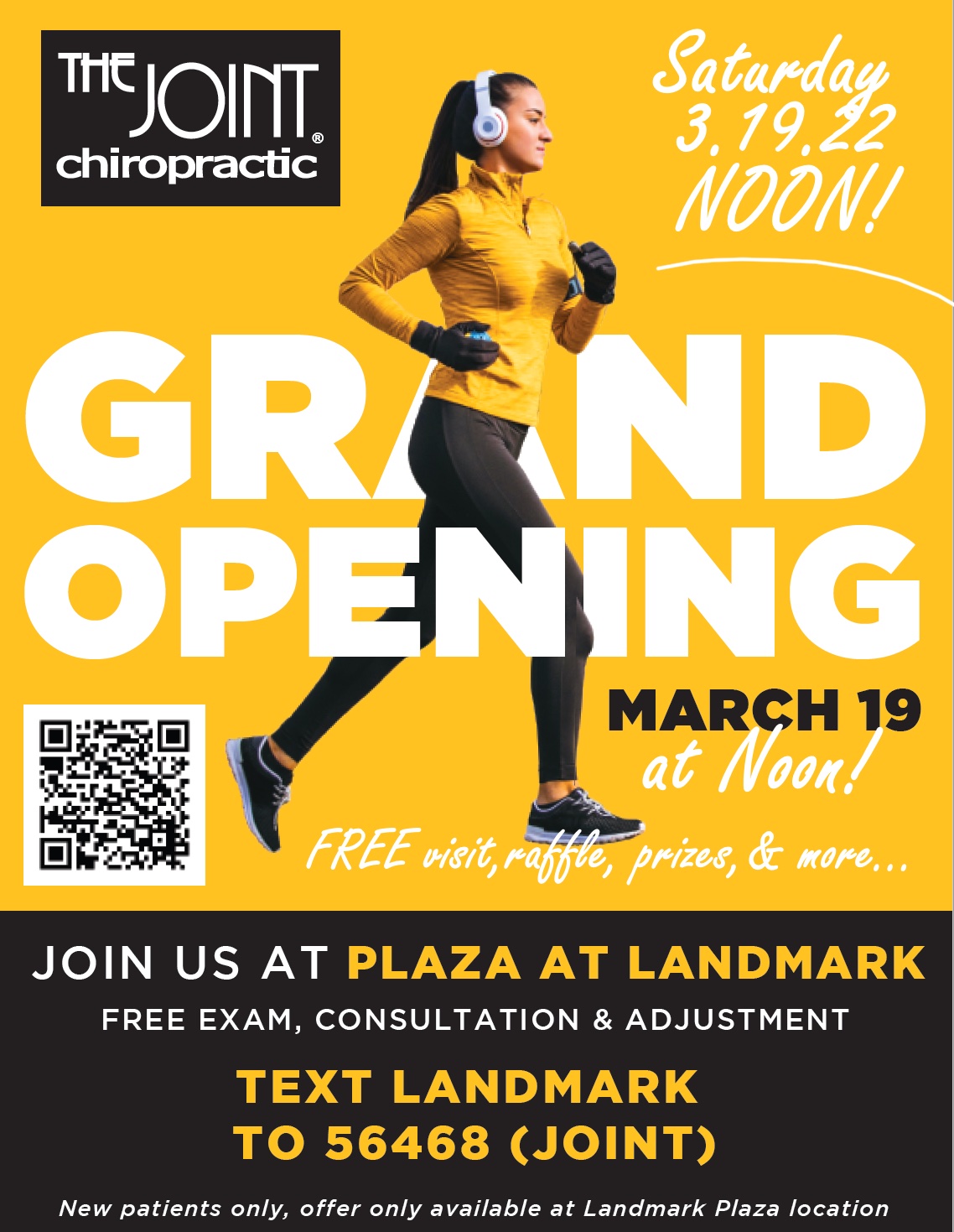 ALEXANDRIA, Va. – Improving Quality of Life Through Routine and Affordable Chiropractic Care; that is the mission of The Joint Chiropractic. On Saturday, March 19th at 12:00 p.m., this popular and impressive chain will host a grand opening celebration at its newest location, right here in Alexandria, at the Landmark Plaza at 6244-E Little River Turnpike (across from Marshall's, next to America's Best Wings).
The Grand Opening Celebration is free, open to the public, and will include:
Free exam, consultation, and adjustment by The Joint's doctors (text "LANDMARK" to 56468 to reserve your space);
Free massages by a local massage therapist;
Ribbon-cutting ceremony, photographed exclusively for the next issue of VIP Alexandria Magazine;
Raffle prizes and other giveaways;
Informational sessions and clinic tours by the clinic
"We are so excited to bring affordable and convenient chiropractic care to Alexandria residents and other parts of Fairfax County," said Dr. Justin Vélez-Hagan, Co-Owner for The Joint Chiropractic – Landmark. "Forthose who seek relief from everyday aches and pains, or simply want to improve and maintain a well-rounded, healthy lifestyle – we are here for you!"
Those who question whether or not chiropractic care actually works must have never experienced it. Millions have found relief from pain due to the benefits of chiropractic's natural, drug-free approach to healthcare. Everyone, from growing children and teen athletes to working parents and active seniors, can benefit from regular chiropractic care. The Joint's purpose is to alleviate pain and help move patients toward a healthier lifestyle. Regular chiropractic care can increase joint motion and coordination, improve migrainemanagement, and provide relief from neck and back pain, stress and tension disorders, pain triggered by poor posture, and more.
Since 2010, The Joint Chiropractic has promoted the benefits of chiropractic care through an accessible andaffordable model, with more than 700 locations in convenient shopping centers, night and weekend hours, walk-in visits, and uniquely affordable pricing models.
For information on The Joint Chiropractic's Landmark Plaza location, please visit: thejoint.com/10033 or contact Dr. Justin Vélez-Hagan [email protected] (703) 662-5502.