Community News
THEATRE
Trending
"She Loves Me" at Signature Theatre Delivers Glitz, Comedy and Romance in Sets and Performances
It is a wonder of romance, uproarious comedy and light-hearted charm served up with the eye-catching deliciousness of a trolley of French pastries.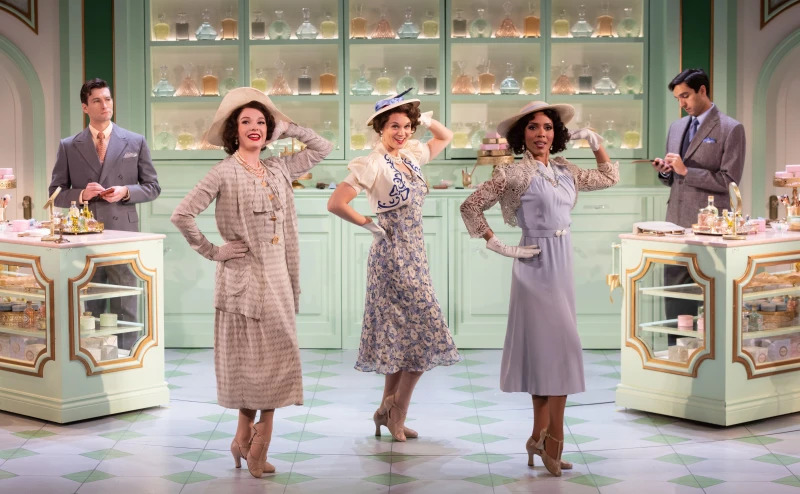 ARLINGTON, VA – If you don't fall in love with a capital "L" with Director Matthew Gardiner's production of She Loves Me in the first five minutes you might as well call yourself a hard-boiled cynic. It is a wonder of romance, uproarious comedy and light-hearted charm served up with the eye-catching deliciousness of a trolley of French pastries.
With music and lyrics written by Broadway icons, Jerry Bock and Sheldon Harnick from a 1937 play by Hungarian Miklos Laszlo, the staged musical version has seen numerous incarnations from a former cinematic life with James Stewart and Margaret Sullivan in The Shop Around the Corner, followed by a musical film version starring Judy Garland and Van Johnson In the Good Old Days, and finally in 1998 a modern movie classic with Tom Hanks and Meg Ryan in the popular You've Got Mail.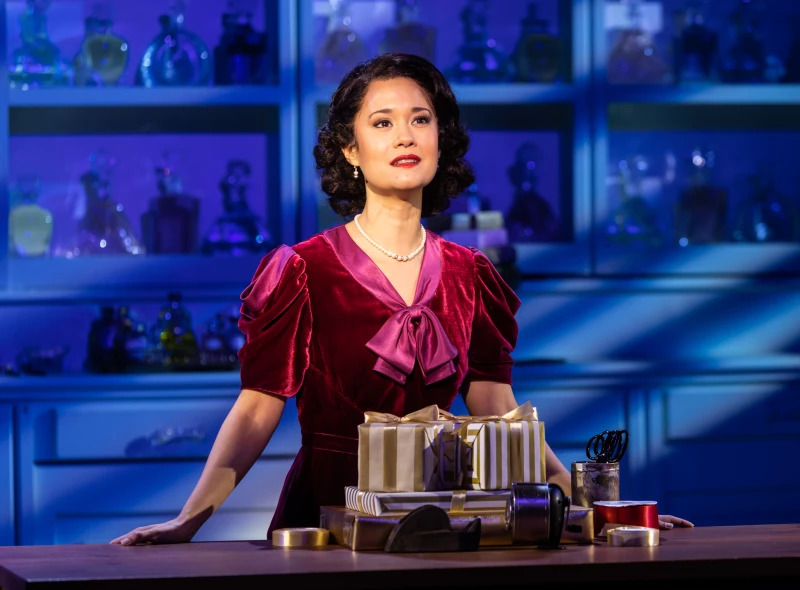 Five dedicated salespeople keep Maraczek's Parfumerie abuzz, catering to every whim and whine of their tony clientele. It is overseen by single and sexy Ilona who is smitten with Steven, a serial cad; Ladislav an elderly gent with a family to support; Arpad, the adorable delivery boy; and Amalia and Georg, the would-be lovers.
Amalia and Georg, secret pen pals through a lonely-hearts club, they work side-by-side at the parfumerie, though they are at sixes and nines in every way. Each is unaware that it is the other to whom they are writing (they have never met) and have fallen deeply in love through their passionate correspondence.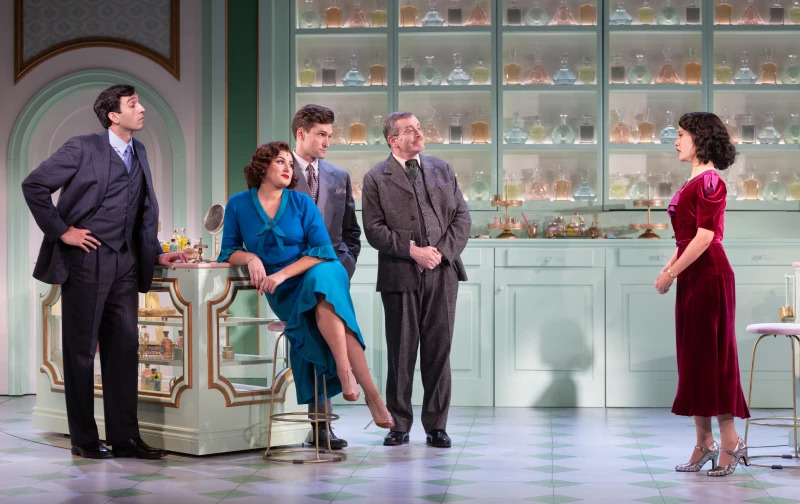 Lee Savage's gorgeous jewel box set design of Maraczek's Parfumerie glimmers with gilt-edged cosmetic counters and massive pistachio-colored cabinets chock-a-block with over-sized, pastel-colored, parfum bottles to reflect the elegant aesthetic of Budapest in the 1930's. It is so cleverly constructed it incorporates a seamlessly rotating stage featuring the characters' private bedrooms as well as the workshop where staff huddle to swap gossip. You could hear the audience gasp at each set transformation.
But I won't stop with praise for the scenic design. There is so much more to fall in love with here. As Amalia, we expect Ali Ewoldt (Christine in B'way's The Phantom of the Opera) to gift us with exquisite vocals, and she does magnificently, but full bows to the rest of the cast who match her talents sending this frothy musical soaring sky high. Choreography and casting by Kelly Crandall D'Amboise create a super-charged dynamic showcasing a top-drawer ensemble very much up to the task. Watch for Emmanuel Elliot Key as the bouncy, adorable Arpad and the comedic high jinks of Daniel Powers as the Busboy.
A triumph for Signature! Highly recommended.
With Bobby Smith as Ladislav Sipos; Maria Rizzo as Ilona Ritter; Deven Kolluri as Georg Laszlo; Lawrence Redmond as Mr. Maraczek; Jake Loewenthal as Steven Kodaly; Christopher Mueller as Mr. Keller; and David Schlumpf as Headwaiter.
Jon Kalbfleisch conducts the ten-piece orchestra; 1930's bespoke costumes by Alejo Vietti; Lighting Design by Adam Honoré; Sound Design by Ryan Hickey; Assistant Director Clancey Yovanovich.
Through April 24th at Signature Theatre, 4200 Campbell Avenue, Arlington, VA 22206 in Shirlington Village. For tickets and information visit www.SigTheatre.org or call the box office at 703 820-9771.
CORRECTION: The first version of this article incorrectly referred to Daniel Powers as David. The error has been fixed.
For more local reviews, visit the Zebra Press Theatre Page.