Giving Back
Z-Oneology
At Virginia's Wineries, the Giving and Winning Cup Runneth Over
From Ukraineritas to Getting the Gold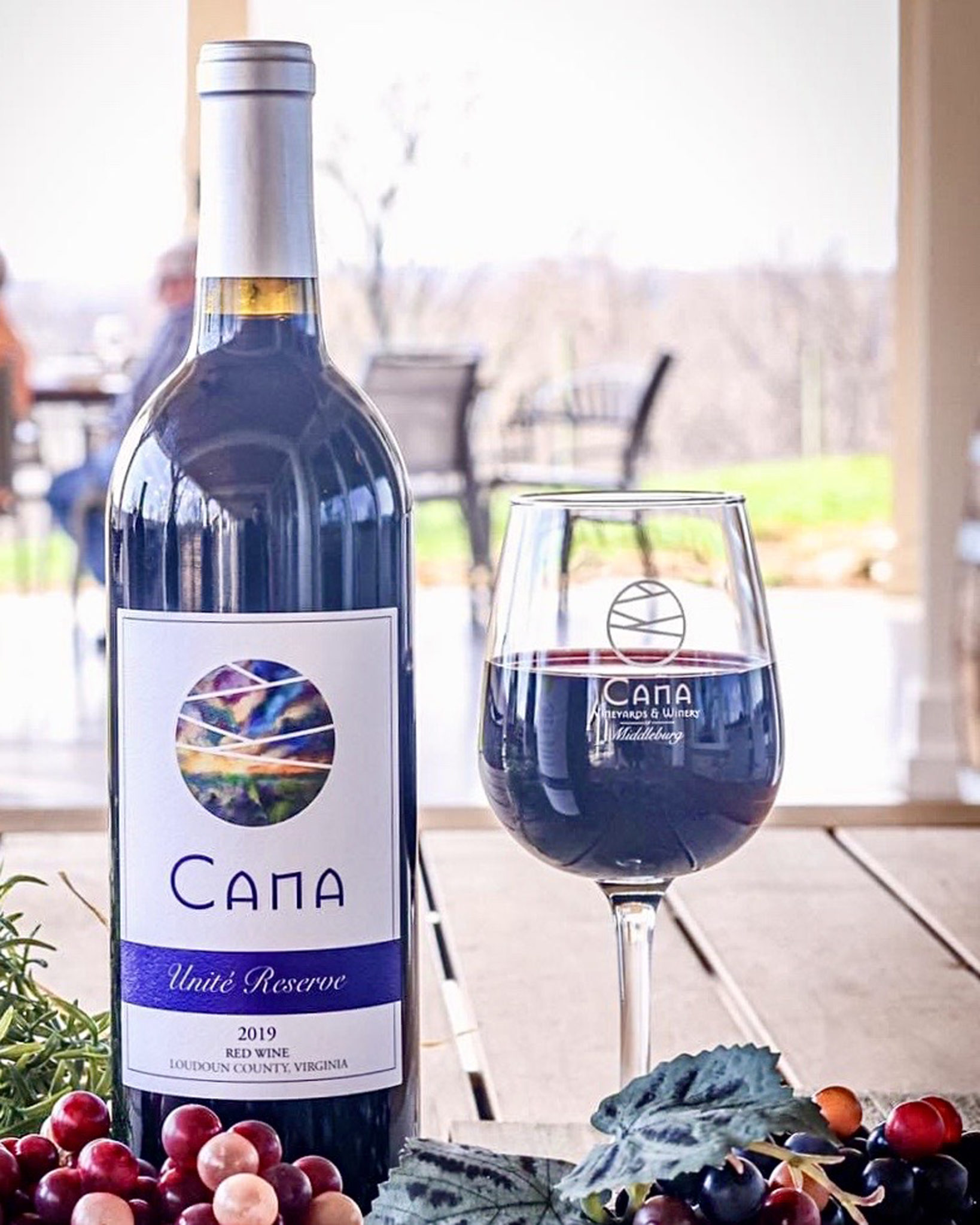 Alexandria, VA- Russia shocked the world in February by invading Ukraine without provocation or cause. The world rallied with immediate diplomatic, economic, and defense assistance in addition to humanitarian aid that inspired action from all corners of the globe.
DC restauranteur José Andrés, the founder of World Central Kitchen, was among the first to answer the call to supportive arms. World Central Kitchen provides food relief in post-disaster and impoverished localities worldwide. Soon countless local fundraising activities sprung up, from Alexandria schoolchildren holding bake sales to businesses and restaurants donating portions of sales to World Central Kitchen and other relief organizations serving war-torn Ukraine and Poland-bound refugees.
The Department of Beer Wine across from Potomac Yard on Route One was one of the first small businesses to fundraise for Ukrainian relief. DBW is an extraordinary addition to the Del Ray/Potomac Yard community. Showcasing artisanal craft beer, gourmet market items, and curated wines, DBW also does what they call Neighborhood Drop dinners, inviting restaurants from around the DMV to pair catered meals for pick up with curated wine selections.
Little Sesame in DC, a hummus specialty spot whose delectable variations on hummus have landed in Whole Foods Market, was the first Neighborhood Drop dinner held to benefit WCK. The March 3 fundraiser was a sell-out.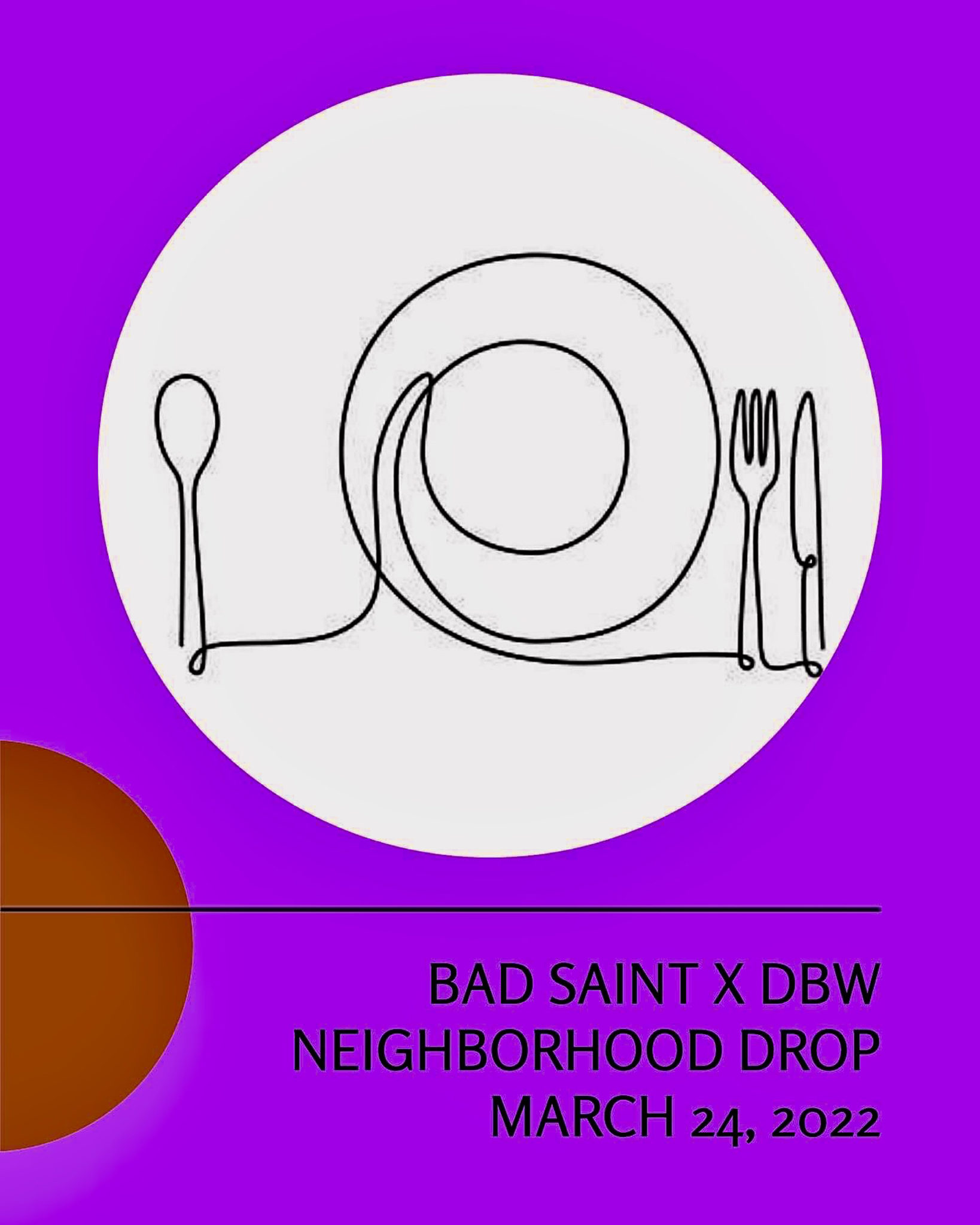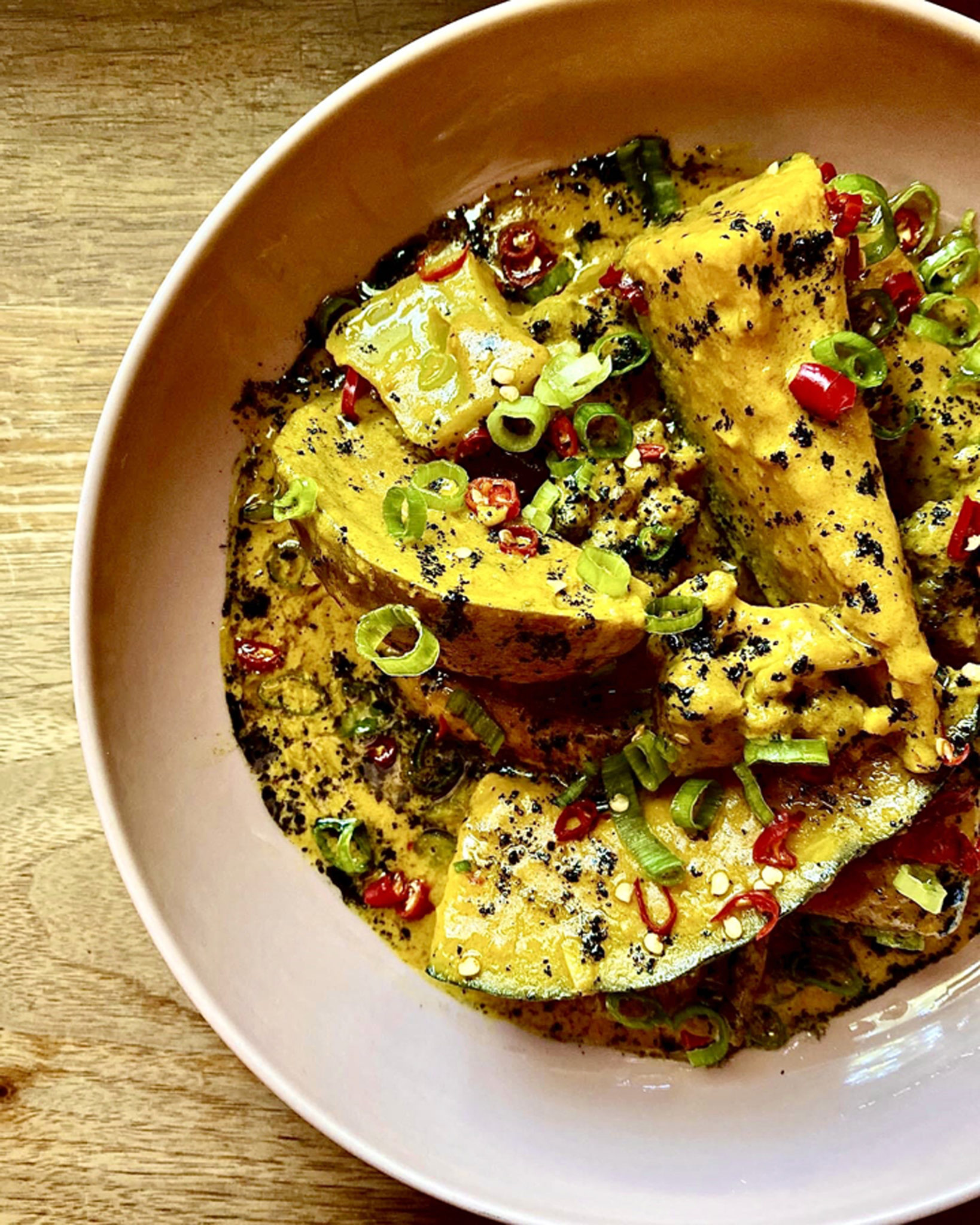 DBW doesn't make money from the Neighborhood Drop dinners. It's the co-owners way of supporting struggling restaurants during hard times. Co-owners Chief Strategist Jeffrey Sapsford, Chief of Staff Stevie Treichel, and Senior Advisor Melissa Sapsford opened DBW in 2017, before Total Wine moved into the vacated Shop Rite at Potomac Yard. Fortunately, the current administration has a delightful sense of humor and an established clientele of DBW devotees!
The first fundraising drop was so successful that DBW plans to continue supporting World Central Kitchen. In March, the drop dinner with Bad Saints, a diverting Filipino enclave on 11th St., NW in DC, was also a sell-out. Check DBW's social media and website for upcoming tasting events and dinner drops.
The wines selected were well-curated to pair with Bad Saint fare. There was a Sicilian Rosé and a sparkling Umbrian; also a Portuguese Bairrada aptly named Filipa Pato, and finally, an amusing 2018 Tintype Winery Pinot Noir hailing from the Filigreen Farm in Anderson Valley, California. Z~Oenology does so love a good pun!
Shop DBW for out-of-the-ordinary craft beer. Yes, they proudly carry a line of Alexandria's own Port City. Nothing but the best brews. They provide growlers, keg rentals, gift baskets, DBW merch, and delivery in the neighborhood. They also offer a yearly Growler Club and a Wine Club membership.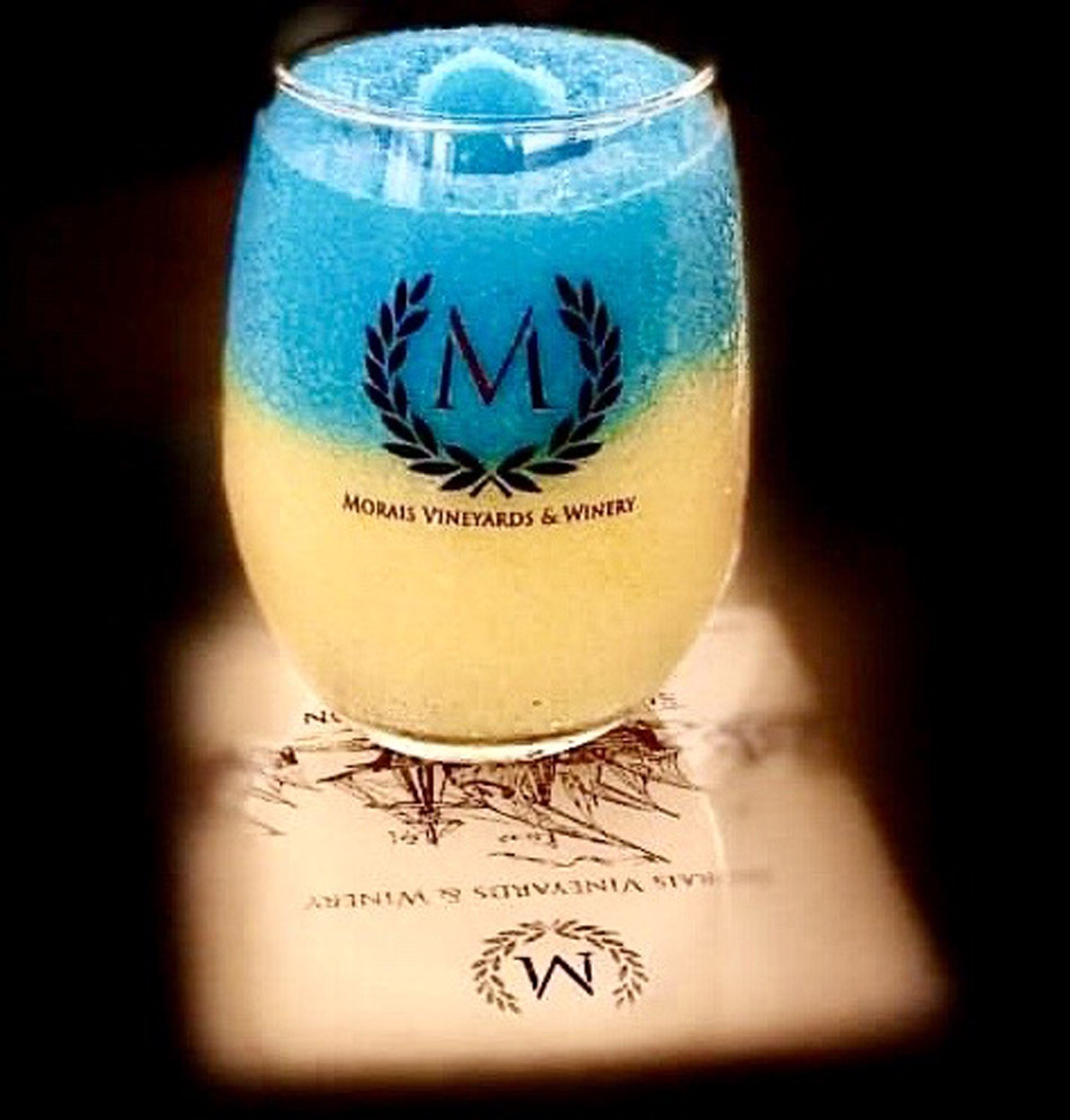 Virginia wineries are contributing to Ukraine relief as well. One created what Z~ Oenology has dubbed Ukraineritas. Morais Winery and Vineyard in Bealeton concocted a specialty blue and gold drink with 100 percent of the sales going toward World Central Kitchen's Ukraine hunger-relief efforts. Morais raised $3,500 for World Central Kitchen from selling 300 blue and yellow wine slushies. In gratitude, the WCK demonstrated its appreciation for Morais's loyal customers by thanking everyone who showed their support for Ukraine. "We stand for Ukraine!" José Andrés sent owner José Morais a message acknowledging the winery's fundraising effort.
Z~Oenology Note:
After going to print, Sunset Hills Vineyard in Purcellville announced that throughout the month of April for each bottle of Chardonnay sold $10 will be donated to UNICEF relief efforts in Ukraine. They will also donate 50% of the proceeds from case sales to the cause. Sunset Hills is the sister winery of 50 West in Middleburg whose 2019 Ashby Gap was honored to be in the Virginia Governor's Cup Case this year.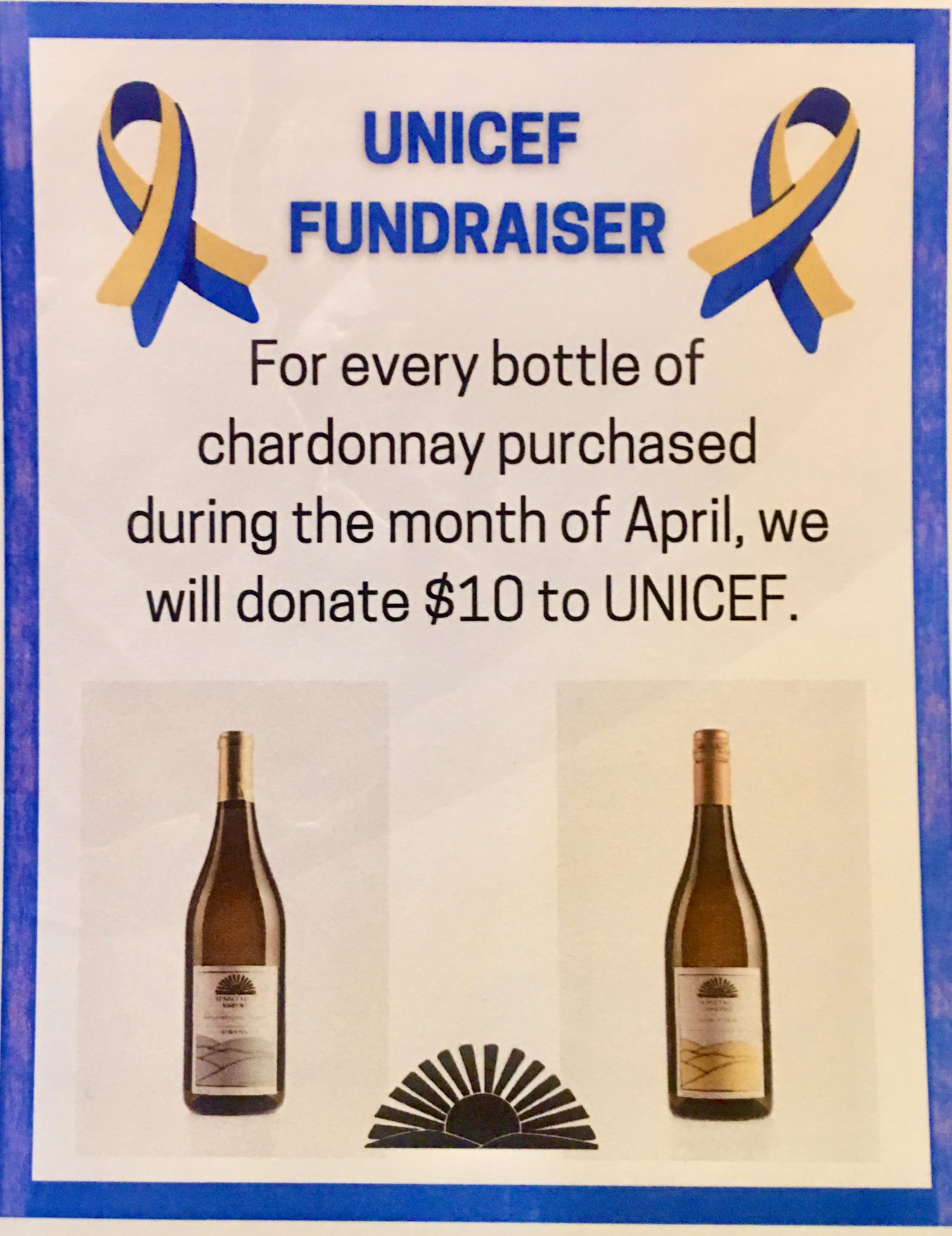 Michael Shaps Wineworks in Charlottesville has also joined Virginia wineries in supporting Ukraine by donating 30% of the sales of the 2022 Springtime Trio. Michael Shaps is a premier winemaker in Virginia. His wines are frequently in the Governor's Cup Case and won the coveted Cup in 2017 when making the wine for The Barns at Hamilton Station Vineyards.
Little Washington Winery is hosting a fundraiser to support World Central Kitchen in Ukraine. Their 2k Walk for Ukraine happens every day, any time, between now and MAY 21 (Winestock) at Little Washington Winery, 72 Christmas Tree Lane in Washington VA, 60 miles west of DC. You don't have to actually walk but everyone who donates to WCK on their team and then walks the 2k course by or on May 21st gets 1 FREE wine ed class ($60 value) at LittleWashingtonWinery.com
Join me in fulfilling the inspiring words of John Steinbeck: "Wherever there is a fight so hungry people can eat, we will be there." We will be there, José Andrés and Jose Morais.
Gold isn't just for sunflowers, the official national flower of Ukraine. The prestigious 2022 Virginia Governor's Cup wine competition was held in Richmond in March, with hundreds of wines going for the gold. Now celebrated at Richmond's Main Street Station and opened for the first time to the general public this year, the annual event is the most prestigious battle for in Virginia vino veritas and a significant marketing boon for Old Dominion winemaking the world over.
Fruit must be 100 percent Virginia-grown, and the wine must be made in-state. Competition Director and Master of Wine Jay Youmans and a panel of esteemed expert judges rate the wines. They employ a unified scale out of 100, according to appearance, aroma, commercial suitability, and overall quality.
Of the record-breaking 615 wines from 100 wineries entered by Virginia's eclectic winemakers, 127 earned gold. In a blind tasting, the 12 highest-scoring gold wines make the 2022 Virginia Governor's Cup Case with the top wine winning the Cup. The 2022 Cup competition was a history-making event. At $90 a pop, the number of entries was the highest ever, likely due to the caliber of the 2017 and 2019 harvests, which dominated the entries.
It was also quite the year for women winemakers, a fitting finale for March Women's Herstory Month. And it only took 40 years. The 2022 Virginia Governor's Cup was given to Melanie Natoli of Cana Vineyards and Winery in Middleburg for the 2019 Unité Reserve (featured in the February Z~Oenology). It's their signature Estate red blend of Merlot, Cabernet Franc, and mostly Petit Verdot. The Governor's Cup mostly loves the Bordeaux blends. It's yummy, all right. Cana's very similar 2019 Le Marriage Meritage blend also made the case.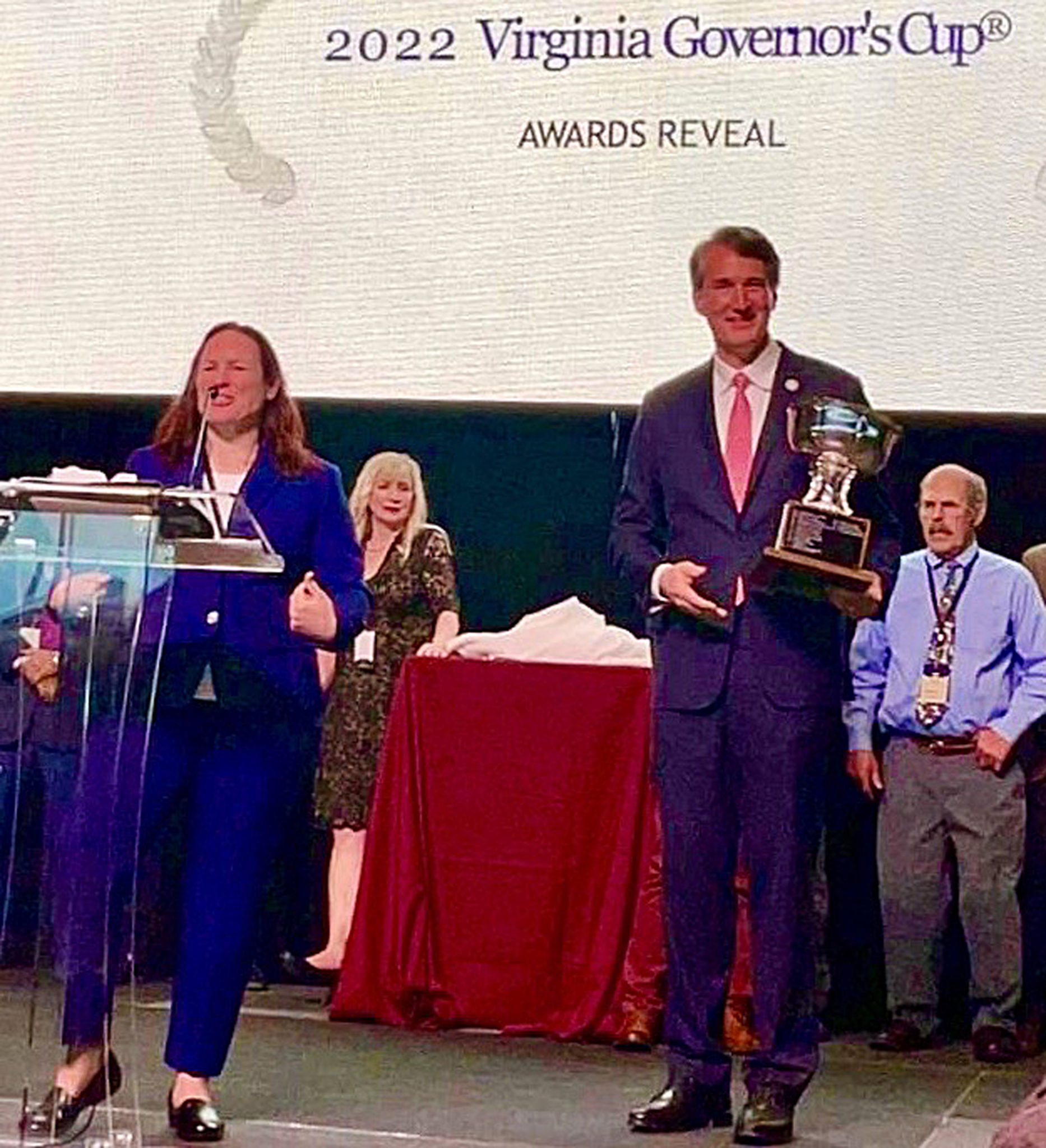 Melanie proudly accepted the coveted Cup from Governor Glenn Youngkin, noting how special the 2019 Unité Reserve was to her, "It was in my hands from bud break to bottle." The Governor lauded Natoli's achievement, "It is an honor to present this year's Virginia Governor's Cup to Cana Vineyards and Winery of Middleburg and Melanie Natoli, the first woman winemaker to receive this award. The 40th anniversary of the competition saw the most diverse selection of award-winning wines to date, demonstrating Virginia's passion and experimental spirit driving our wine industry to new heights."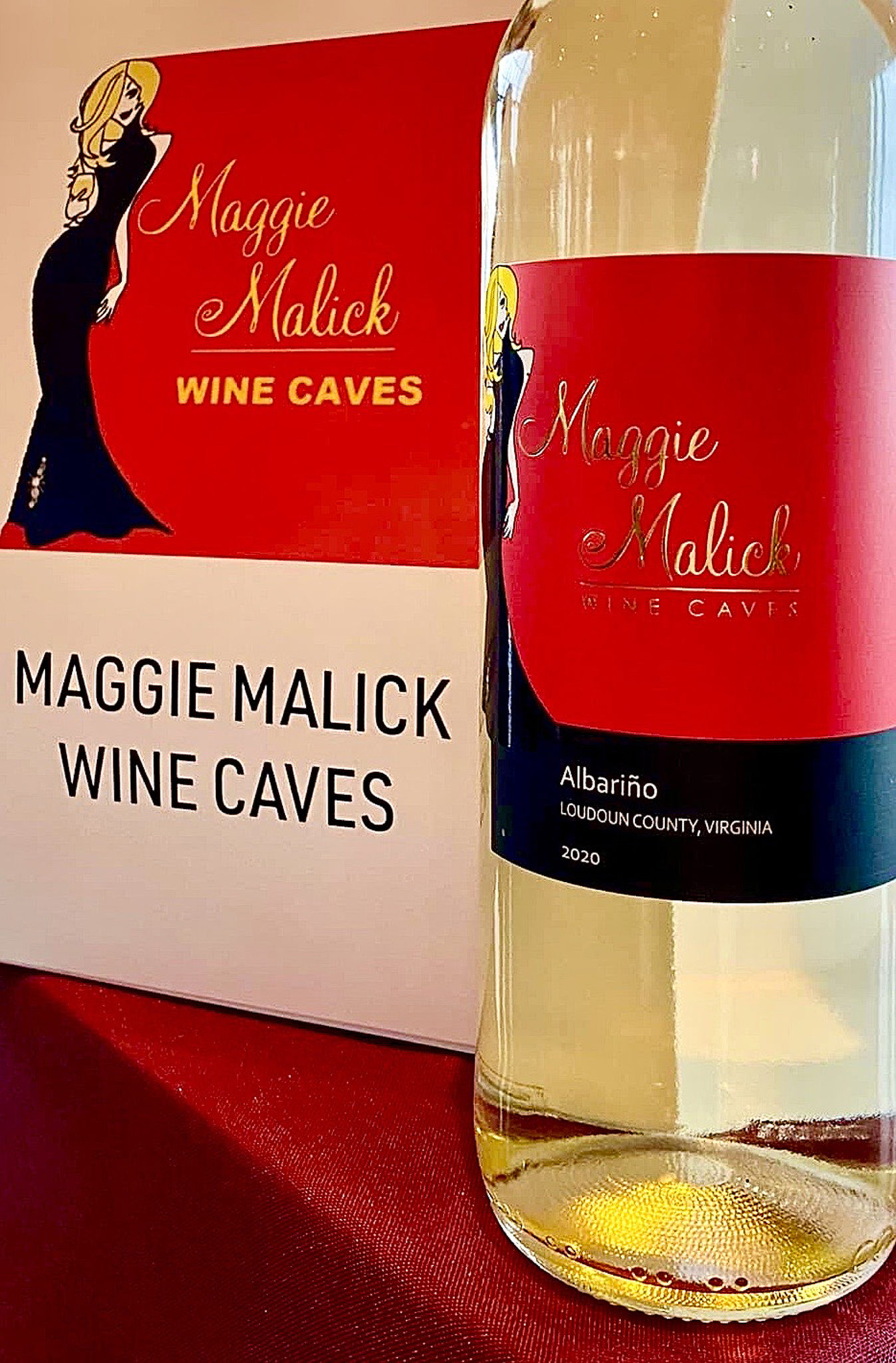 More herstory was made when Maggie Malick of Maggie Malick Wine Caves was named Loudoun Winemaker of the Year. Maggie made Cup history with her 2020 Albariño being featured in the case. It's the first time for this crisp and bright white wine. The Albariño grape grows well throughout Loudoun County. Cana and neighboring 50 West, whose Ashby Gap red blend also made the case, have produced stellar examples of this signature white Spanish wine. Maybe it's the soil there on Route 50.
The Ashby Gap red is a melange of three Virginia winemakers' craft: Corry Craighill, Preston Thomas, and Jason Burrus. All had a hand in making it. Owner Mike Canney calls it "a veritable mosaic of winemaking.
But not THE Mosaic!" Mosaic is the premier Estate Bordeaux blend at Mike's Sunset Hills Vineyard. Cana owner Bruce Petty worked for Mike at his defense contracting firm years back. Z~Oenology is a small world after all.
The Malicks have sold their winemaking venture, so you better head out to Hillsboro PDQ to score some finale fun (the tasting room really is underground) and Maggie's vino. Grab a bottle or three of Maggie Malick's Viognier with that case of 2020 Albariño.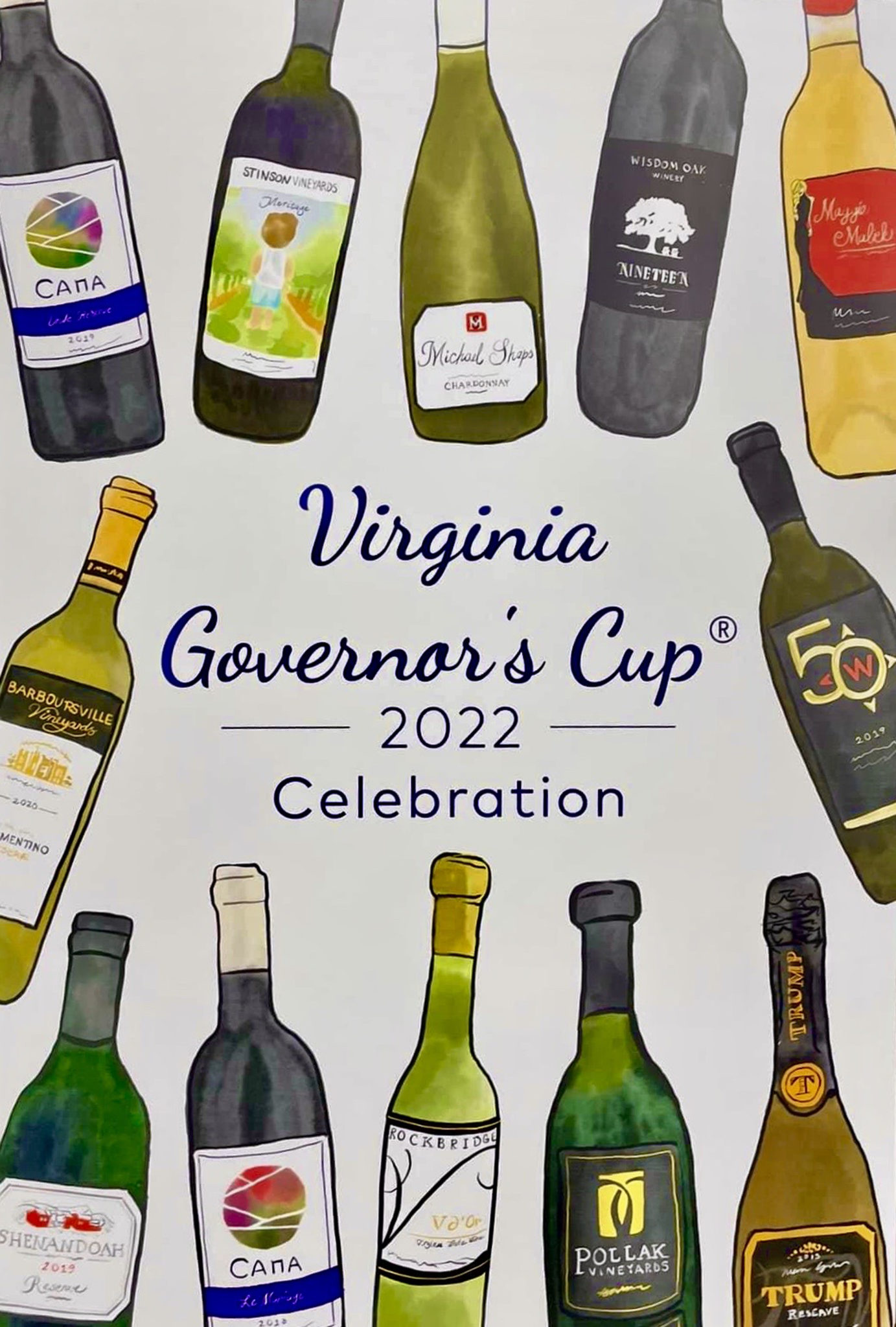 Here are the 2022 Governor's Cup case wines, representing the diversity of Virginia wines and reflecting the breadth of Virginia winemaking:
* Cana Vineyards & Winery 2019 Unité Reserve (Cup Winner)
* 50 West Vineyards 2019 Ashby Gap
* Barboursville Vineyards 2020 Vermentino Reserve
* Cana Vineyards & Winery 2019 Le Marriage
* Maggie Malick Wine Caves 2020 Albariño
* Michael Schaps Wineworks 2019 Chardonnay
* Pollak Vineyards 2017 Meritage
* Rockbridge Vineyard 2018 V d'Or
* Shenandoah Vineyards 2019 Reserve
* Stinson Vineyards 2017 Meritage (shout out to Rachel Stinson Vrooman, another fabulous female making herstory, with three women winemakers in the case for the first time! As Melanie noted, they are few, but they are mighty!)
* Trump Winery 2015 Brut Reserve
* Wisdom Oak Winery 2019 Nineteen
Channel your sunflower gold pride by following the Cup's 2022 gold medal trail spotlighting the case wines representing several nearby NOVA wineries and the Charlottesville and Shenandoah regions. For information on the Virginia Governor's Cup Gold Medal Wine Trail, download the Virginiawine.Org. Visit check-ins make you eligible to win prizes and receive wine discounts.
Z~ Oenology congratulates all the award-winning winemaking women and men of the 2022 Virginia Governor's Cup. CHEERS!
ICYMI: Want To Eat Outdoors? Check Out These Alexandria Restaurants