Community News
Living Legends Series
Obituaries
Alexandria Living Legend Charlie Euripides, Royal Restaurant Owner, and Navy Veteran Dies at 89
"My dad worked all the time," emphasizes son Gus. "He worked seven days a week, but he loved it."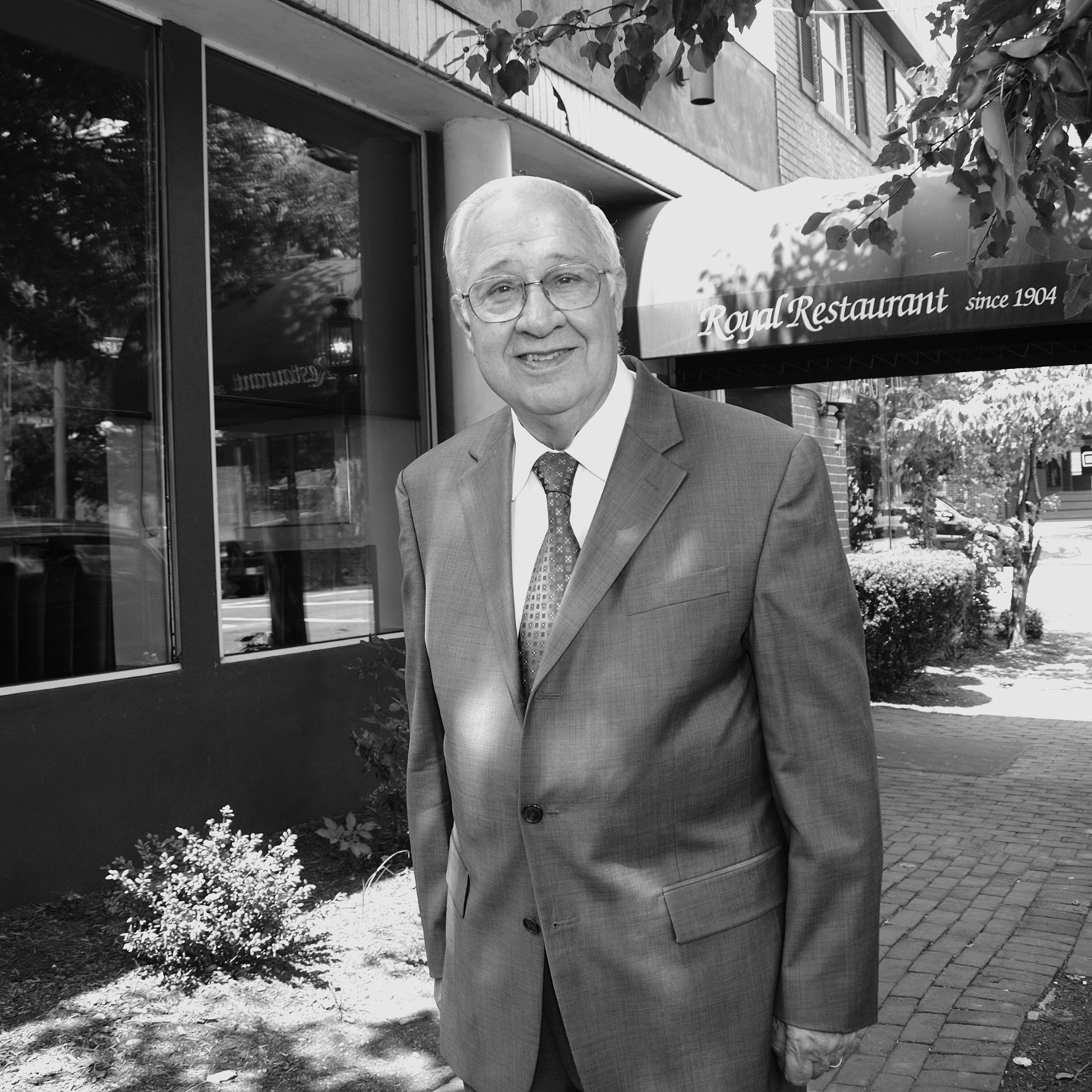 ALEXANDRIA, VA – U.S. Navy veteran, owner of the beloved Royal Restaurant and Cafe, 730 N. Saint Asaph Street, and Alexandria Living Legend Charlie Euripides passed away this morning after an extended illness at the age of 89. He was surrounded by friends and family.
Charlie Euripides was born in a small village in northern Cyprus where he survived the Great Depression and WWII. He graduated from the Neoclassical Pancyprian Gymnasium Prestigous High School, South Nicosia, Cyprus, established in 1812 and the oldest high school on the island. He emigrated to the United States in 1951.
The young Euripides arrived at the New York seaport and was met by his Uncle Gus Pikrallidas, who drove him straight to Alexandria, Virginia where he immediately went to work as a dishwasher at the family's Royal Restaurant that sat next to City Hall, at 109 North Royal Street.  He also enrolled at Georgetown University at that time and went to school while he learned the restaurant trade.
In 1956, Charlie was drafted into the U.S. Navy, which cemented a lifelong commitment to the military.  He was aboard the U.S.S. New Jersey as a gunner's mate until it was decommissioned in 1957 and then served in the Admiral's detail aboard the U.S.S. Salem. He saw action in 1958 during the Lebanon Crisis, America's first-ever combat operation in the Middle East.

"Dad saw almost every ocean during his time in the Navy, including the Arctic Circle. He said there he used to have to climb the masts and knock the ice off the antenna.  He wasn't playing around," said son Gus Euripides, an attorney in North Carolina. "He was always so proud he served on the U.S.S. Salem, the flagship of the US Sixth Fleet in the Mediterranean and the Second Fleet in the Atlantic."
In 1959 Charlie returned to his adopted hometown of Alexandria where he lived above the Royal Restaurant, and was a full partner with his Uncle Gus. He married the love of his life, Barbara, in 1960.
"The Royal was next to City Hall, and like today, everyone ate there–from families to police officers, factory workers and secretaries," says Michael Euripides, who now runs the family restaurant.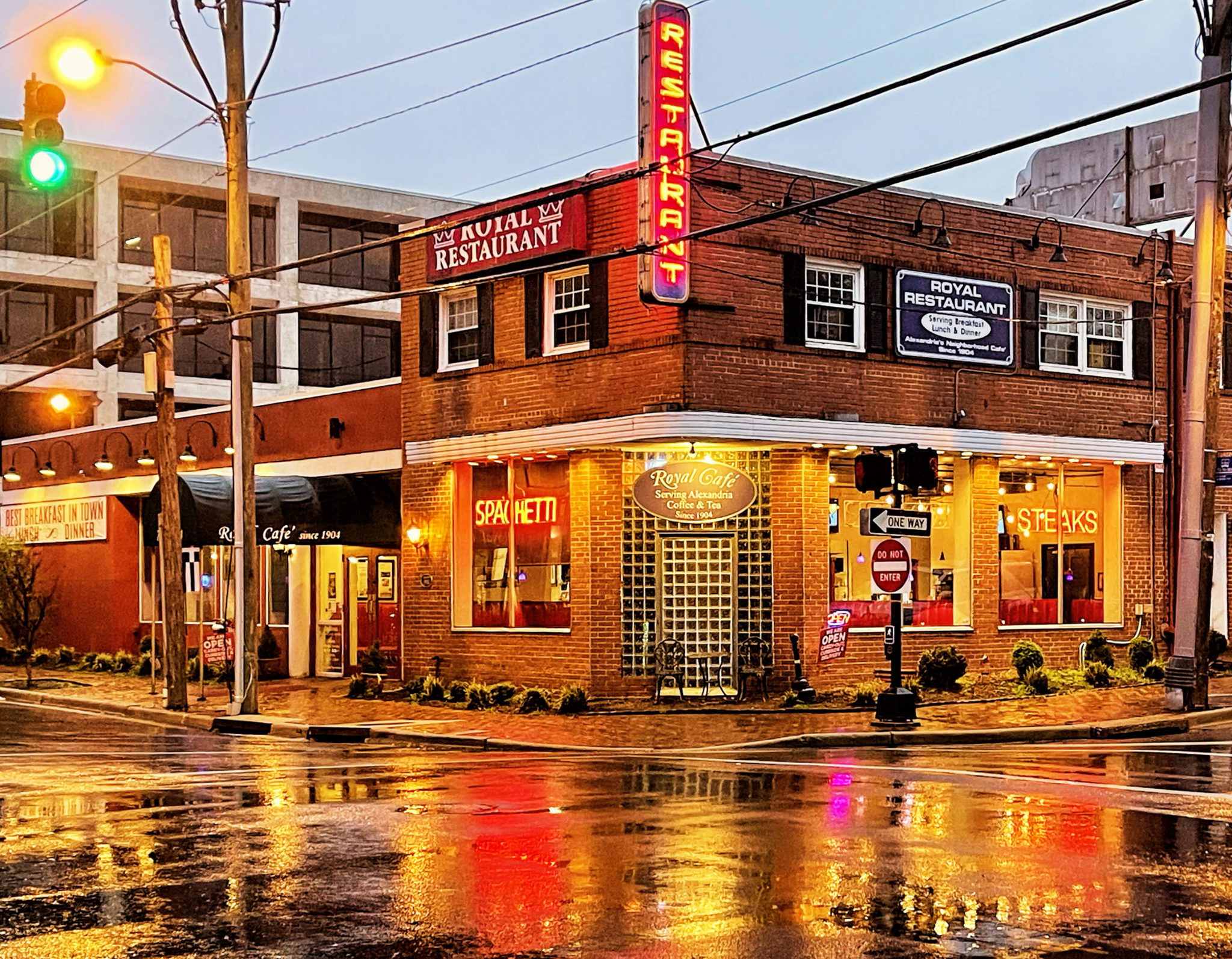 "My dad worked all the time," emphasizes son Gus. "He worked seven days a week, but he loved it. Sometimes he would come home at one in the morning from a catering job, only to be up again at 4 to open the restaurant."
Change happened in 1963 when the City engaged in a big project of "urban renewal" and many buildings were torn down, including the original Royal.  It was then Charlie and his uncle relocated The Royal to its current location at 730 N. St. Asaph Street. "North Old Town was a lot different then, in 1964, when he moved the restaurant.  I think there was only one apartment building near us, and a bus barn and a big oil tank. Back then it was a factory town and guys wanted beef stew and an after dinner beer," says Gus Euripides.
Charlie worked the restaurant seven days a week from around 5:30 in the morning until 7 at night, and in between, he was a route manager for the Alexandria Gazette, delivering the afternoon edition six days a week. "He used to leave around 1 in the afternoon to deliver the papers out Route 50 and all up and down Duke out to Landmark and way out to Fairfax County.  He'd get back around 3:30 to the restaurant. And if somebody did not get their paper, he'd take it back out to them after he was finished at the restaurant," said his son Gus.
And if that was not enough to do, Charlie and Barbara started a catering company in the late sixties called Royal Catering, that still operates today.  "It got started because one day a lady called up and wanted my dad to bring over a pot of spaghetti for a dinner party she was having. Dad fixed her all up with the pasta, and sauce and a nice salad and garlic bread.  The lady gave him $5.00 or something, and the catering business was born," Gus laughed.
That little catering company became the biggest in town at one time, handling all the functions at Gadby's Tavern, Carlyle House, and the Lee-Fendall House, in addition to congressional and embassy parties, weddings, and events at the finest homes along the Potomac. "Over the years Dad rubbed elbows with a lot of important people but he was never a name dropper. Except two of his favorite stories included how he catered a party in 1970 for the then reigning Miss U.S.A. Gail Renshaw, and how Elizabeth Taylor grabbed his arm in the stairwell at the American Legion in 1978 to tell him he mixed the best drinks."
Charlie knew all of Alexandria's mayors, catered events for members of the City Council, and for decades did the food for the local Kiwanis, Lions and Rotary Clubs plus donated him time, energy and company resources to countless nonprofits that needed his help.
"And my parents did it all without social media or computers," said Gus remembering his dad. "We had one phone at the restaurant and one at home. Somehow he catered police chief's wedding, parties at the Greek Embassy and the Smithsonian Institute, gave food to the boy scouts for overnight camping trips and managed to donate more food to church youth groups and others who asked, all the while he was running the restaurant, delivering papers and sending three boys to college."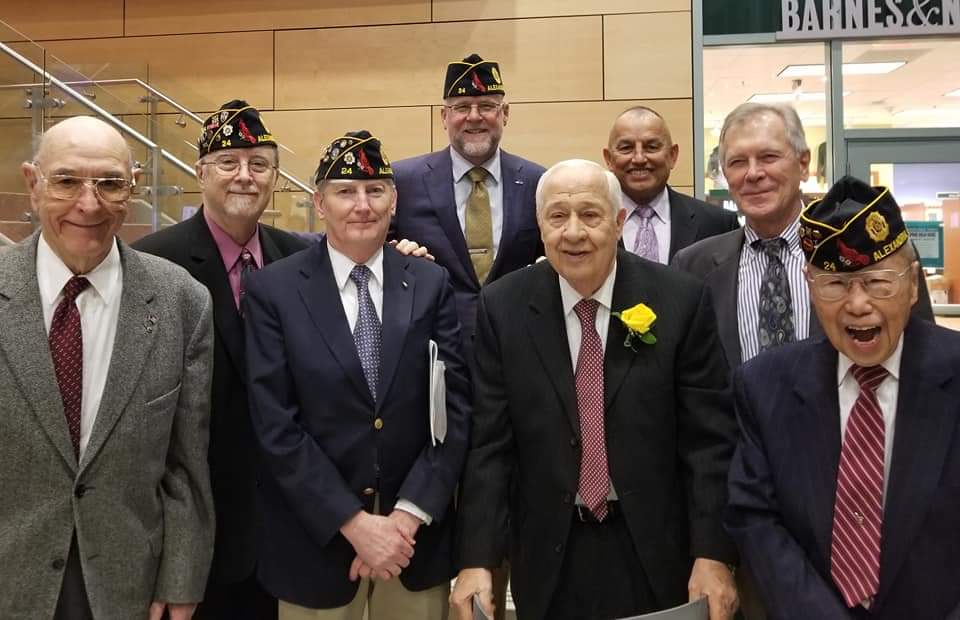 Charlie Euripides worked hard and seemed to never sleep but he also always had time for his community. His allegiance to the American Legion Post 24 was one commitment that ran especially deep. "Charlie has been a close personal friend for many years through the American Legion and I visited with him a few weeks ago to deliver his Living Legends portrait," said Jeanne Theismann, past board president of the Living Legends of Alexandria. "That meant so much to him and I am glad we were able to do that when he had a chance to appreciate it."
"What a tremendous loss," said Allison Silberberg, who served as Alexandria's mayor from 2016 until  2018. "I absolutely adored Charlie Euripides. He was the best. He had such a big heart and was so beloved in our whole community. His restaurant, The Royal, is iconic and has brought people together for delicious food for decades. Charlie was a pillar of our city. A mighty oak has certainly fallen. In many ways, he lived the American Dream. His remarkable life was a blessing. I recently visited with him at his home, and he shared many stories about his youth in Cyprus, his family, and how he met the love of his life, Barbara. He was so grateful. But it is our community that can be grateful for his love. I am deeply saddened. My heart goes out to Charlie's sons and all of his family and loved ones."
"Charlie Euripides was a mainstay of the Alexandria community. He was moved from its geographical center to make room for "urban development." But Charlie remained the heart of the community. He and his wife Barbara epitomized the warmth and generosity that far too few ever possess. He was one of a kind and will be greatly missed," added longtime friend and former Alexandria Mayor (1985 to 1990) and Congressman Jim Moran (U.S. House of Representatives, 1991 to 2015).
Charlie was preceded in death by his wife Barbara, and is survived by their three sons, Gus, Michael and Chris, and their wives, Joanne, Evanthia, and Sophia. He is also survived by his brother Richard and by seven grandchildren: Barbara, Eleftaria, Charlie, Maria, Evi, Evan and Chrysanthi.
There is a viewing from 5:00 p.m. to 8:00 p.m. on Monday, April 18th at Jefferson Funeral Chapel, 5755 Castlewellan Dr, Alexandria, VA 22315, and a funeral service is set for 11 a.m., Tuesday, April 19th at Saint Katherine Greek Orthodox Church, 3149 Glen Carlyn Road, Falls Church, VA 22041.
In lieu of flowers, the family requests donations be made in Charlie's name to St. Katherine Greek Orthodox Church.
."
​