Z-Oneology
May DayZ: Celebrating the Run For The Rosés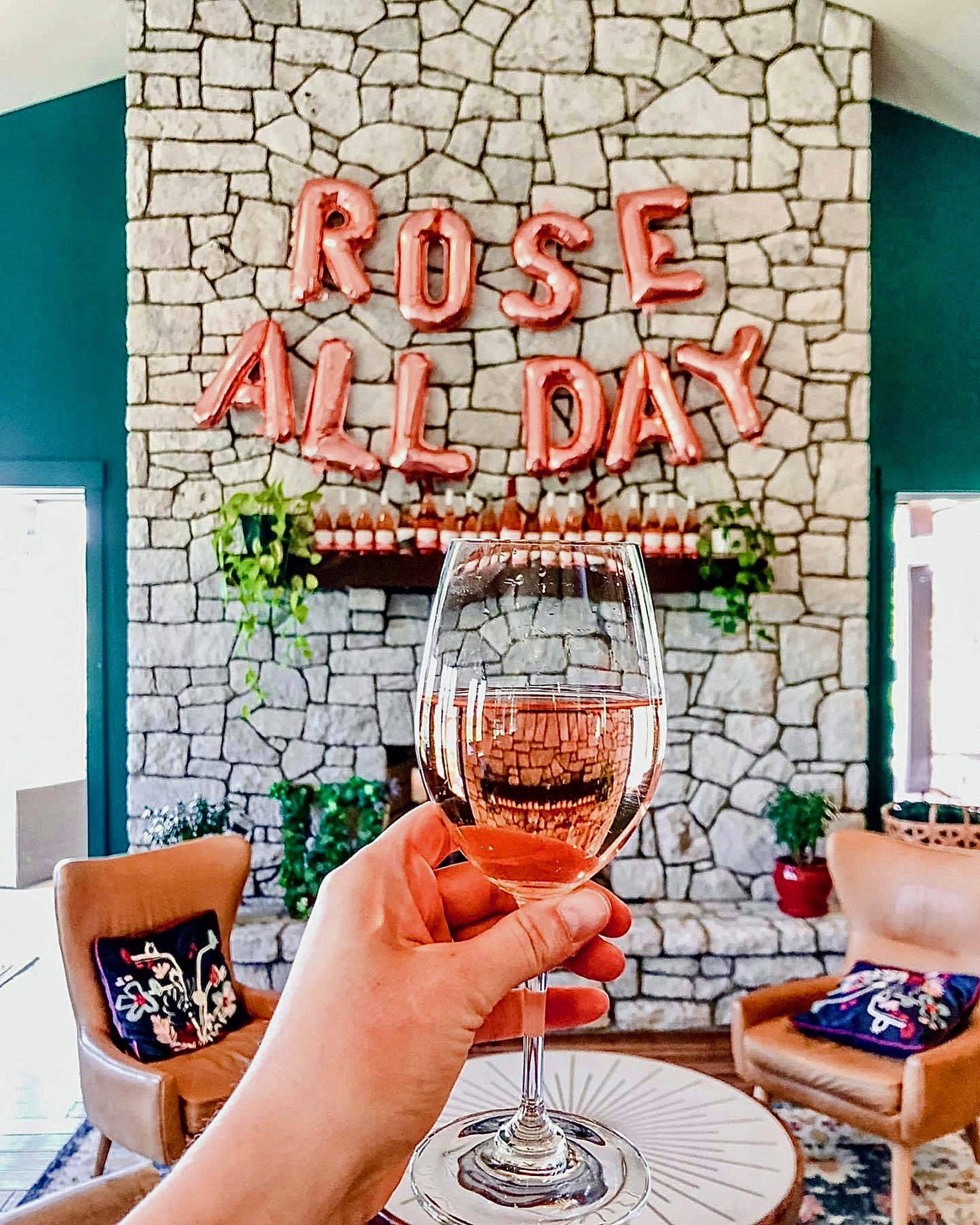 Alexandria, VA – May 7 marks the 148th Run For The Roses at Churchill Downs, Kentucky. The fastest two minutes in sports is traditionally referred to as the run for the roses as an homage to the blanket of 564 red roses awarded to the horse that wins the Kentucky Derby.
It's not clear why there are 564 roses, but with over 300 wineries in Virginia (281 going concerns according to the Virginia Board Directory with 50-plus licensed by the state), Virginia winemakers likely have as many rosés in production as those blanketing the winner of the most prestigious sport of kings.
May 7 is also the date of the Virginia Gold Cup held in The Plains. While Bourbon is the traditional drink of choice for both races, with the iconic Mint Julep being de rigueur among racing devotees, rosé has been making inroads among the spring flingers of the horsey set. With the abundance of Fauquier, Culpepper, Rappahannock, and Loudoun Counties vineyards in proximity to the Gold Cup course, the elegant and quite quaffable diverse varieties of rosé wine that most of these winemakers offer hold marketable appeal for imbibing ladies and gents in their race-day finery, sporting prodigious millinery and seersucker suits galore.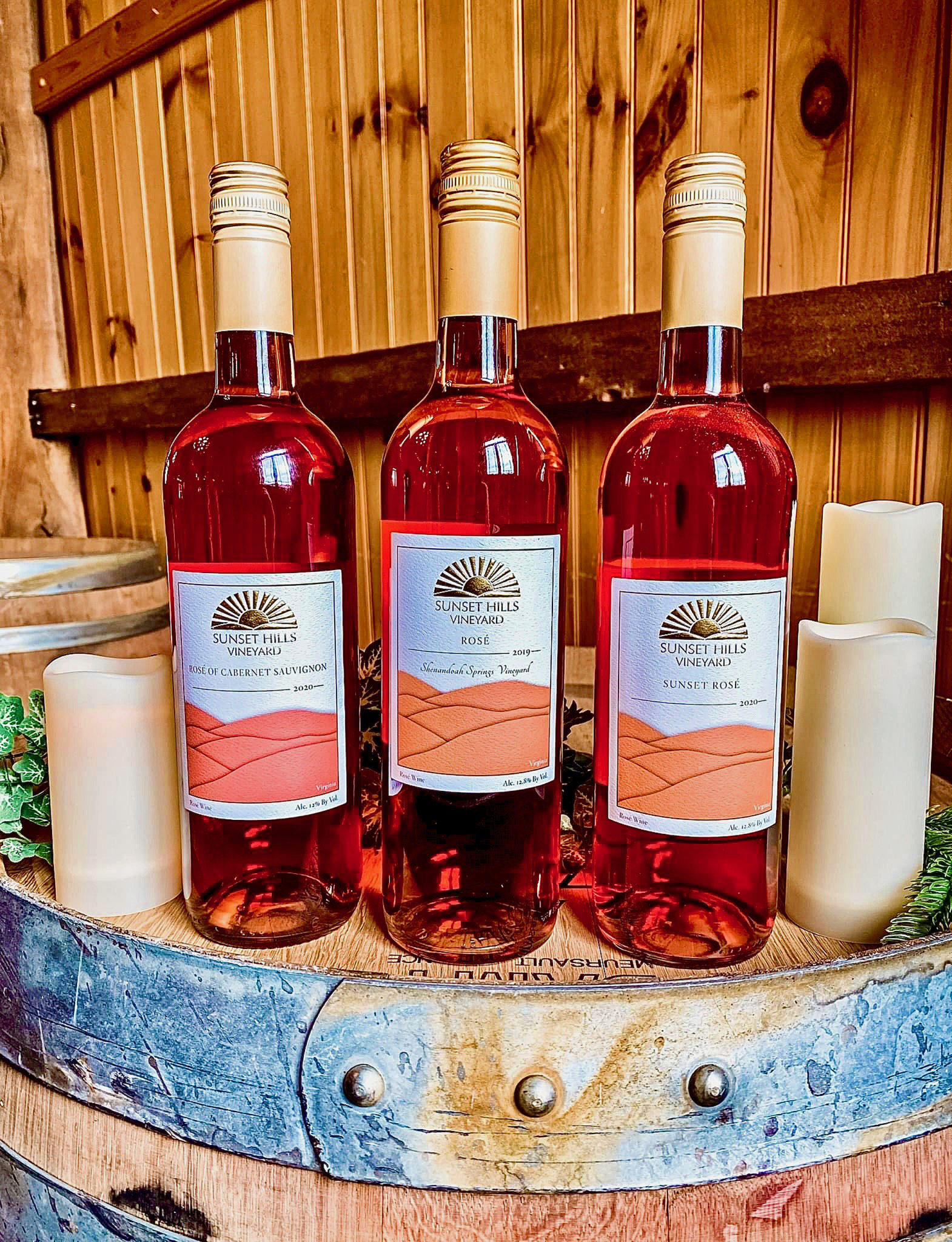 Virginia rosé runs the gamut from softly translucent shades of almost imperceptible blush to coral, ruby, and even hunting-coat "pink." In fox hunting, the red (don't call it scarlet) jackets worn chiefly by the Master of the Hunt are called hunting pinks. Virginia rosés made from Cabernet Franc (the benchmark Virginia red), Cabernet Sauvignon, Merlot, and even Malbec produce 50 shades of rosé. California rosés are mainly made with Pinot Noir, a grape almost impossible to grow in Virginia.
Each wine's expression, aroma, and palatability is born of the crushed and fermented fruit. The juice from grapes is clear. The color comes from the skin contact and the length of time the singular varietal or blend is macerated. This may be only a few hours or an entire day. Hat tip to Ankida Ridge Vineyards, which is making miracles on a mountaintop.
When we think of rosé, French wine is considered the standard. But while France continues to dominate the market, rosé is produced around the globe, with lovely Old World and French-style wines coming from New Zealand and South Africa in all shades on the rosé spectrum. America is taken with the Provençal style – that lightly opalescent pinkish, low in alcohol, crisp, dry, and refreshing quaff that hearkens spring as a promise of summer's sultry delights to come.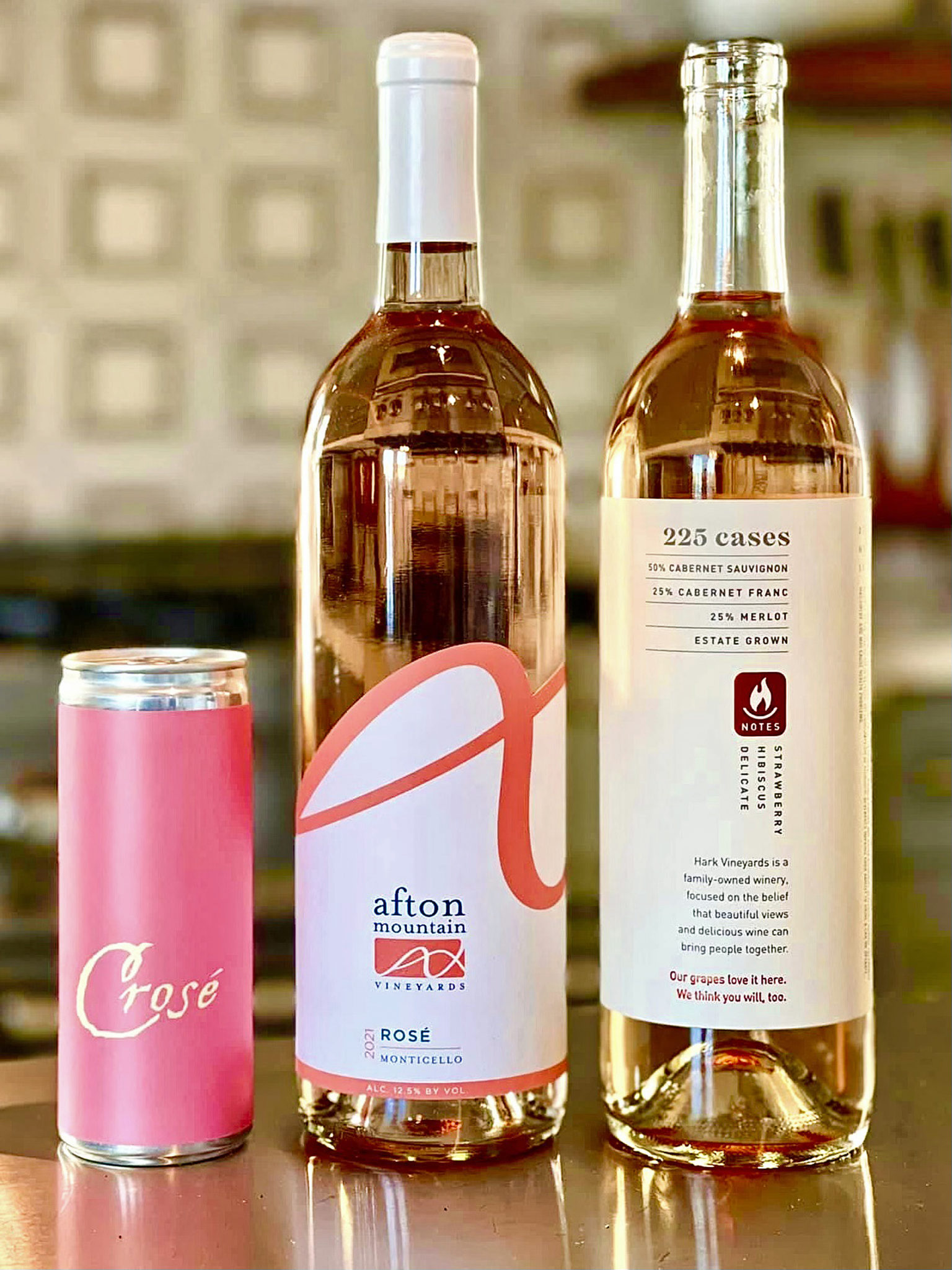 The 2021 rosés are bottling as I write. Virginia wine lovers know that come May Day, vineyards across the Old Dominion will be celebrating Rosé All Day, Yes Way Rosé, and Rosé Your Way. Even Around the World with Rosé. Be on the lookout for rosé slushies and roséritas.
May means make way for rosé. It's the advent of summer. Most wineries quickly sell out of their more unusual bottlings. Summer sees rosés of every color flying out the tasting room doors. 50 West's Rosé of Sangiovese disappears even when released to wine club members in fall or late winter. Check websites and social media often for rosé tastings, pairings, and special release events hailing the uncorking of those seductive blushing wines.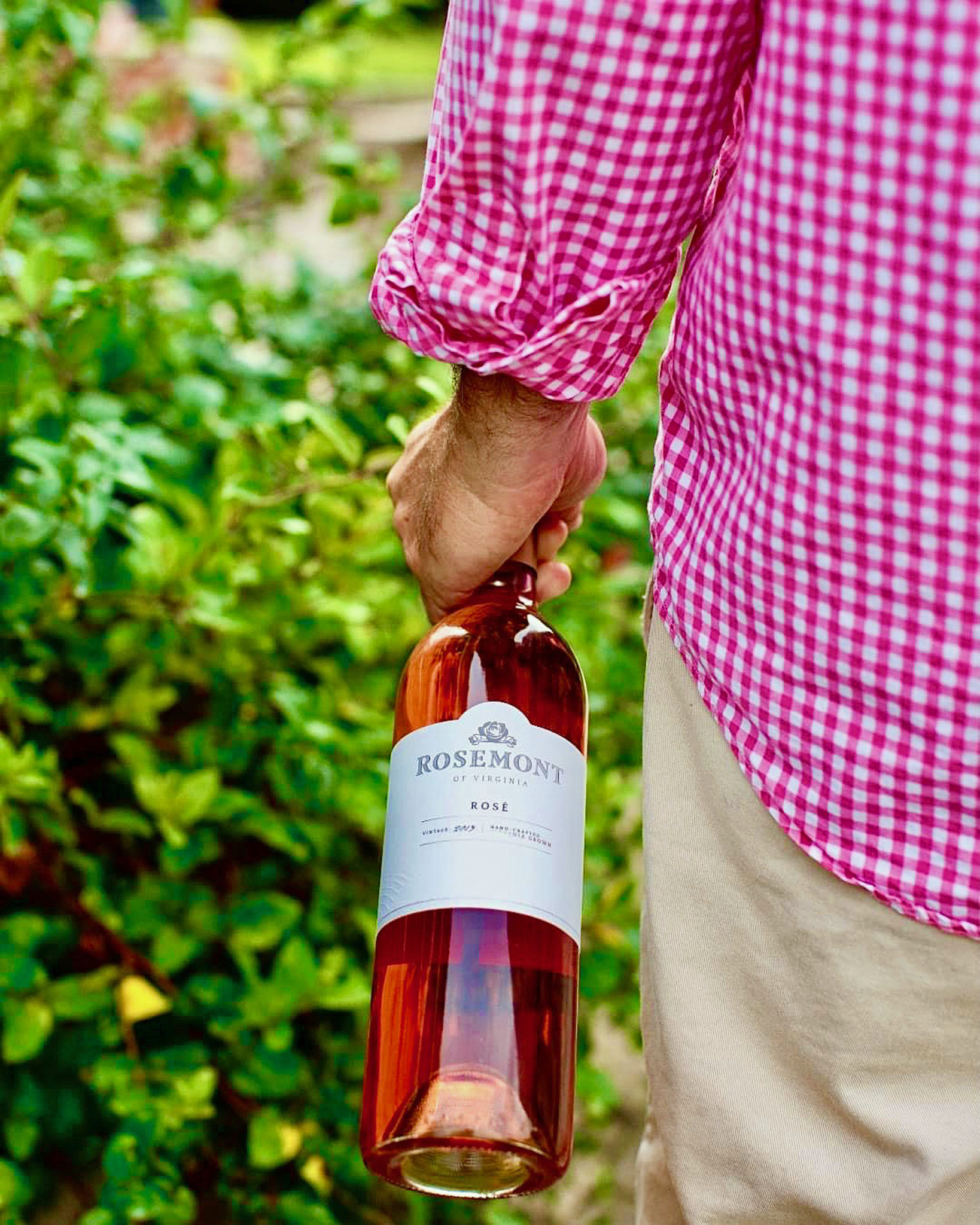 Walsh Family Wine in Purcellville recently celebrated The Big Pink's 2021 Release Weekend, April 23 and 24. Attendees were invited to don their finest pinks (not red) to sample flights of fancy rosé: Walsh Family 2021 Rosè, Walsh Family Rosé Pet-Nat (a method of making sparkling wine from the French Péttilant-Natural, meaning naturally sparkling without added yeasts or sugars), and Early Mountain's 2021 Rose.
The Big Pink rosé flight included pink bites from The Polished Fox catering in Ashburn. Magnums of rosé were available for the most avid Roséficionado. "Music from Big Pink" by The Band (late 60s country/rock/blues) played on and on, mostly because it's Sarah Walsh's favorite, and besides, it's got pink in the title.
Around a bend or two at Sunset Hills, you can sample The Cherry Blossom Trio flight: 2020 Rosé of Cabernet Sauvignon, 2019 Shenandoah Springs Vineyard Rosé, and the 2020 Sunset Rose. Willowcroft Farm Vineyard in Leesburg bottles the 2019 Rose of Sharon Rosé.
Try it with authentic Maryland Blue Crab lump meat crabcakes, southern-requisite hush puppies, some Old Bay seasoned fries, and kicky slaw for a repast that even mom will applaud!
The 2022 Virginia Governor's Cup winner Cana Winery and Vineyards, next to 50 West in Middleburg (who brought back their Albariño, so no need to hoard 2019), offers three rosés plus a special split (half bottle) and a squeaky chew toy to amuse your Virginia wine dog. There's the 2021 Rosé of Cabernet Franc, the 2021 Rosé of Cabernet Sauvignon, and the 2021 Greenstone Vineyards Rosé of Merlot. The squeaky Rose of Merlot was a big hit with my granddog, Cooper.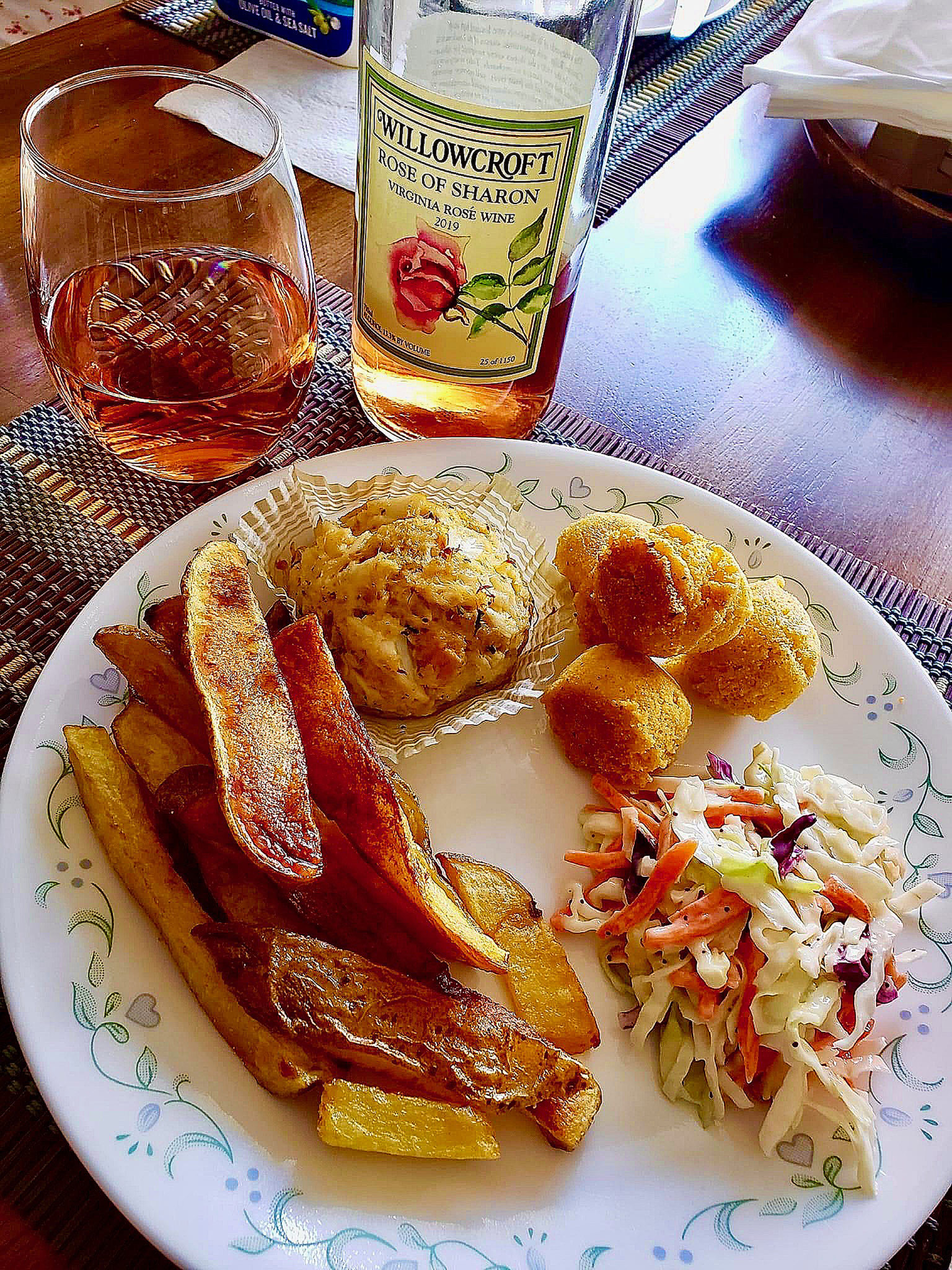 Down south of NoVa, the Rosemont of Virginia Vineyards and Winery in La Crosse makes a lovely deep ruby Extra Brut sparkling rosé. This is wine that you can assuredly judge by its label. Fresh, floral, brightly colored, singing "Spring is here at last." Given the late April snowfall, the fluctuating freezes and heatwaves followed by frosts across Virginia wine country from the Potomac to Piedmont, we have all heaved a collective it's-about-time sigh.
A bit northwest of Richmond is Afton Mountain Vineyards in Afton. The selection here is eclectic and punny. The 2021 Monticello Rosé is an unassuming Provençal style – soft, subtle, and lingering. The more complex "225 cases" is a blend of estate-grown Cab Sauv, Cab Franc, and Merlot, with delicate notes of strawberry and hibiscus. It packs more of a punch.
Well, perhaps more a furtive kiss on the cheek. Crosé is the King Family Vineyards canned California-style Rosé made from dry-pressed 46% Pinot Noir, 32% Cabernet Sauvignon, and 22% Merlot. It's coral in color, aromatic, dry, crisp, and flinty. The same blend is also bottled as the Afton Mountain AMV 20 Rosé. Try it. You'll like it!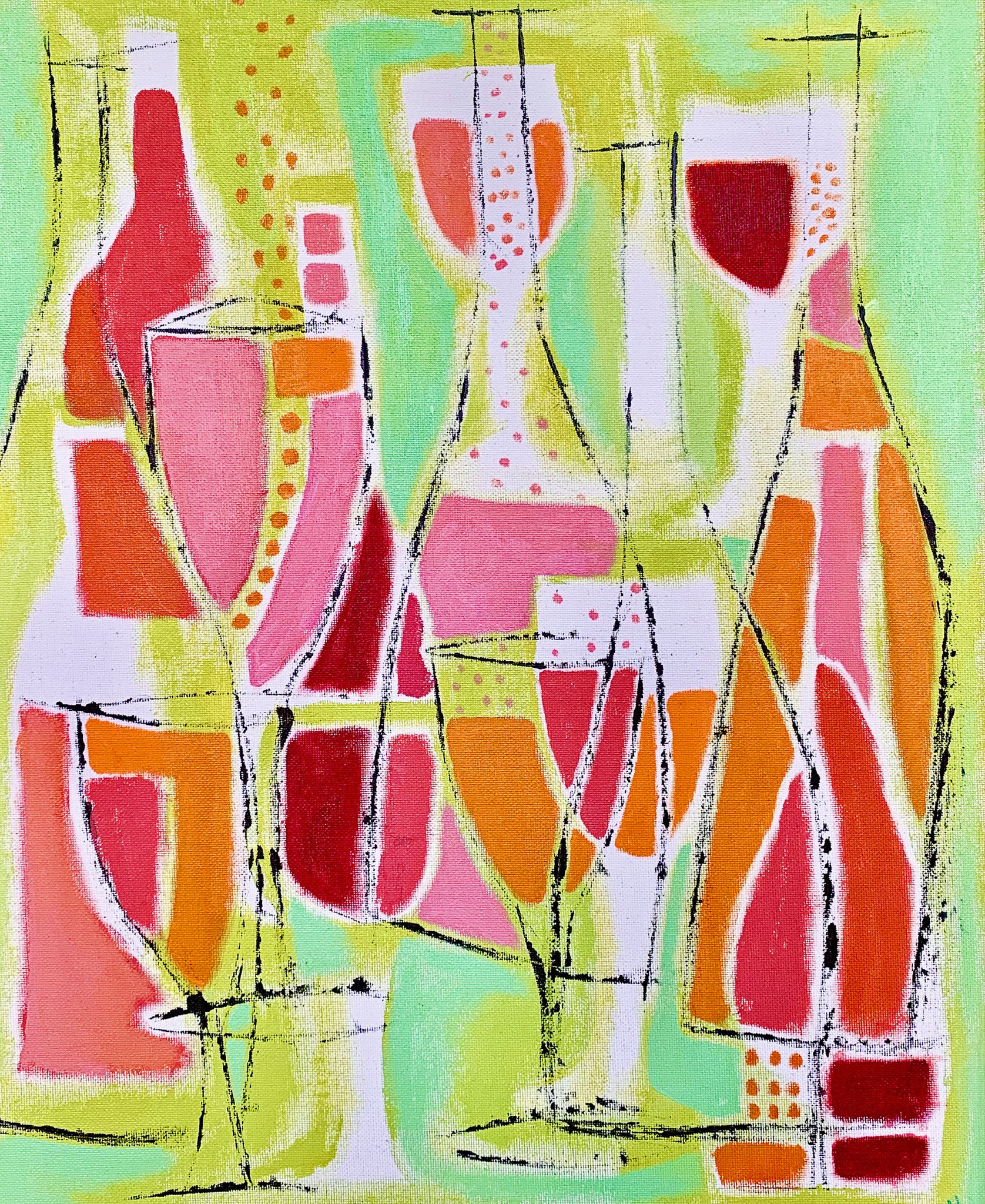 Even if your oenological pampered palate exclaims, "No Way Rosé!!!" you owe it to yourself to sample the expansive offerings available from Blue Ridge to Bay wineries – be it South American style or sparkling, Provençal or Petnat, or perhaps the more daring elusive Frosé. Wedding season is here. Rosé proves to be the perfect wine for toasting or tailgating.
But if you aren't getting hitched and you're not a devotee of running for the roses, the Gold Cup, or any cup that doesn't have a stem, there's one inarguable reason to run to your favorite winery for a bottle or two or three of rosé: Mother's Day is coming!
ICYMI: At Virginia's Wineries, the Giving and Winning Cup Runneth Over