Community News
Burke & Herbert Bank Recognizes Local Nonprofit Putting Volunteers in the Classroom
GrandInvolve received $27,500 from the Scores for Kid$ program backed by the Caps and NBC Sports Washington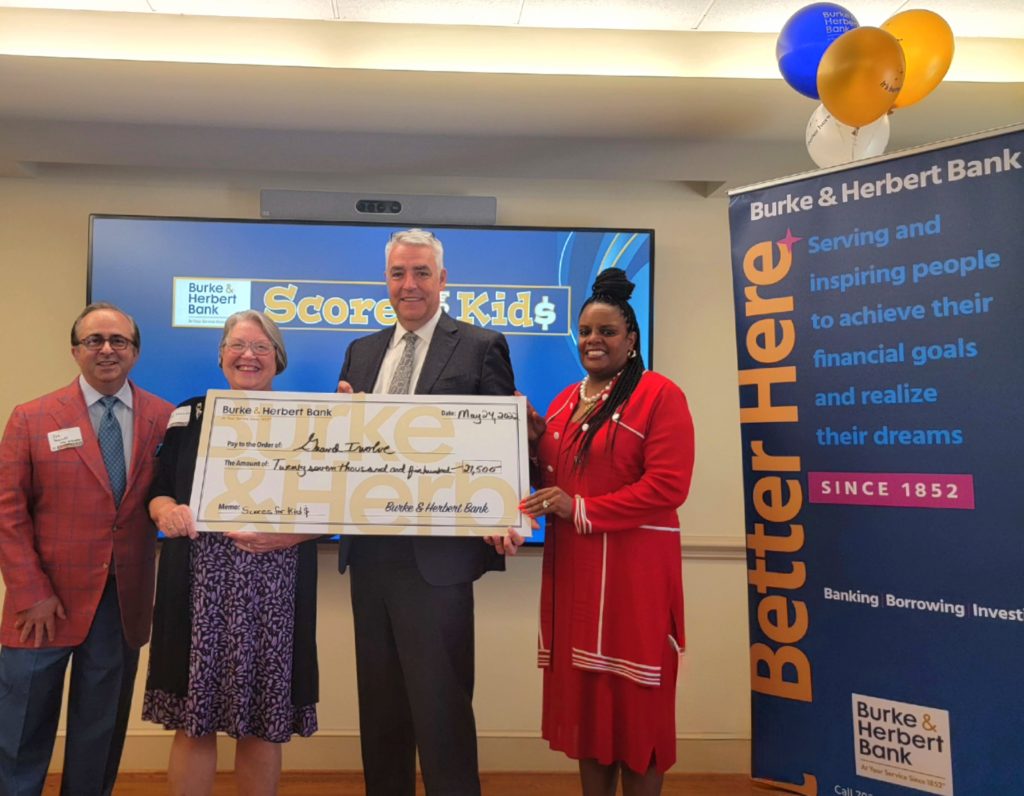 ALEXANDRIA, VA – Yesterday afternoon (May 24), Burke & Herbert Bank recognized the recipient of their Scores for Kid$ program, GrandInvolve. GrandInvolve is a nonprofit that works to place volunteers in Fairfax County Public Schools (FCPS). Senior citizens visit classrooms once a week to share their experiences, help students with subjects such as math, and participate in other activities. The resulting bond is one that lasts, giving students mentors and allowing volunteers to feel fulfilled.
This NHL season, the Washington Capitals pledged $100 to GrandInvolve for every goal scored during the 2021-2022 campaign. The regular season total was 270 goals.  (They scored 19 goals during the playoff run.) As a result, GrandInvolve received a check of $27,500.
The award ceremony, held at the bank's Alexandria location, featured Caps play-by-play announcer Joe Beninati. Guests included the founder and executive director of Grandinvolve Dorothy "Dot" Keenan, the president and CEO of Burke & Herbert David P. Boyle, and the chief equity officer of FCPS Nardos King.
"We are honored to be selected by Burke & Herbert Bank as this season's 'Scores for Kids' donation recipient," said Keenan. "The need for volunteers in our schools is greater than ever following a challenging year of virtual learning.  This big 'Scores for Kids' assist from Burke & Herbert Bank will enable us to provide additional support to our current FCPS partners and to expand our program to more Title I schools in the county."
The bank started its popular donation sponsorship in 2015, in partnership with NBC Sports Washington, providing both visibility and financial support to a deserving local nonprofit organization.
Near the close of the ceremony, Boyle called on other businesses to match the donation.
"My wish is that this money gets doubled somehow with other donors," he said. "And I hope that we can get enough publicity out there because what [GrandInvolve is] doing is critical."
Burke & Herbert Bank has donated more than $150,000 to local child-focused or housing-focused organizations through this sponsorship.
Goodwin House Acquires The Hermitage Senior Living Community in the West End