THEATRE
Nollywood Dreams: See the Magical Romantic Comedy Playing at Round House Theatre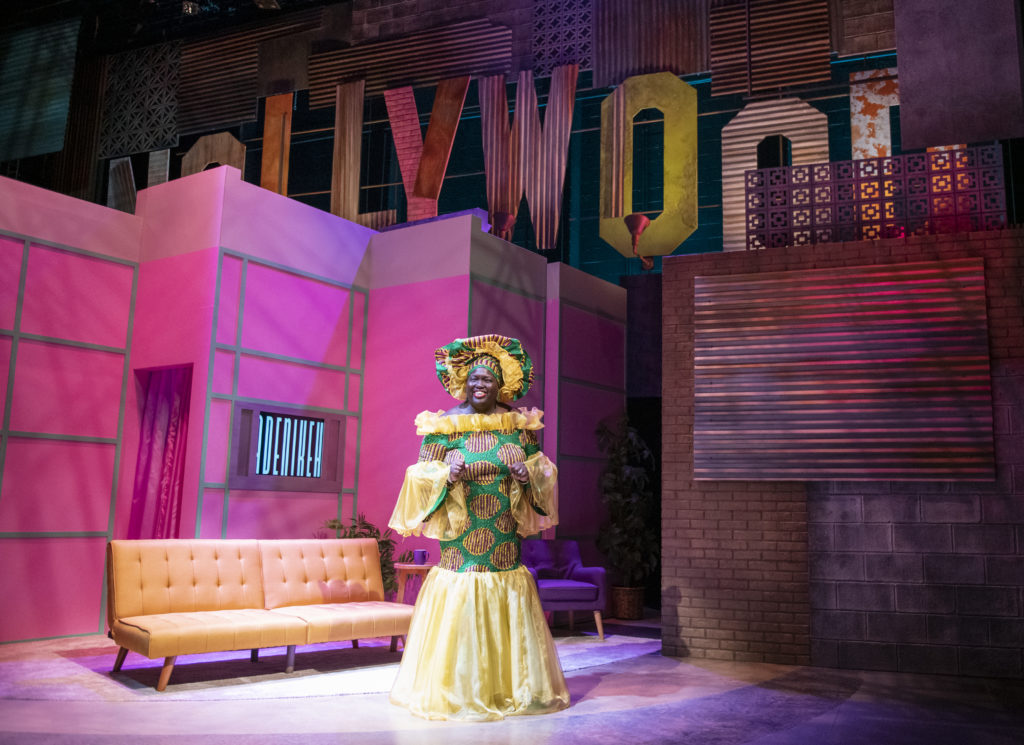 ALEXANDRIA, VA – Fact: Fashioned after India's Bollywood film industry, Nollywood is the second most productive film industry in the world with over 1,000 movies produced a year.
It's hard to stress the huge influence of movies over daily life in Nigeria. Watched by millions, they feature formulaic melodramas reminiscent of the early days of Hollywood cinema. A fascination with Nigerian movie stars forms the basis of Nollywood Dreams, a romantic comedy about this gargantuan industry and its stars. Award-winning Ghanaian Playwright Jocelyn Bioh is currently writing the live screen adaptation of the hit Broadway musical Once on This Island for Disney. She is eager to school us in African culture and she does it with a pencil-sharp wit. "I'm a comedic writer and I think comedy's simply a funny way of being serious, and I'm able to get across messages that do have a lot of universality to them, even if the people are very specific."
Sisters Dede (Renea S. Brown) and Ayamma (Ernaisja Curry) run their family's Okafor travel agency in the capitol of Lagos. One day Ayamma hears of an open casting call for the female lead in an upcoming movie by famed Director Gbenga Ezie (Yao Dogbe) starring their girl crush, the handsome Nigerian screen star Wale Owusu (Joel Ashur).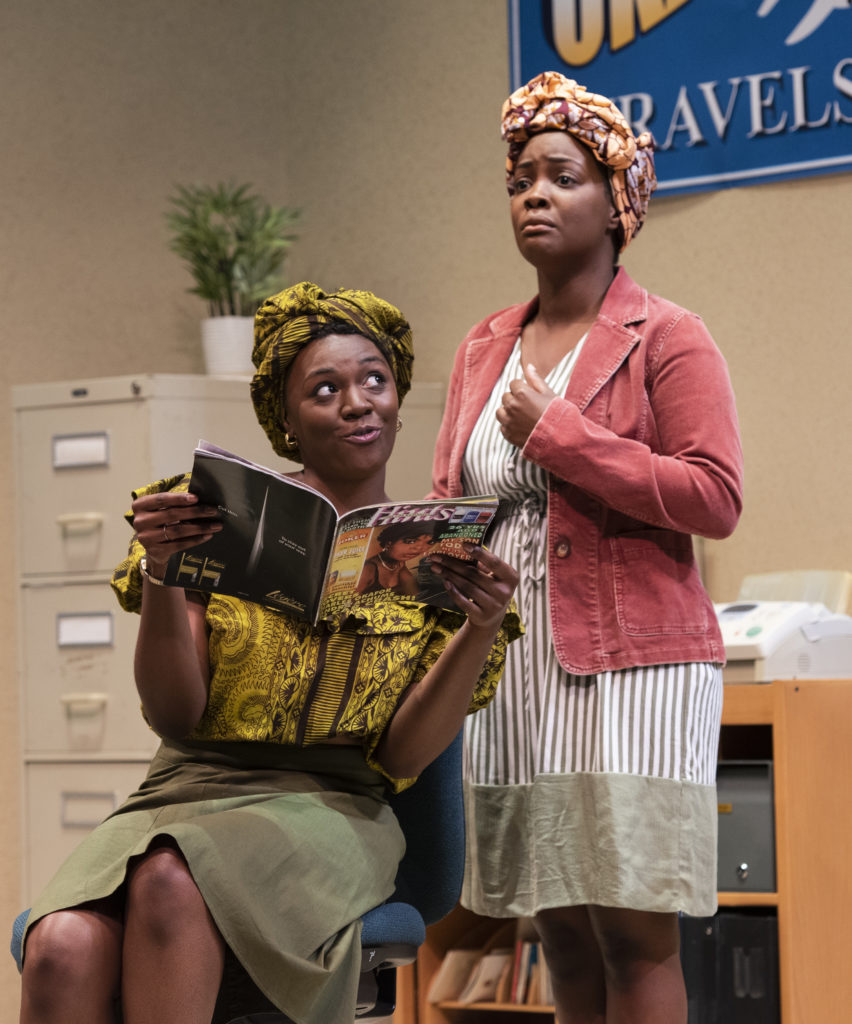 Ayamma, with no prior acting experience yet determined to make her mark, reads for the part with Wale as the love interest. Although Wale finds her adorable and Gbenga sees her as his first choice, the glamorous movie star and Gbenga's favorite leading actress Fayola (Yetunde Felix-Ukwu) intends to wage battle for the part – even if it takes blackmail or magical powers.
Scenic Designer Jonathan Dahm Robertson treats us to three sets on a cleverly constructed revolving stage. One for the travel agency, another for Gbenga's Nollywood Dreams Studios and the third, a television interview set for Adenikeh (Jacqueline Youm), Nigeria's version of Oprah Winfrey. Throughout the story, Adenikah is seen hosting the celebs wearing ever higher dhukus (head-wraps) and resplendent asoebis (dresses) to reflect her star status. All costumes by designer Brandee Mathies are reflective of the African fashions of the day.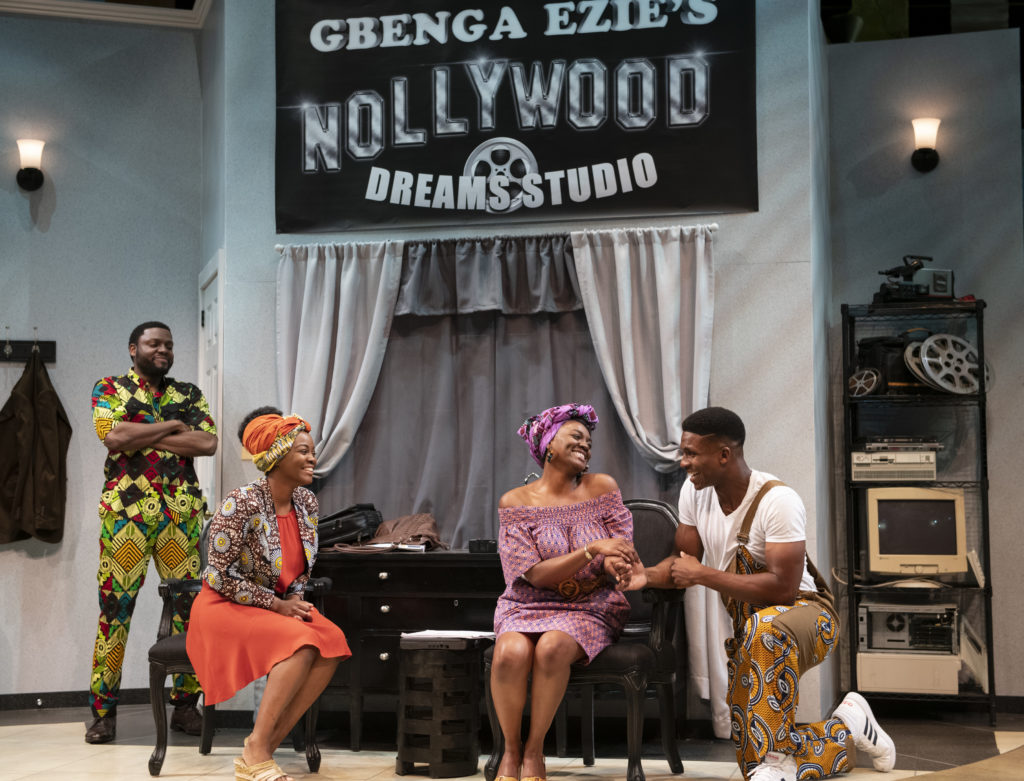 Director Raymond O. Caldwell heightens the humor and extracts terrific performances from the well-cast characters who speak in the lovely, lilting patois of Nigeria and display a singular talent for the kind of physical comedy we know from Charlie Chaplin and Lucille Ball.
A super fun, audience participation comedy with a happy ending. What's not to like?
With Sound Design by Nick Hernandez; Projection Design by Kelly Colburn; and Vocal/Dialect Coach Dawn-Elin Fraser.
Through July 3rd at Round House Theatre, 4545 East-West Highway, Bethesda, MD 20814. For tickets and information call the box office at 240 644-1100 or visit www.RoundHouseTheatre.org.
Princess Diana Brought Back to Life in Tysons Corner Photo Exhibit