Pets
Champion Alexandria Dog Is in the Westminster Kennel Club Dog Show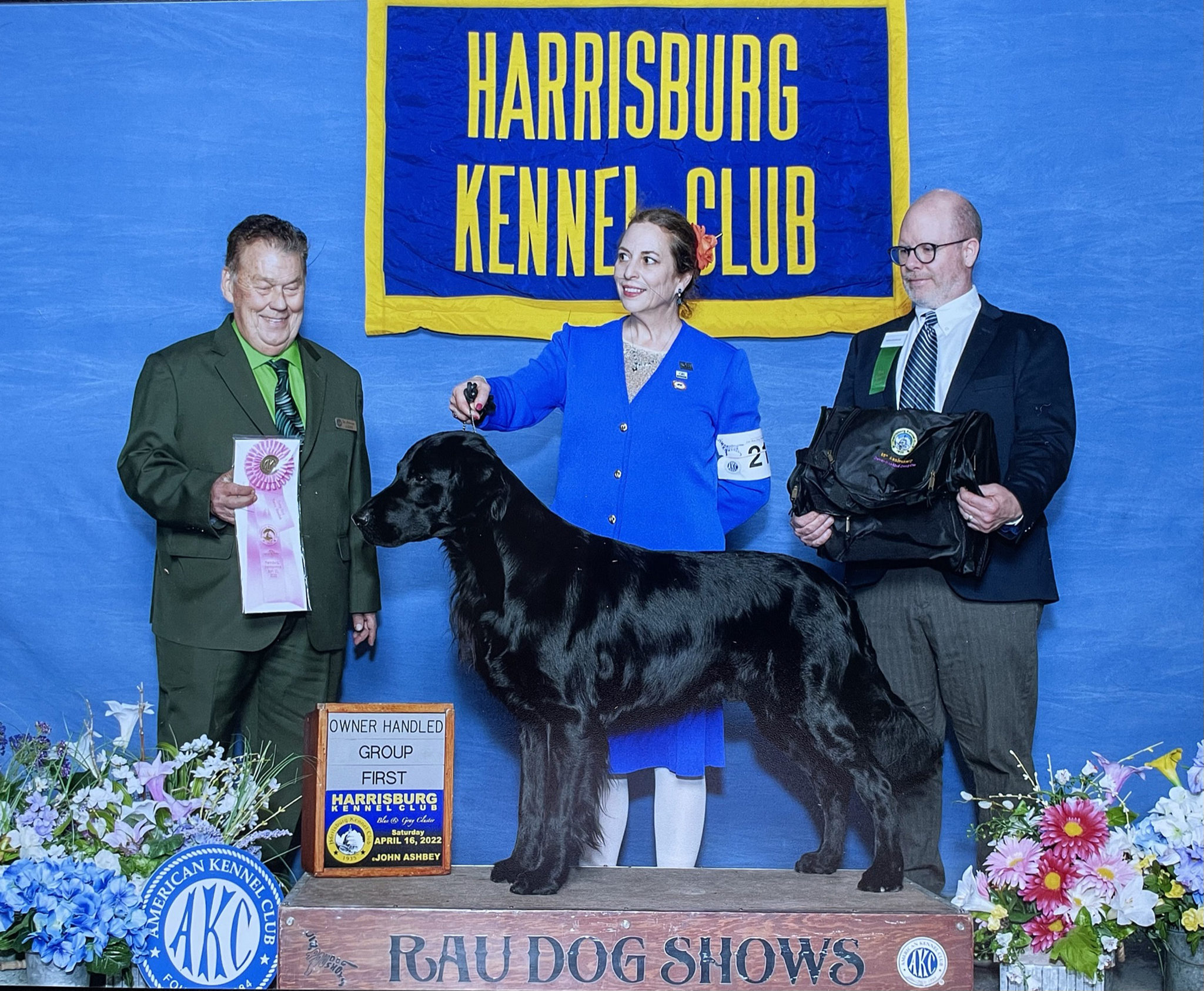 *editor's note: this story was written before the WKC concluded; results will be posted online*
Alexandria, VA – Cheerio is a six-year-old Flat-Coated Retriever who lives with his owner-handler-trainer Sue Sommerfield near the Masonic Memorial. Cheerio loves to play in the water, run in the yard, and watch all the people, cars, and pets go by. "He loves helping me with whatever I'm doing," says Sommerfield. "In the morning, he likes to bring me gifts, a shoe, then a boot, then the shoe tree, coat hangers—he is being helpful."
When he is not being the perfect pet, Cheerio is winning dog shows. Bred to show since birth, Cheerio has competed since he was a puppy, where he began in local shows. He has shown ever since, competing against and beating some nationally top-ranked dogs. Cheerio himself is nationally ranked #2 in the Owner-Handled division for Flat Coats and all-time #9 for Flat Coats. He has been a Champion, a Grand Champion, a Grand Champion Bronze, and he is at the Silver Level in the Owner-Handled division.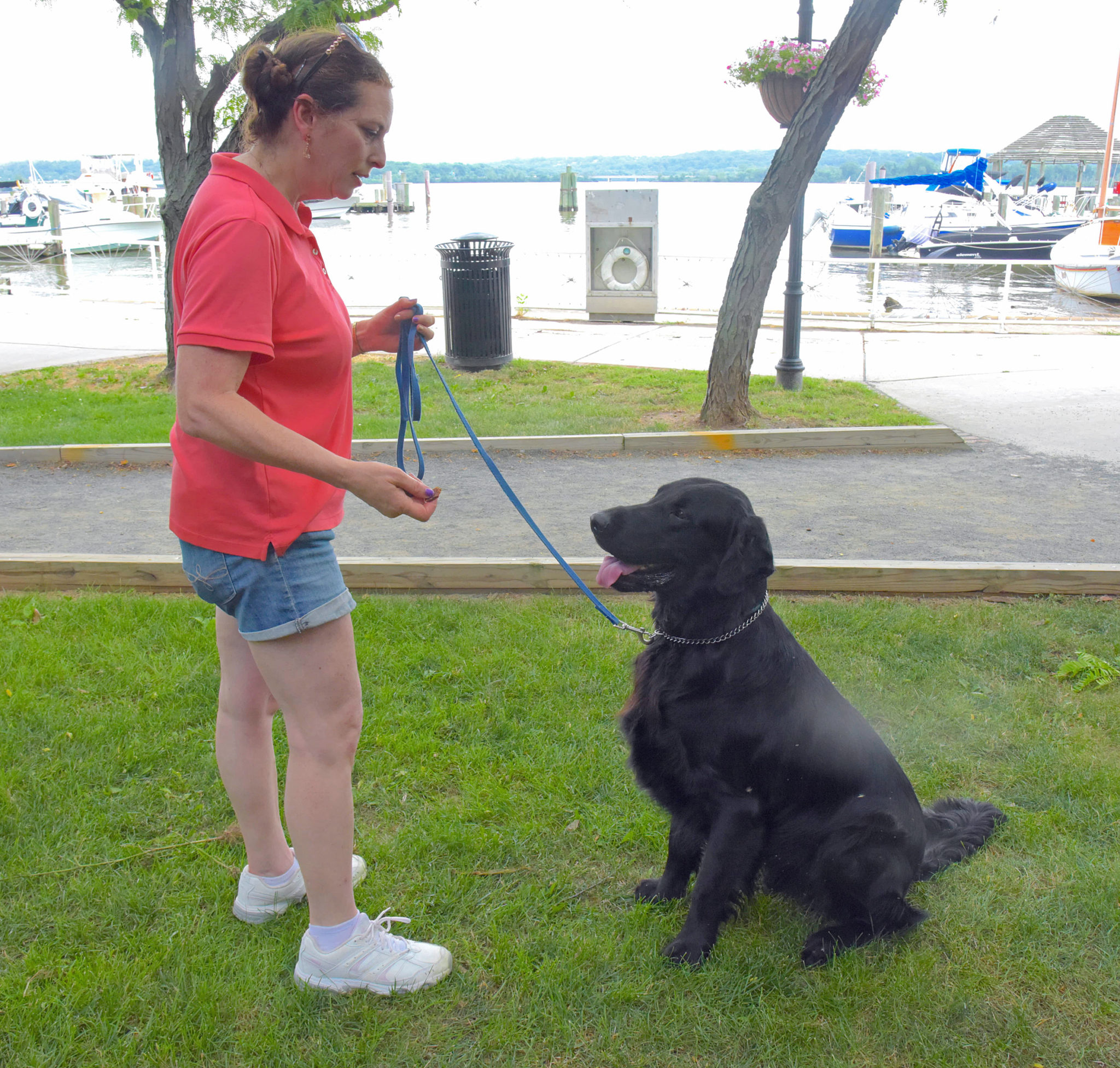 His most recent award is the first place blue ribbon at the Harrisburg Kennel Club Dog Show in Pennsylvania on April 16, 2022, for Best in Group.
Other shows Cheerio has shown in have been in North Carolina, Tennesee, and Virginia, but perhaps most widely known is the Lyndhurst Estate in New York, where the esteemed Westminster Kennel Club Dog Show is held. Cheerio has competed in the WKC Dog Show twice, 2021 being his first year. This year saw him take home (RESULTS TO COME AT FIRST PROOF).
Sommerfield explains Cheerio's show-day routine, "He gets his usual bath and grooming, and he knows when I'm getting ready to go. He gets very excited; he knows as soon as a bag goes by the door or I start to pack. Then we load, drive, unload, groom, and go in the ring."
The Flat-Coated Retriever is a sporting breed, so one will see it compete against other retrievers, spaniels, pointers, setters, and such. Cheerio is in his element when he's surrounded by these dogs and their trainers.
"He loves attention, loves people, loves to see the other dogs," says Sommerfield. "He loves just to watch what's going on, then loves to be in the ring and show."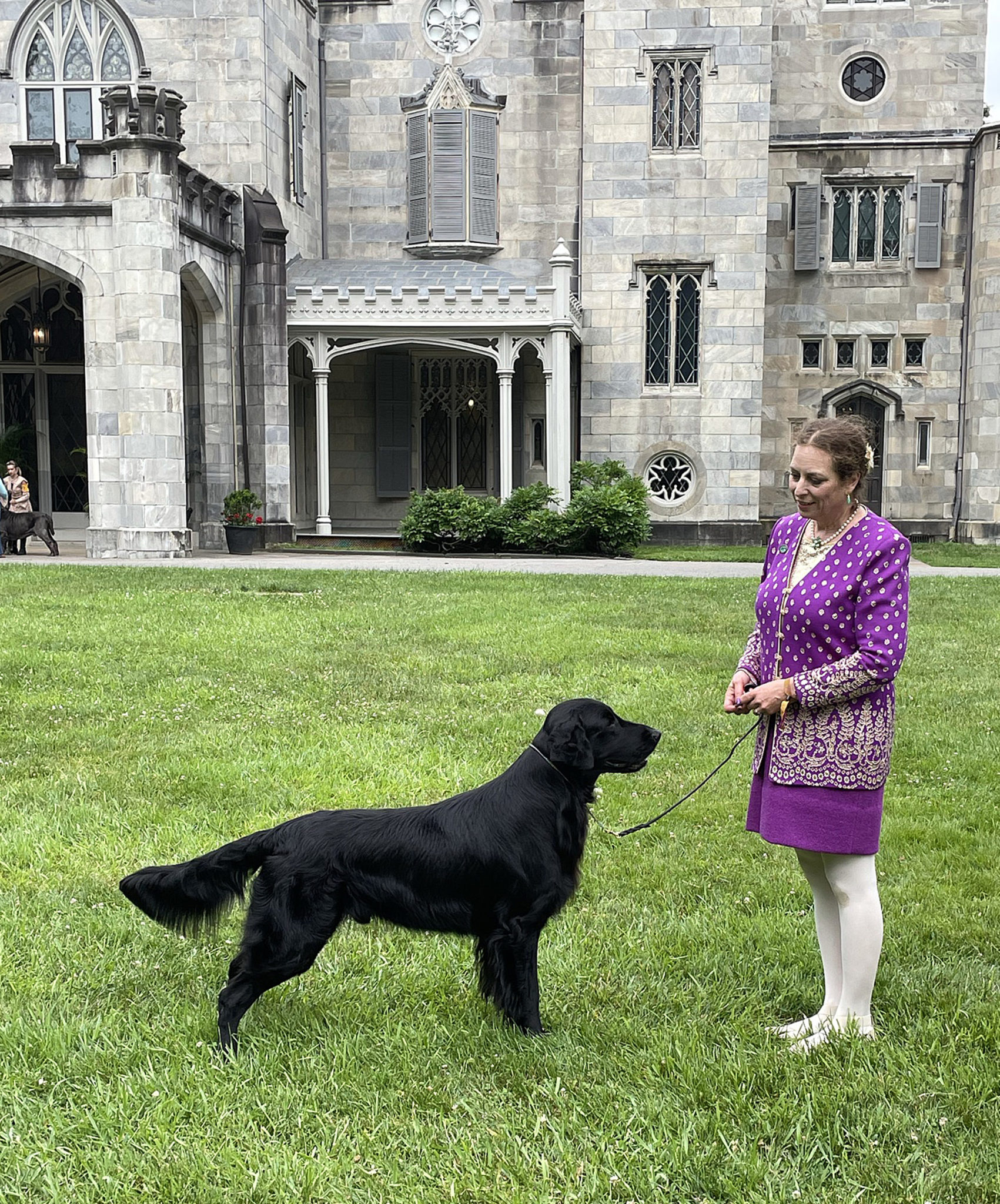 For Sue, this love is comparable. She has been involved in the show dog world since childhood. "I started showing as a kid. The kids go every weekend and help out. I went with my parents just for fun, and my dad liked the idea of the show, so he said, 'Do you want to show?' We got an AKC-registered puppy—a Boxer—and started. Then I got into dalmatians and showed them for over 40 years. Now I've got a flat coat."
Sommerfield loved working with dalmatians, so when she transitioned to flat coats, she was looking to work with a similar breed. "I was looking for a breed that was just wonderful. I wanted it to work well with kids and people and other dogs. He is a large breed, but temper-wise he is an easy dog to live with. They are very energetic dogs, very strong dogs. They want a job to do. I hope to show him for a few more years and see how he goes. As long as he is able and enjoys it and is in good condition, we will keep trying."
Although Cheerio is a champion dog, Sommerfield has no plans to have him sire offspring. "He is a fun dog," she says. "He is a family dog whose hobbies include fetch, running, swimming, and showing."
After Cheerio retires from the show, Sommerfield says she will stick with the Flat-Coated Retriever or perhaps venture back into dalmatians, but for now, she and Cheerio are enjoying their journey. Almost every weekend, they travel near and far, seeing old friends and making new ones, winning ribbons, and collecting memories.
Sommerfield encourages first-time or aspiring showers to go to a show and experience all the different breeds. There are many out there, and sometimes the rarer breeds make the best pets too.
To learn more about the Westminster Kennel Club, or delve into the world of dog shows, visit westminsterkennelclub.org.
ICYMI: Alexandria Love Your Pet Day Is Now Paws in the Park!