Kids
Read to Kids and You'll Raise a Book Lover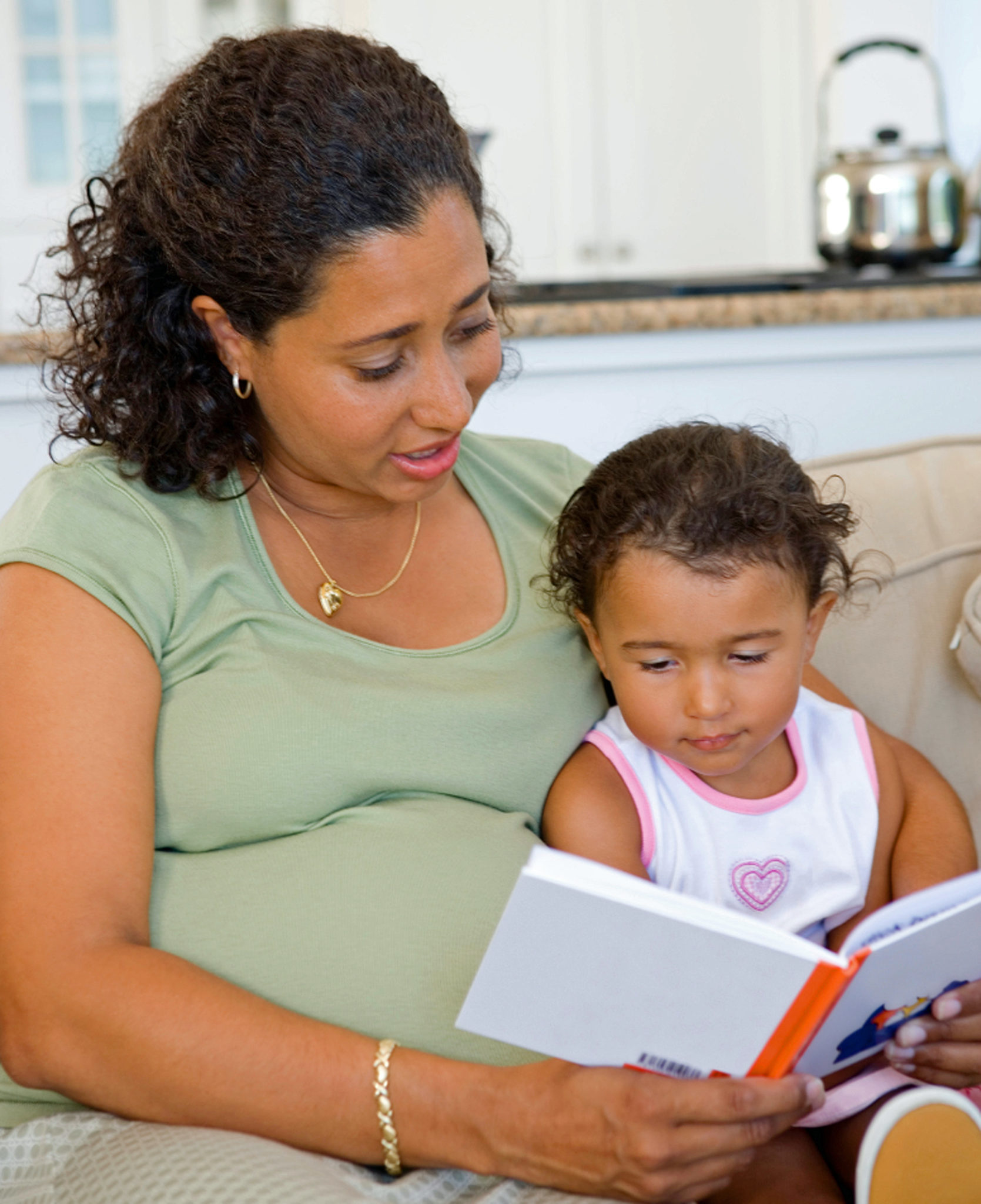 From Kids' First Years
Alexandria, VA – Did you know that a lifetime love of reading starts in the early years? The first step on the path to literacy begins with a book in your hand and a child on your lap. Young children enjoy being read to and looking at picture books with an adult. Reading helps children understand how the world works and sets the stage for success in school.
According to The Literacy Project (literacyproj.org), children who are read to at least three times a week by a family member are almost twice as likely to score in the top 25% in reading compared to children who are read to less than three times a week.
The local libraries in Alexandria are excellent resources to introduce your child to the wonderful world of books. All branches of the Alexandria Library system offer a SummerQuest Jr. reading program with the theme "Oceans of Possibilities" for summer 2022. Download the online brochure to check the dates/times of programs at alexlibraryva.org/summerquest. Some of the summer sessions for young children include:
Baby Story Time on Mondays at 11am for ages 0-14 months
Preschool Story Time on Wednesdays at 11:30am for ages 3-5
Story Time in the Reading Garden on Mondays, Tuesdays, and Thursdays at 11am for ages 0-5
Toddler Rock 'n' Read on Thursdays at 11am for ages 0-5
Stories and Songs on Tuesdays at 11am for ages 0-5
The Basics offers fun activities to support literacy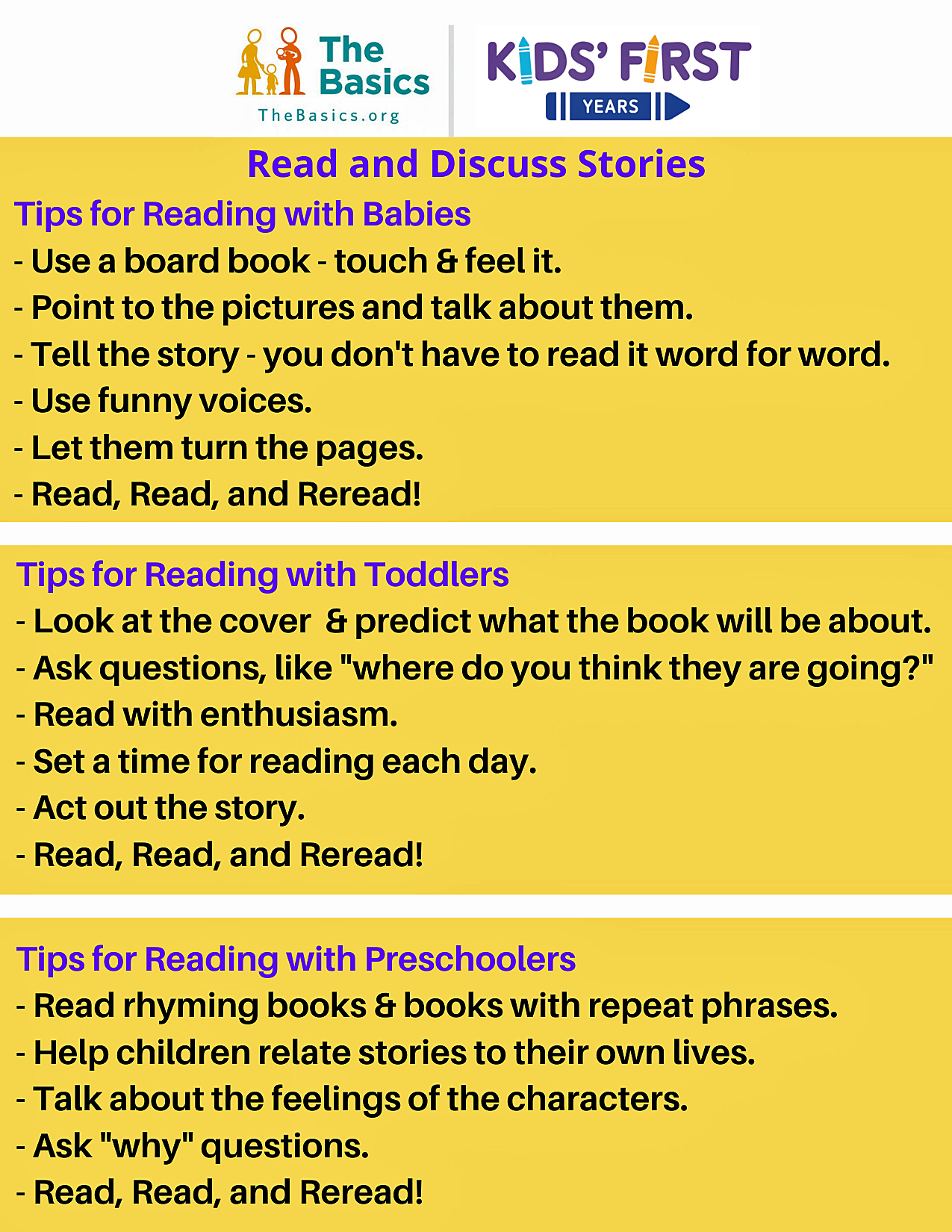 Kids' First Years embraces The Basics, which are simple yet powerful principles to help children thrive in the early years. One of the principles is Read and Discuss Stories because it's never too early to begin reading to your child. Below are examples of activities tied to this principle, which help build your child's knowledge, reasoning, and literacy skills.
Help your son make personal connections to the stories you read. For example, if a character in the book is looking at a firetruck, ask your son if he remembers seeing a firetruck and how loud it sounded when it sped past.
As you read aloud, ask simple questions to engage your daughter in the story, such as "What sound does the cow make?"
If your child loses interest and gets up to do something while you are reading, keep going for a while longer. Show how interested you are in the story by the tone of your voice. This helps your child know that reading is something that you enjoy doing together.
Make a cozy corner for reading. It could be at the end of a sofa or in the corner of a bedroom. Involve your child in choosing the spot and gathering pillows and books for it.
When reading with your child, point to the pictures as you talk about them. For example, say "Where is the mouse?" followed by "There's the mouse!" Pointing and talking about the pictures is more important than reading every word.
Invite your child to be a storyteller during your reading sessions. Let him hold the book and turn the pages. Be a good listener if he talks about it or asks questions.
NOTE: Parents and caregivers can sign up for a free text-messaging program that sends two science-based messages each week with a fact and an activity tied to one of the five principles of The Basics, including Read and Discuss Stories. Learn more at kidsfirstyears.org/basics.
Suggested Books for Young Children
Ask your local librarian for a list of age-appropriate books you can read aloud to your little one. Below is a list of childhood classics to get you started. Warning: Be prepared to read them over and over (and over!) because kids adore these stories.
Goodnight Moon
Pat the Bunny
If You Give a Mouse a Cookie
The Snowy Day
The Poky Little Puppy
The Runaway Bunny
Hop on Pop
Brown Bear, Brown Bear, What Do You See?
The Very Hungry Caterpillar
The Little Engine That Could
Make Way for Ducklings
"I find that reading to my children at bedtime helps them settle down after a busy day," says Michelle Smith Howard, Executive Director of Kids' First Years and mother of three. "It's a special time that we look forward to each evening. I highly recommend it to all moms, dads, grandparents, and caregivers who want to provide a strong foundation for school readiness and language development in the formative years from birth to age five."
To connect with Kids' First Years or its partners, visit kidsfirstyears.org.
ICYMI: Summertime Advice from Kids' First Years: Get Out and Play!