Del Ray Doings
Del Ray Cafe and Partners Donate $40K to ACT for Alexandria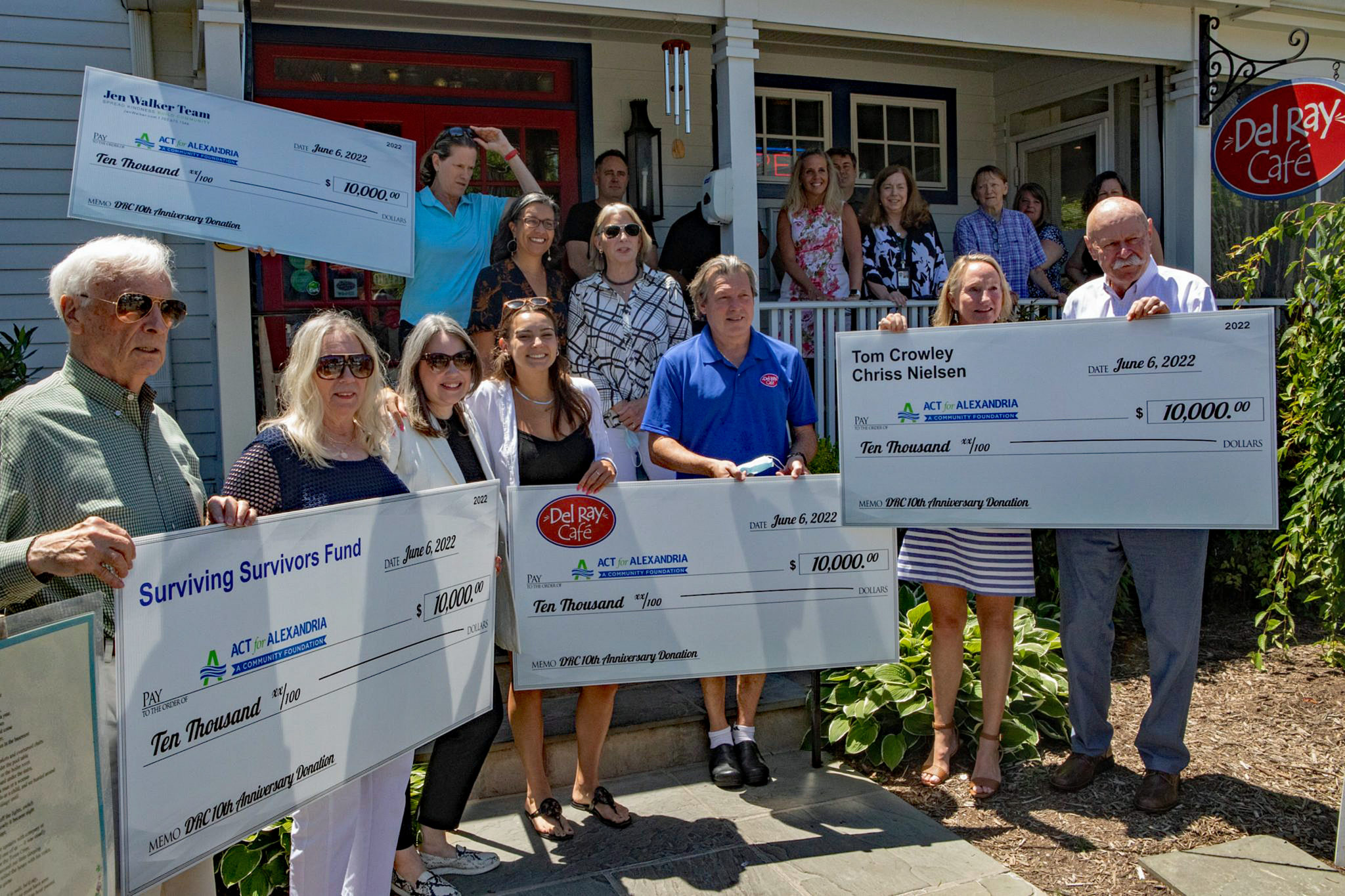 Alexandria, VA – To celebrate Del Ray Cafe's 10th anniversary, owner Margaret Ticer Janowsky committed 5% of all May sales, which came to $10K, plus another $30K from match partners, the Jen Walker Team of McEnearney Associates, Wendy Brown with the Surviving Survivors Fund, and Tom Crowley & Chris Nielsen. On Monday, June 6, Del Ray Cafe and the match partners delivered a $40K check to ACT for Alexandria (ACT).
Margaret and Laurent Janowsky have been active participants in this year's Spring2ACTion, ACT for Alexandria's biggest single giving-day event. They donated 10% of the day's sales to At Home in Alexandria on April 27 and have now presented $40K to ACT. "This is an incredible gift to our entire community, and I can't tell you how much we appreciate it," said Heather Peeler, President and CEO of ACT.
ACT is a community foundation working to improve the lives of Alexandrians through the Alexandria Resilience Fund, Spring2ACTion, and racial equity initiatives. Since 2005, ACT has invested more than $1M in grants to deserving Alexandria nonprofits.
With this generous donation of $40K, ACT plans to help low-income Alexandrians climb the economic ladder and have more stability in their lives. ACT will be working with 60 partners around the city to create a comprehensive network of support for Alexandria's young people. Peeler said, "We know how important this is, especially since COVID had a challenging impact on so many young people." Finally, through a new grant program, ACT will support frontline nonprofits that worked hard throughout the pandemic to uplift the community.
During the check presentation, Janowsky praised ACT for their hard and important work, her match partners, and the Del Ray Business Association. "Wendy Brown grew up here in Del Ray and has been a real fan of ours since we opened," said Janowsky, in gratitude for Brown's support of Del Ray Cafe's initiatives. Janowsky also highlighted match partner Chris Nielsen for her work. Nielsen was an original board member of At Home in Alexandria, a nonprofit supported by Del Ray Cafe for Spring2ACTion every year. Thanking the Del Ray Business Association for their continued support of small businesses like Del Ray Cafe, Janowsky said, "Without them, we couldn't have survived the pandemic. They are the wind beneath our wings."
"We are in the best neighborhood ever!" exclaimed Janowsky about the overwhelming support from Alexandria's businesses and individuals. Echoing Janowsky, Peeler remarked, "Del Ray Cafe is an example of what is amazing about Alexandria. People come together to support the community we all care about."
ICYMI: Alexandria Beautification Commission Selects 2022 Alexandria Residential Award Winners