Alexandria History
An Afternoon in Gaeta: How an Alexandrian Connected with his Italian roots 
As told by his Grandson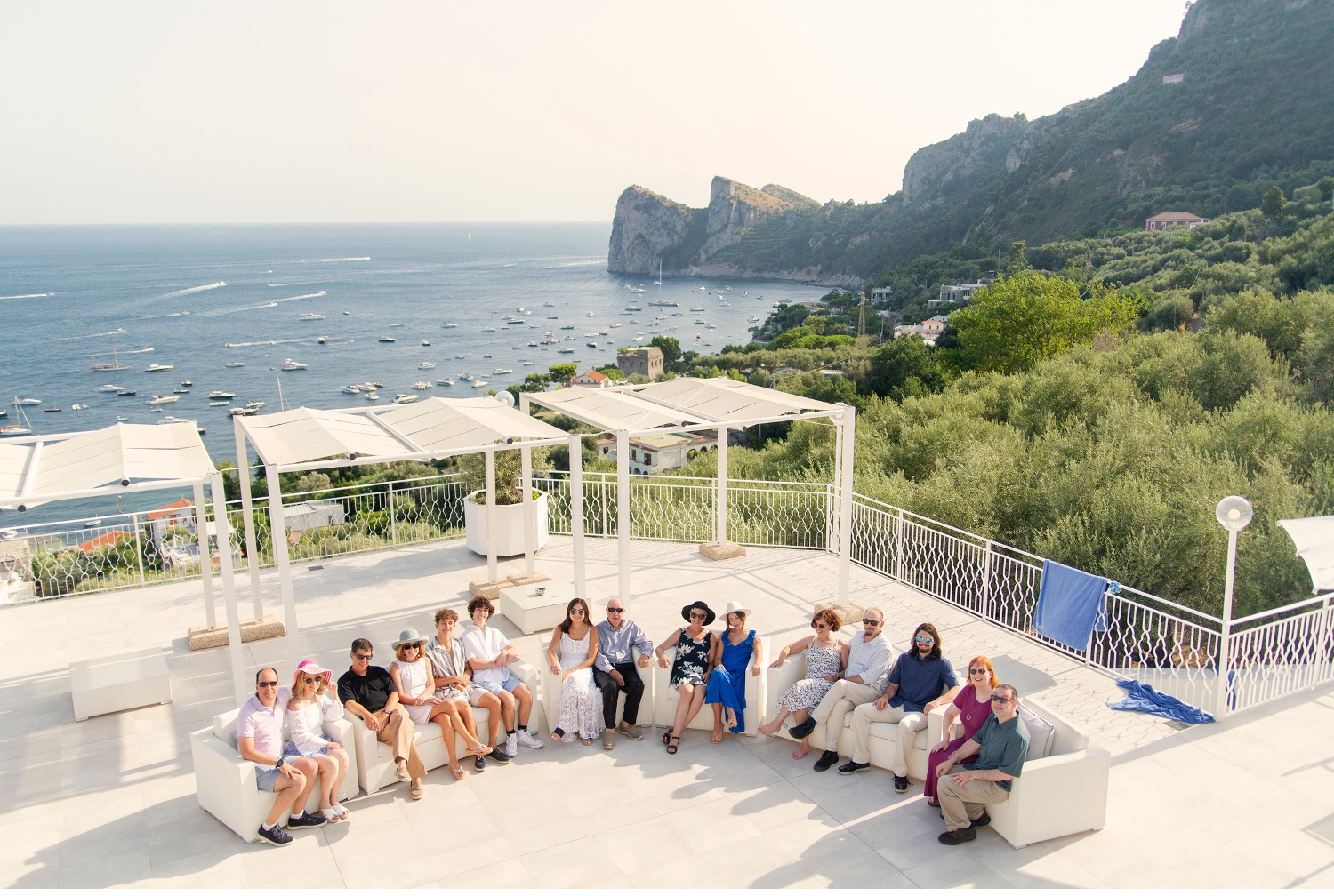 GAETA, ITALY–It's just before 7 A.M. – time to get up. As I stumble down the stairs, my mind buzzes with excitement, but my face, which is half-asleep, tells a different story. I look disheveled, like I just rolled out of bed – probably because that's exactly what I just did. I'm still a few hours away from displaying any signs of outward enthusiasm, which is why you'd never know that I was about to journey to Gaeta, perhaps the most important stop on our seemingly improbable two-week trip to the Amalfi Coast, with my father's side of the family – the Damonds.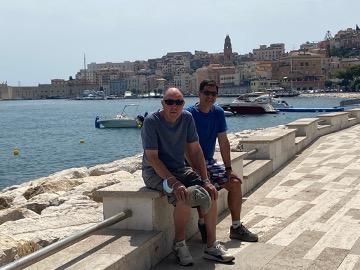 I wait downstairs for my Papa John and Uncle Joe – both Alexandrians, like myself – to join me, I'm thinking about our vacation thus far – our beautiful villa on 25 Amerigo Vespucci, complete with a pool and breathtaking views of the Tyrrhenian Sea and its nearby mountains; our previous ventures to Pompeii and Naples; and my 15 family members on the trip, including my Grandma Valerie and Papa John, who are celebrating their 61st wedding anniversary here.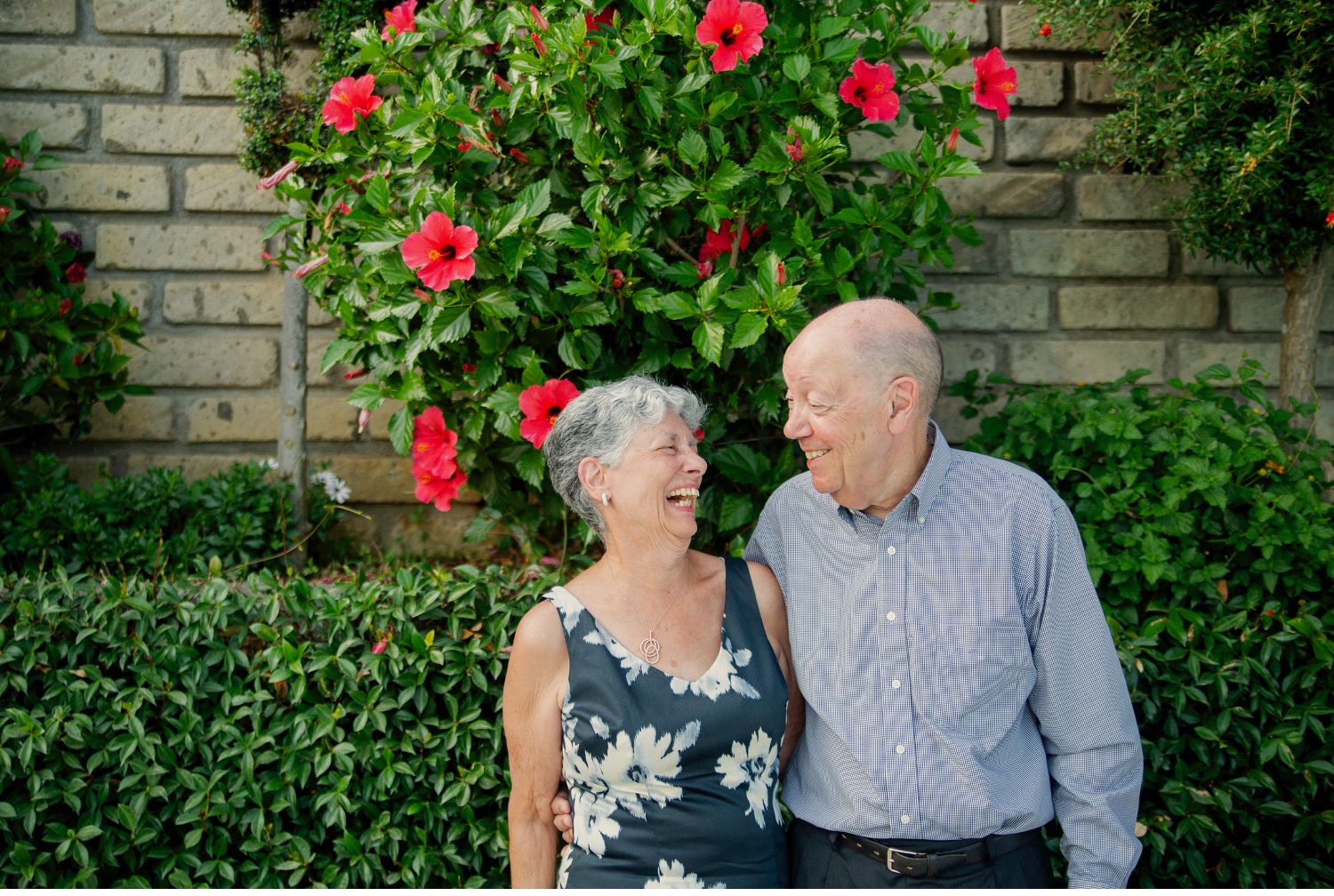 This vacation was my grandparents' idea, initially planned to honor their 60th wedding anniversary in 2020, a year we were all anxiously awaiting. It was supposed to be spectacular! – my high school graduation, my cousin Clara's college graduation, my Uncle John and Aunt Marietta's 25th anniversary and, of course, my grandparents' 60th. It was going to be monumental, and it was, just not in the way we thought. Why?
DON'T MISS THE JULY ISSUE: 40 Under 40 +2, A Glimpse of Alexandria's Future
As I'm sure you're aware, of the Covid-19 pandemic. All this turmoil crushed most of the events my family had been looking forward to for so long, with the most gut-wrenching being the postponement of our dream vacation in a magnificent villa on the Amalfi Coast. But as cases declined in 2021, it looked like the dream could soon become reality. It was still a tough decision, even with countries beginning to open again, but this was the bottom line: my grandparents had both recently turned 80; they didn't know how much longer they could travel. They wanted one last hurrah, in a country so sentimental to them both. A land in which their ancestors once roamed not so long ago, and though my grandparents were born in America, the Italian way of life was passed down to them and was all they ever knew. So, this trip was incredibly important and, fortunately for them, we finally got there – just a year later. From the moment I stepped on Italian soil in July of 2021, I was mesmerized by the sheer beauty of the country- its pure, dark denim-blue seas; its vast mountainsides aligned with cute little houses of varying elevation; and its picturesque, tiny islands just off the mainland. And while all our excursions were great, it was Gaeta, the very place where the Damonds originate, that was the most meaningful – particularly to my Papa John.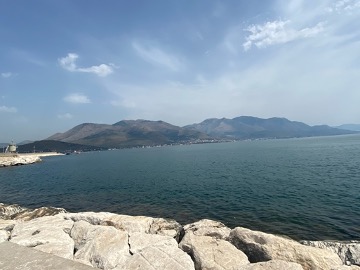 For much of the 19th-century, Italy was a collection of various regions, all with different dialects and rulers. It was like a jumbled puzzle, with all the pieces coming from different sets. Still, revolutionaries wanted unification and dedicated their lives to sifting through the pieces to try and put the region together. Eventually, in 1860, after a violent and chaotic decade sparked by the protests of 1848, the process of unification was finally taking hold. The Kingdom of the Two Sicilies, Italy's largest region encompassing virtually everything south of Rome, was about to fall; Francis II, the king of the province, and his troops knew defeat was imminent. Fleeing to none other than Gaeta, known for being a prime defensive location because of its medieval fortifications and large-hilled terrain, Francis II would hold on for a few months but eventually surrender, securing the Two Sicilies' places in the Kingdom of Italy. The struggle for unification was not over, however, and would continue for many more years until 1871 when Rome was officially designated the capital. And so it was out of this, on December 29, 1874 -three years after the completion of the unification of Italy and back when the Damonds were still the D'Amantes, that Papa John's grandfather, Giovanni, was born in Gaeta. The Italian leaders had all the pieces to the puzzle, but they were still many years away from putting it together. Differing dialects and economies continued to exist. While Italy's dream of being unified was technically official, it was by no means reality.
It was out of this struggle, magnified by the fact that the D'Amantes were poor peasant farmers, that Giovanni, and many others in the D'Amante clan, decided to immigrate to the United States. Departing from Naples, 31-year-old Giovanni entered America on April 4, 1905, aboard the S.S. Republic. He first settled in the New York Catskills with his wife, Elvira Maisto, also a native Gaetian. And so began their life in America: the land of opportunities. Where did the D'Amantes get theirs? – well, at first, they collected ice, cutting it out of a nearby lake and distributing it to wealthy people in the area, stacking it up in their basements. Eventually though, the D'Amantes made their way to Jamestown, New York, where my Papa John's father, Joseph Damond, was born in 1911. However, his older siblings, Frank and Thersea, were born in Gaeta. While Joseph certainly used the Damond name, it's unclear whether Damond or D'Amante was on his birth certificate.
Around 1915 the family name had been legally changed to Damond, which was confirmed by a series of documents – census, death records, graves, local registries, etc… Furthermore, Papa John has said his Uncle Frank made the change, probably so Americans would pronounce it correctly. In the Campagna region surrounding Naples, dialects often drop the vowel and sometimes 't' sounds are softened to sound more like 'd' ones. So, D'Amante was actually pronounced 'Damant' or 'Damand.'
Later, he would move to Warren, Pennsylvania, where Papa John was born in 1939. As a kid, Papa John would hear some of the Gaeta lore and occasionally see his Grandpa Giovanni when he would come to visit, but, unfortunately, his broken English made it hard to communicate. Nevertheless, this is when my Papa John's interest in Gaeta began, yet it was not until his father died that he really wanted to journey there. Towards the end of Joseph Damond's life, he suffered a severe heart attack, prompting him to journey to Italy so he could see the land of his ancestors before he died. My Papa John and Grandma Valerie went with him and travelled to Rome, expecting to go to Gaeta next. But Joseph's physical condition declined there. Too tired to go any farther, he returned home to Pennsylvania, where he passed away in 1999; my Papa was determined to travel to Gaeta for him. That's why this trip was so special, which leads me back to our villa, where I was still downstairs in a bedraggled mess awaiting my Papa John's presence, ready to help him complete the journey.
As I continue to wait downstairs, I become groggier by the minute, about to lose myself in a realm of psychosis when distant sounds of shuffling feet jolt me back to life. I perk up when I hear footsteps coming down the stairs, which are soon revealed to be those of my Uncle Joe – he says Papa John is right behind him. Another ten minutes pass and he eventually makes it to the ground floor.
Carmine, a native Italian who organized our entire vacation, graciously volunteered to drive us three hours to Gaeta. For him, we are forever grateful. Around 7:45 a.m., we loaded into his car, waiting just outside the gates of our villa, and took off along the windy and treacherous roads that define the Amalfi region.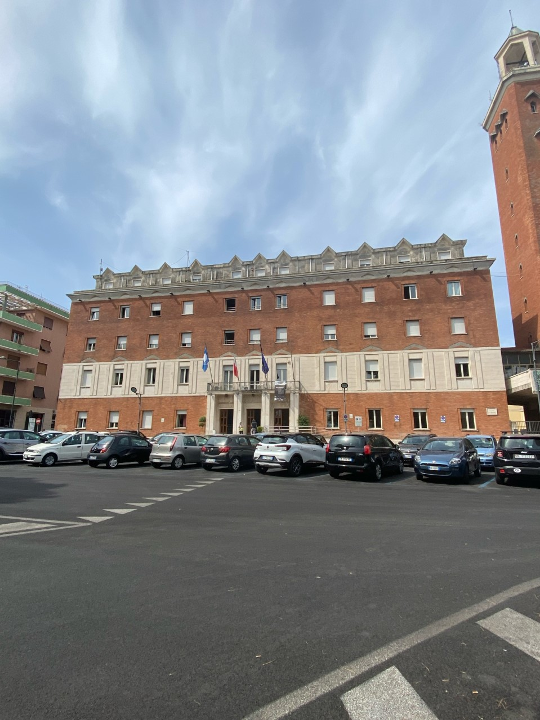 Sometime around 10:30, we arrived. As we set our feet on Gaetian soil, Carmine left, leaving three generations of Damonds to explore their ancestral city. Scanning the place for the first time, we caught sight of the town hall, a rather symmetrical building consisting of brick and stone. Italian flags adorned the walls, twitching ever so slightly when caught in the cool breeze. Of the various styles of architecture that we'd encounter here, this was relatively mundane. However, the red clock tower immediately to its right, was much more intriguing. Along a slab of stone that cut through the base of the tower was some sort of metallic engraving depicting the Gaetian way of life. A prosperous seafaring town, one end portrayed two men out at sea, while another illustrated someone picking olives, a commodity the city is known for. Our eyes converged at the center of the artwork where Gaeta's coat-of-arms lie, and, as the breeze tickled our hair, it spoke to us, saying "this is the very essence of Gaeta, welcome." In that moment, we felt a deep connection with our ancestors, like they were right there with us, helping us complete the journey.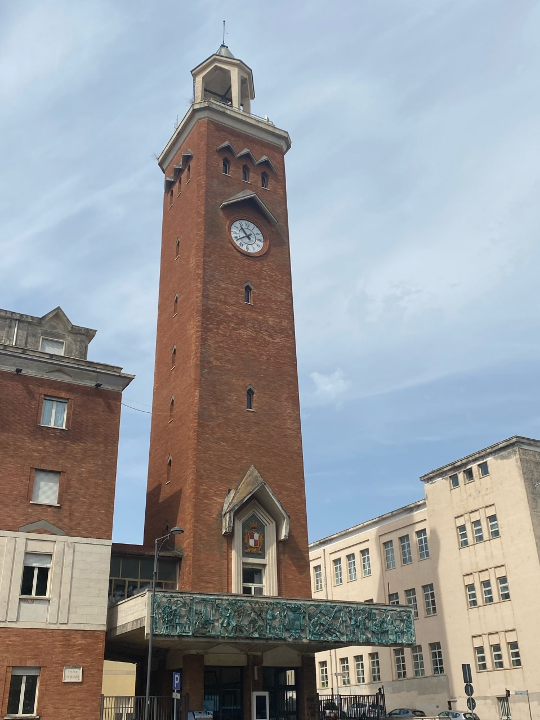 Needing a jolt of energy before embarking into the city, the three of us took a shot of espresso at a place near the town hall. With caffeine coursing through our veins, we took to the streets and immediately noticed the town's rich diversity. Dating back to Roman times, Gaeta's lived through many eras and has been highly coveted throughout history because of its geography. Sitting along the coast of the Tyrrhenian Sea, Gaeta is a prime location for trade. In addition, the town's large hills made it extremely difficult for armies to overtake. Atop Gaeta's highest peak is Castello Angioino-Aragonese, a fortress from the Middle Ages, which is supported by a plethora of medieval fortifications that can still be seen today. Ironically, these alluring features led to the city's siege multiple times, resulting in several rulers extending their influence there. Most recently, the Nazis occupied the town during World War II.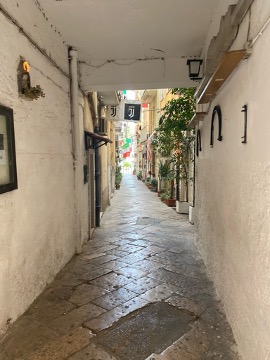 Looking past the fortifications, there were also a number of old structures, many of them churches, with varying styles – medieval, gothic, renaissance, etc. When Papa John needed a break from walking, Joe and I explored an alleyway, which gave way to more and more paths. Seemingly never ending, it was like a maze that gave off hints of Venice. Later, we stumbled upon a park with a World War I memorial, where we scanned the names of those commemorated in the hopes of finding someone connected to us. We continued to venture through the town, and I remember being simply amazed at its complexity. Papa, Joe and I wandered the streets for three hours and only scratched the surface of what Gaeta had to offer this new generation of Damonds.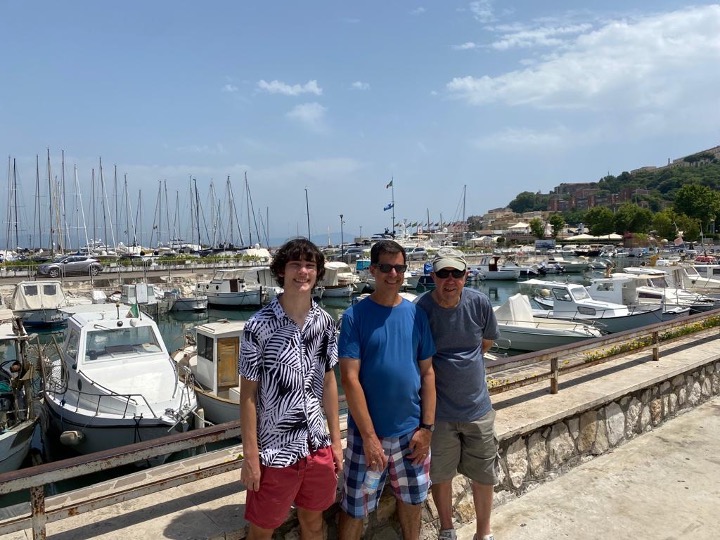 Our stomachs began to grumble, but all the restaurants were closed, which we found out the hard way after scampering around town for another hour. Turns out, even Italian restaurants take lunch breaks. So, we sat down on a bench along the glistening sea, overlooking the nearby town of Formia in the distance. Not a soul in sight; we had the town to ourselves. As we rested, I realized how trivial everything we saw today was. It wasn't about what we were seeing, but, rather, what we were feeling. I glanced over at Papa John, who was absorbing it all, using the energy of the town to fuel him. And in that very moment, Papa John was satisfied, knowing that he had shared his past with two more generations of Damonds and finally completed the journey.
MOST RECENT: Bishop Ireton Names 2022 Athletic Hall of Fame Inductees