Press Release
Waterfront Events and Live Music Coming To Robinson Landing Starting Next Month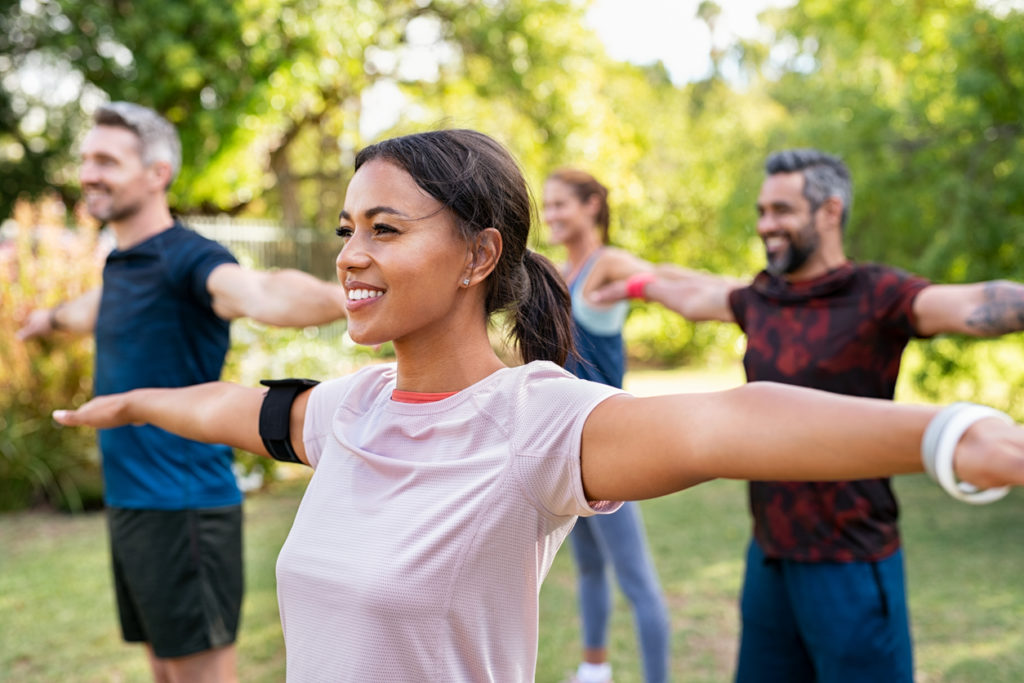 ALEXANDRIA, VA – Old Town Alexandria's premier waterfront community Robinson Landing today announced the lineup of its seasonal programming to start in August. The events will be held on the Promenade and Pier, and include activities ranging from live music, fitness classes, family-friendly events such as the first-ever family festival, and an archeology event in partnership with the City's Alexandria's Office of Historic Alexandria. Last year the waterfront community kicked off this programming initiative to help bring more curated activations to this part of the waterfront for all to enjoy and experience.
Upcoming Waterfront Events at Robinson Landing
Wellness on the Water
(August)
Sundays with MVMMT Society August 7, August 14, August 21
Time: 9:00 a.m. – 10:00 a.m. (1 class per day)
(September – October)
Sundays with Barre 3 September 11, September 25, October 9, October 23
Time: 9 a.m. & 10:00 a.m. (2 classes per day)
Weather permitting
Fee for class. Prior registration is required for all classes.
Wellness on the Water kicks off in August with local Alexandria studio The MVMMT Society bringing some high fitness to the pier this summer. The MVMMT Society team is excited to bring our most waitlisted class to the waterfront at Robinson Landing Pier! HIGH fitness is Old School Aerobics made Modern. Cardio and toning meets Jane Fonda with a side of Richard Simmons. You will have a blast, see real results both physically and mentally, and leave this class wanting more because it's so much fun.  The revival of this fitness trend has quickly become the hottest new workout across Canada and the US. HIGH fitness has famous names and faces getting their sweat on in classes: Julianne Hough, Rachel Parcell, the LA Laker Dancers, and more. Class is 45 minutes and is suitable for all ages and fitness levels.  No equipment is required.  Wear sneakers and workout clothes. Registration Link.
For September and October, join Barre3 Old Town for a full-body workout that combines strength conditioning, cardio, and mindfulness. The class is 45 minutes and completely adaptable with a variety of options for every posture to truly meet you where you are! Bring a yoga mat and an optional set of handheld weights! Registration Link.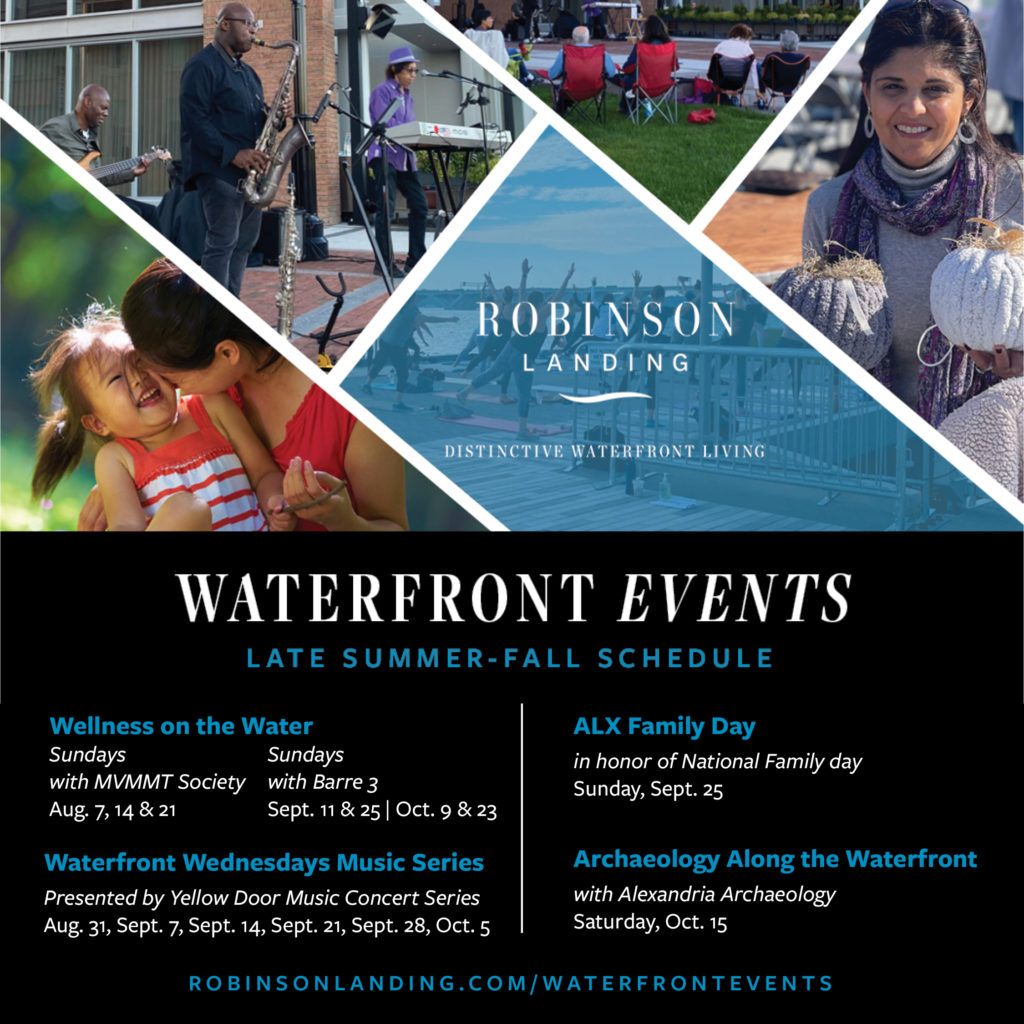 Waterfront Wednesdays Music Series (presented by Yellow Door Music Concert Series)
August 31, September 7, September 14, September 21, September 28, October 5
5:00 p.m. -7:00 p.m.
Free
Weather permitting
Join us for our Waterfront Wednesday Music Series featuring a range of music genres by local musicians. Bring a chair or simply stop by to enjoy some beautiful waterside beats.
ALX Family Day – in honor of National Family Day
Sunday, September 25
11:00 a.m. – 3:00 p.m.
Free
National Family Day, celebrated on September 26, puts the spotlight on the people that make our lives meaningful. Bring the family out to the Robinson Landing waterfront for a variety of fun activities for all ages such as face painters, crafts, games, entertainment, and local artisans. There is no greater time than now to gather the family together and feel the love.
Archaeology Along the Waterfront
Saturday, October 15
12:00 p.m. – 4:00 p.m.
Guided Tour Times: 12:30 p.m., 1:30 p.m., 2:30 p.m. and 3:30 p.m. (30 min each)
Free
Weather permitting
Celebrate Virginia Archaeology Month with Robinson Landing and Alexandria Archaeology! The current site of Robinson Landing included one of the two original deep-water landings in Alexandria and was later added to during the late 18th and early 19th century banking-out process that created new land along the waterfront. Test your 18th-century engineering skills and figure out a way to make new land without having it wash away into the Potomac, take part in block-wide Scavenger Hunt, and join City archaeologists on timed walking tours of Robinson Landing. The event is free and open to the public, but tours are limited. To reserve guided tour slots, visit here.
LOCATION + EVENT LINK:
7 Pioneer Mill Way
Alexandria, VA 22314
https://www.robinsonlanding.com/WaterfrontEvents
About the Robinson Landing
Robinson Landing Waterfront Events are being presented by the Robinson Landing Property Owner's Association Inc.
Robinson Landing is being developed by RT South Associates LLC, RTS Homes Associates LLC, RTS Condo Associates LLC, RT Parking Associates LLC and RT Waterfront Associates LLC each responsible for certain specific components of the project (collectively the "Robinson Landing Development Entities"). The Robinson Landing Development Entities are each solely and exclusively responsible for its portion of the development of the Robinson Landing community. No representations regarding the development, construction, or sale of any portion of the Robinson Landing community is made by EYA LLC or any EYA affiliate except the Robinson Landing Development Entities. Sales by EYA Marketing LLC, agent for RT South Associates LLC, RTS Homes Associates LLC, and RTS Condo Associates LLC.