THEATRE
Action-Packed 'Host & Guest' Draws on Epic Battles to Deliver a Powerful Message About War
Through Oct. 2 at Synetic Theater in Arlington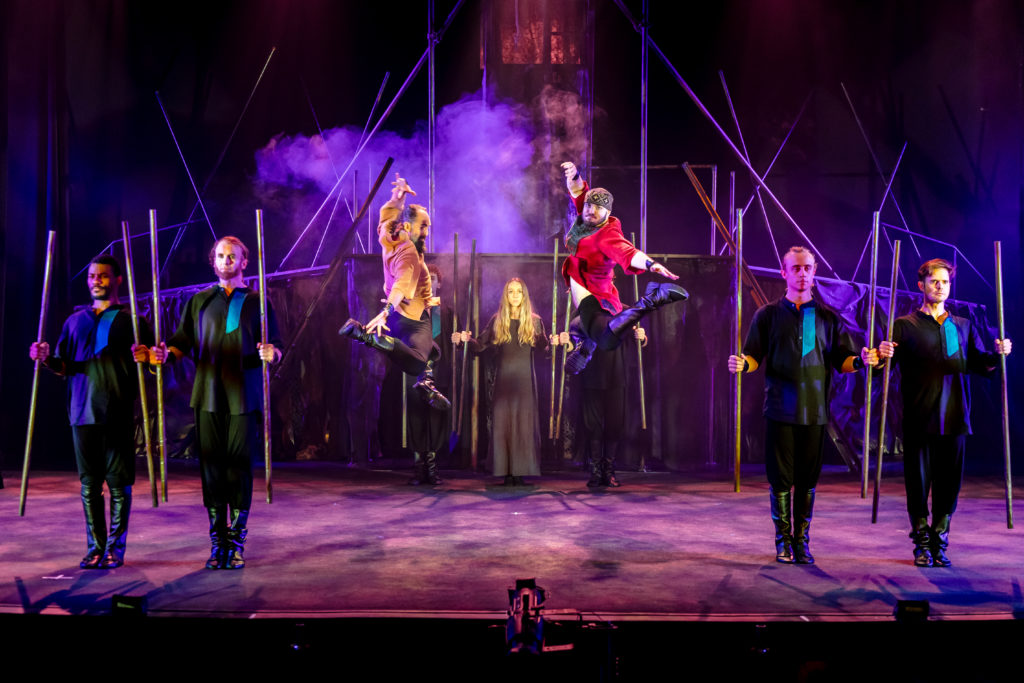 ARLINGTON, VA -In one of the most exhilarating productions Synetic Theater has ever staged, "Host & Guest" transports the audience into a world of epic wars and hand-to-hand fighting so explosive and exciting I felt I was watching a 3-D action-packed, superhero movie loaded with special effects. The musical score by Vato Kakhidze,with Resident Composer Koki Lortkipanidze, was as dramatic as one you'd expect from Oscar-winning composer Hans Zimmer. Using a combination of spoken word and mime to express the conflicts arising from warring factions, numerous battles rage against a backdrop of tribal politics, ancient laws, and religious differences. The parallels to the war in Ukraine cannot be overlooked.
The story takes place in a remote mountain village beside a gorge. Joqola (Dan Istrate) finds himself wounded and battle-weary at the home of Zviadauri (Vato Tsikurishvili),who welcomes him in as his guest. Neither Zviadauri nor his wife Agaza (Irina Tsikurishvili) are aware he is the enemy. Soon Musa (Irakli Kavsadze), the village leader discovers he has let the "infidel" into their midst and organizes the villagers to assault Joqola and murder his guest.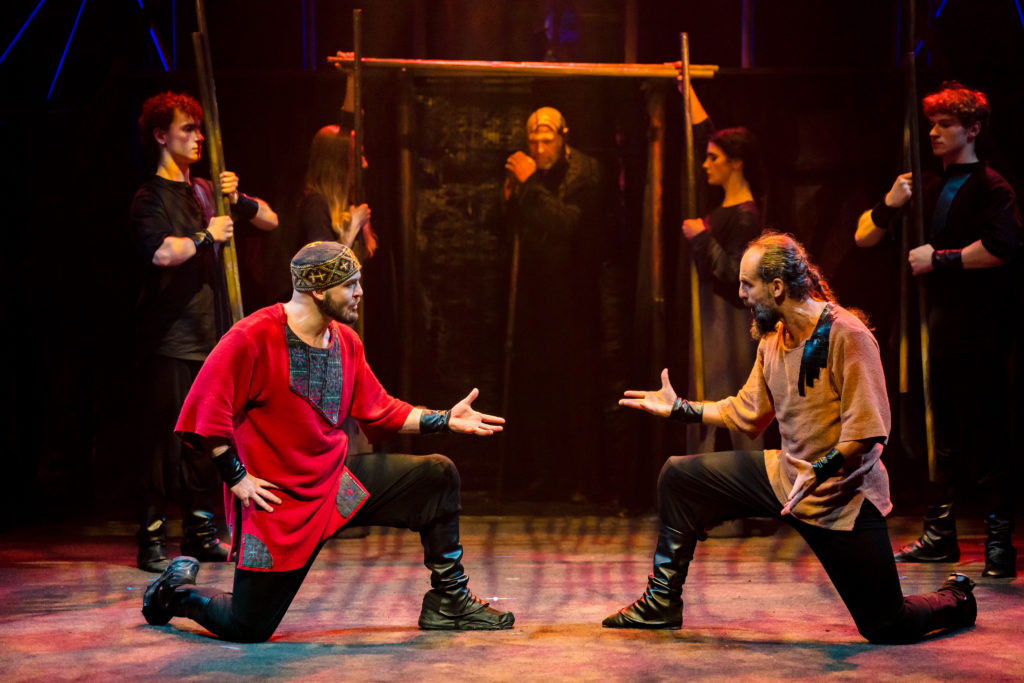 There is a ninja-like quality to the battles and a sense of geometry in the choreography by Synetic Co-Founder Irina Tsikurishvili. In one epic scene, the women prepare the men for battle. In unison and in mime, they gird the warriors with their weaponry, helmets and shields. Their militaristic movements are precise, and the sounds of their lances hitting the floor with staccato-like echoes are indeed haunting.
When empathy for the enemy is punished and humanity is ignored, we see how forces unite under a charismatic leader. With an extraordinary cast to underpin its deepest meaning Roland L. Reed's play based on Vazha Pshavela's poem by the same name reveals itself to be an existentialist exercise in the futility of war and Shakespearean in its broadest scope.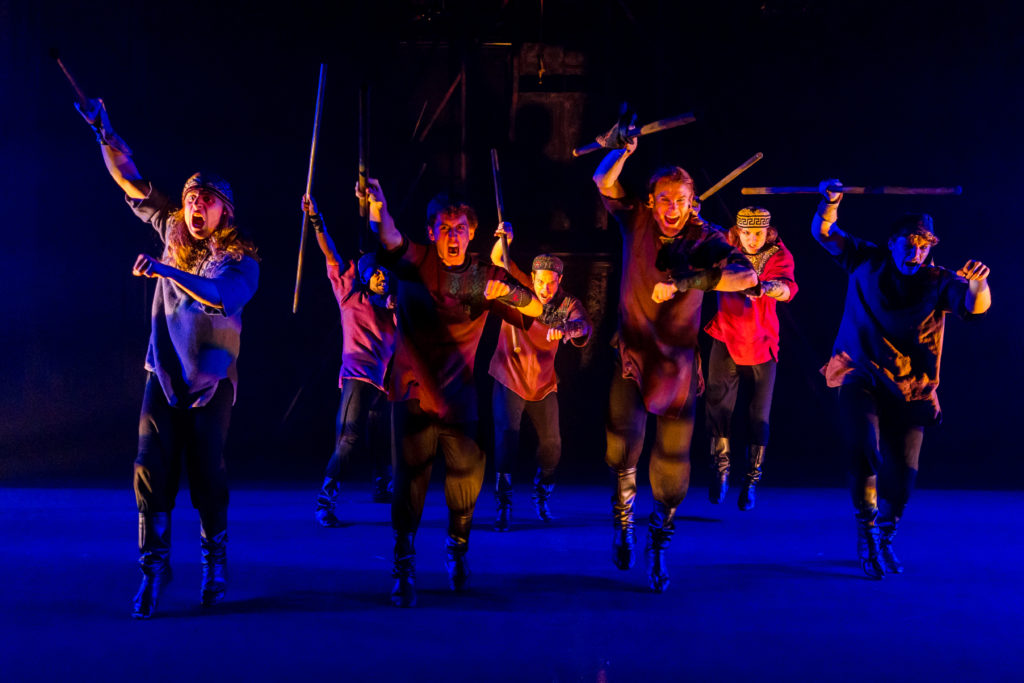 Director and Co-Founder Paata Tsikurishvili names Synetic's 20th anniversary season Stranger in a Strange Land and dedicates this production "to the brave people of Ukraine." His Director's Note remarks are a powerful warning and a poignant remembrance.
"For more than six months, the civilized world has watched in horror as true tyranny, the Evil Empire, rocks the European continent as they have time and time again for nearly 80 years. The brutal and unprovoked attack on the peaceful nation of Ukraine is cut from the same bloody cloth as the murderous campaigns of Hitler and Stalin, and has the same basic source: A small, petty man ruled by the small, petty need to feed his own warped ego and megalomania. It is a continuation of the endless, cyclical violence portrayed in Vazha Pshavela's original poem, on which this production is based, and many of our cast and company have seen this violence with their own eyes. Like many of history's atrocities, the war crimes we are witness to began with someone small and insignificant, but, left unchecked, they have, as we now see every day, spiraled into global disaster."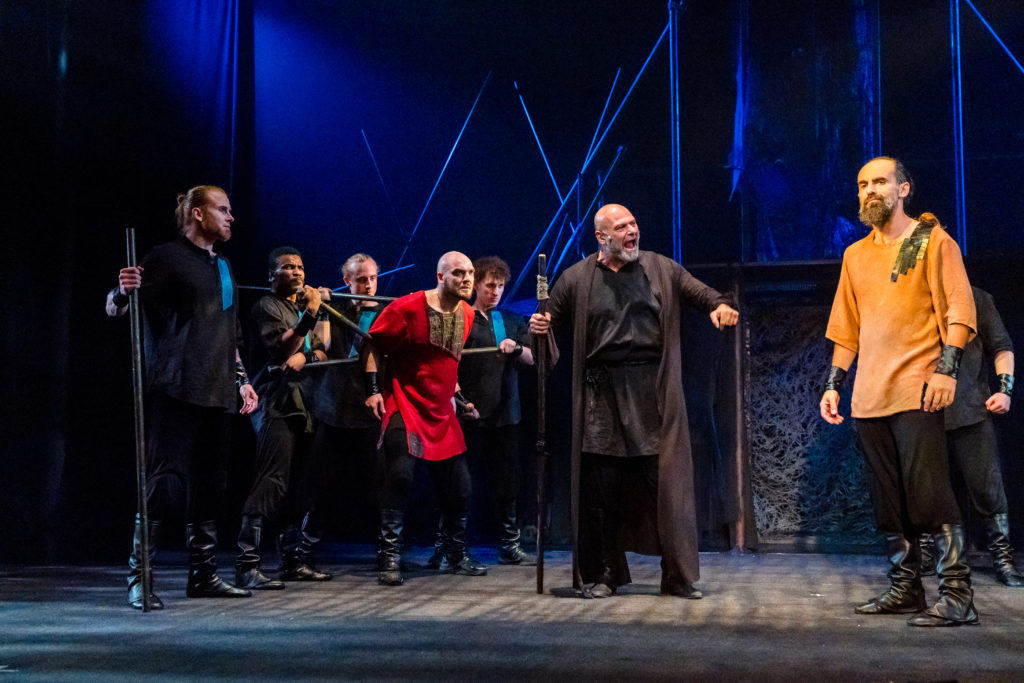 Highly recommended.
With Philip Fletcher as Mula; Nutsa Tediashvili as Zviadauri's Wife; Maryam Najafzada as Deer. Villagers are portrayed by Irene Hamilton, Josh Cole Lucas, Justin Bell, Natan-Maël Gray, Robert Bowen Smith, Lev Belolipetski, and Sebastian Newman. Emma Ruckh plays Daughter.
Scenic Design by Phil Charlwood; Costume Design by Carolan Corcoran; Set Design and Costumes in the Original Production by Gogi Alexi Meskhishvili; Lighting Design by Brian Allard; Sound Design by Irakli Kavsadze.
Through October 2nd at Synetic Theater, 1800 South Bell Street, Arlington, VA 22202. For tickets and information call the box office at 703 824-8060 or visit www.SyneticTheater.org.