Community News
Giving Back
Inmate Reentry Program in Alexandria Honors First Graduates
In2Work Graduates Gain Skills to Pursue Employment Upon Their Release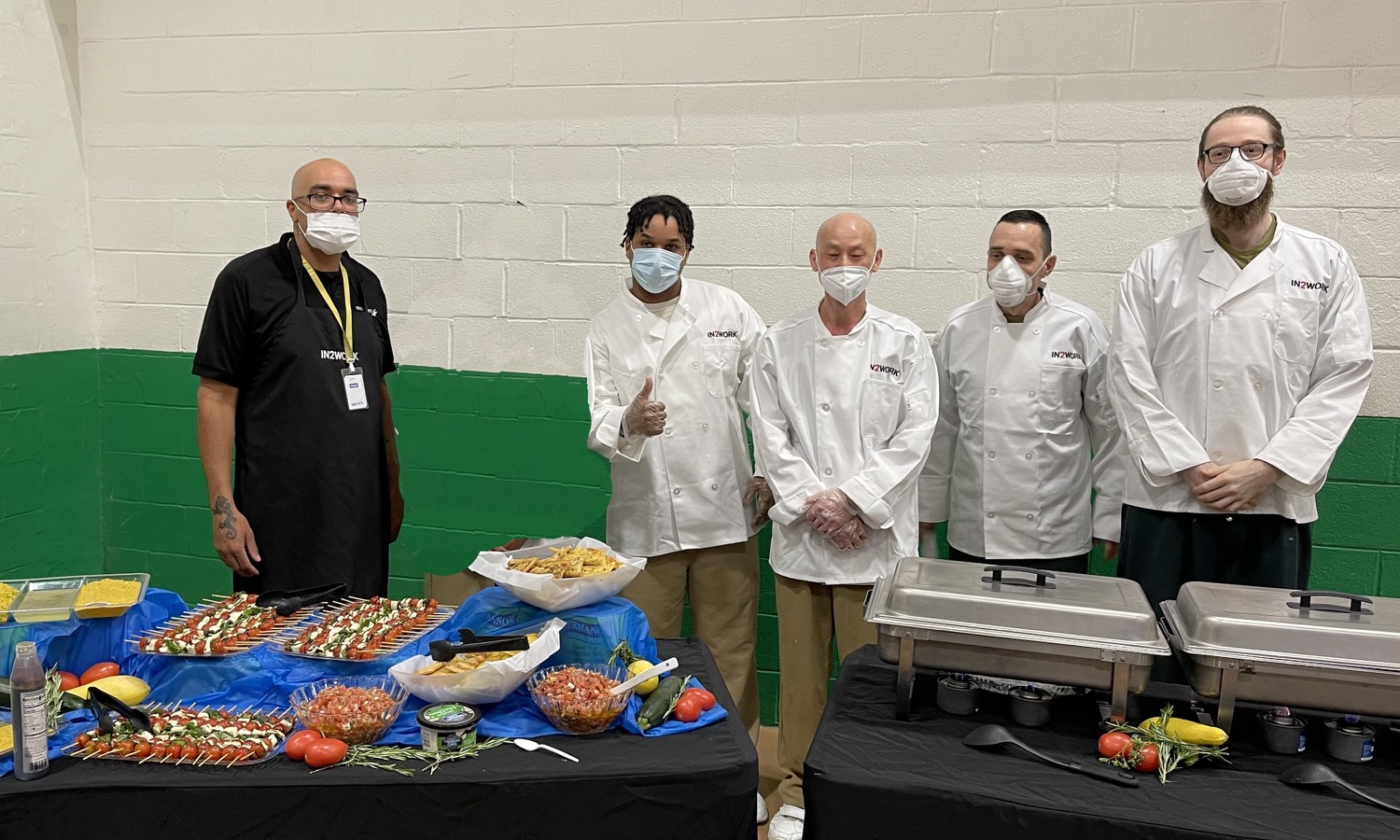 ALEXANDRIA, VA – Five inmates successfully completed In2Work, a vocational program from Aramark, the food service contractor at the William G. Truesdale Adult Detention Center (ADC) in Alexandria. Through In2Work, they gained skills and professional certifications that will help them pursue employment once they are released.
While Aramark established In2Work several years ago, this is the first time it has been provided in Alexandria. In2Work significantly expands upon the basic ServSafe® certification opportunities that the Alexandria Sheriff's Office first offered 10 years ago.
Brandon Lewis, Food Service Director for the ADC, oversaw the In2Work training and work in the kitchen. Five participants attended classes twice a week with Mr. Lewis providing instruction over 10 weeks this summer. Students learned basic food service and meal preparation skills, developed operational and management knowledge, and after passing an exam, earned their ServSafe® food protection manager certifications from the National Restaurant Association. In addition, all five have been invited to pursue employment with Aramark after their release.
To celebrate their achievements, Aramark and the Sheriff's Office hosted a graduation ceremony on September 15. The graduates demonstrated their new culinary talents by preparing an Italian-inspired menu and presenting it at the ceremony where attendees enjoyed arancini, shrimp scampi with herbed noodles, bistro-style vegetables, caprese skewers, and a bruschetta and hummus bar.
During the ceremony, Bob Barr, Regional Vice President for Aramark, congratulated the graduates and encouraged them to join Aramark as employees when they return to the community. He also expressed his thanks to Lewis for launching the program in Alexandria.
Sheriff Sean Casey addressed the graduates as well, congratulating them on their achievements and thanking them for investing in their personal and professional development. Casey also thanked his staff and the Aramark team for bringing In2Work to Alexandria. "We are big believers in teamwork and partnerships, and we are extremely grateful to everyone who made this possible," he said.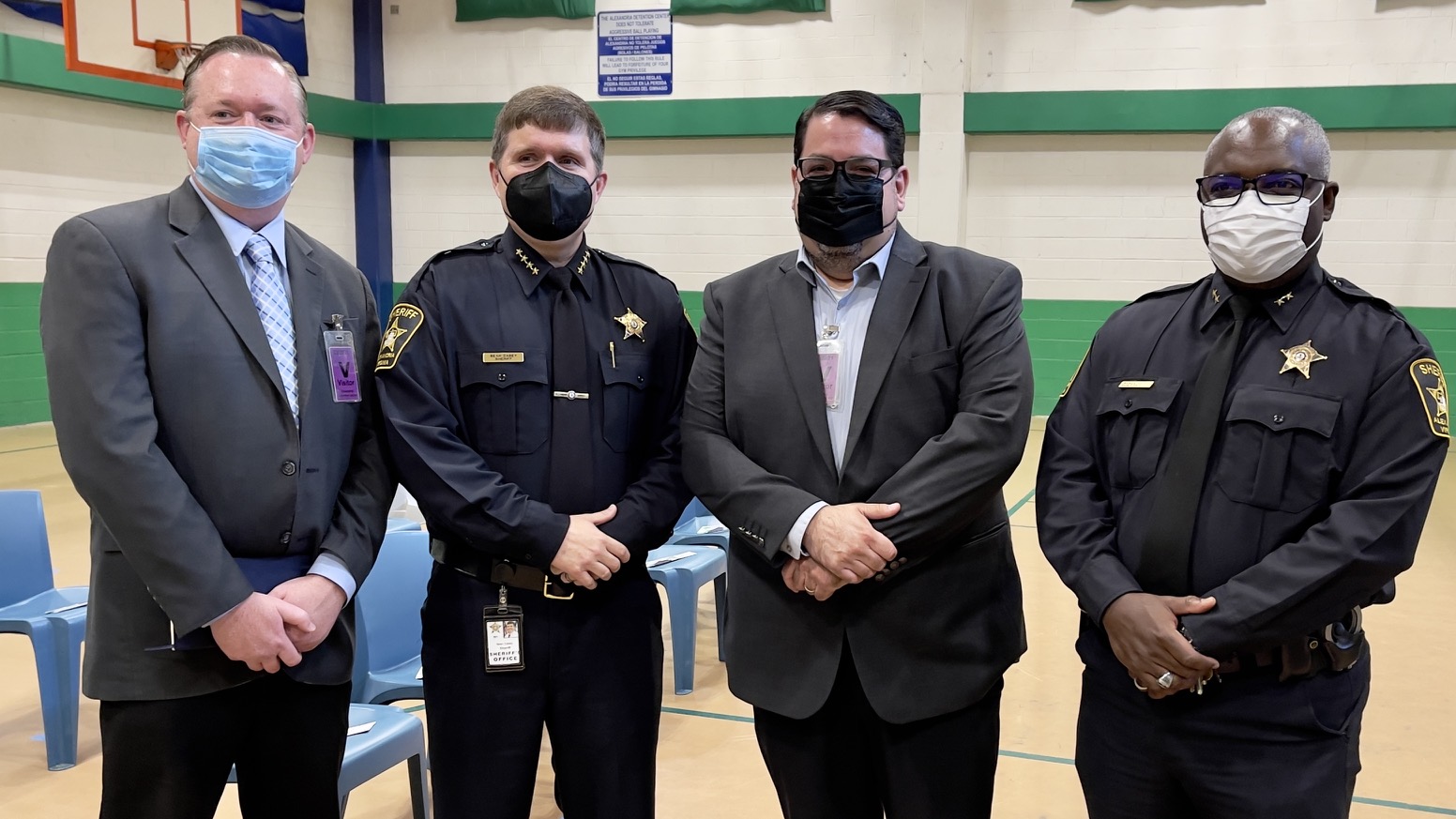 The sheriff and Benjamin Pellerin, Virginia General Manager for Aramark, had the honor of presenting certificates to McKinley Moody, Quin Ngoc Rudin, Richard Levin, Mitchell Thompson and a fifth graduate who did not want his name or photo used. All graduates had the opportunity to speak, with some expressing their appreciation for their new skills, knowledge and opportunities and another sharing how much hope the program gave him for his own future.
"Not only did we receive our ServSafe® certification, but this program allowed me to rediscover a skill set within the food service and hospitality industry," said Rudin. He added that In2Work helped him "personally develop a different skill set but more importantly it opened doors for me to have more job opportunities as I come home from prison."
In2Work is one of several reentry and workforce programs for inmates at the Alexandria ADC. Eligible inmates may pursue training in the Occupational Safety and Health Administration (OSHA) 10-hour Construction Safety and Health curriculum to obtain their OSHA 10 cards and professional certification in traffic control flagging from the American Traffic Safety Services Association. With such certifications and skills, they will be better prepared for successful reentry and more competitive candidates for employment.
SEE ALSO: Alexandria Sheriff's Office Partners With U.S. Army To Offer Service Members Employment Opportunities