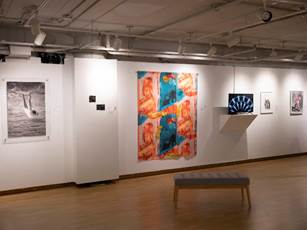 Alexandria, VA – Imagine this…Identity, culture, gender, and mental health through the expression of the physical form. This is the theme of Body Talk, an all-media group exhibition, focused on self-portraiture, figural work, or depictions of the self on view in Target Gallery and in Studio 9, which features an extended video installation of the exhibition.
Having begun on September 17th, and currently happening at the Torpedo Factory Art Center through Sunday, October 30th, this all-media exhibition features 20 artists, with eight from the greater DC metropolitan area. Participating artists include the following:
Jenna Alderiso, Melbourne, FL/ Aliana Grace Bailey, Washington, DC/ Laurie Berenhaus, Jersey City, NJ/ Hannah Boone, Buffalo, NY/ Eliza Clifford, Bethesda, MD/ Dek, Tacoma WA/ Sharon Draghi, Scarsdale, NY/ Ash Hagerstrand, Brooklyn NY/ Michael Hubbard, Midland, TX/ Leslie Keifer, Washington DC/ Elizabeth Lamb, Brooklyn, NY/ Elissa Leibowitz-Poma, Silver Spring, MD/ Rebecca Spilecki, Wilton, ME / Paula Stuttman, New York City, NY/ Jessica Valoris, Washington, DC/ April Vendetta, Brooklyn, NY/ David Voss, Silver Spring, MD/ Milan Warner, Silver Spring, MD/ Redeat Wondemu, Washington DC/ Lauren Woods, Opelika, AL/ Mia Zheng, Honolulu, HI
Be sure to attend the special reception which will be held at the Art Center's Target Gallery on Friday, October 14th at 7pm. Join others in the community to appreciate the artists' points of view and expressions, and engage in stimulating conversations as our world's issues are ever-evolving.
DC-based artist Matt Storm juried this thought-provoking exhibition and selected varied works from artists all over the U.S. Storm's own photography-centric art practice engages in themes of identity through self-portraiture and visual narratives of family and community, as well as transgender and queer issues.
Storm states, "Bodies in art often fall into a strange dichotomy – purely aesthetic/technical representation and serving as a metaphor for many things that are not bodies. The works in this show instead prioritize bodies as bodies in all of their complexity and nuance, including bodies as physical selves, bodies as experiences, bodies as interfaces, and bodies as sites of identity and spirituality."
The expressions of the body in this exhibition are all nuanced and evocative in different ways, so that all viewers can find something in which to relate. For example, Aliana Grace Bailey's fiber work Water Gaze and Jessica Valoris' video The Return reference healing rituals through water in acts of celebration and resilience in their bodies as black women while Jenna Alderiso's video The Body Keeps the Score uses water to illustrate themes on bodily autonomy.
 Other exemplars include Hannah Boone's sculpture Butterfly, Eliza Clifford's serigraph print My Body is a House, Michael Hubbard's painting Shake It, and April Vendetta and Elizabeth Lamb's photograph "Float" who explore themes of queer identity and gender through depictions of their own bodies.
 There are two photographic works, Leslie Keifer's The Electric Bedroom and Sharon Draghi's Time is An Illusion, which both depict women confronted with the expectations and realities of aging. 
Meanwhile, artworks such as Rebecca Spelicki's polymer clay pieces Greeting the Dawn and Luxuriating and Laurie Berenhaus' stop motion animation Phenakistoscope_n1 confront feelings on weight and body image.
The exhibit's Juror Matt Storm is a 2020 recipient of the Arts & Humanities Fellowship from Washington DC's Commission on the Arts & Humanities. Storm's work engages with the theme of identity, and the questions, "who are we, and how do we know?".
Storm serves as Chair of the Pride Caucus of the Society for Photographic Education, and he curated a show of art by DC-area artists who identify as transgender, non-binary, Two-Spirit, and agender as part of 2019 Trans Pride DC. Storm has worked at the Fine Arts Work Center in Provincetown, MA. He is a graduate of Dartmouth College with the Perspectives on Design Award.
A digital exhibition catalog of Body Talk is viewable online here. Torpedo Factory Art Center and Target Gallery are open daily from 10am – 6pm.  
[SEE ALSO:
The Spitfire Club Opens Official Headquarters with Volunteer Alexandria in Del Ray]