THEATRE
Robinette Shines in Horton Foote's 'The Trip to Bountiful,' a Heartwarming Family Drama
Showing at Ford's Theatre through Oct. 16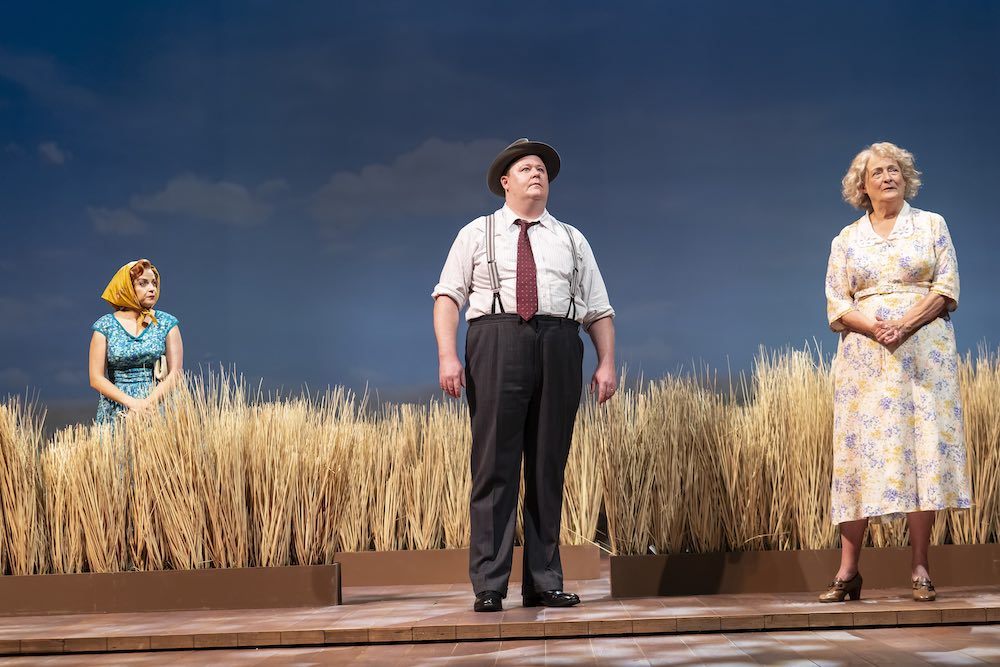 WASHINGTON, DC – Set in Houston, Texas in 1953, "The Trip to Bountiful" is a nostalgic family drama that was made into an award-winning film starring Geraldine Page, whose performance garnered her an Oscar for Best Actress in a Leading Role.  A remake followed with Cicely Tyson, who won the Tony for Best Actress in a Play. In Ford's Theatre's season- opener, Pulitzer Prize-winning American playwright Horton Foote couldn't ask for a better actor to play the part of Mrs. Carrie Watts than Nancy Robinette.
As DC theater royalty, Robinette has been seen at Ford's Theatre in "Driving Miss Daisy," "Carpetbagger's Children," and "State of the Union" – three plays that draw on her extraordinary ability to morph into a variety of leading roles. She has appeared at all the major theaters both here and around the country – proof that she is one of the most beloved actors we have. She has received the Helen Hayes Lifetime Achievement Award and is still a force of nature.
Going in, I knew I would be in for a treat, and the Robinette didn't disappoint. Her portrayal of a determined retiree whose only wish is to revisit her childhood home in Bountiful, in her dotage, demonstrates her immense talent for inhabiting a character.
There is some fine casting in this play.  Pay attention to the scenes with Carrie and Thelma (Emily Kester). Thelma is a poised young woman Carrie meets at a bus stop after  escaping from the clutches of her son Ludie (Joe Mallon) and his abusive, neurotic shrew of a wife Jessie Mae (Kimberly Gilbert). Jessie Mae's only goal is to get her hands on Carrie's pension check.
The play's tension comes in the form of Carrie's desire to find the right time to run away from her oafish son and daughter-in-law without getting caught and dragged back to a life of sameness and city living in a one-bedroom apartment. Her loss of dignity is the driving force for her need to return to an existence with open fields, birds on the wing, and the Texas coast, where she finds both solace and a sense of self that has been denied her. Gilbert and Robinette are a beautifully balanced pair of opposite ages, and their conversations at the bus stop are by far the most heartwarming part of the play, as Thelma and Carrie comfort each other by swapping tales and singing hymns.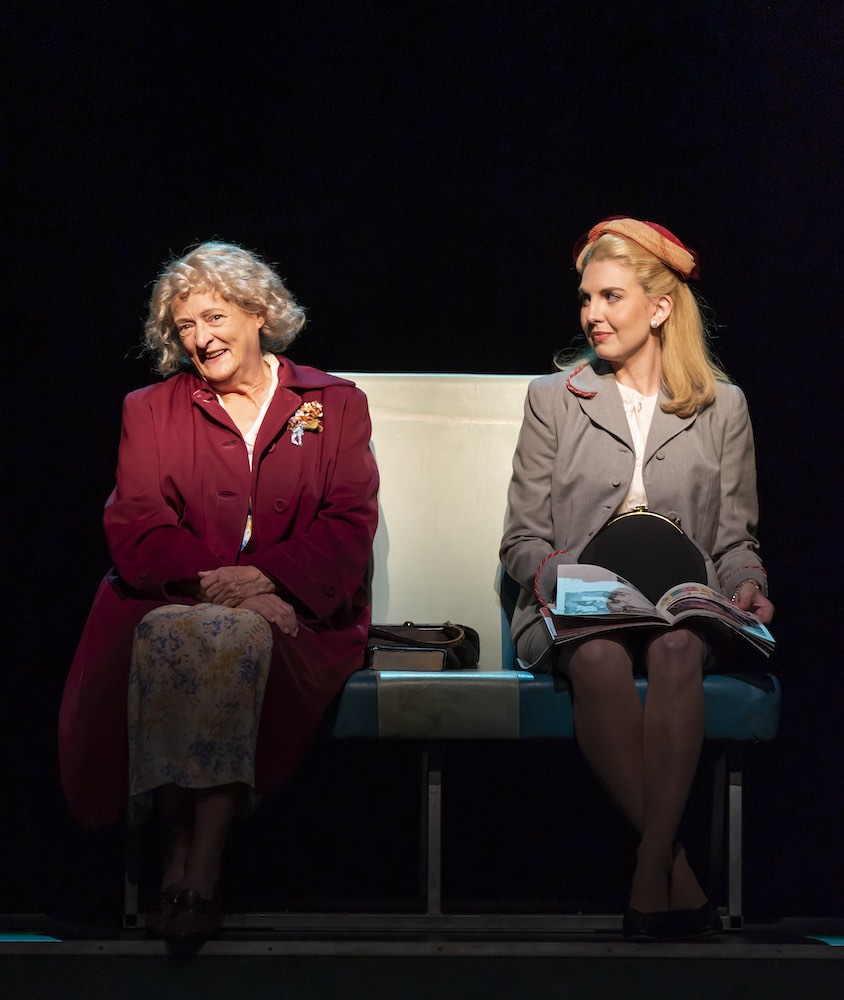 Choosing Michael Wilson to direct the production is quite the coup. Wilson directed the premieres of Foote's "The Carpetbaggers Children," "The Death of Papa," and "The Orphans' Home Cycle," for which he won both the Drama Desk Award and the Outer Critics Circle Award. He is currently collaborating with Foote's daughter, Daisy Foote (who was in the audience on opening night), on a new musical based on Foote's Oscar-winning film, "Tender Mercies."
The production is of the highest level. Devotees of Foote's work will love it. Though, if he were still alive, I would urge him to rewrite the ending. That way, Carrie would find the boyfriend of her youth waiting for her return to Bountiful.
Additional Cast: Marty Lodge as Houston Ticket Agent/Sheriff; Michael Glenn as Second Houston Ticket Agent/Voice; Christopher Bloch as Roy/Voice; with Will Cooke, Nicola Daval, Drake Leach, and Mary Myers as Townspeople and Travelers.
Scenic Design by Tim Mackabee; Costume Design by Ivania Stack; Lighting Design by Rui Rita.
Through October 16th at Ford's Theatre, 511 10th Street, NW, Washington, DC 20004. For tickets and information call the box office at 202 347-4833 or visit www.Fords.org.
Alexandria Again Named Top 5 Best Small City by Condé Nast Traveler Readers