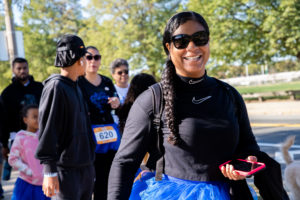 Alexandria, VA – Ready, set, run! After a seven-year pause, the Get Your Rear in Gear 5K is returning to Alexandria. On Sunday, October 9th, runners, walkers, volunteers, colorectal cancer survivors, and caregivers will gather at Occoquan Regional Park in the fight against colorectal cancer, the nation's second most cause of cancer deaths.
This is a family-friendly 5K run/walk to raise awareness and encourage screening for this largely preventable cancer. Opening ceremonies kick off at 8:30am with the timed 5K starting at 9:00am. The course begins and ends in Lorton at Occoquan Regional Park. Also included in the day's activities are a kid's Fun Run, music, snacks, and runner awards. 
Get Your Rear in Gear 5K event series are volunteer-driven and held annually in nearly 40 communities across North America, including Alexandria, which previously hosted the event from 2009 – 2015. It is back this coming weekend with returning volunteer Local Event Director, colorectal cancer survivor Cheryl Alston.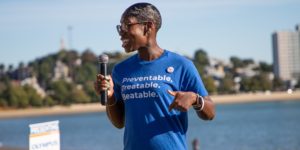 For Alston, the cause is personal. After advocating for herself after she received a colonoscopy at age 56, she was diagnosed with Stage Il colorectal cancer. Alston had experienced stomach aches and vomiting for some time, and while the diagnosis hit her hard, she responded well to oral chemo. She has remained cancer-free since 2014. 
"The phrase 'Get Your Rear in Gear' means to me that you need to get up, and move in ALL aspects: physical fitness, healthy eating, being seen and screened and to engage others about colon cancer. I want to give back to the community by telling my story and educating and engaging others about colorectal cancer," Alston encourages.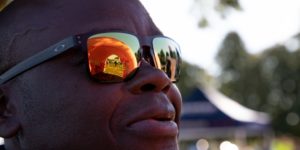 The event is an opportunity to celebrate survivors, support caregivers, and remember those who have passed. Visit the giant inflatable colon to see what your doctor sees during a colonoscopy. Stroll the Blue Mile and see celebratory tributes to those lost and messages honoring survivors of colon and rectal cancer. 
The event educates the public and raises funds for colon cancer screening and prevention. Money raised is kept local to the Alexandria area for these purposes. Registration information is available at Alexandria's Colon Cancer Coalition.
"Coming together as a community is the best part of the Get Your Rear in Gear event," says Colon Cancer Coalition President, Chris Evans. "Early detection of colorectal cancer is key to effective treatment of this disease that affects 1 out of 24 people. Get Your Rear in Gear events raise awareness by educating everyone about the symptoms of colorectal cancer, encouraging folks to learn their family health history, and scheduling routine screenings."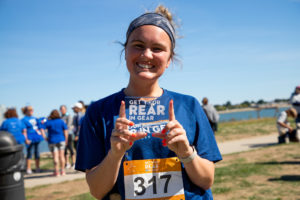 COLON CANCER FACTS:
1 in 24 Americans will be diagnosed with colon or rectal (colorectal) cancer during their lifetime. 

51% of adults 50-54 have not been screened. 

Colonoscopy screening can prevent colorectal cancer. 

Colorectal cancer is now the most common cause of cancer death in men younger than 50. 

1 in 5 colorectal cancer patients are 20-54 years old. 

Adults born in the 1990s have 2x the risk of colon and 4x the risk of rectal cancer than those born in 1950. 

In 2021, the recommended age for routine cancer screenings was lowered from 50 to 45.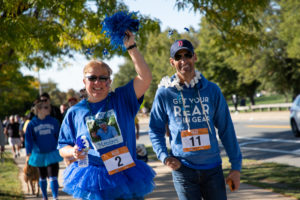 The Colon Cancer Coalition is a national nonprofit organization dedicated to encouraging screening and raising awareness of colorectal cancer. Annually, it works to distribute over $1 million dollars to communities across the United States to build and sustain programs that: 
Encourage early prevention & screening, 

Provide public education and awareness, 

Fund research to improve the quality of life for patients both young and old, and 

Provide support for those living with this disease. 
According to the Coalition, "By making the words colon, colorectal and colonoscopy a part of everyday language, we believe we can overcome the fear and decrease deaths from this largely preventable cancer.
For more information visit ColonCancerCoalition.org [SEE ALSO: Del Ray Vintage and Flea Market Spotlights Breast Cancer Awareness Month]