Foodie Newz
It's a New Way to Reduce. Reuse. Recycle with Giant Foods
Alexandria, VA  Giant Food, the leading greater Washington, D.C. regional grocery chain announced its partnership with Loop, the circular reuse platform developed by TerraCycle.  It's a new way to reduce-reuse-recycle! As of October 20, shoppers will be able to purchase a selection of over 20 products from leading consumer brands in reusable packaging at 10 Giant supermarkets throughout Washington, D.C. and Virginia.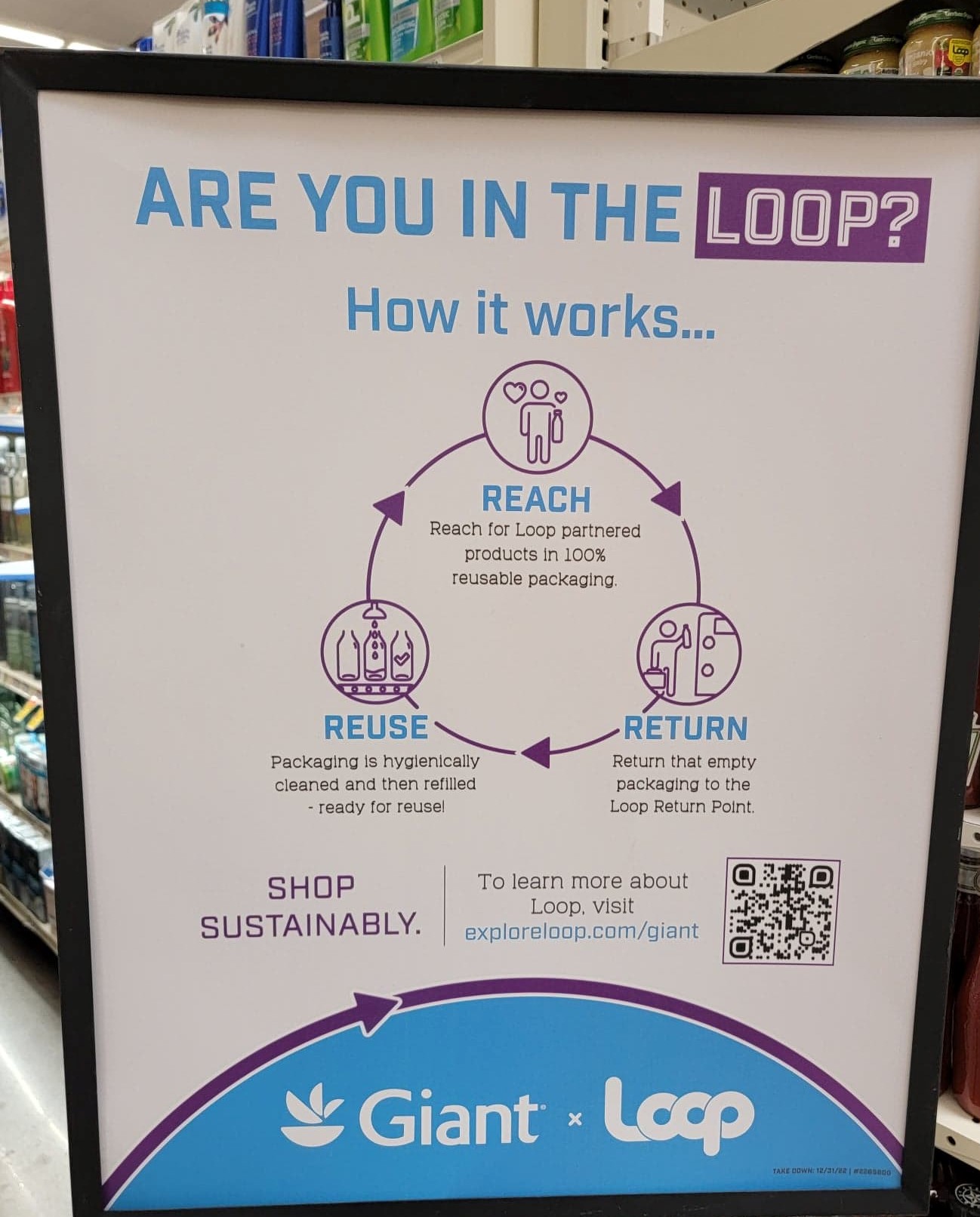 Buy one of the select products from the display-you will pay a small refundable deposit. Use the product, and when empty, return it to the store and get your deposit back. You don't even have to wash the container before you return it. Products range from Gillette razors, essential oils, Stubbs BBQ sauce, olive oil, and more.
The products are featured in branded displays at the Giant locations. Once shoppers purchase and use the product, they return the empty packaging to the Loop Return Point at the Giant store. From there, the packaging is sent to Loop to be sanitized then returned to the brand suppliers to be refilled and returned to the store for future purchase. Products included in reusable containers from Kraft-Heinz, Nature's Path, and Stubb's BBQ Sauce are located in branded displays at participating Giant stores in the area.
Washington D.C. Councilmember Mary Cheh Tom Szaky, founder and CEO of Loop and TerraCycle, Stacy Cobb, head of Execution at The Kraft Heinz Company, and Daniel Wiggington, Director of DSD at Giant Food were present at the grand opening.
The first participating stores include:
Giant Food: 621 E. Glebe Rd, Alexandria, Va, 22305
Giant Food: 2515 Columbia Pike, Arlington, Va, 22204
Giant Food: 13330 Franklin Farm Rd, Herndon, Va, 20171
Giant Food: 21800 Towncenter Plz Ste 226, Sterling, Va, 20164
Giant Food: 5740 Union Mill Rd, Clifton, Va, 20124
Giant Food: 20961 Southbank St, Sterling, Va, 20165
Giant Food: 25050 Riding Plz Ste 100, Chantilly, Va, 20152
Giant Food: 13043 Lee Jackson Memorial Hwy # H, Fairfax, Va, 2203
Giant Food: 3336 Wisconsin Ave Nw, Washington, DC, 20016
Giant Food:1400 7th St. NW, Washington, DC, 20001