Community News
Honoring Lynching Victims Benjamin Thomas and Joseph McCoy
Alexandria delegation of 165 people carries city soil by bus to the National Memorial for Peace and Justice in Montgomery, Alabama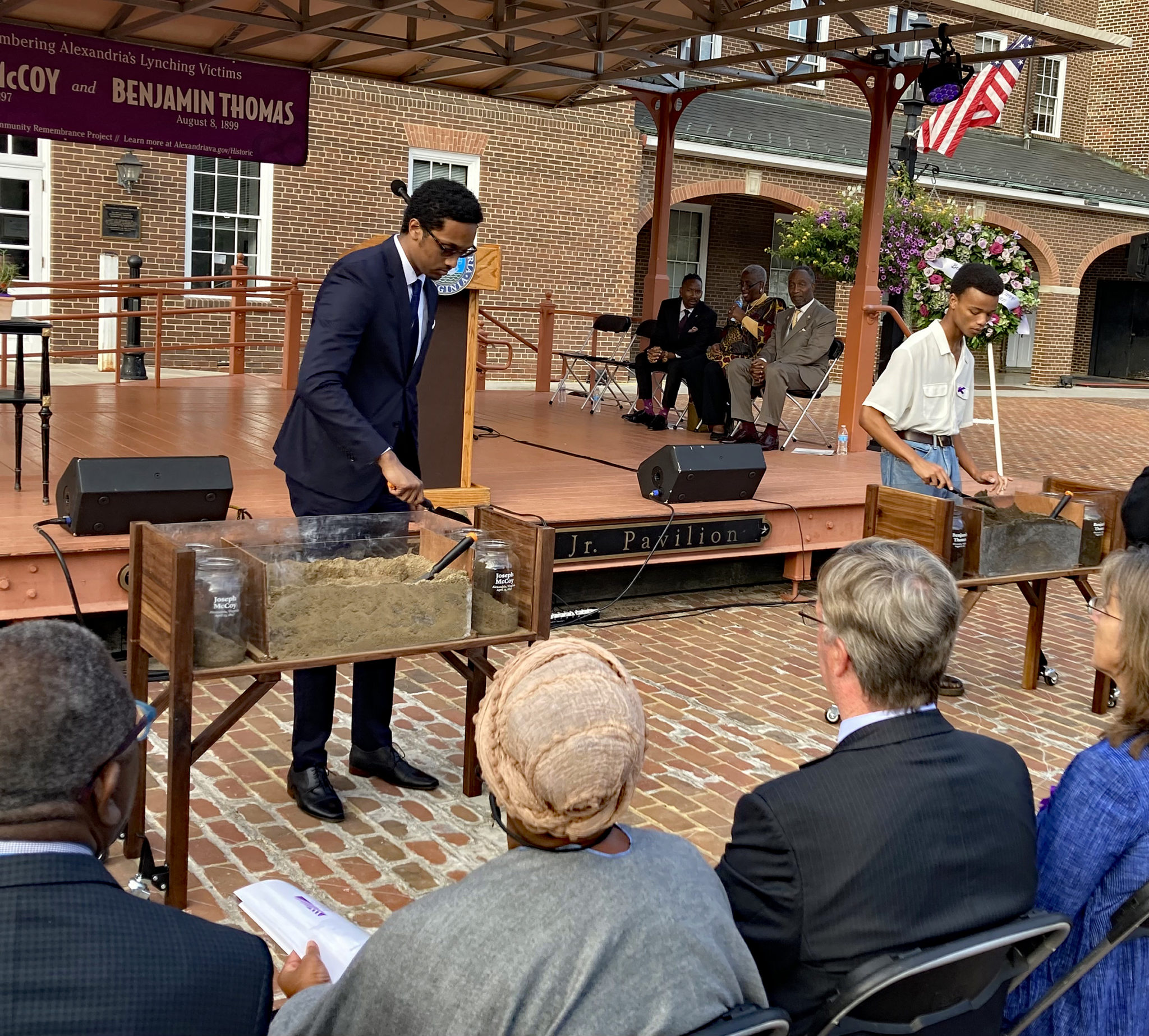 Alexandria, VA – On October 6-10, a delegation of 165 Alexandrians traveled to Montgomery, Alabama, with precious cargo on what former Alexandria Mayor Allion Silberberg describes as a "heart-wrenching but important trip."
The delegation included city members official and residential such as Mayor Justin Wilson, City Manager Jim Parajon, Councilman John Taylor Chapman, three other city council members, a former city council member, former mayor Allison Silberberg, columnist and blogger Shenise Foster, acting ACPS Superintendent Dr. Melanie Kay-Wyatt, a group of thirty ACPS students and twenty faculty, one Howard University student, community faith members, community residents, and many more.
Delegation members took with them a collection of Alexandria soil recovered from several areas throughout Alexandria, of "association with both men's lives, arrests, and deaths," combined with soil from areas of "historical significance to the African American community," notes Tiffany Pache of the Alexandria Community Remembrance Project.
As part of the Alexandria Community Remembrance Project—in conjunction with the Equal Justice Initiative—the ACRP was begun in 2017 when then-Mayor Silberberg received a letter from EJI informing her of two lynchings that had taken place right on the soil of our city.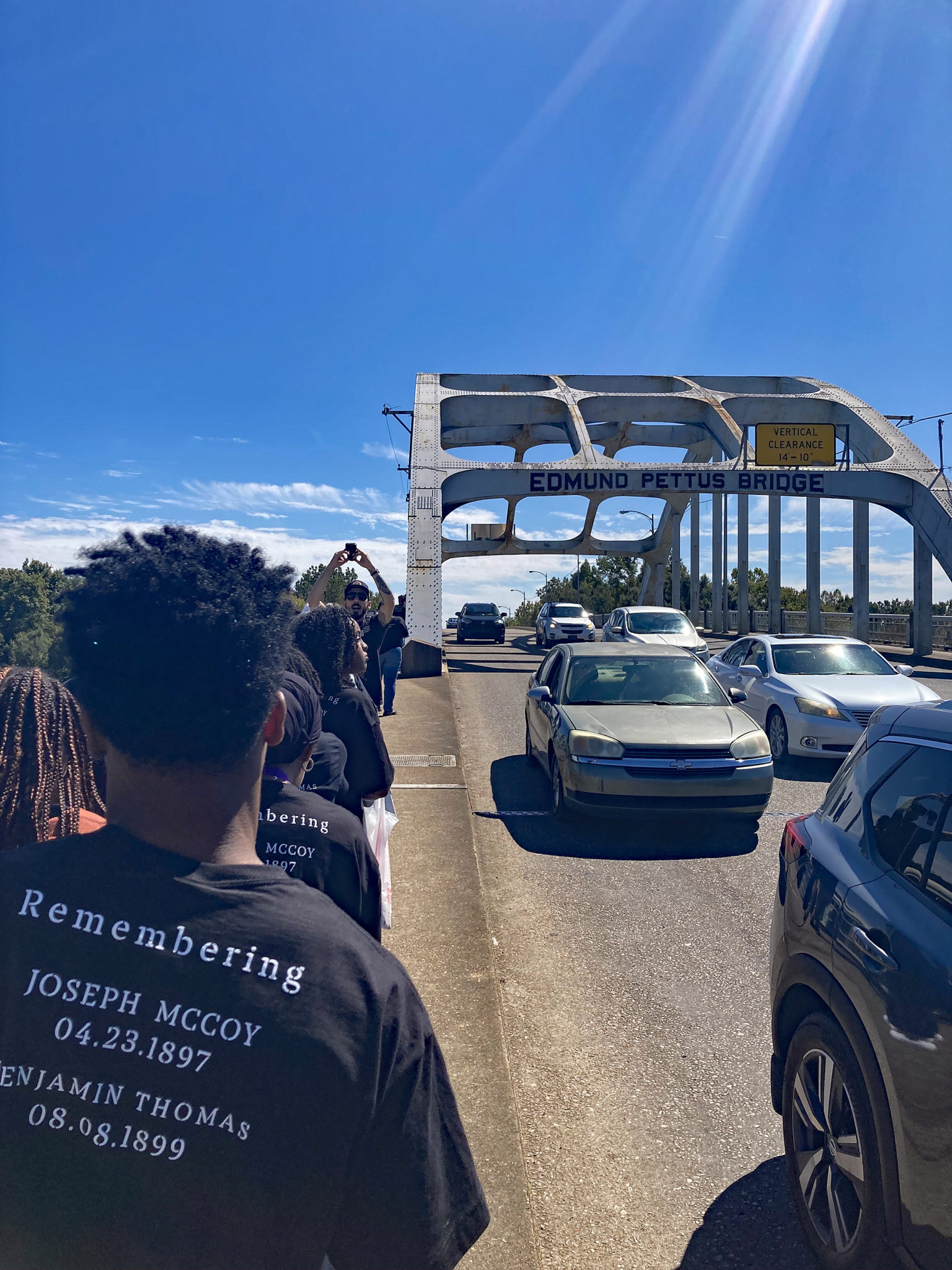 In the late nineteenth century, two Black men, Benjamin Thomas and Joseph McCoy, were wrongfully accused of a crime, beaten, and lynched within sight of City Hall. More than a century later, we still pay penance for these actions. After exploring the murders, Silberberg undertook further research into the EJI.
The criteria for a city to be recognized in the EJI's National Memorial for Peace and Justice include the following:
"Community coalitions who complete community soil collection and narrative historical marker projects or pursue other independent community efforts to foster dialogue and remembrance help raise local consciousness of racial history and help foster dialogue about the connections to contemporary issues and further develop a communal identity that prioritizes historical truth-telling and repair." (museumandmemorial.eji.org)
In 2021, Alexandria erected a historical marker designating the site of the Thomas and McCoy lynchings (300 King Street). The next step, the soil reclamation pilgrimage to Montgomery, Alabama—the site of many horrific violations, yet the site of the beginnings of the civil rights movement—took place this fall.
All city residents were welcome to participate, from soil collection to traveling to delivery in the Equal Justice Initiative's Legacy Museum. "I think our pilgrimage was especially powerful due the wide range of participant demographics," describes Audrey Davis, Director of Alexandria Black History Museum. "People from our city got to know their neighbors, make new connections, and have hard discussions about race and equity in Alexandria."
The descendants of Joseph McCoy (no longer bearing the McCoy last name) were present to transfer the soil in his name. The City is still searching for living descendants of Benjamin Thomas, so his soil was transferred by two members of the ACRP committee.
On the day of soil reclamation, "You could hear a pin drop," says Silberberg. "This pilgrimage was crucial. It is a culmination of many years of planning, so hats off to the Office of Historic Alexandria and all the people involved who helped make this trip such a success."
While in Montgomery, the Alexandrians expanded their knowledge of civil rights history by visiting the Rosa Parks Library and Museum, the Edmond Pettus Bridge at Selma, Dr. Martin Luther King, Jr.'s home, the Freedom Rides Museum, the First Baptist Church where freedom riders slept, and other sites of significance to the history of Civil Rights in this country.
"I am deeply grateful for being able to walk those streets," says Silberberg. "Memorial and honor is not the end goal. The goal has to be conversation about change. This trip was about truth, fairness, and justice. That is what EJI and the Legacy Museum are committed to."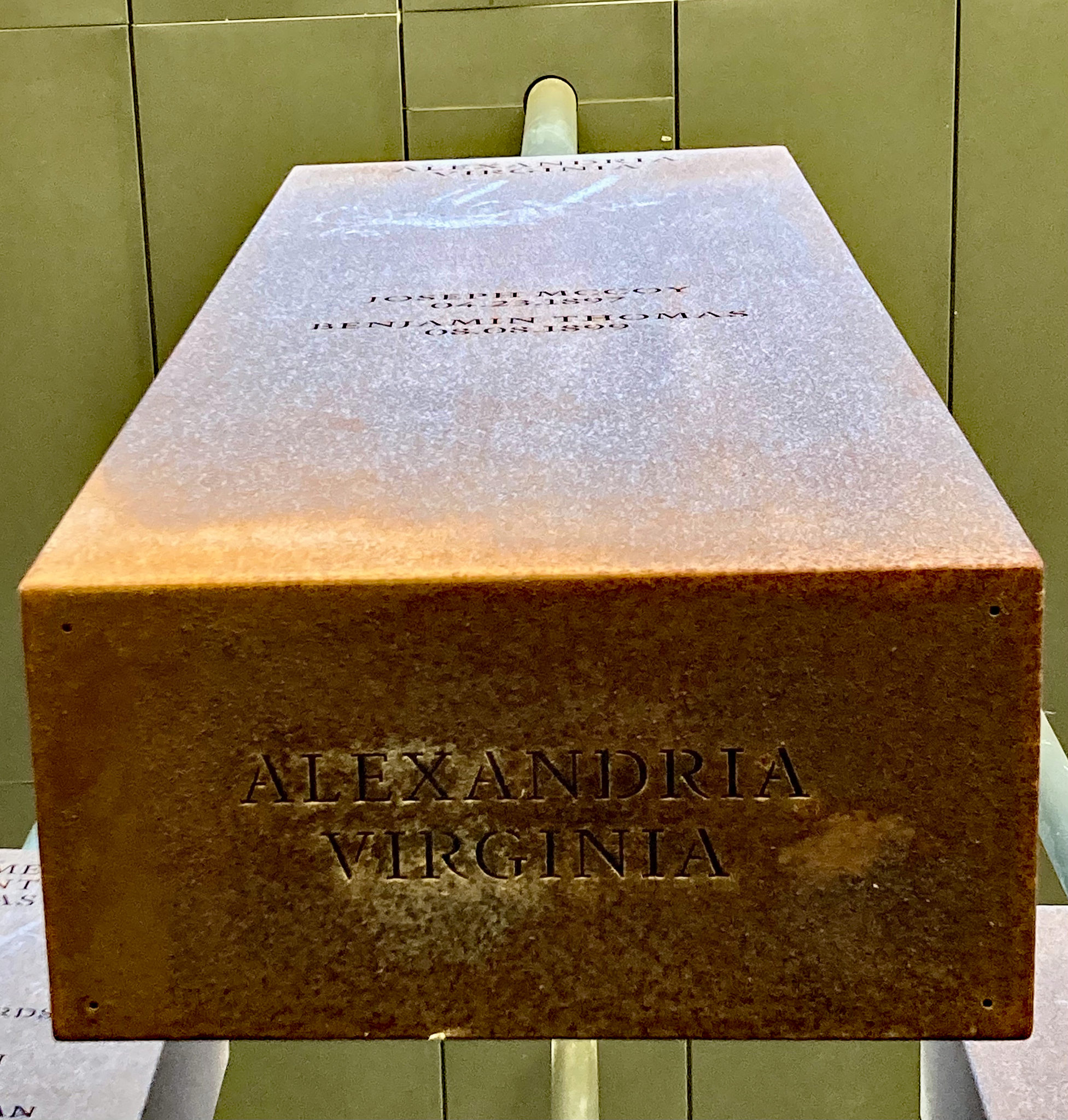 Alexandria can never take back an injustice carried out two centuries ago, but through events like these, it can ensure its history is never forgotten or repeated.
Silberberg adds, "I hope and pray that this trip was a moment where we walk forward together into the future and begin the process of healing and working together for a more inclusive and just future for all. And that we also ensure that such tragedies never happen again."
Alexandria should now qualify for a pillar at the EJI National Memorial for Peace and Justice. To learn more, visit museumandmemorial.eji.org.