Business News
Zebra Misc
Philanthropic Motivation of ARP Encourages Next Generation of Old Town Business Owners 
Community Benefits from Investments in Real Estate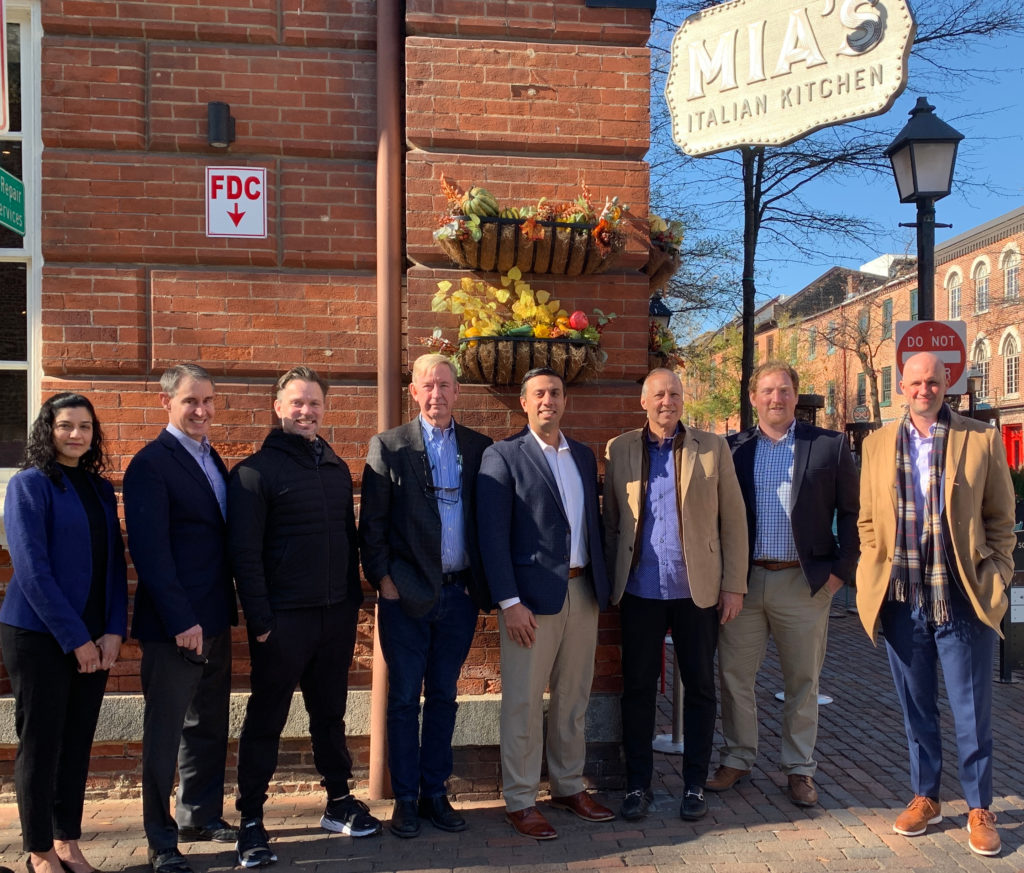 ALEXANDRIA, VA – "Real estate ownership provides stability, predictability, and better margins over time," said Scott Shaw, owner of ARP, Alexandria Restaurant Partners, when asked about his recent $8.6 million purchase of the historic corner building that holds Mia's Italian Kitchen at King and Union Streets.
Virginia Partners Bank SVP Commercial Banker John McManus, AVP, Portfolio Manager Richard Heveron, and Bank President David Talebian joined with Shaw, ARP Partner Win Sheridan and ARP COO Dave Nicholas in a celebration lunch at Mia's on Tuesday, November 22nd. 
Initial business introduction between the two entities began a year ago as they discussed ways of doing business together. The three ARP principals have a 25 year history together, dating back to the first Café Tu Tu Tango in Coconut Grove, Florida. 
"ARP is thrilled to be able to purchase this iconic building, and grateful to Virginia Partners Bank and Douglas Development for making this possible. Real estate ownership provides stability, predictability, and better margins over time," said Shaw.  
"We also think the larger community benefits from this stability. When we look around, we see that many of Alexandria's most successful and community-minded businesses took this step long ago. We are happy to join their ranks," he added. 
Could this be a trend in the business community to work smarter in leveraging assets? Shaw says yes. 
"When more people obtain SBA 504 loans, it increases the odds of a business' long term success," Shaw said. "It would give them more cushion, flexibility and a way for them to stay focused on the business they have rather than rushing to open new locations to make more money. If you run your one restaurant, or your one business well, over time you will accumulate wealth the same way people do when they pay off their home mortgage. Generally it's a very good idea for the business and healthy for the community." 
At the heart of ARP's success is a deep-rooted philanthropic goal of helping others in the community. Shaw regularly engages with and encourages other business owners on long-term financial stability in purchasing real estate instead of renting. It could be considered a kind of mentorship for next-generation business owners.
The multi-million dollar purchase marks a milestone for the restaurant group which owns nine other restaurants in Florida and Northern Virginia including Palette 22, The Majestic, Vola's Dockside Grill and Hi-Tide Lounge, Theismann's, Café Tu Tu Tango, Ada's on the River, Barca Pier and Wine Bar, and Touchdown Wings and Burgers. 
ARP was formed to manage these restaurants, plus new projects that opened in 2015, 2016, and 2018. In 2015, they began building an exceptional leadership team that includes some of the best talent and sharpest minds in the industry. 
Shaw has successfully used the Texas Roadhouse managing partner program model, taking 'ownership' and running the business by having a stake in it. GMs become equity owners in the business that they run. His loyal and hard working team is proof of that belief. 
[SEE ALSO: Del Ray Kicks Off Holiday with Annual Tree-Lighting and More, December 3-10]