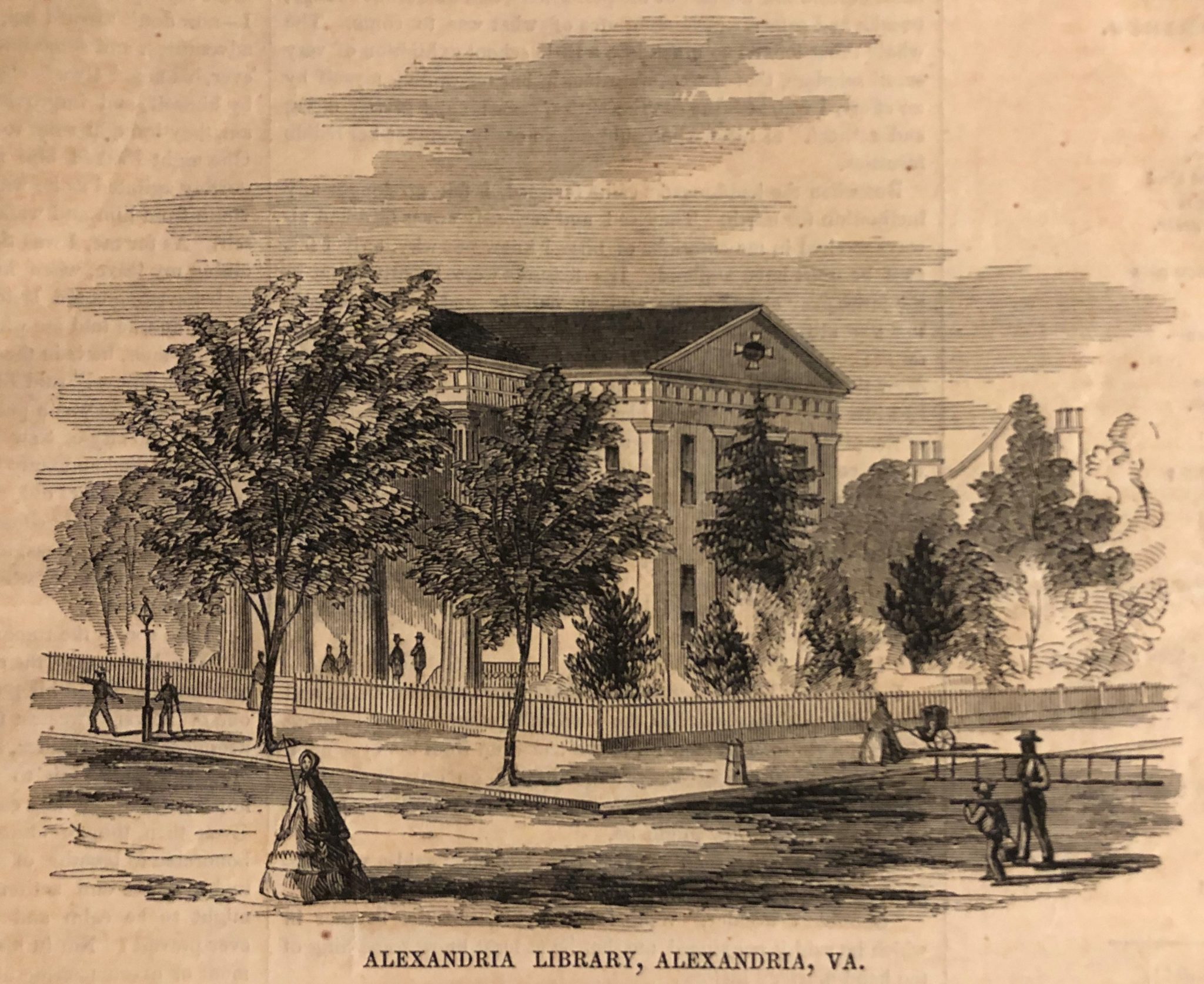 By Daniel Lee
Alexandria, VA – In 1838, citizens of Alexandria (then a part of the District of Columbia) formed a Lyceum Company to promote education in the community. A year later they partnered with the Alexandria Library Company to build Lyceum Hall, which is now the Alexandria History Museum at The Lyceum. At Lyceum Hall, men and women of Alexandria attended weekly lectures and debates, concerts, meetings, literary programs, scientific displays, and, on occasion, variety shows featuring magic. It appeared early on, though, that magic would become disallowed.
"GRAND EXHIBITION!!! COMBINED NOVELTY & ATTRACTION" at Lyceum Hall, read an Alexandria Gazette ad on January 7-8, 1841. The ad noted that "MONS. DE COURCEY, the Wonderful Magician and Necromancer [conversing with the dead], pupil of the celebrated Mons. Adrien, will go through his wonderful art of Legerdemain and Natural Magic."
Two days later, on January 9, The Lyceum Company Secretary placed an ad that read, "Notice is hereby given that the Lyceum Hall will not be rented for the purpose of exhibiting Jugglery, Slack or Tight Rope Dancing, Feats of Agility, &c. &c. It may always be had, … for holding meetings, delivering Lectures, giving vocal or Instrumental Concerts, &c. &c."
Apparently, members of the Lyceum Company felt that magic, balancing, and other "feats of agility" were beneath the dignity of the Lyceum Hall and the Lyceum Company.
That same day, the Director of the variety show placed an adjusted ad indicating that he misunderstood the terms under which he rented the hall and that "Feats of Legerdemain, &c. are excluded from being exhibited." Instead, he would offer only a concert, without the magic, balancing, and plate spinning.
On January 11, however, the Director advertised the full variety show, including Mons. De Courcey and his wonderful legerdemain, natural magic, and necromancy at The Theatre – a different, nearby venue. Problem solved, it would seem. But just a few months later, on March 4 and 6, the Masters Hughes, a youthful singing group, performed with Mr. Young, "the Great Eastern Magician and Chinese Balancer." Something had changed in the few months since January. Perhaps the loss of revenue to a rival hall led the Lyceum Company to adjust its standards.
With the moratorium on magic lifted, a few other magicians appeared at Lyceum Hall through the 1840s, beginning with four performances by Signor Blitz in February and March of 1843. Ads for his shows at Lyceum Hall mention that "Interesting Illusions will be introduced. To conclude with Ventriloquism and the Dance of the Six Dinner Plates on a Common Table."
Of his time in the District of Columbia (he also performed at Carusi's Saloon and the Union Hotel on the other side of the Potomac), Signor Blitz noted the audience members' "upturned faces beamed with surprise and laughter. The more intelligent class of the community took a reasonable, common sense view of my feats, while others looked upon me as an emissary from the dark shades of Hades, sent to tantalize and deceive poor humanity with my deeds of sorcery."
A writer to the Alexandria Gazette noted that "Signor Blitz's performances at the Lyceum hall continue to amuse and delight old and young. He is not only one of the most expert adepts at his art, but his vivacity, and good humor secure him the approbation of his audience."
Accounts throughout his life noted his genial good humor, and, as noted, his act included ventriloquism and, as always, the "Dance of the Dinner Plates, Accompanied with Music." Blitz not only incorporated music into his act, but his plate spinning also inspired an original song – "The Plate Waltz" written by John. A. Janke, Jr., published in 1849.
The final Lyceum Hall magician to appear in Alexandria Gazette ads was John Wyman, Jr., aka Wyman the Wizard and Ventriloquist. Born in Albany, New York, in 1816, Wyman was the first truly successful American-born magician. He combined magic with ventriloquism and mimicry and, later in his career, included automatons and offered gift shows, where every audience member received some type of gift for attending. He was based, for a time, in Washington DC, performing often at the Odd Fellows Hall and periodically in Alexandria, first at Lyceum Hall and later at nearby venues Liberty Hall and Sarepta Hall.
A writer to the Alexandria Gazette noted that "Wyman's exhibitions at the Lyceum Hall, attract large audiences, especially delighting the young. His feats of jugglery, and ventriloquism are seldom surpassed and hardly ever equaled."
Like Blitz, Wyman inspired music, having two songs written in his honor (both published in 1854), "Keemo Kimo Schottisch" by James Bellak and "Wyman's Polka" by John A. Janke, Jr., who also wrote Blitz's plate waltz.
The Alexandria History Museum at the Lyceum's tradition of magic shows continues with the Family Holiday Magic Show on December 7. The show is free, but reservations are required and can be acquired at alexandriava.gov/shop.
ICYMI: Cherished Tradition: Tickets for Santa Trains in Northern Virginia Go On Sale November 28