THEATRE
'Ride the Cyclone' is a Thrilling and Captivating Journey at Arena Stage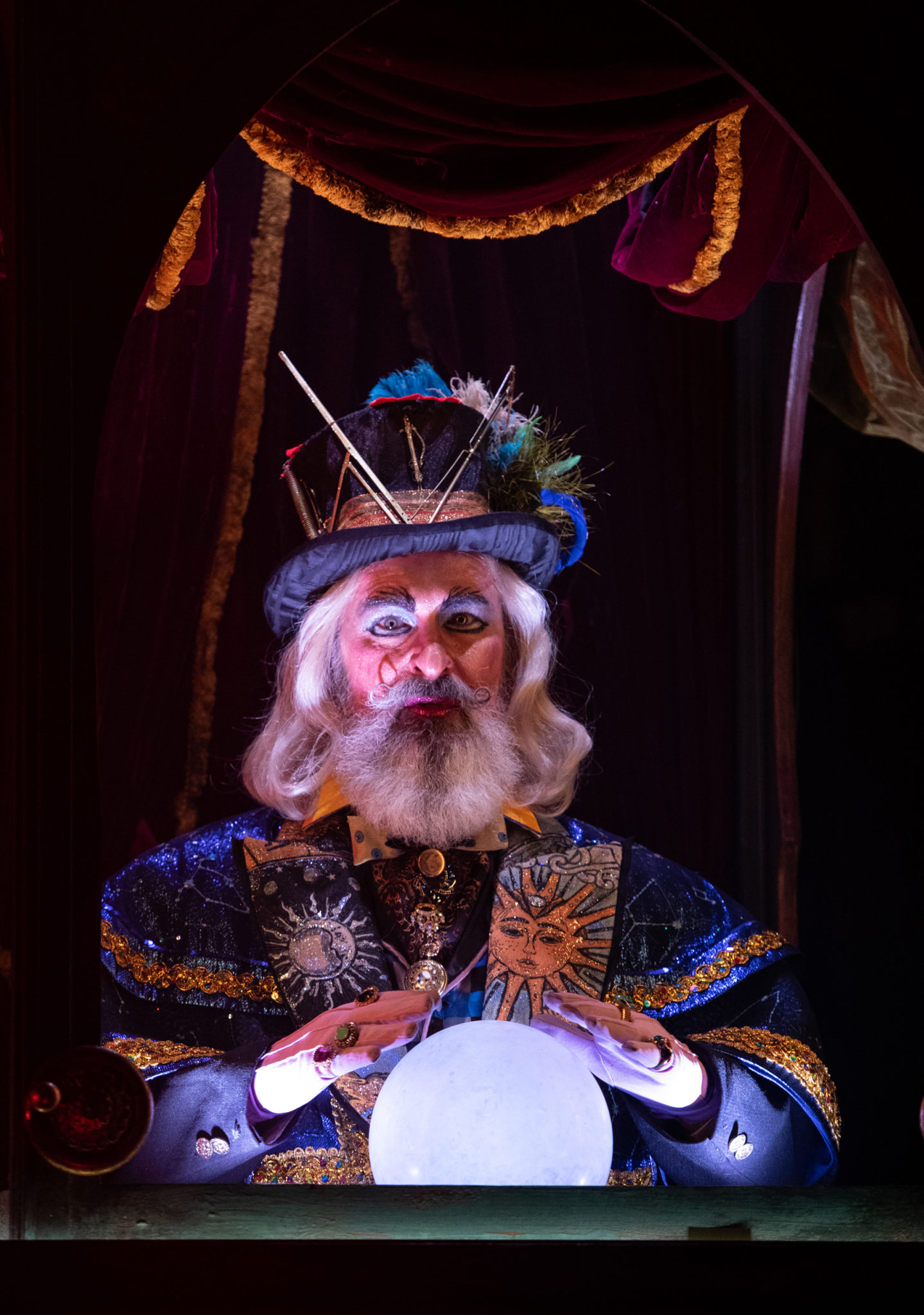 When the St. Cassian teen chamber choir falls to their deaths in a freak accident while riding a roller coaster at The Wonderville Traveling Fair, they enter the distant future and we do too.
It is here they encounter The Amazing Karnak (Marc Geller), a "pre-cognition machine" who recalls the turban-crowned fortune tellers of yesteryear. Encased in his gilded booth, Karnak gives the five teens an ultimatum – plus a lot of shtick.  They must unanimously select the one among them who will be brought back to life. No small feat. He creates a contest with crazy prizes and in their zeal to present themselves as the most accomplished, or unfailingly sympathetic candidate, they each act out their personal stories with remarkable honesty hoping to be the chosen one. However, a mystery teen appears among them – a beautiful, anonymous girl who could not be identified due to her injuries. She is called Jane Doe (Ashlyn Maddox on the night I went – then Katie Mariko Murray) and she is as ethereal and haunting as a wraith.
Despite the six spinning through the air to their death, a grim premise indeed, the story quickly does a one-eighty becoming a captivating charmer with all the thrills and chills (and spills!) of a festive night at a carnival. We easily find ourselves transported to the future along with the teens as they weave their personal stories to win a second chance at life. Is it a game? Or is it just a ride? Fourteen cleverly written songs with lyrics that are easy to understand hold this wild ride together.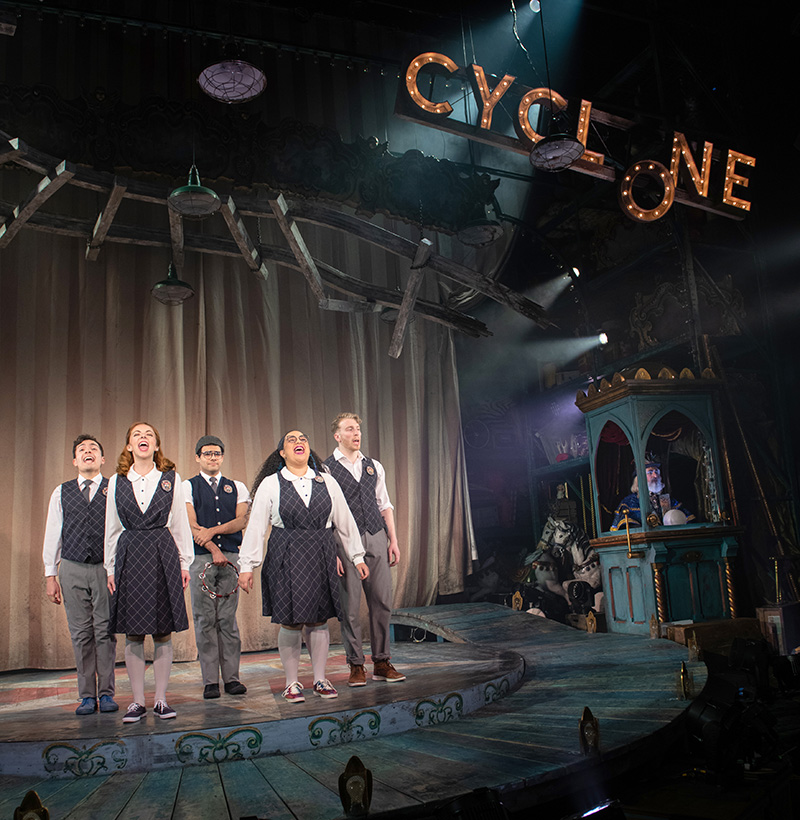 Ocean O'Connell Rosenberg (Shinah Hey) is an over-achiever (reminiscent of Elle in Legally Blonde) who presents herself as the perfect high school princess. Ocean's bestie is Constance Blackwood (Gabrielle Dominique), a nerd and self-proclaimed "nice girl," who appears to cave to Ocean's bossiness… until she doesn't.
Noel Gruber (Nick Martinez), who appears shy, then bursts out of his shell to reveal his secret life (Sorry, no spoilers here.). Suffice it to say there is a sultry tango, a personality change-up and a seedy French nightclub. Mischa Bachinski (Eli Mayer) is anything but shy. He is a Ukrainian hip-hopper and beat-box fan who's in love with a peasant girl from the Old Country. He loves to sing, as long as he's backed by Auto-Tune. And then there's Ricky Potts (Matthew Boyd Snyder) who lives in an imaginary world of sexy space kittens and extra-terrestrials. They are all hilarious in their own individual ways.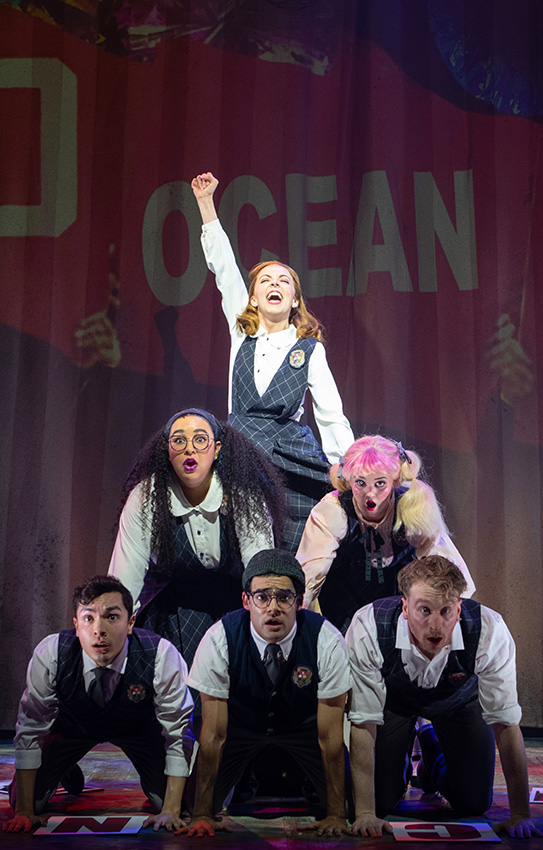 Set in a dilapidated warehouse in Uranium City, Saskatchewan, Canada, this quirky, captivating, hilarious, rock musical chock-a-block with vintage carnival artifacts has been making the cult circuit for 15 years. Premiering at Princeton's McCarter Theatre Center, Ride the Cyclone is a dizzying, hilarious, catchy, super-fun, high-energy escapade.
Music, Book and Lyrics by Jacob Richmond and Brooke Maxwell; Directed by Sarah Rasmussen; Original Choreography by Jim Lichtscheidl with Additional Choreography by Tiger Brown; Set Design by Scott Davis; Costume Design by Trevor Bowen; Lighting Design by Jiyoun Chang; Sound Design by André Pluess.
Through February 19th at Arena Stage, 1101 Sixth Street, SW, Washington, DC 20024. For tickets and information visit www.ArenaStage.org
For More Local Theatre Reviews, Click HERE.