Community News
School News
Top Beam Signed and Placed on 11-Story Academic Building of Virginia Tech Innovation Campus at Potomac Yard
"Topping Out" Ceremony Celebrates Major Milestone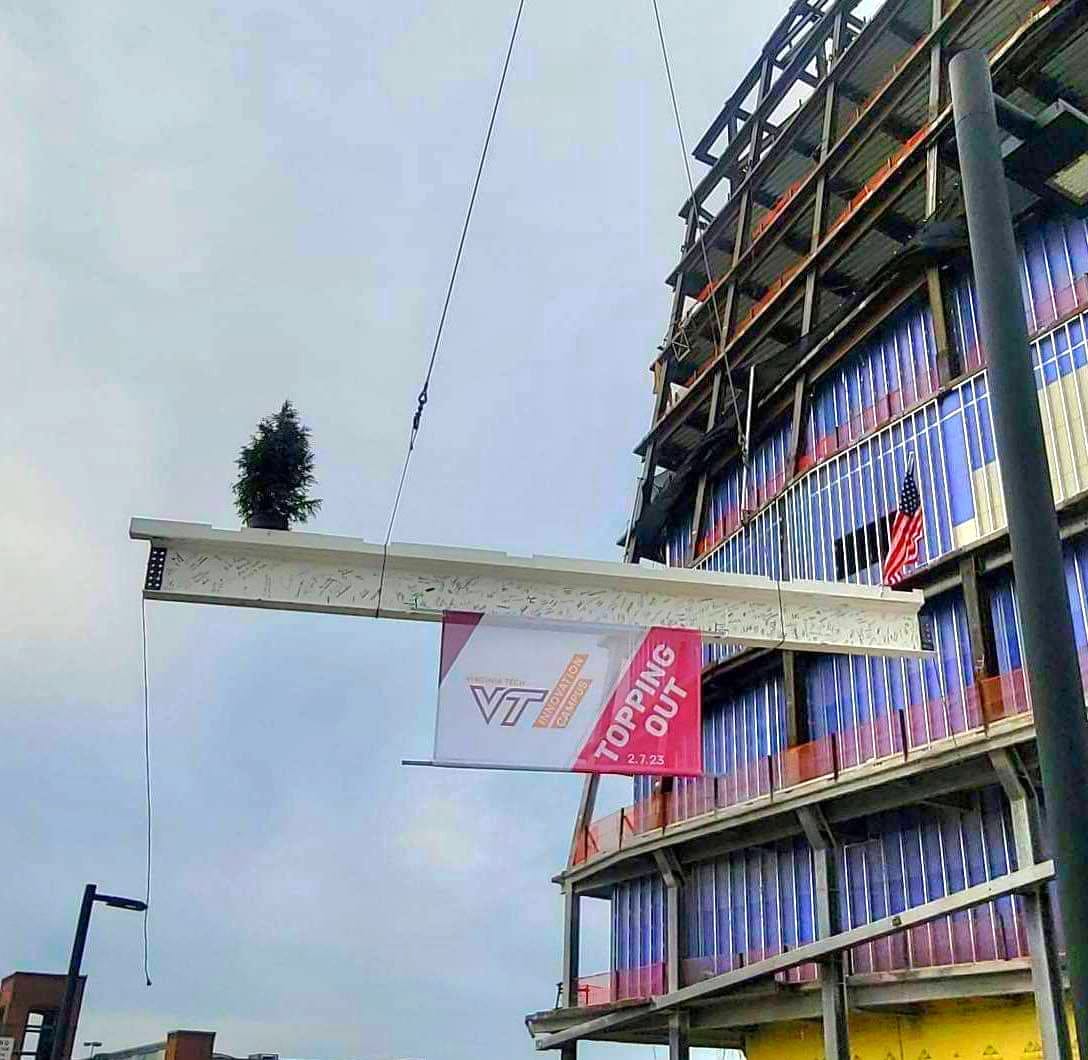 ALEXANDRIA, VA – The highly anticipated Virginia Tech Innovation Campus reached an important milestone today when the final structural beam on the first academic building was raised into place, completing the building's frame.
Alexandria Mayor Justin Wilson, Virginia Tech President Tim Sands, and Virginia Tech Innovation Campus Executive Director Lance Collins, as well as many other local officials, members of the Virginia Tech community, contractors and subcontractors who worked on the project, and members of the public, attended Tuesday's Topping Out ceremony, a custom that celebrates the construction process and is viewed as the first introduction of the building to the public.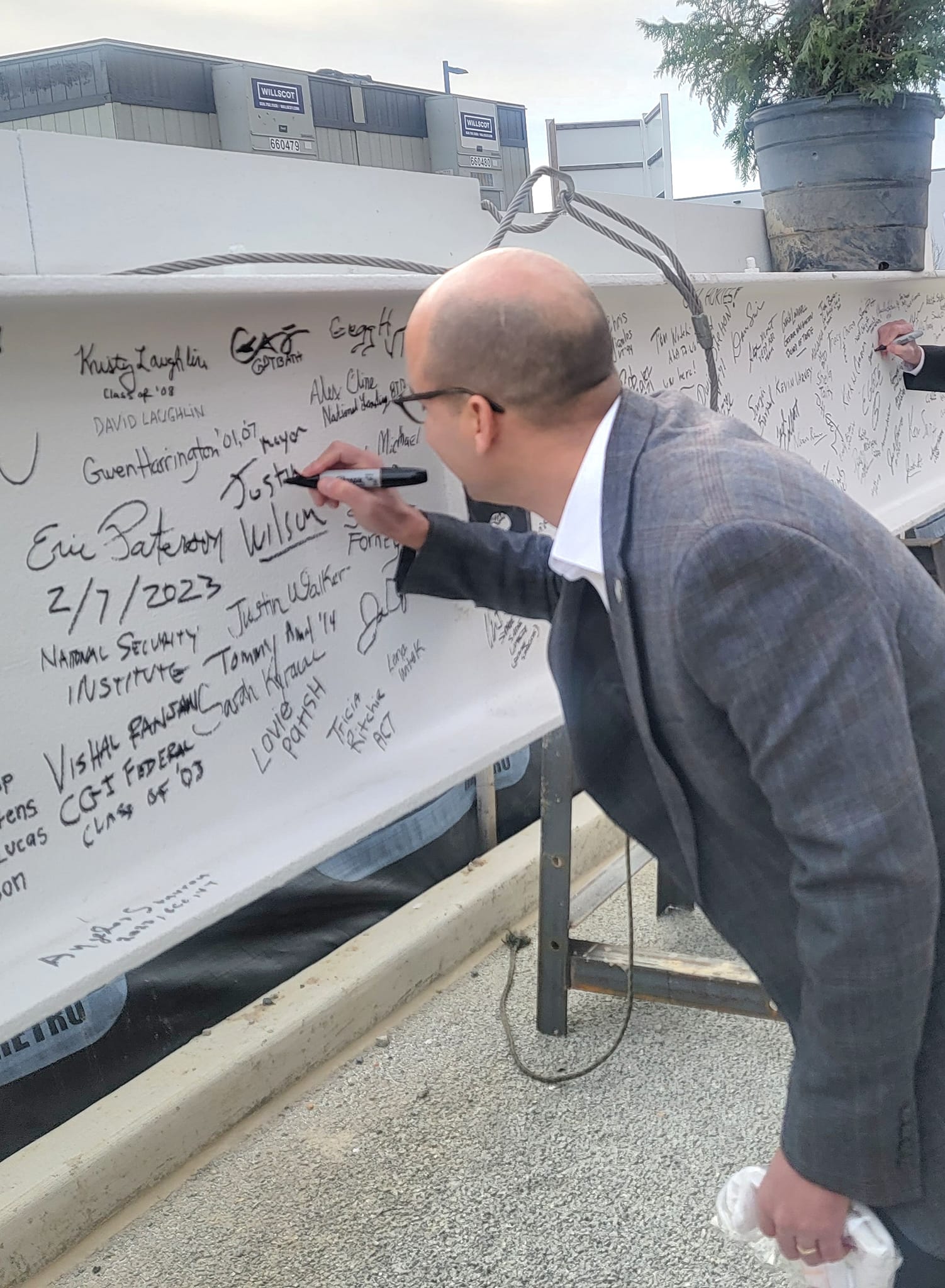 "This is a significant moment for Virginia Tech, symbolizing the tremendous progress we have made on both construction and academic planning for the Innovation Campus," said Sands. "The Innovation Campus will be an important source of tech talent for the greater Washington D.C. region – and is vital to Virginia Tech's growing presence in the area."
First Academic Building is Modern, Creative and Sustainable
The first academic building—centered on the principles of sustainability, health and wellness, green and social spaces, accessibility, connectivity, flexibility and integrated technology—promises to bring to life an inclusive setting that will help accelerate knowledge creation and solutions at the intersection of humanity and technology. When completed, the 300,000 square-foot building will provide instruction, research, office, and support spaces for graduate-level programs in data analytics/machine learning, wireless, quantum information sciences, and intelligent interfaces.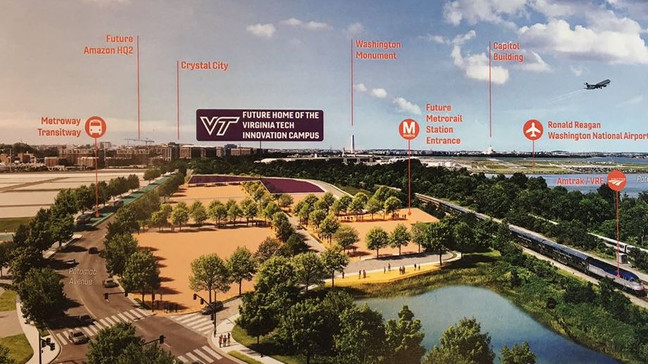 Experiential learning environments within the building will include multi-purpose areas, research and testing labs, and "huddle rooms" for student/faculty collaboration. Designed as a "flexible container" and tested with various program configurations, it will be able to grow and adapt to the ever-evolving nature of computer science. In addition to a large first-floor auditorium, the academic building will house a two-story drone testing cage; an immersive lab where data, architectural drawings, and art can be visualized and experienced in 3-D; and an outreach space for K-12 students.
Opportunities for Local Younger Students
Both Innovation Campus Chief Operating Officer Ken Smith and Executive Director Lance Collins said that the K-12 outreach space is a vitally important part of the Innovation Campus. Smith explained that the space will allow students to come on campus at a much earlier age, which will provide them with access to possible careers in technology fields before they might be distracted by other disciplines. "We're looking at building programming in the elementary school and middle school that will encourage all students to build up skills in being able to join this growing area," Collins said. "We have to start there if we're going to be successful in the long term." Alexandria Mayor Justin Wilson noted that the Innovation Campus had already formed partnerships with local schools.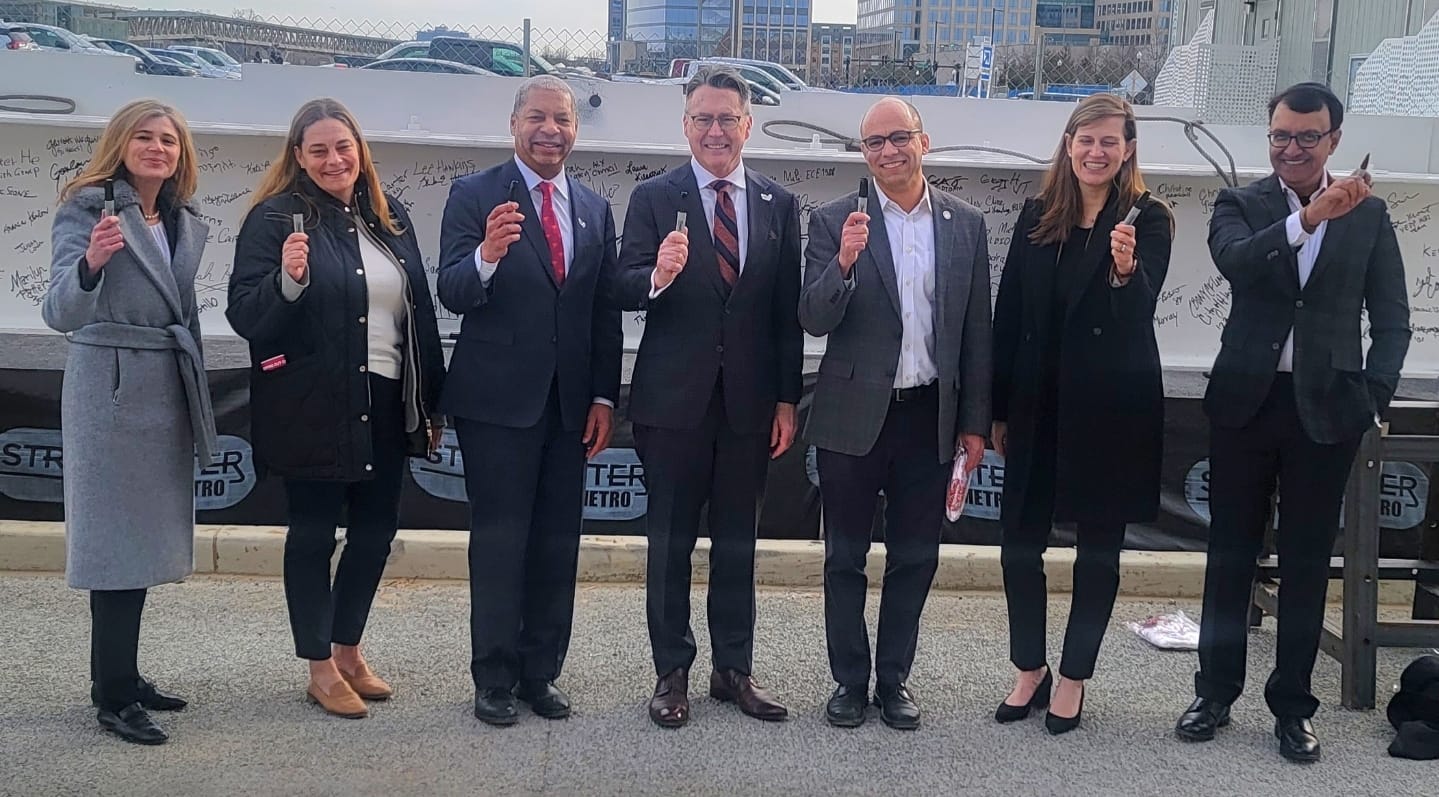 $50 Million from Boeing Will Help K-12 Students
A $50 million, multiyear commitment from Boeing Company will provide student scholarships, foster the recruitment of world-class faculty and researchers, and fund STEM pathway programs for underserved K-12 students looking to pursue a college degree and enter high-tech career sectors. Additionally, Smith said, the first academic building will house the Boeing Center for Veterans and Families, which will allow Virginia Tech to "make sure that any veterans students that we have and their families have access to an expanded set of support."
Plans for the 3.5 acre Innovation Campus were announced in November 2018 as part of Virginia's successful bid to attract Amazon's HQ2 to Northern Virginia. Both Amazon and Northrop Grumman have made sizable financial contributions, Collins said, with Northrop Grumman's contribution focused on the emerging area of quantum information science while Amazon is funding work on machine learning and data analytics.
Groundbreaking for the first academic building occurred in September 2021. The building is set to open in 2024. Currently students are attending class at Virginia Tech's existing location in Falls Church.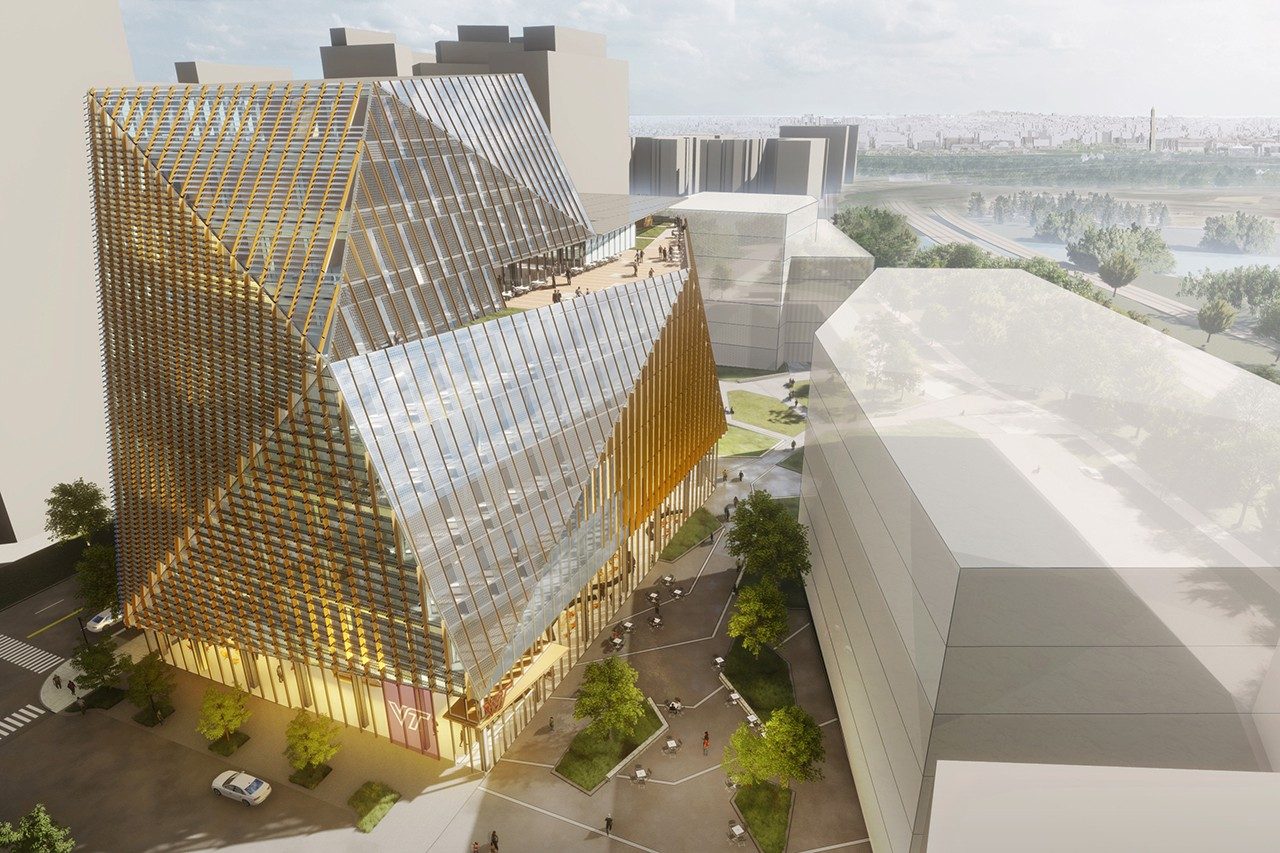 What's In the Future
Innovation Campus Executive Director Lance Collins said that, while the fields of technology and computer sciences have not historically been open to women and underrepresented minorities, the initial 300-person student body is already more diverse than typical cohorts, the school has seen consistent growth in these underserved numbers, and that Virginia Tech remains committed to increasing participation by these student populations.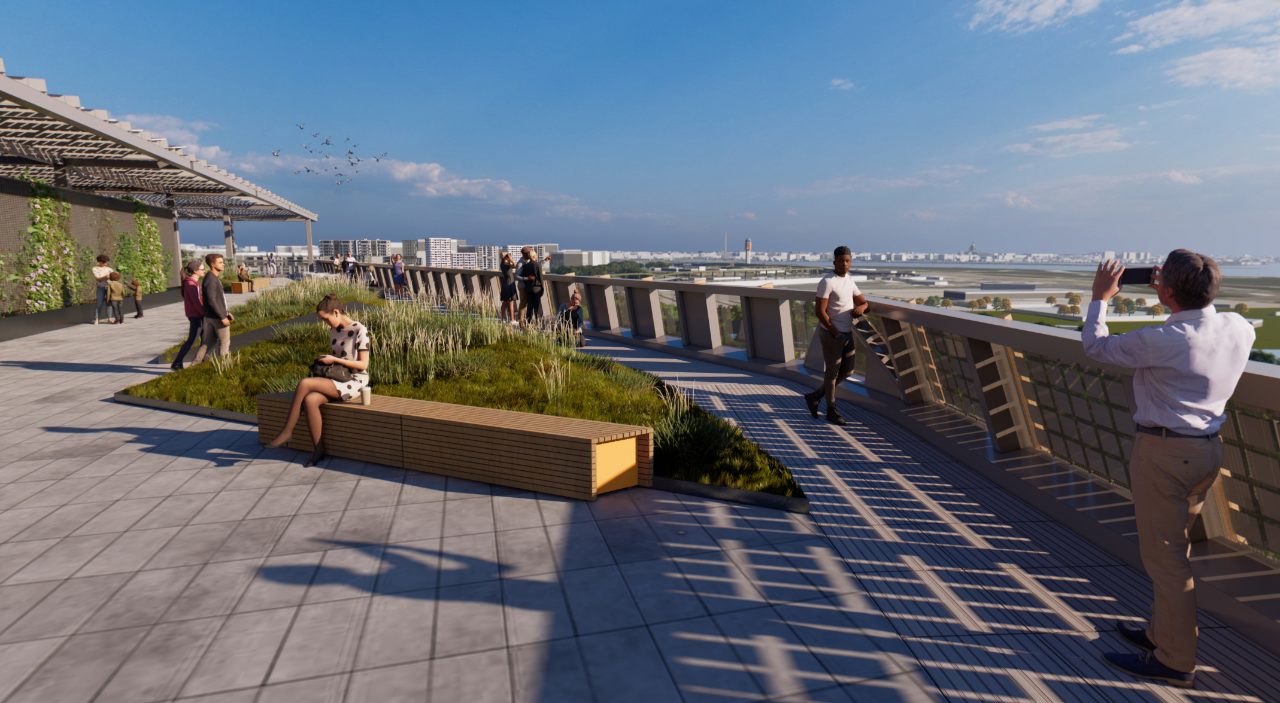 Campus plans call for Virginia Tech to build two additional buildings, each about 150,000 square feet, as the campus grows. At its full build-out, the Innovation Campus will host approximately 750 master's and 200 doctoral students and graduate 550 master's and 50 doctoral candidates annually.
Alexandria resident Summer Cleary, a Virginia Tech graduate and Innovation Campus Project Manager for Whiting-Turner Contracting, noted that more than 1,150 workers have thus far contributed to the project, logging more than 277,000 hours. She added that 41.5 million gallons of water was pumped from the site, largely for construction of the underground parking garage, and that 13,500 cubic yards of concrete has been poured and 3,300 tons of structural steel has been erected to date in the 11-story building.
Innovative and Energy-Saving
Liza Morris, University Architect for Virginia Tech, explained that innovation is not only the goal of the building, but that the building itself was the result of innovation, combining science, technology, engineering, art, programmatic and sustainability goals "to create a beautiful building that exists in this wonderful space."
Sustainability was an important part of the design, Morris explained, noting that the academic building's gem-like design allows it to maximize its overall solar generating potential. Moreover, she added, the Innovation Campus buildings are organized around a central green space with 50,000 gallon cistern for collecting and reusing rainwater. And the first academic building will include a roof terrace looking out on the green space, with views of the downtown DC skyline. When completed, Sands noted with pride, it will be the tallest Virginia Tech building in the Commonwealth.
CLICK THE Facebook logo below to see more photos from the event:
Trending: Turkish Coffee Lady in Alexandria Collecting Supplies for Earthquake Victims