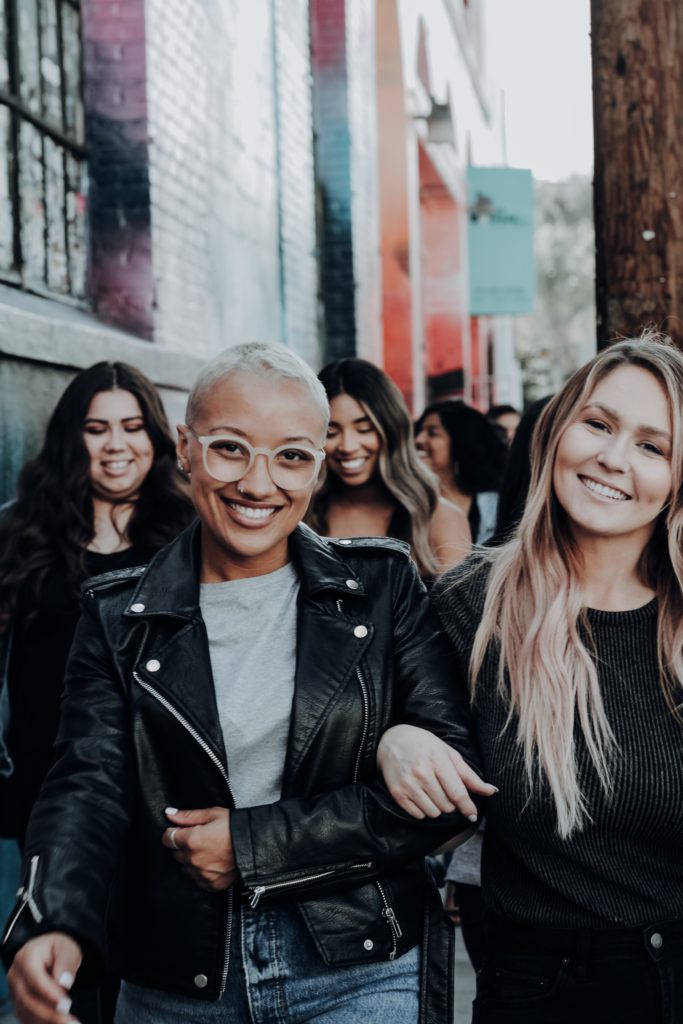 Alexandria, VA—There is no shortage of roses and romance in Old Town Alexandria to celebrate Valentine's Day this year.
But Galentine's Day honors those special non-romantic friendships, showering them with gifts, love, and lots of laughter. These are the friends who give breakup advice, input on last-minute outfit conundrums, and listen endlessly to anything important or not.
Galentine's in Old Town is tonight, February 9, from 5 to 9 pm. It's an exclusive shopping experience designed for friends to shop, dine, and celebrate with each other. This night features several local women-owned businesses. Participating shops will be open until 9 pm for a semi-private shopping experience followed by wine and dinner at Virginia's Darling, 277 South Washington Street, in Old Town.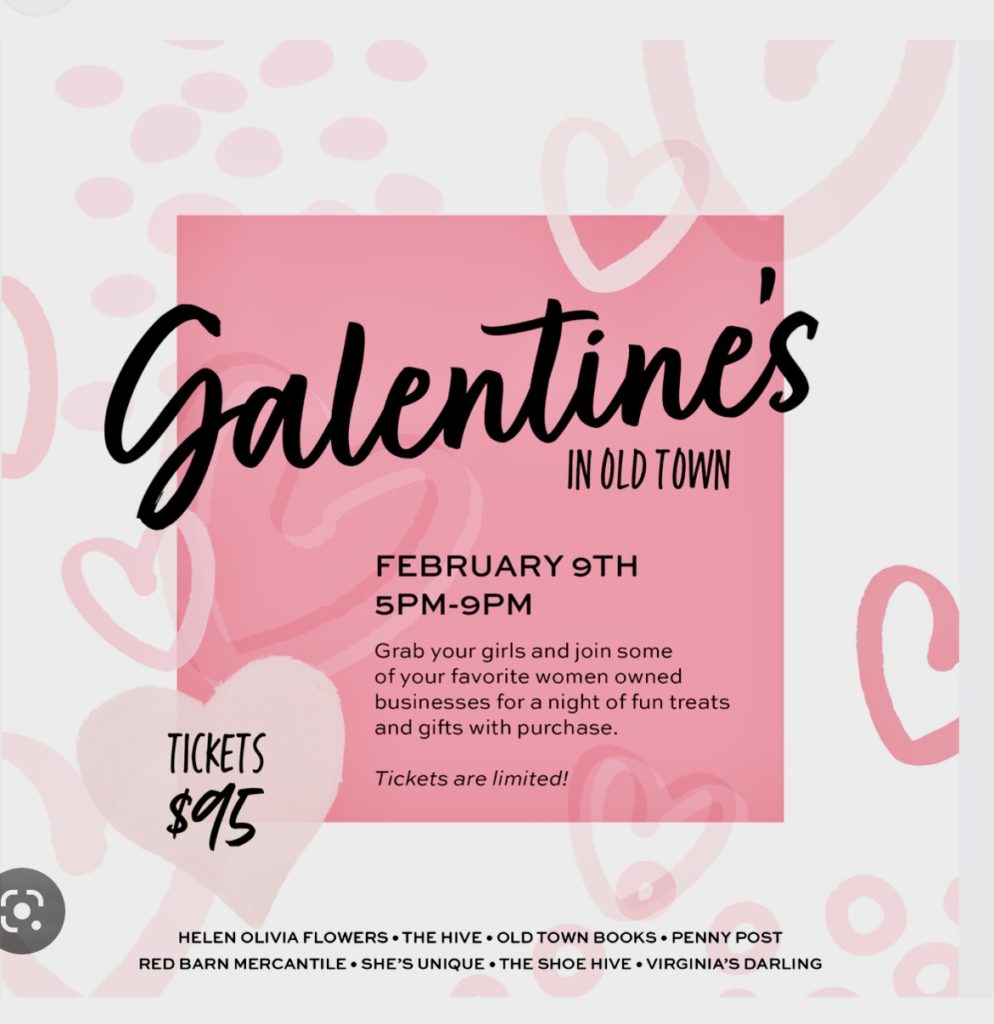 Local boutiques She's Unique and 423 Jewelry, 205 King Street, will be set up with some of their favorite, best-selling pieces for purchase. Besides buying some last-minute gifts, guests can pamper themselves with ear piercings from Creative Chaos Body Care or permanent jewelry from Renued Studio. Sign-ups are required for both and limited spaces are available.
While shopping the fashion and beauty vendors with favorite friends or a certain beau, hot cider will be available to sip along with a chance to win prizes and giveaways. This event is free, but RSVP. For more information, click here.  Eventbrite Lost Boy Cider Galentines or call Lost Boy Cider at (703) 566-5737.
This event is sponsored by Red Barn Mercantile, 1117 King Street. For the complete list of participating businesses and to buy last-minute tickets, visit the Eventbrite website at: www.eventbrite.com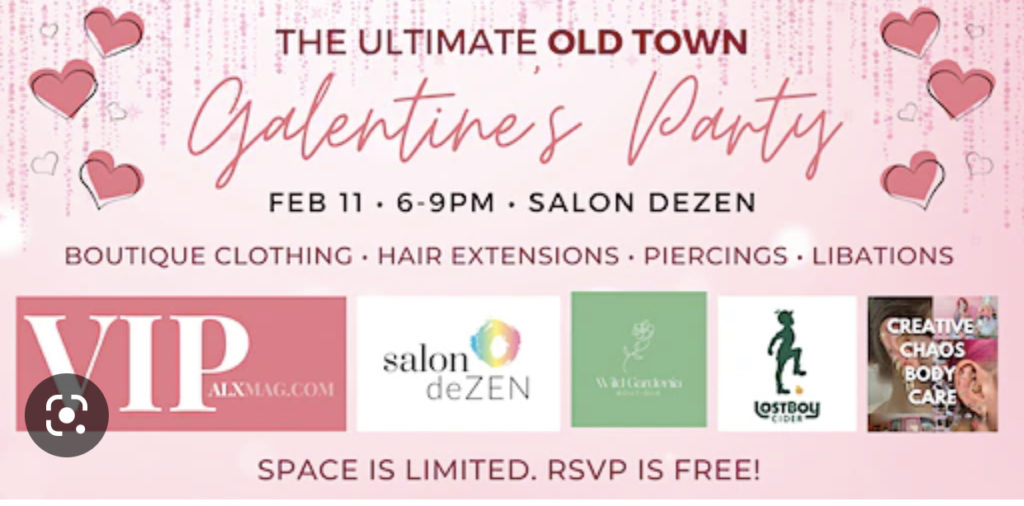 Another spectacular Galentine's event, sponsored by VIP Alexandria Magazine, will be The Ultimate Old Town Galentine's Party. This event will be held on Saturday, February 11, from 6 pm to 9 pm at Salon DeZen, 118 North Fayette Street. The party will focus on self-love and encouraging women to love their bodies. Looking and feeling beautiful will be the theme of the night. VIP Alexandria magazine is partnering with  Wild Gardenia Boutique for a size-inclusive pop-up event. Lost Boy Cider will serve their first all-natural wine and Ruby Red Hard Cider. Salon Dezen will style party-goers with pink hair extensions. Creative Chaos Body Care will do body piercings. For reservation information, call Salon deZen at (703) 687-6755.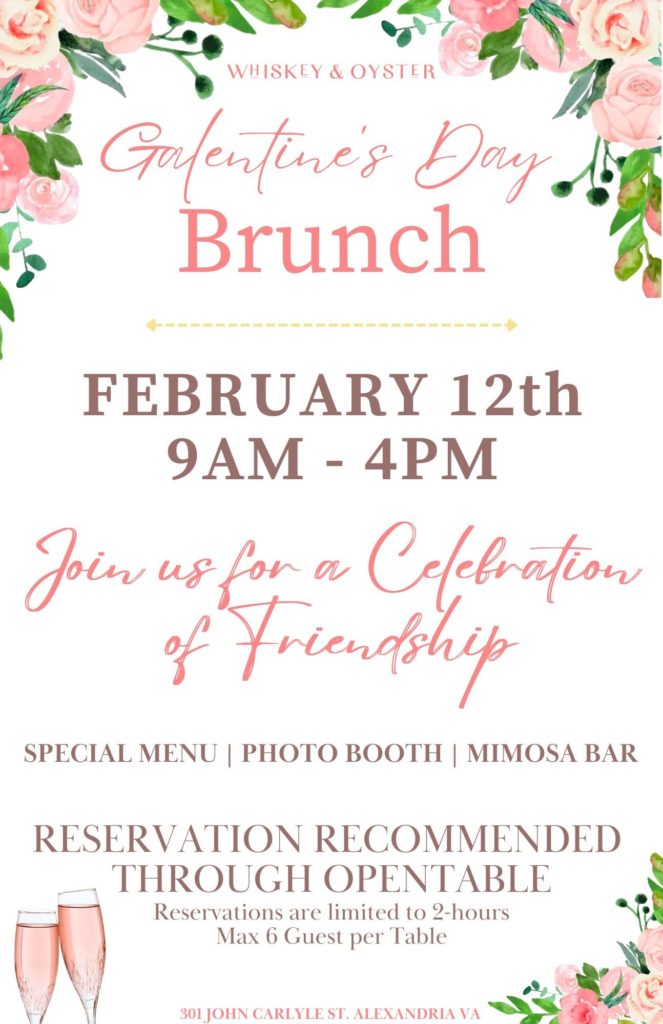 Valentine's and Galentine's will be celebrated at Whiskey and Oyster, 301 John Carlyle Street, on Sunday, February 12, from 9 am to 4 pm, with a special menu, including Lemon Blueberry Beignets and Benedicts. This festive event will feature a Mimosa Bar and photo booths. For more information on the event and to make a reservation, contact the restaurant at 703-567-1533.
Lost Boy Cider, 317 Hooffs Run Drive, will join the celebration with Galantine's@Lost Boy Cider, a special event on Sunday, February 12, from 12 pm until 4 pm.
Galentine's Day was unofficially founded by the beloved fictional character from Parks and Rec, Leslie Knope. During a Season 10 episode, Knope, played by Amy Poehler, gathered her closest gal pals for brunch filled with, as she put it, "waffles and love."
Knope describes it best: "Every February 13, my lady friends and I leave our husbands and boyfriends at home, and we just come and kick it breakfast-style. Ladies celebrating ladies." With that episode, aptly titled Galentine's Day, this widely recognized fake holiday was born.
Finding a Galentine's event to celebrate with friends will be no problem this year. In the words of two more Parks and Rec fictional friends,  "Treat Yo Self!"