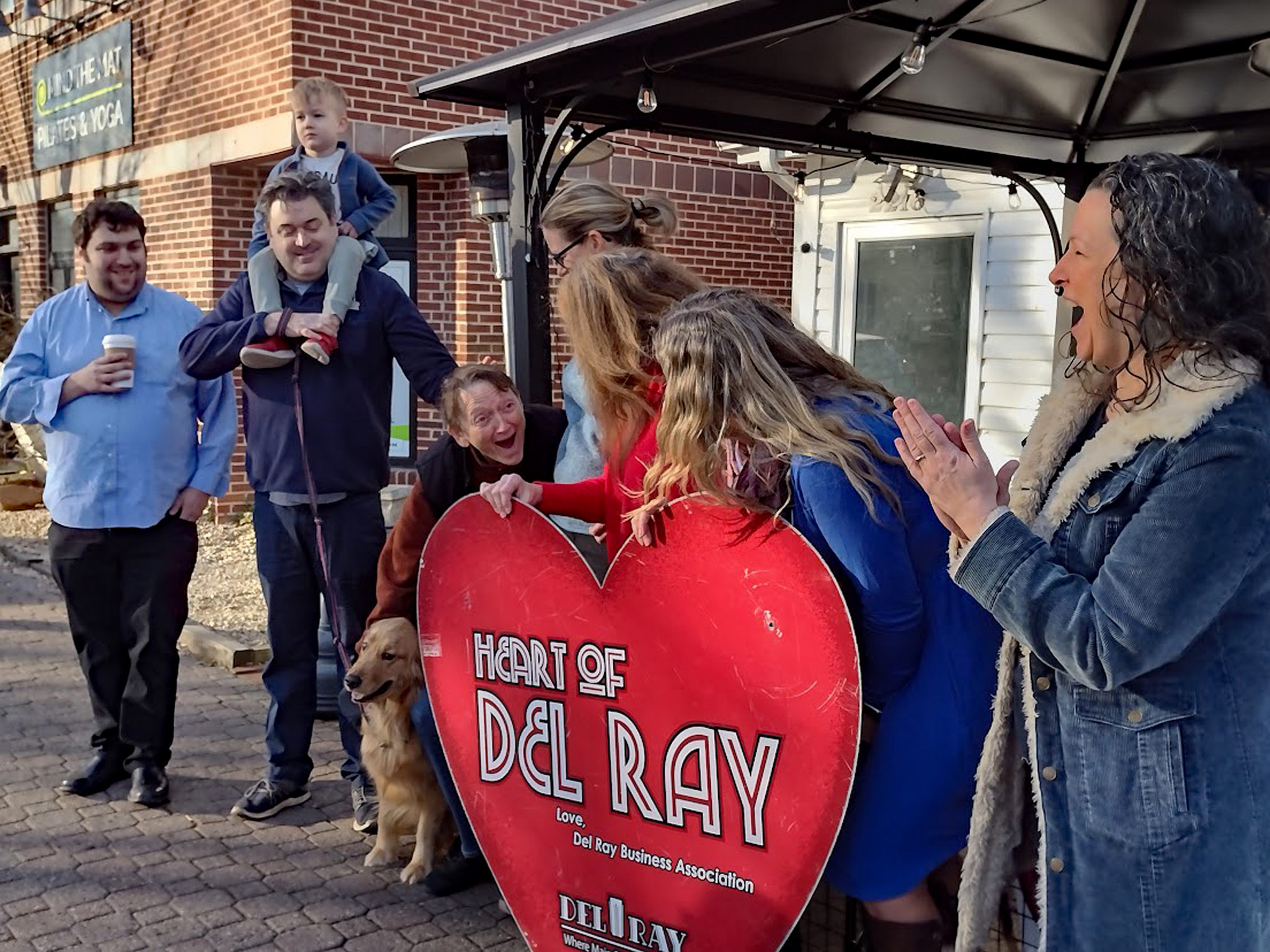 Alexandria, VA – The Del Ray Business Association presented the Del Ray Farmers' Market with the 2023 Heart of Del Ray Award on February 10. The annual award, given to the business or organization that represents the heart and soul of Del Ray, is determined by a public vote of neighbors and customers.
"It truly is a meeting place. On Saturday mornings, rain or shine, warm or cold, everyone goes to the Del Ray Farmers' Market," said Del Ray Business Association Vice President Gayle Reuter.
A Saturday morning tradition, the volunteer-run Del Ray Farmers' Market was founded in 1994 and features over 20 regional farmers and local vendors. "It's where neighbors gather, nonprofits meet neighbors, and vendors become friends," wrote one nomination. "They are the heart of Del Ray. It brings the community together year-round and gives citizens a place to gather, collect community-produced items, and send them back out into Del Ray, like the arteries from a heart," wrote another.
"The farmers say this is their favorite market, the one that they come to, no matter what," said Del Ray Farmers' Market Founder and Market Manager Pat Miller. "Thank you. Del Ray is the best."
The year-round farmers' market occurs every Saturday from 8 am to 12 pm on the Pat Miller Neighborhood Square at Mount Vernon and Oxford Avenues. The Square was named for Miller in honor of her service to the Del Ray community.
Although a single business cannot win the award in multiple years, this is Miller's second Heart of Del Ray. In 2009, A Show of Hands, her retail store featuring handcrafted items from local artists, won the first Heart of Del Ray.
Nearly 1,000 neighbors, friends, and customers participated in online voting. Past winners of the award include A Show of Hands, Jen Walker of McEnearney Associates, Bobi Bomar Homes of Alexandria, The Neighborhood Pharmacy of Del Ray, Greener Cleaner of Del Ray, Del Ray Pizzeria, Mind the Mat Pilates & Yoga, Caboose Cafe, Del Ray Cafe, HomeGrown Restaurant Group, Taqueria Poblano, Ms. Preeti's 7-11, Dolce & Bean, and Lena's Wood-Fired Pizza & Tap.
ICYMI: The 2023 Heart of Del Ray Goes To…Del Ray Farmers Market