THEATRE
Synetic Theater Brings a Fierce Artistry to the Stage With 'Beauty and the Beast'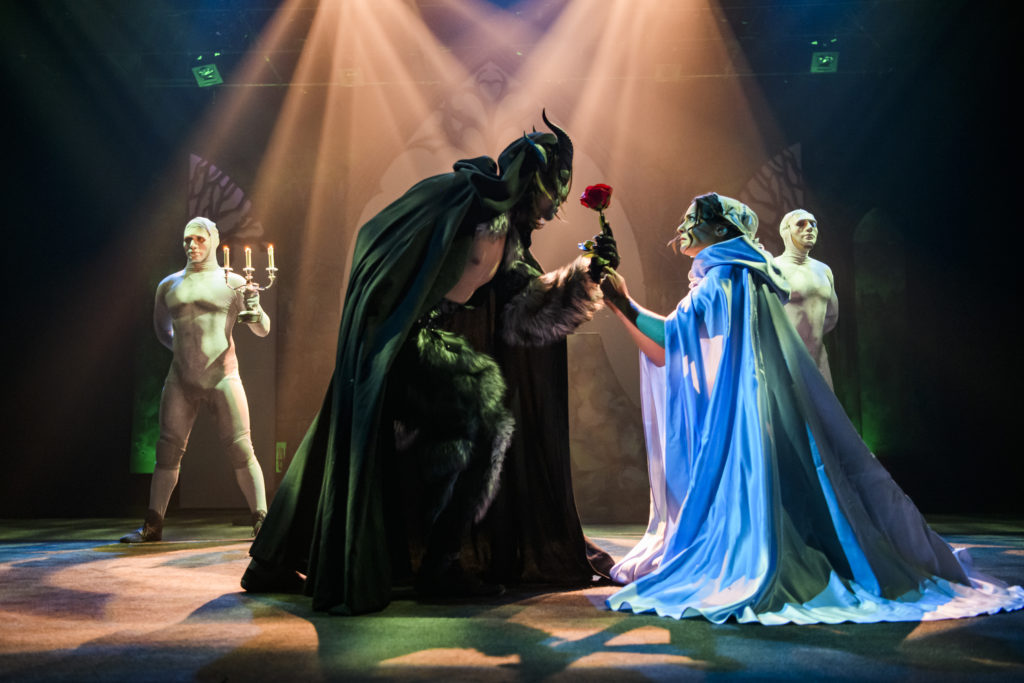 ARLINGTON, VA – With his son Vato by his side, a standing ovation greeted Synetic co-founder, Paata Tsikurshvili as he stood onstage for the opening night of"Beauty and the Beast." Paata was in a serious car crash last December and seeing him in good health thrilled the audience of longtime supporters. As Founding Artistic Director of the highly creative Georgian troupe, Paata along with his choreographer wife, Irina, has continued to shepherd their wildly successful productions since its formation in 2009.
The troupe, which was to star father and son for the first time together on stage in years, had scheduled "War of the Worlds" for the March slot. But with Paata's accident in mind, they pivoted to a version of one of their earlier successes. Given the circumstances, the night was filled with anticipation and emotion.
"Everyone knows that crows don't talk," said Emmerane (Rachael Small) clad as a Goth crow, who is both keeper of the legend and narrator of the story. In this ancient folk tale lies the myth of the prince turned into a beast, then restored to his former self through the love of a beautiful and kindly woman. In typical Synetic fashion, humor is interspersed with raging fight scenes, extraordinary acrobatics, and romantic dance.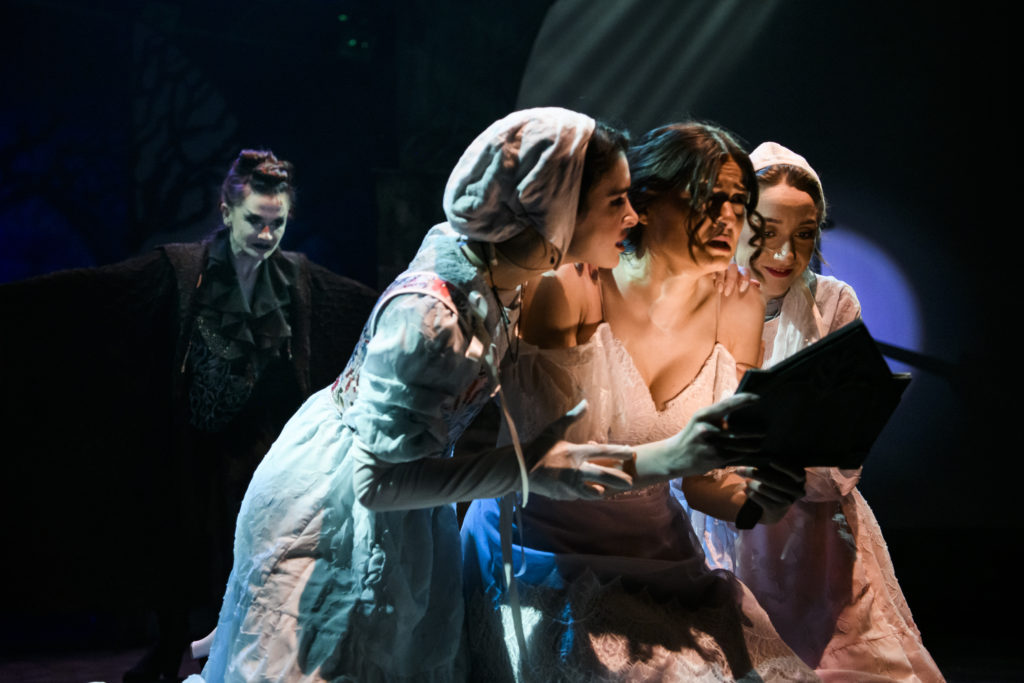 The opening scene finds the beautiful Belle (Irina Kavsadze) with her two adorably silly sisters Claudette (Nutsa Tediashvili) and Marie (Irene Hamilton). They are preparing to bid farewell to their father, John Paul (Irakli Kavsadze), who is off to retrieve his ship laden with fine goods. Claudette and Marie comically primp and pose, begging their father to bring them back jewels and finery. They tussle over Avenant (Jacob Thompson), a handsome prince who has eyes only for Belle. When she becomes lost in the woods while searching for her father, the Beast (Zana Gankhuyag), portrayed as half man and half forest animal, rescues her from a pack of hungry wolves and takes her to his castle. The story remains close to the original with the addition of astounding and gravity-defying physicality, as well as clever mime routines.
To great effect, Director/Adaptor Ben Cunis features some of the chase scenes in black-and-white, backlit, with silhouette artistry reminiscent of Arthur Rackham's beautifully illustrated "Sleeping Beauty." With this interpretation, there are breathtaking dramatic scenes mixed with deeply emotional poignancy – all with very little speaking. Some of the most incredible battle scenes you'll ever witness in a theater come from the creative minds of Co-Director and Fight Choreographer Vato Tsikurishvili and Choreographer Irina Tsikurishvili.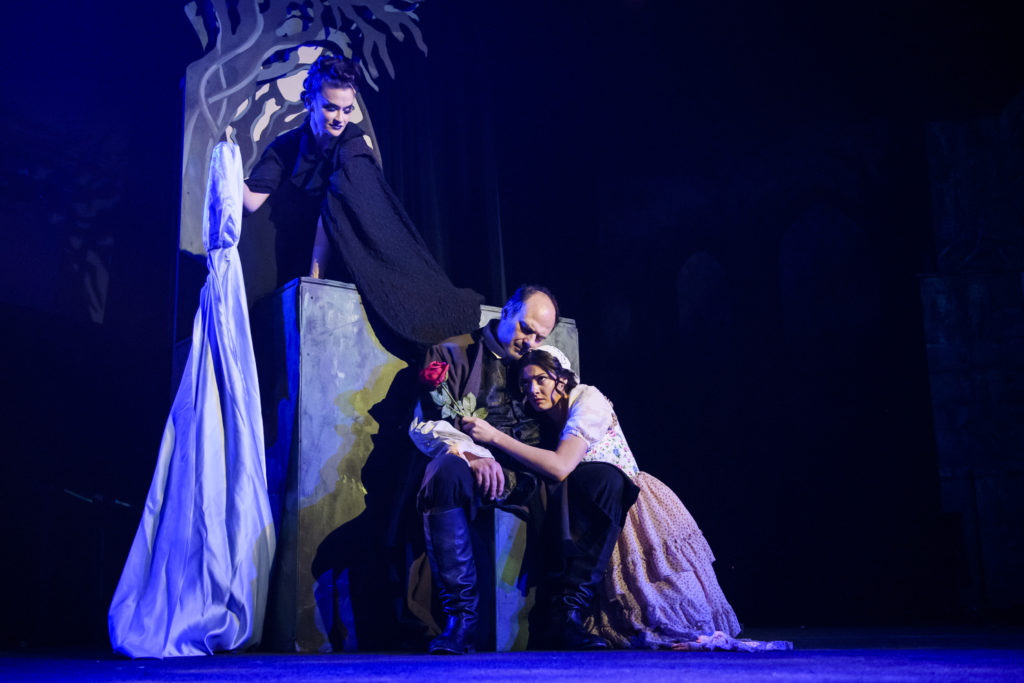 I must confess I was particularly taken by Gankhuyag as the Beast. His terrifying entrance, and then metamorphosis seamlessly into a kind and caring lover, is both haunting and memorable.
Notable too is Small in the role of Emmerlane, who held the audience captive as her speaking role predicated the story line.
In the fight scenes, both Synetic alum Philip Fletcher as Magnificent and Jacob Thompson as Avenant, were utterly captivating with their dead falls and eye-popping leaps. These stunts catapulted the duo across the stage to audible gasps from the appreciative audience.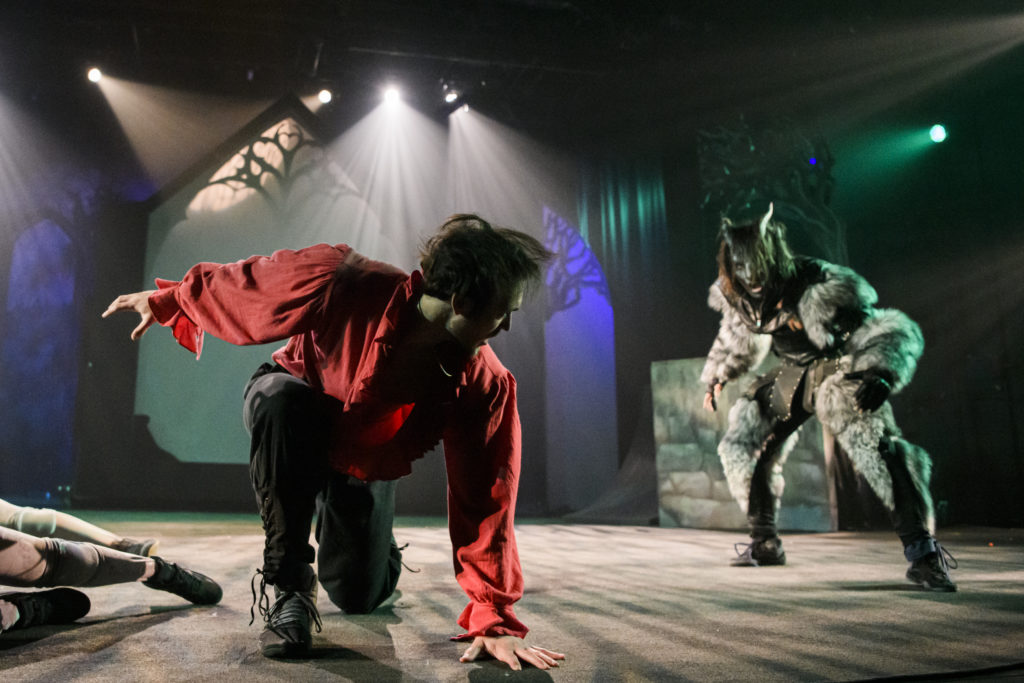 We all need fairy tales, and this one is immortal. Not for children, but teens and adults will love it. Highly recommended.
Ensemble members Osama Ashour and Lev Belolipetski.
Co-Adaptor: Peter Cunis; Original Music by Clint Herring and Andrew Gerlicher; Puppet Designer: Zana Gankhuyag; Original Costume Designer: Kendra Rai; Remount Costume Designer: Delaney Theisz.
Through April 2nd at Synetic Theater at Crystal City, 1800 South Bell Street, Arlington, VA 22202. For tickets and information visit www.SyneticTheater.org or call the box office at 703 824-8060 x 117.
'King Lear' Smashes All Shakespeare Theatre Company Sales Records