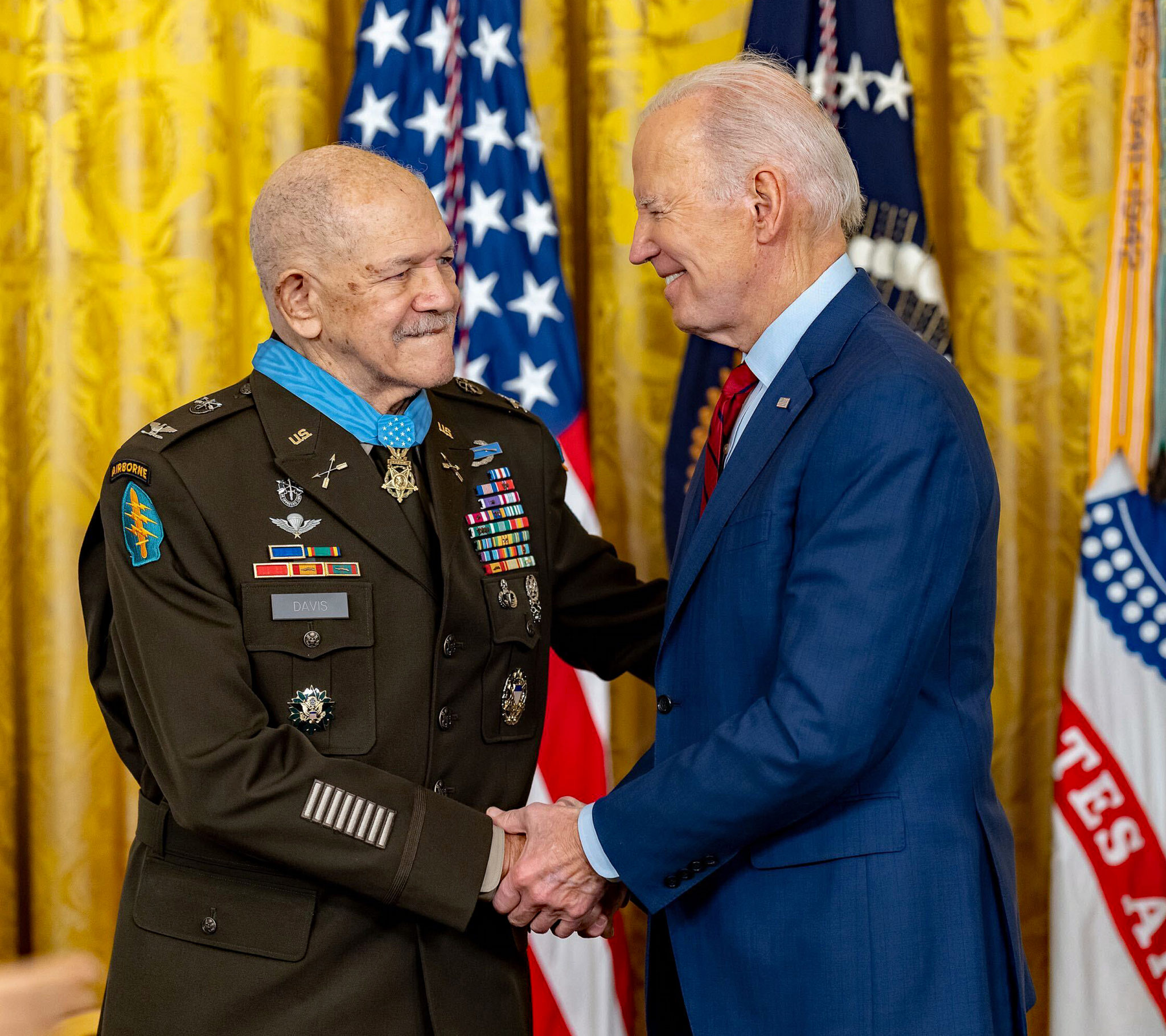 By Steve Hunt
Alexandria, VA – On March 3, President Joe Biden awarded the Medal of Honor to Colonel Paris D. Davis, U.S. Army, Retired, for conspicuous gallantry for his heroic actions during combat operations against an armed enemy near Bong Son, Republic of Vietnam, June 17-18, 1965.
It was recognition long overdue for the Stratford Landing resident. Then Captain Davis was commanding an inexperienced South Vietnamese force when he learned that a vastly superior North Vietnamese enemy force was operating in the area.
The White House commendation stated, "Through surprise and leadership, Captain Davis gained the tactical advantage, personally engaging and killing several enemy soldiers. Wounded while leading the initial assault, he continued moving forward, personally engaging the enemy in hand-to-hand combat. Charging under the intense enemy fire, Captain Davis personally led four others in destroying enemy gun emplacements and capturing more enemy personnel."
During the assault, Davis was struck by automatic weapons fire and, realizing two of his fellow Americans were incapacitated and unable to move while trapped by enemy fire, he located their positions and personally rescued each to the safety of the friendly company's position.
At the White House ceremony, President Biden said this "may be the most consequential day since I've been president…today, 58 years after he bore the battle, we honor a true hero of our nation: Colonel Paris Davis.
"Paris, you are everything this medal means. You're everything our generation aspired to be. And you are everything our nation is at our best: brave and big-hearted, determined and devoted, selfless and steadfast. American."
U.S. Rep. Don Beyer (D-8th), who attended the ceremony, described Davis as a constituent and a friend and noted that he had long supported Col. Davis as deserving of this honor.
"Colonel Davis is a hero, a fixture in our community, and a great man who I am proud to know and call a friend. I was proud and thankful to be on hand, applauding in the front row as he finally received this long overdue recognition. What a great moment."
ICYMI: Dr. Patrick Spero Appointed Executive Director of George Washington Presidential Library