Cover Story
Alexandria Woman Plans Walk to Richmond in Name of Equality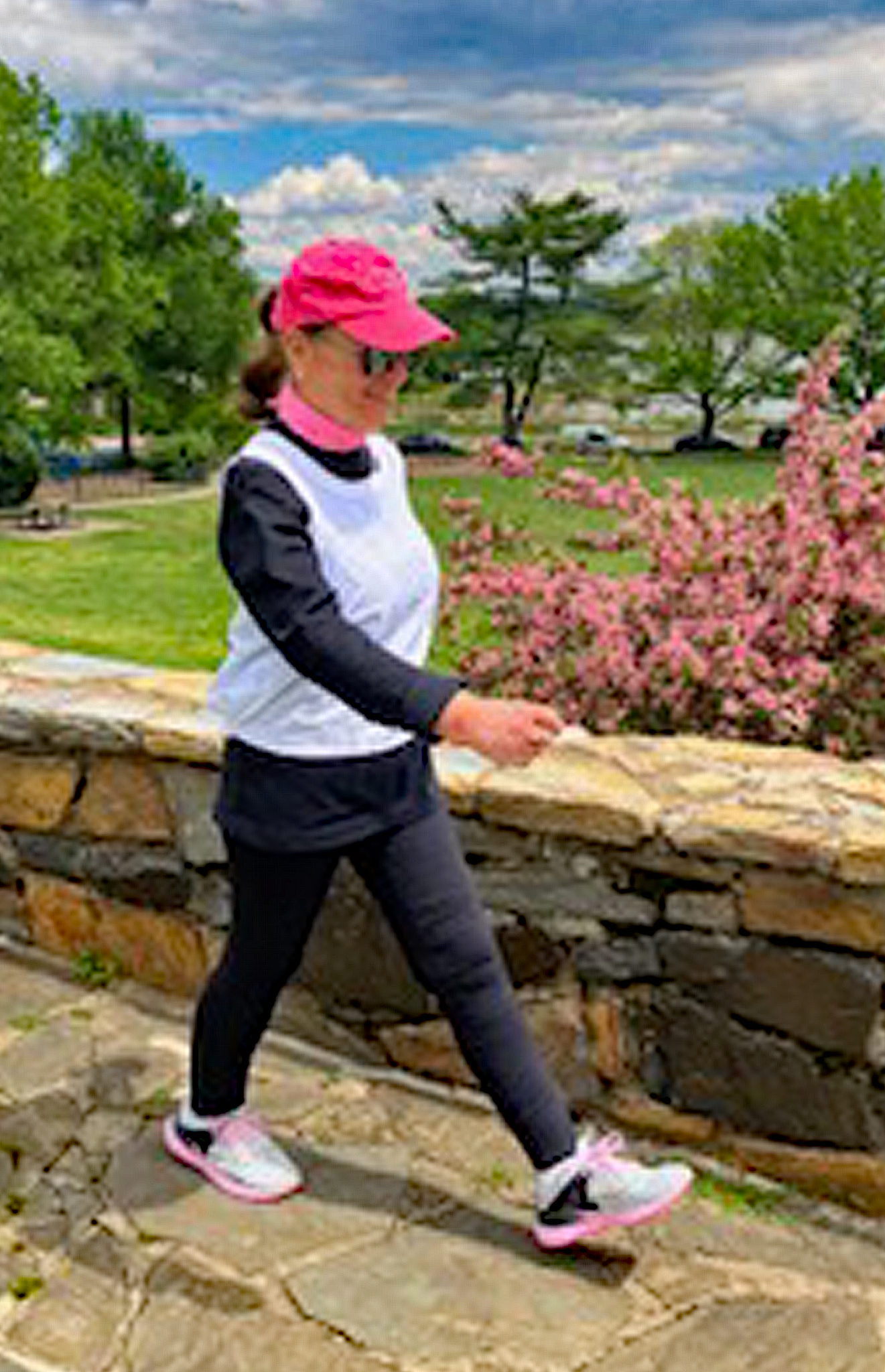 Alexandria, VA – "Walking for women's equality – in health care, at the ballot box,
and everywhere else.  We honor women and girls of today and throughout history who have broken ceilings and 'gone the extra mile.'"  — Gayle Converse
Gayle Converse, vice chair of the ACW board, is going to walk to Richmond this August. She'll start at Market Square and finish at the suffrage memorial in Richmond, the Virginia Women's Monument near Capitol Square. Even by the fastest route, Google Maps plots this at 108 miles (I95 South). A relaxed trek with as-yet-unknown side excursions will be longer.
When asked why she wants to do this, Converse said, "It's more a case of why not, rather than why. Three points of focus here convey some of my interests and passions. First, women's history, and history in general. Second, women's health. My professional background is in network news. Then I was press secretary for the U.S. Surgeon General. For many years now, I've been communications director for a former U.S. Health and Human Services Secretary, so health is very much an emphasis for me. Third, women's equality. Those are the key areas that I want to raise awareness for. People need to be aware of women's issues and that women are capable of doing anything.
"And I like to walk. I walk every day in Alexandria, walk to Del Ray, walk to Mount Vernon estate, things like that."
Converse plans to visit historic sites and collect women's oral histories, wherever possible, to write about in the future. "I'm starting with a portion of the Women's History Walk, the Turning Point Memorial, the women's suffrage monument at Occoquan," she says.
The Office of Historic Alexandria has offered to walk with her for a way when she leaves Alexandria. Her entire route is being mapped out by the East Coast Greenway, with a mix of terrains.
"I will be walking a lot of it by myself, which is fine," she says. "But anyone is welcome to walk with me. Men and women, you know, anyone interested in these areas. We hope women's organizations, historic or history organizations, ethnic organizations, and health organizations all join for an hour, a day, or a step."
Nightly accommodations have not been determined, so Converse says, "I could get off the beaten path to spend some nights in hotels. I'm going to carry as little as possible. The Greenway advised me to bring at least a tarp in case there's a downpour."
Gayle Converse walks 8 to 10 miles a day now and hopes to increase that to 15 miles by August. (See: "I like to walk.") "Walking is a way to take in the beauty that surrounds us, natural beauty, whether it's the Potomac and its many moods or just the blooms and the different seasons. It's a good thinking exercise. Your creativity seems to flow. It's a wonderful way to spend 30 minutes or half the day."
Zebra will follow Gayle Converse's trek to Richmond, so stay tuned.
ICYMI: Potomac Yard Metro Station Opening May 19 in Alexandria