Zebra Misc
Born to Serve: Warriors and Puppies Join Forces in Service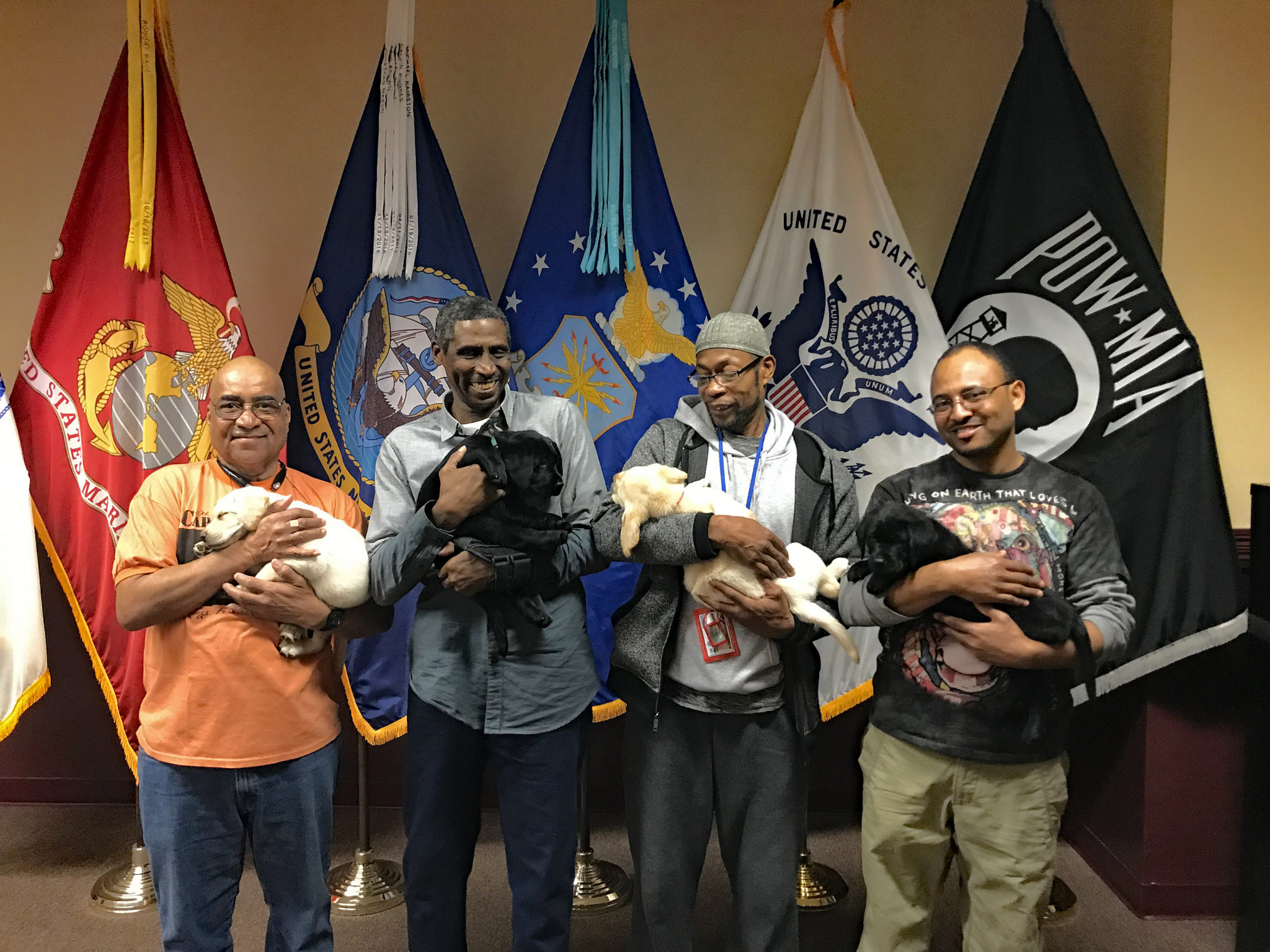 Alexandria, VA – Former Army Captain Beth Herre Jarvis earned many honors while serving her country, but she is particularly delighted by the newest. A puppy in training at the Warrior Canine Connection is her namesake, Herre. The WCC is a national nonprofit that trains service dogs for wounded warriors and enlists wounded warriors to help train the dogs.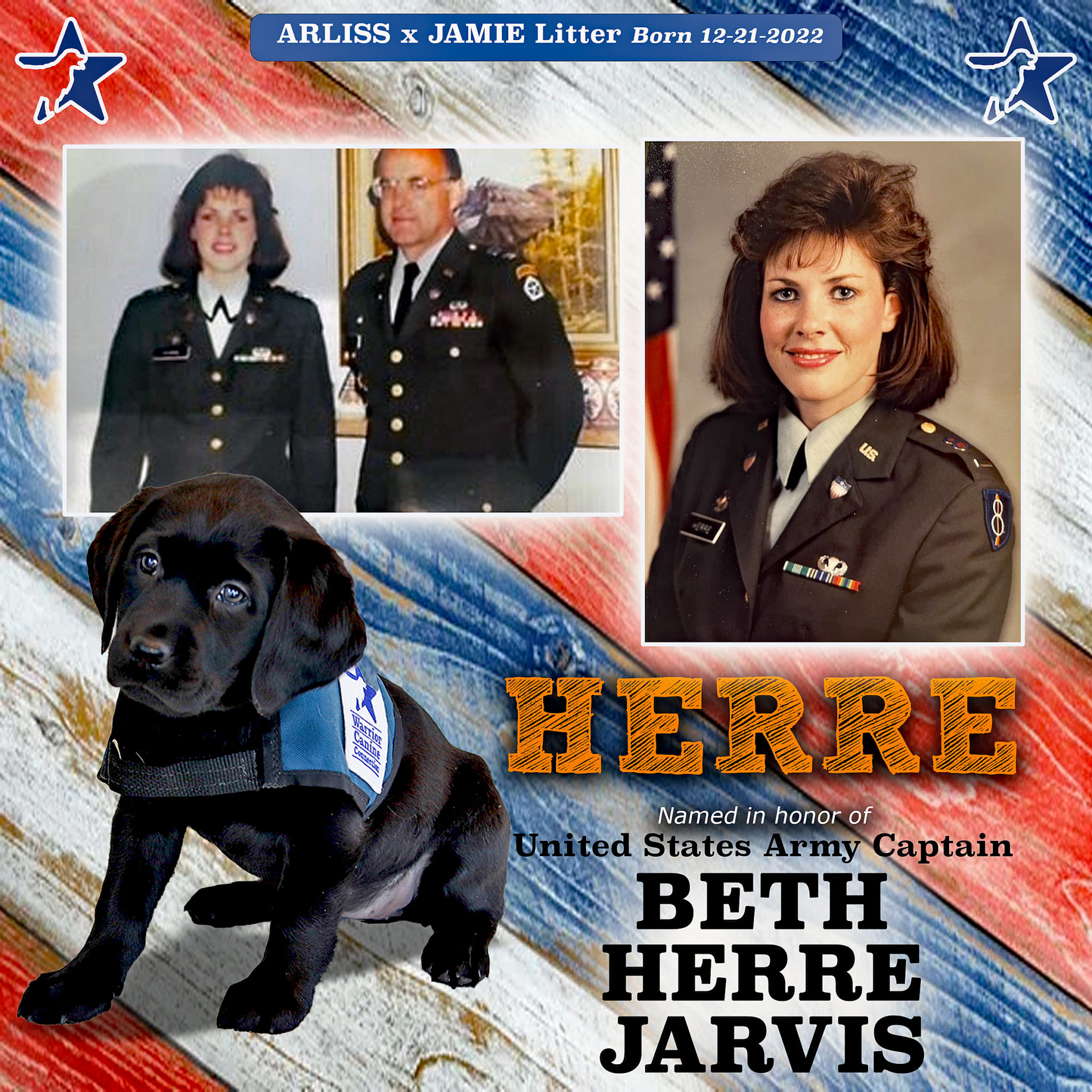 Jarvis was nominated for the namesake honor by her friend, Sarah Olson, who works for the WCC. Olson, whose husband is also an Army veteran, discovered the WCC several years ago when one of her children suffered severe anxiety exacerbated by her husband's repeated deployments. It is, unfortunately, an all-too-common challenge facing many military families. A friend suggested adopting a dog from the WCC, and soon the Olsons added Stacy, a trained military family support dog, to their family.
While the Olsons already had a dog and a cat, it was clear that Stacy's service training made her more than just another family pet. At the WCC, dogs are trained to identify changes in mood and stress level, the triggers that affect behavior. They respond with attention and affection. But there is so much more to the service training that the WCC performs.
Dedication and compassion in training
It begins, of course, with the dogs. Breeds are carefully chosen for health, general demeanor, trainability, and personality. The WCC is accredited by Assistance Dogs International, the standard-bearer in service dog training, and follows ADI philosophies and practices.
As noted on the WCC website (warriorcanineconnection.org), "It takes approximately two years for a WCC dog to complete its training, during which time it learns a minimum of 80 commands. To graduate from the WCC program and meet the standards of Assistance Dogs International, each dog must perform tasks on the first command 90 percent or more of the time."
One key element differentiating the WCC is its mission-based trauma recovery, echoing the revered military ethos of "warriors helping warriors." Many warriors return home with debilitating injuries, visible and hidden. Training a service puppy for a fellow warrior helps service members overcome some of the worst symptoms of traumatic brain injury or PTSD. They gain a sense of purpose while building self-confidence, trust, and discipline. Over the typical two-year training period, one puppy will have positively touched the lives of up to 60 warriors.

This recovery model has been such a resounding success in helping veterans that Congress members recommended the program be incorporated at VA hospitals across the country. In August 2021, President Biden signed the PAWS for Veterans Therapy Act into law, launching a five-year pilot program in the Dept. of Veterans Affairs that provides service dog training to benefit veterans diagnosed with PTSD.
Sharing A Lineage of Service
Herre is nearly five months old now. She is in the capable hands of her puppy parent, former WCC volunteer and now employee Katherine Kane. Kane grew up with plenty of "but not well-behaved" dogs and immediately loved the WCC charter. Kane knew Herre's sire and dam and grand-dam, so she had a good feeling about the temperament and personality of this new trainee.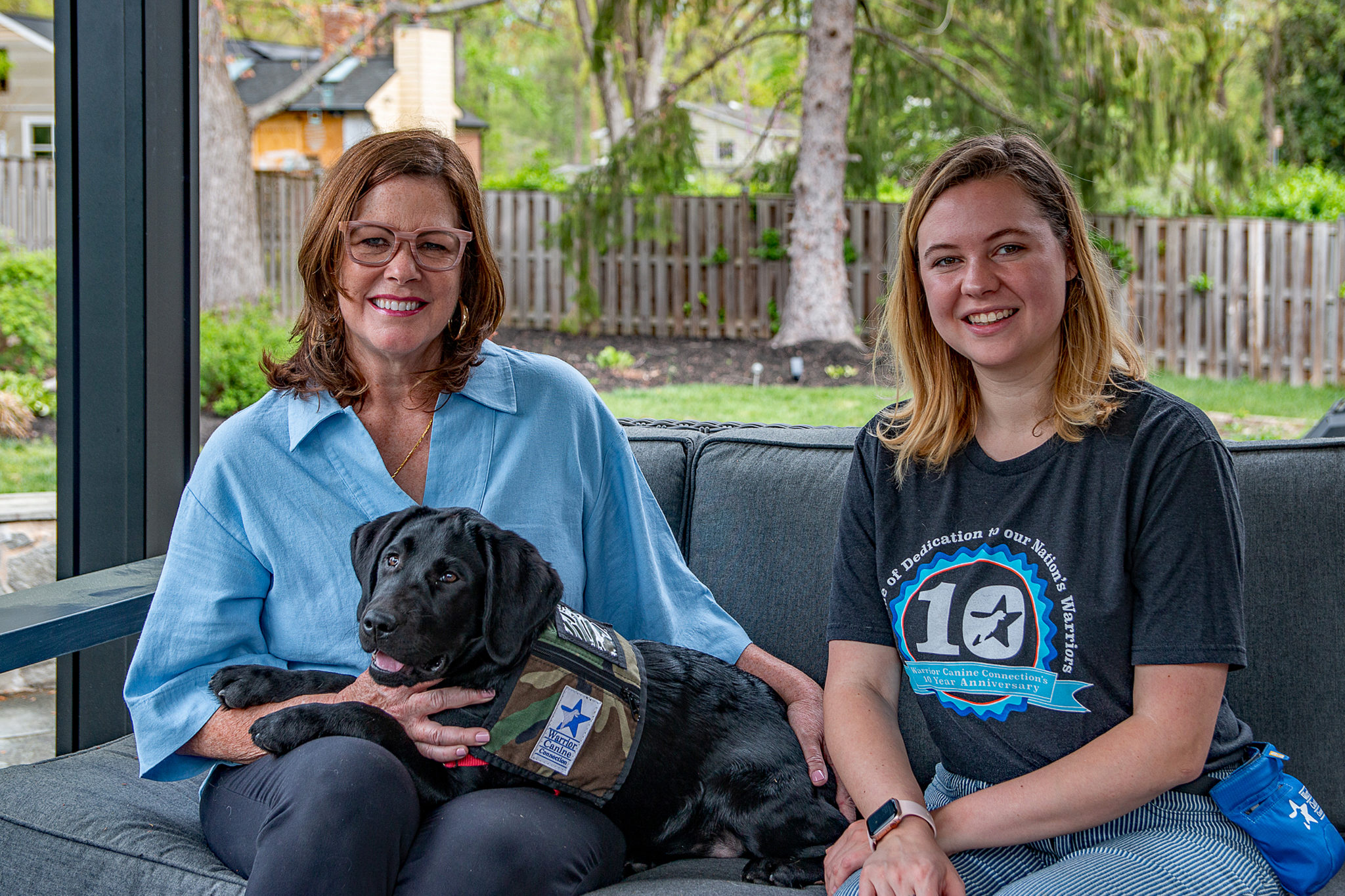 Kane is also a namesake program coordinator. While perusing the female namesake applicants, she noticed that Jarvis's story offered many parallels to her new canine charge. (Jarvis's father served in the Army in Vietnam and her husband is a retired Army officer.) Kane feels Herre is off to a great start, following in her family's footsteps as she progresses through her training.
Many dogs graduate from the rigorous program with full service credentials. Many others who exhibit the necessary skills are placed as assistance dogs for military families, like the Olsons' dog, Stacy. As Kane explained, "Regardless of what path the dogs choose, they go on to have a tremendous impact. Especially from the military families, you'll get stories of support and changes in their lives."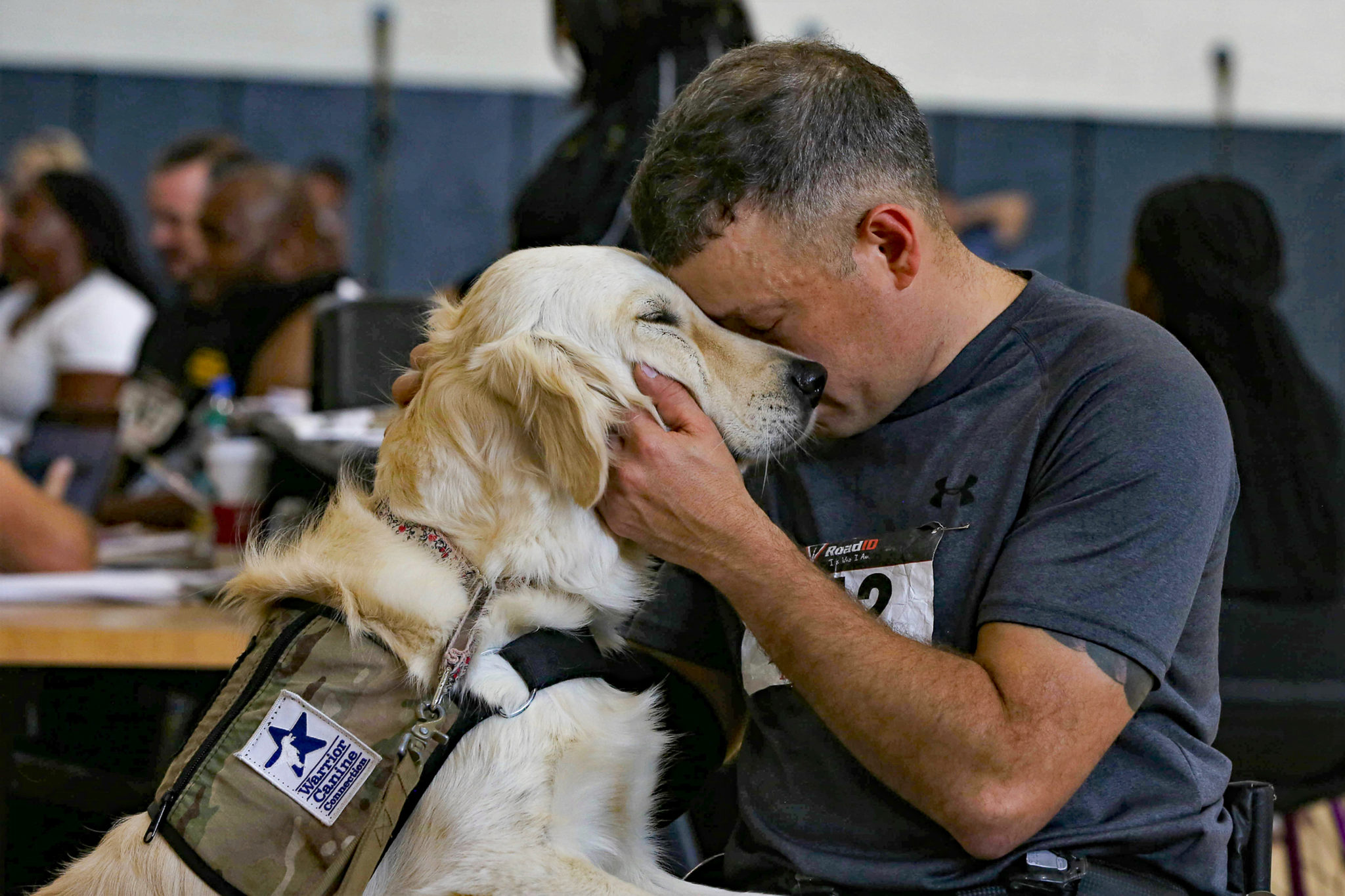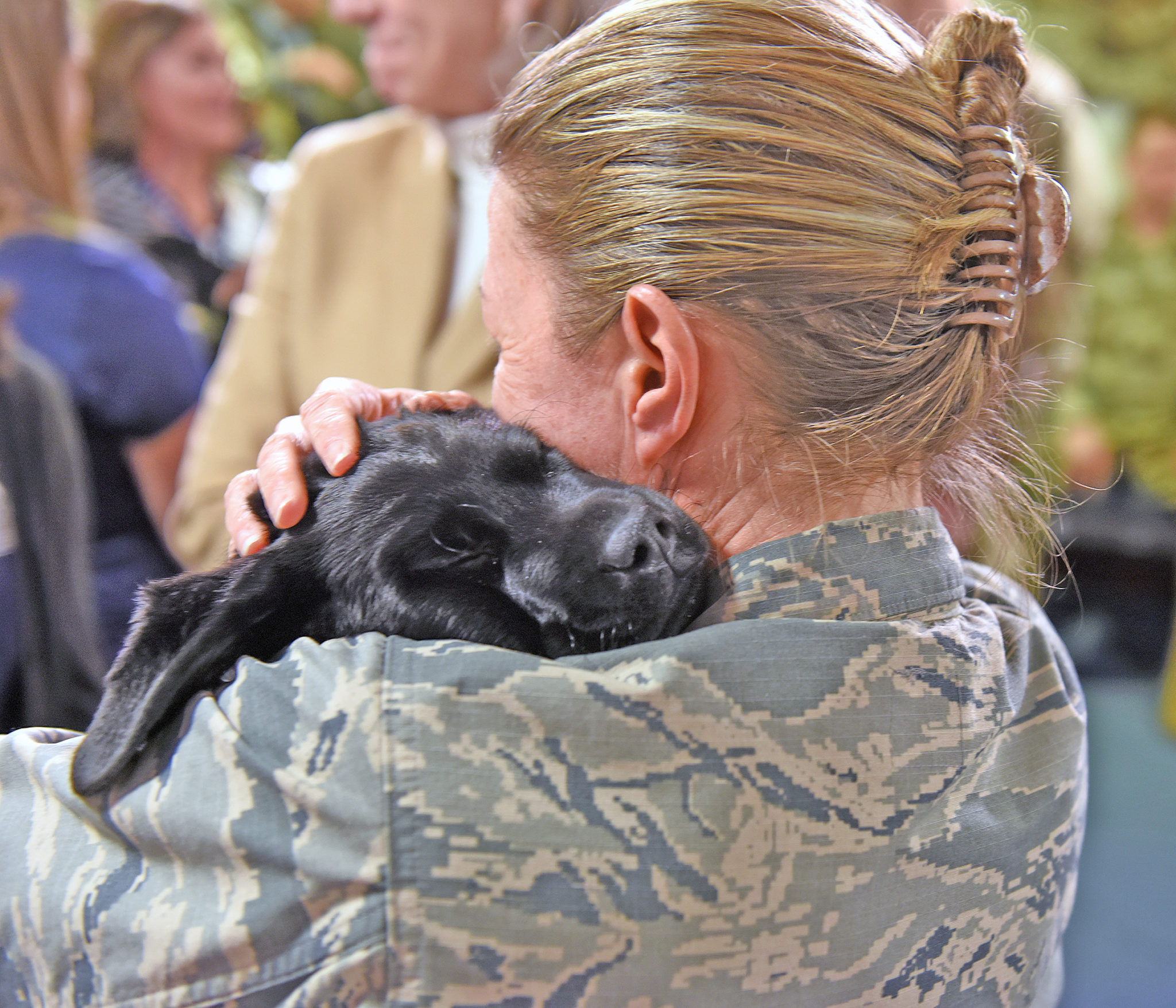 Olson is living proof. "Stacy has transformed our family," she said. "The unconditional love that she has brought to our family, how she loves my daughter and all of us — no matter what — has been absolutely life-changing for us."
A Joyful Meeting
Jarvis has kept a close eye on Herre via the WCC website's Puppy Cam. She was able to meet Herre and Kane in April. It was an emotional and joyous introduction, with lots of puppy kisses and tail wagging.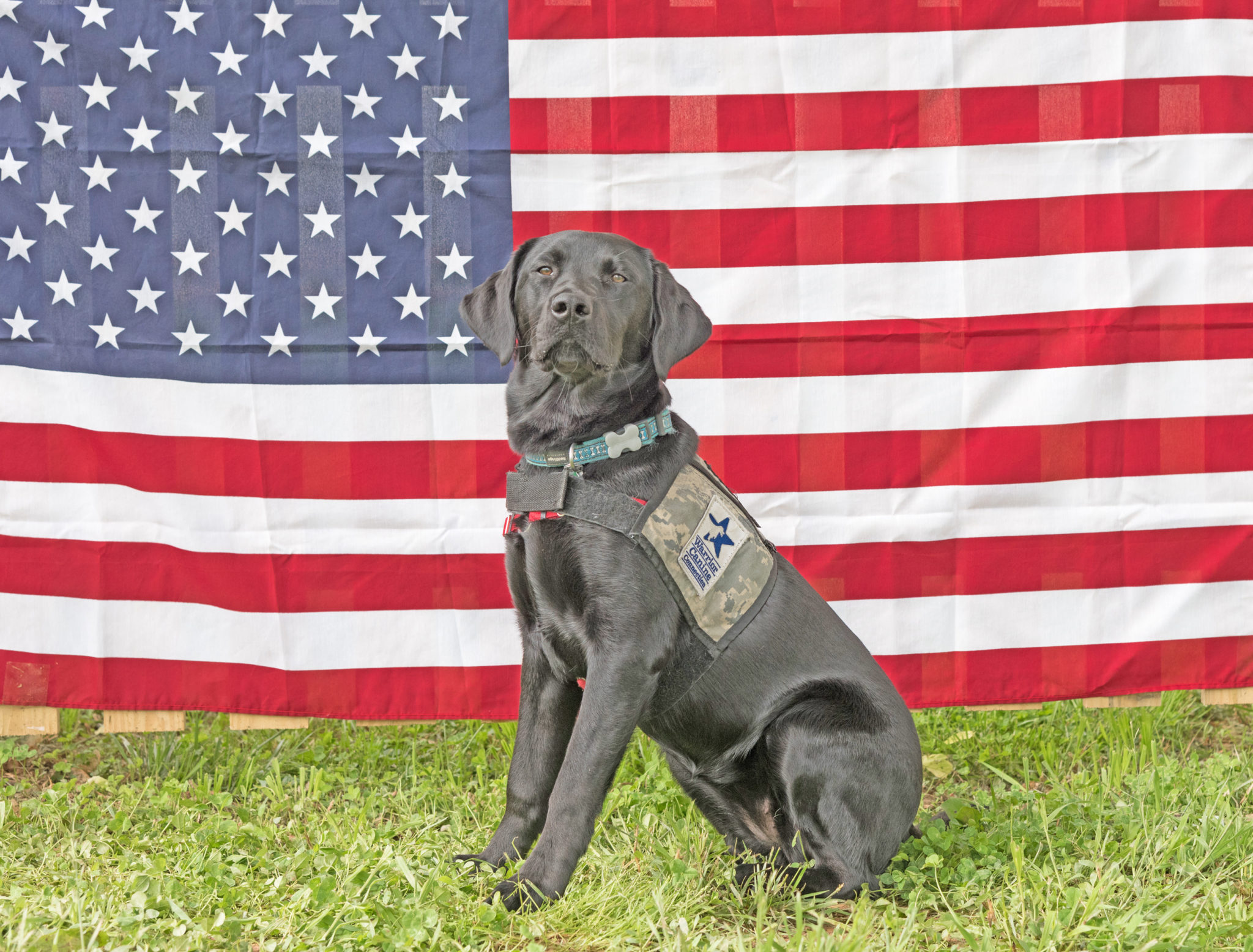 "Dogs and humans have a special connection. I love how Warrior Canine Connection recognizes this and makes it a win-win for all involved," said Jarvis. "I feel privileged to have Herre named after me both in honor of my service to the Army and in knowing she will provide a lifetime of service and connection to a warrior veteran in need."
To nominate a retired service member for the namesake program (female warriors especially), you can find the form on the website. For more information, visit warriorcanineconnection.org.
ICYMI: ALIVE! Opens Food Hub on Mt. Vernon Ave. in Alexandria