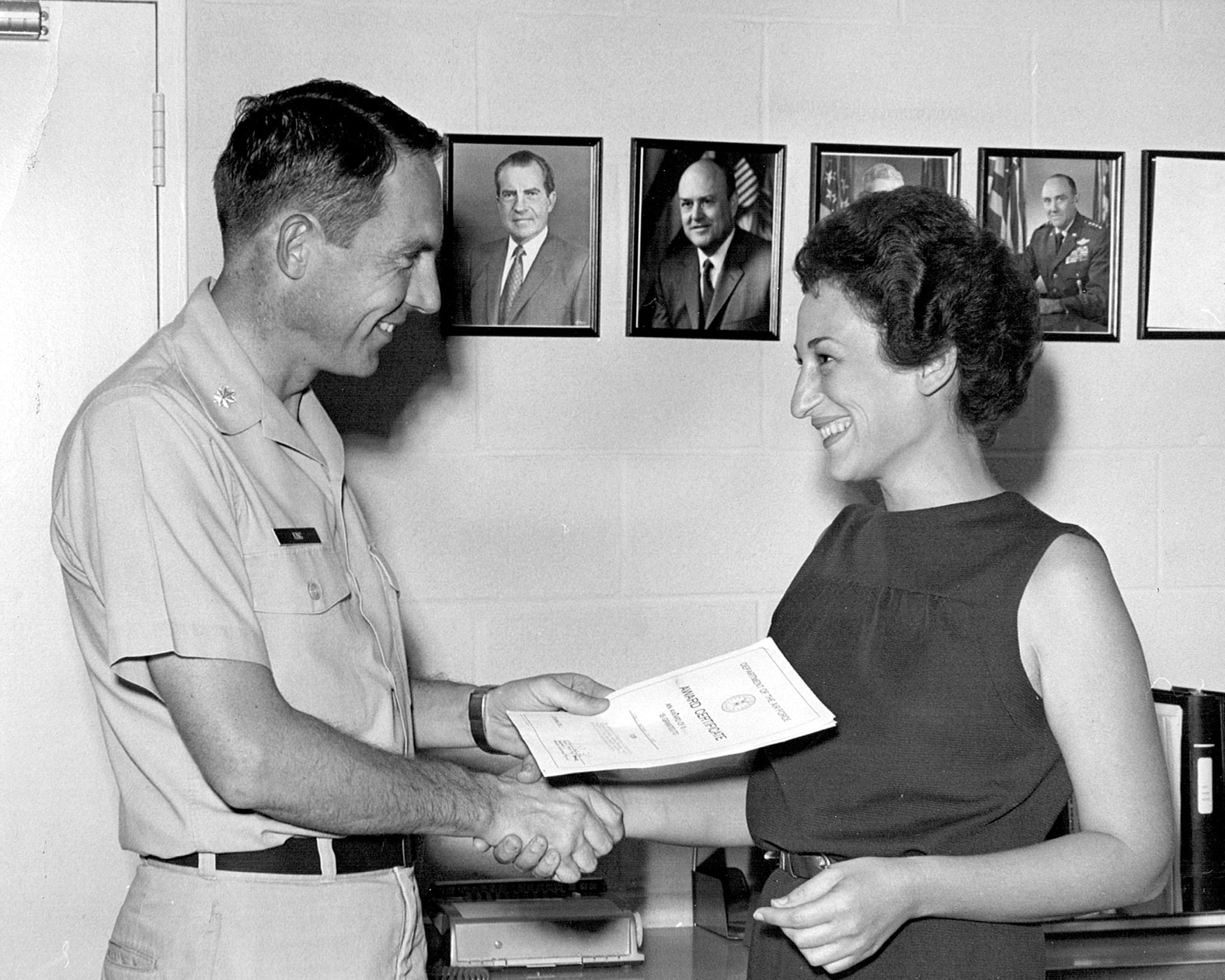 Alexandria, VA – When I was young, I wanted to be an explorer like Marco Polo or a scientist like Marie Curie. But I can barely find my way around the block (ask anyone who ever asked me for directions), and after my first week of chemistry at Northern Virginia Community College, I was a month behind. I dropped it after the second week.
I've worked at many jobs, some part-time – babysitting as a kid and hand-addressing fundraising letters from names copied from a telephone book. As a going-back-to-work mom, I worked as a mail opener for The Telephone Company (when there used to be a Telephone Company) and cleaned new homes of construction debris before settlement. I worked in the meat wrapping department of a grocery store and did office work for a small airport in Manassas, where I was given my first airplane ride in a small bi-wing.
I was not yet 17 in 1955 when I had my first full-time job as a typist in the Incentives Branch, Employee Services Division at the New York Naval Shipyard/Brooklyn Navy Yard. There I learned that there could be better ways to do things, a notion I carried to the Air Force, where I received awards for three suggestions. I worked in the International Educational Exchange Program, part of the State Department's Fulbright Program1, and as a secretary in a small real estate office where I wound up teaching licensing classes for the broker and eventually was licensed to sell real estate.
The job that impacted me most was with the Air Force's 1361 Photo Squadron. It was the during the Vietnam War. The unit's mission was to record the United States' activities there photographically.
I started out typing captions, was promoted to writing captions, and then promoted again to selecting photos for the permanent collection. That's where I learned about photography and the value of recording history with photographs and organizing them so they can be retrieved. The latent image2 for what would later become "Living Legends of Alexandria" was formed then.
I worked as a secretary for the MITRE Corporation. I was impressed by the brilliant staff but frustrated that I could only get ahead by switching to the technical side. That would be like proverbially fitting my square self into a round hole. And then, happily, I got a job as executive assistant to the director of an association of state agencies, the Interstate Conference of Employment Security Agencies (ICESA), which later moved to the Hall of States building on Capitol Hill. The director said he received 78 replies to his ad. He brought them to his wife, who selected five for him to interview. He hired me on the spot.
I supervised the office secretaries and staffed three committees. I was responsible for facilitating meetings and for the catalogs of the proceedings of their annual meetings. Eleven good years.
Why did I leave?  I intended to return to school to finish the college work I had only begun when I lived in Brooklyn. I took night classes at Northern Virginia Community College and did well until I had to take a math-related course. I chose an online economics class. I struggled through it, and to reward myself for passing, I took a class in photography.
Remember that "latent image?2" It developed.
Once I got into the darkroom, I didn't want to leave. There is magic in seeing your images develop in the darkroom. There was a sense of control, or at least the illusion of control, over an 8×10 piece of paper. I craved that sense of control.
And I was good enough that my instructor, Anne Zelle, gave me a one-woman show of the black and white photographs of plants I had made at the U.S. Botanical Gardens, a few blocks from the Hall of States, where I often spent lunch hours.
A classmate, Ruth Witty,  told me that the Alexandria Port Packet (now the Gazette Packet) was short a photographer. I went to see the editor, Jim Coldsmith. He gave me a chance, and the following week my photo of the Alexandria Birthday Celebration at City Hall was on the front page. I was hopelessly (or hopefully) hooked.
I left my full-time job at the association, trusting that the money I would receive for unused leave would keep me afloat until I could support myself as a photographer. I worked from the basement of my Fairlington home for several years until moving my business to rented space in the newly developing (and then affordable for me) King Street Metro area. I brought the two younger kids, Steven and Lynn, to work with me. The eldest, Julie, worked with us when she was between jobs. We were a winning team.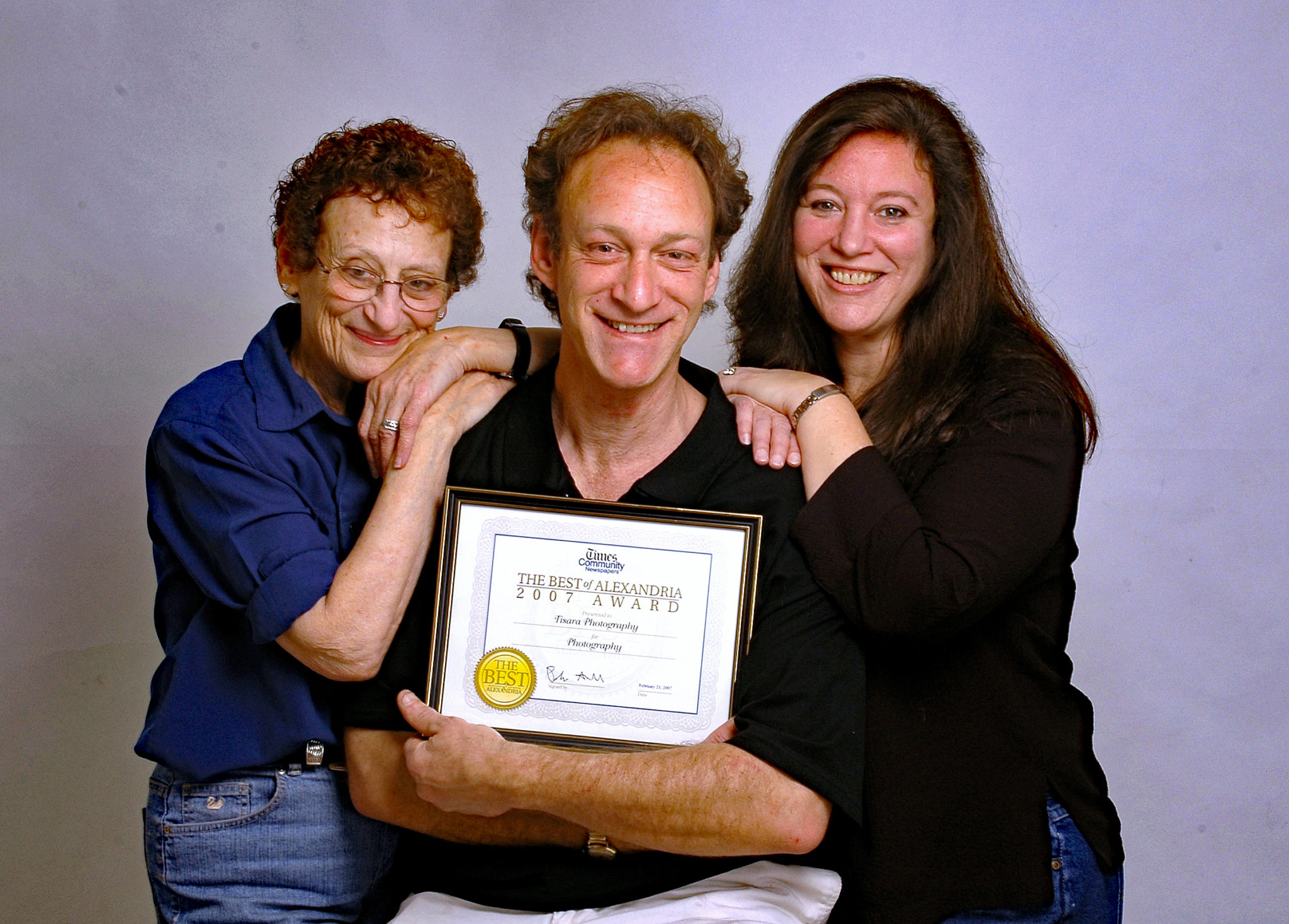 I photographed Alexandria's people, places, and events for almost three decades—until photography went digital and I didn't want to do it anymore. By then, I was deeply involved in running Living Legends of Alexandria and coordinating rental activities for Mount Vernon Unitarian Church. I took a class in the art of mosaics with retired archaeologist Gene Sterud and a new branch sprouted from my aging tree of self.
These days, thanks to the faith publisher Mary Wadland has in me, I also write this Memories and Musings column for Zebra. What's next? I honestly don't know. I will wait patiently (or not) to see what develops.
Acknowledgment: Underlying and overarching all the "outside" work was mothering four kids, the first born when I was 20. (My son, David, died of cancer in 2008.) They advise me and encourage me. They were and continue to be the stars that light my way.
1 "The Fulbright Program's mission is to bring a little more knowledge, a little more reason, and a little more compassion into world affairs and thereby increase the chance that nations will learn at last to live in peace and friendship," – Senator J. William Fulbright
2 An image on an exposed film or print that has not yet been made visible by developing.
Mosaic Artist/Photographer Nina Tisara is the founder of Living Legends of Alexandria.
ICYMI: Alexandria's Mayor Receives Livable Communities Leadership Award