THEATRE
The Lion King Roars into Town at The Kennedy Center
The wow factor is jaw-dropping.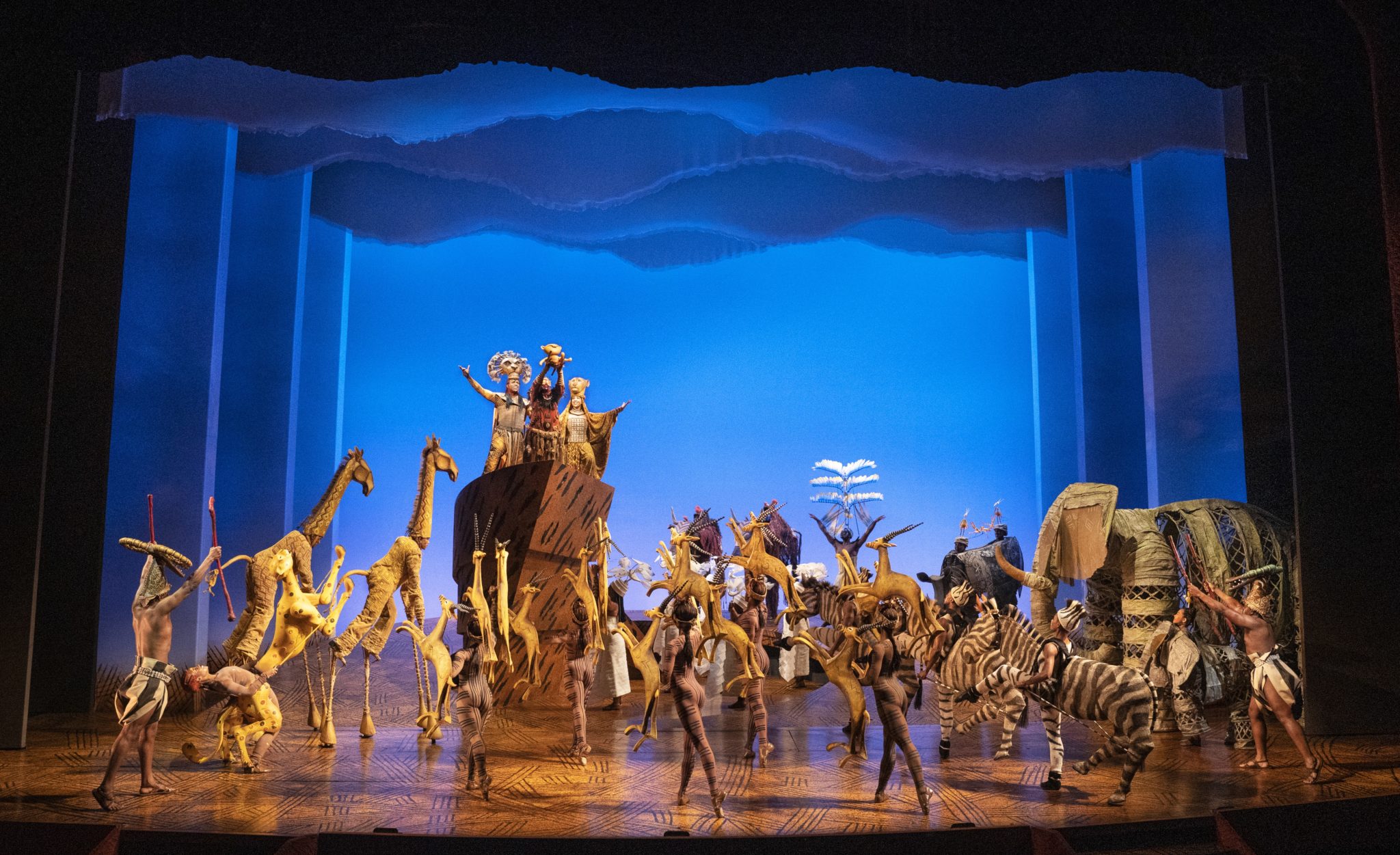 WASHINGTON, D.C. – In its opening number Disney's The Lion King quite literally roars onto the stage with a procession of African wildlife racing down the aisles. With Elton John and Tim Rice's epic score, it's one of the greatest, most electrifying, openings of any shows.
Seeing it nine years ago on the Kennedy Center's massive Opera House stage first opened my eyes to the wizardry of Director Julie Taymor's puppeteering where near life-sized creatures stun even the most jaded theatregoer. The wow factor is jaw-dropping. These exquisitely conceived creatures – giraffes borne on stilts, a massive elephant and baby, whirling birds held high aloft on bamboo poles – stream down the aisles of the Kennedy Center's Opera House in a fantastical African menagerie. Taymor, who studied Bunraku, the Japanese style of puppetry in which manipulators appear openly, and wayan kulit, the art of shadow puppetry, has magnificently incorporated these concepts into this spectacular production. As in the original production, Taymor also serves as Costume Designer and Mask & Puppet Designer along with Michael Ward.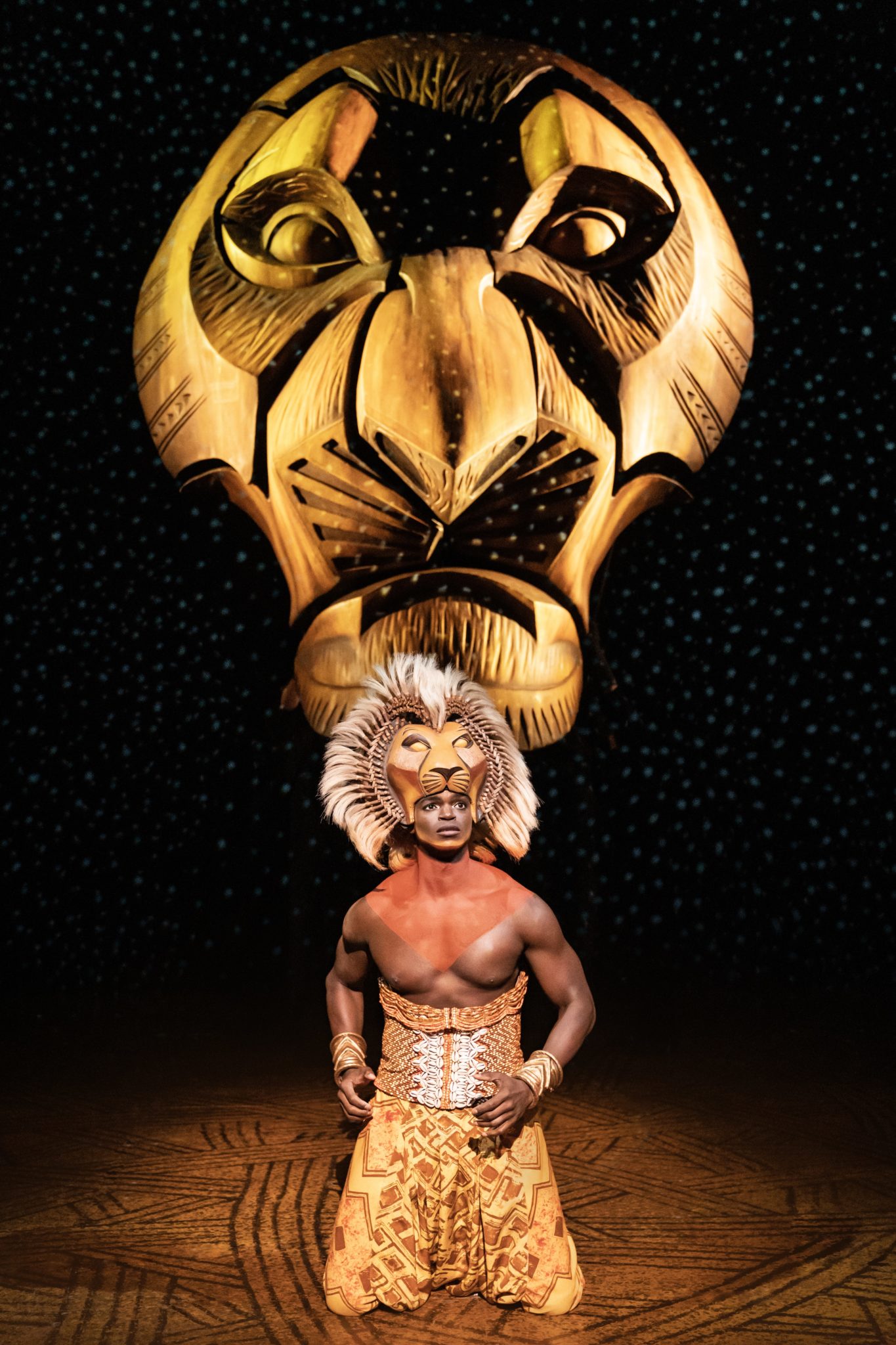 It is expected you are familiar with the story of the adorable lion cub Young Simba who starts out life on the African plains.The animated film version premiered in 1994 and in 1998 the stage version, garnering six Tony Awards, is still in production worldwide. This demanding role – requiring dance, complex movement, humor and drama – starred the adorably captivating Mason Lawson on press night but features Jackson Hayes on other nights. Simba all grown up is played by Darian Sanders whose formidable bass voice lends gravity to the role. Thirty-three numbers capture the hilarity, pathos and drama of their extraordinary lives. King Mufasa, Simba's wise and loving father, is played by Gerald Ramsey whose superlative voice cradles the emotions in the righteous tearjerker "They Live in You" when he explains to Simba how his ancestors reside in the stars; Scar (Peter Hargrave), is the evil uncle plotting to steal the throne from Simba; Rafiki is the all-knowing shaman (Gugwana Dlamini) and Zazu (Nick LaMedica) is the snappy-mouthed Red-billed Hornbill. They all inhabit Simba's life along with the strong-willed, dependable Nala (Khalifa White), Simba's childhood friend; Pumbaa the gassy warthog (John E. Brady); and not to be forgotten Timon (Nick Cordileone) the wise-cracking meerkat. Add in hordes of stampeding wildebeests, a pride of lionesses and laughing hyenas (I counted 20 of the creepy beasts) lampooned by Pumbaa and Timon in the famous song "Hakuna Matata" meaning "no worries" in Swahili.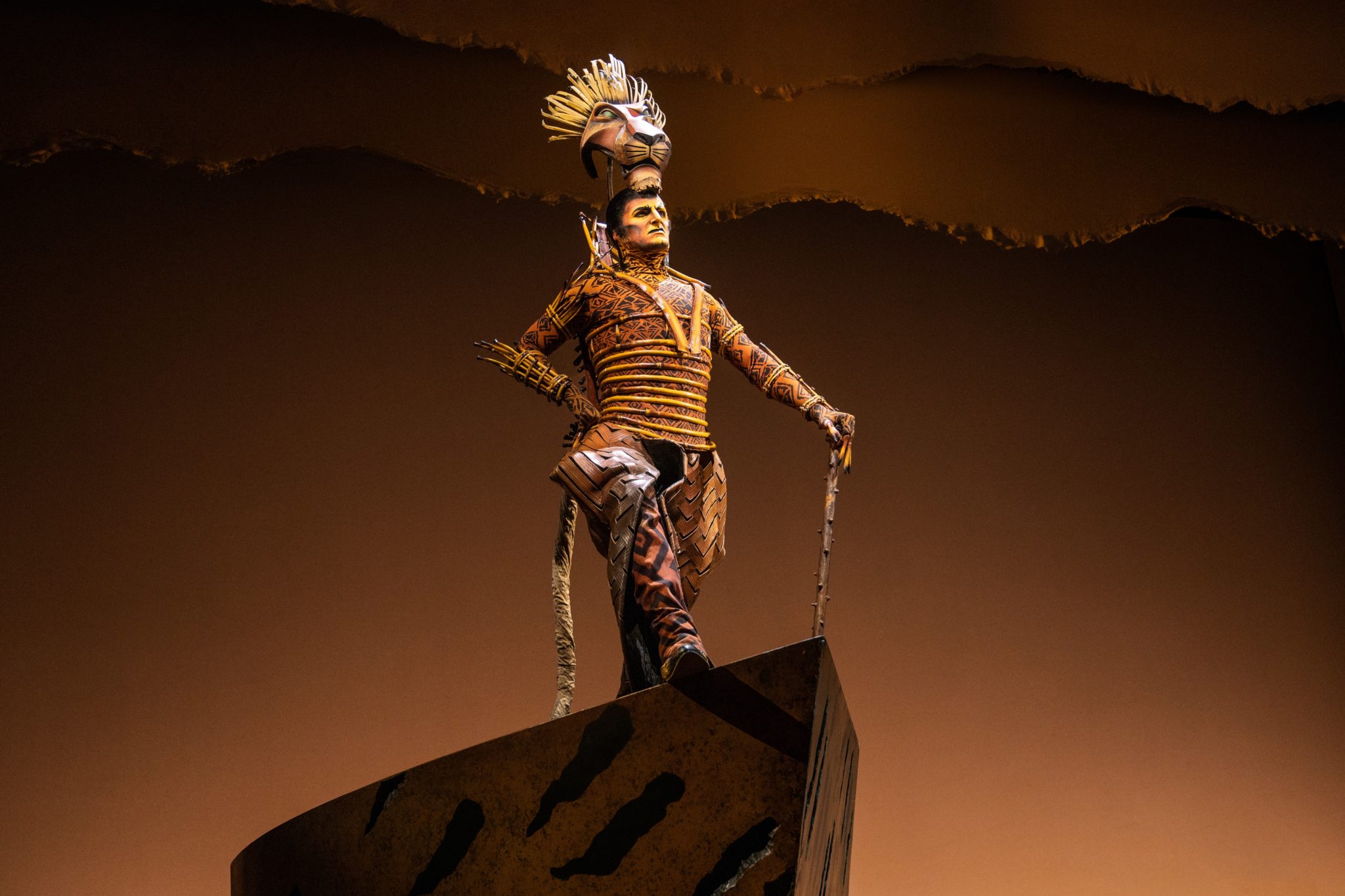 Peter-Hargrave-as-Scar.-The-Lion-King-North-American-Tour-©Disney.-Photo-by-Matthew-Murphy
Even if you've seen it before, and it's been making the international circuit well-nigh on 25 years, you should see it again because this production is bigger in so many ways. Let's run the math. There are 38 cast members, scads of crewmembers, more than 300 costume changes, 573 lighting cues, and 17 orchestra members with 3 conductors and 15 musical numbers. I couldn't help wondering… where do they all stay during its 5-week run?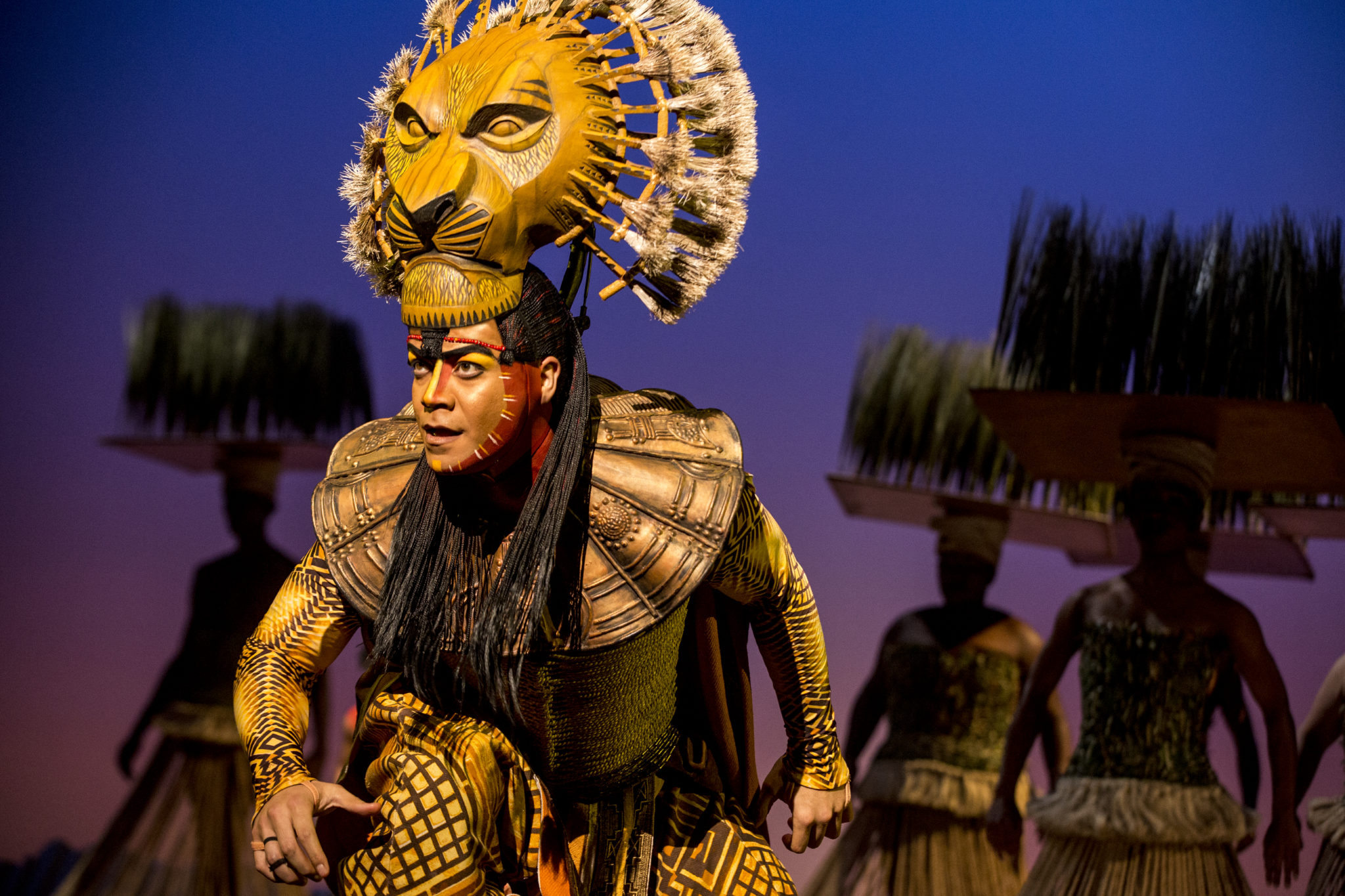 Lyricist Tim Rice and Composer Elton John's score is fabulous. The goosebump-inducing "Can You Feel the Love Tonight" is one of John's biggest hits as is "Hakuna Matata" that kids adore. Some of the most beautiful and haunting moments are the Afro-spoken chants with the emphasis on Afro-cultural dance and movement. Hans Zimmer won an Oscar, two Grammys and a Golden Globe for the original film score and Soweto émigré, Lebo M, known as the "voice and spirit of The Lion King", contributed the gloriously rich African rhythms and melodies.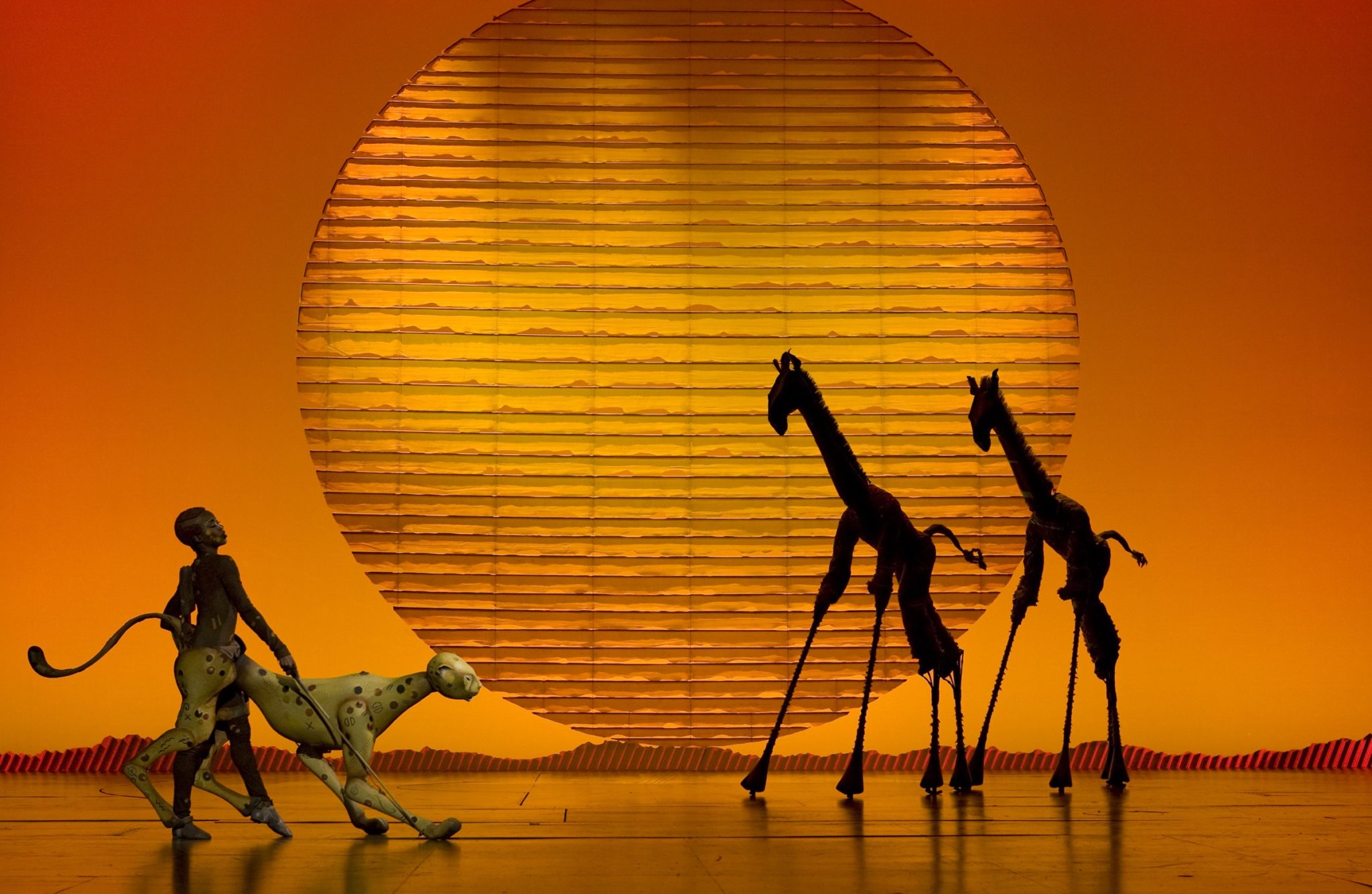 Taymor's costumes, using the vivid colors of tribal kente cloth, juxtapose Set Designer Richard Hudson's backdrops of grassy savannas and cerulean skies, while in desert scenes she employs the earthy shades of patterned Malian mud cloth to accentuate Hudson's parched earth-colored sets.
The Lion King is a lavish feast for the eyes and a paradise of music for the ears and an even more pumped-up version than the original. I'd gladly swing from a baobab tree limb to claim it as one of my favorite musicals ever.
Highly recommended!!!
With Allison Danielle Semmes as Sarabi; Martina Sykes as Shenzi; Forest VanDyke as Banzai; Robbie Swift as Ed.
Lighting Design by Donald Holder; Sound Design by Steve Canyon Kennedy; Hair & Makeup Design by Michael Ward.
Through July 29th at the Kennedy Center, 2700 F St., NW, Washington, DC. For tickets and information call the box office at 202 467-4600 or visit www.Kennedy-Center.org.
This review has been updated. [SEE ALSO: Alexandria Summer Sidewalk Sale and Restaurant Week Returning in August]