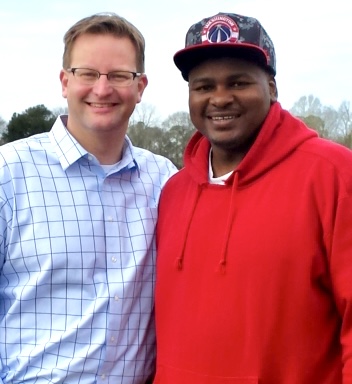 ALEXANDRIA, VA-It sounds like a Hollywood movie: a white lawyer from New Jersey meets an African-American convict on death row in Texas and, over the next 16 years, they become the best of friends. But every word is true. And it changed both of their lives. Forever.
In 2005, Dewayne Brown was convicted and sentenced to death for his alleged role in the 2003 murder of a police officer and cashier during a botched robbery of a Houston check-cashing store. In 2015, after spending 12 years behind bars and a decade on Texas' death row, he walked out of jail and hugged Alexandria lawyer Brian Stolarz, who had been tirelessly working on his behalf since 2007.
On a recent Thursday afternoon, the two men sat across from each other in an Alexandria restaurant, having recently returned from speaking to students at The Catholic University School of Law and The Center For Criminal Justice Policy & Reform at The College of William & Mary. The soft-spoken and genial Brown recalled how unimpressed he was upon meeting Stolarz for the first time: "I thought he was just another lawyer. Like the lawyers I had at trial. He asked me some questions and I answered them. I didn't think much of it."
For Stolarz, that first meeting with Brown was more memorable. "I had been a public defender in Brooklyn," Stolarz said. "So I was used to clients telling me that they were innocent. But when he insisted that he was innocent, I knew it like a shot to the heart. So I promised to get him out. Then I went out to the parking lot and threw up."
Brown's conviction, his continued insistence that he was innocent of the crime, and Stolarz's efforts to keep him from being killed by the State of Texas are the subject of a Netflix documentary, "The Innocence Files," and a Washington Post best-selling book, "Grace and Justice on Death Row: The Race Against Time and Texas to Free an Innocent Man." Both detail how Brown told the police that he could not have committed the crime because he was asleep at his girlfriend's apartment at the time. Brown's girlfriend, Ericka Dockery, corroborated his alibi with the police and in grand jury proceedings. She also corroborated Brown's statement that he had called Dockery from her home phone around the time the crime occurred many miles away.
However, both the prosecutor and the grand jury foreman accused her of lying. After being jailed for perjury – and being told that her children would be taken away from her – Dockery changed her testimony. It was not until 2011, during a conversation with Stolarz, that Dockery recanted her trial testimony and said she had lied because the prosecutor had threatened her. She later signed a sworn affidavit recanting her testimony.
Stolarz's efforts to save Brown's life – which were amplified in a series of columns in the Houston Chronicle that resulted in the reporter winning a Pulitzer Prize – revealed a controversial system called "pick-a-pal" whereby Texas state court judges appoint commissioners, who then pick the jurors to serve on grand juries. It exposed that the foreman of the grand jury charged with investigating the officer's death was himself a veteran Houston police officer. Stolarz also discovered that, although Brown's IQ was 69, which was below the threshold of 70 required to put someone to death, the state psychologist "bumped it up" to surmount the threshold.
Both the book and documentary describe how, in 2013, a homicide detective cleaning out his garage at home found records from the Brown case. Included in those records was a telephone log showing that a call was made from Dockery's home telephone to her workplace at 10:08 a.m. on the morning of the murder — just as Brown had said from the beginning. The documents also included a subpoena from the trial prosecutor to the phone company, demonstrating that the district attorney's office had the critical phone record at the time of trial, but did not turn it over to the defense, as required by the law.
On June 8, 2015 – more than two years after the phone record was found – Brown was released after the Harris County District Attorney determined there was "insufficient evidence" in Brown's case. And in 2019, Brown was declared actually innocent of the crime.
Brown, who spent more than 10 years in a 60-square-foot cell on death row at the infamous Polunsky Unit, now lives his days raising horses in Louisiana and driving a tractor-trailer truck. He and Stolarz remain in regular contact and often speak with students or community organizations together. For the rest of their lives, they will have an unbreakable bond, one formed years ago in the most awful of places. [SEE ALSO: Donate Blood at FireWorks Pizza Oct. 16]