Community News
FOR SALE: Del Ray Hardware Owner Chris Harvey Says It's Time to Sell
Owner Chris Harvey leaving business, but still plans to work part-time as locksmith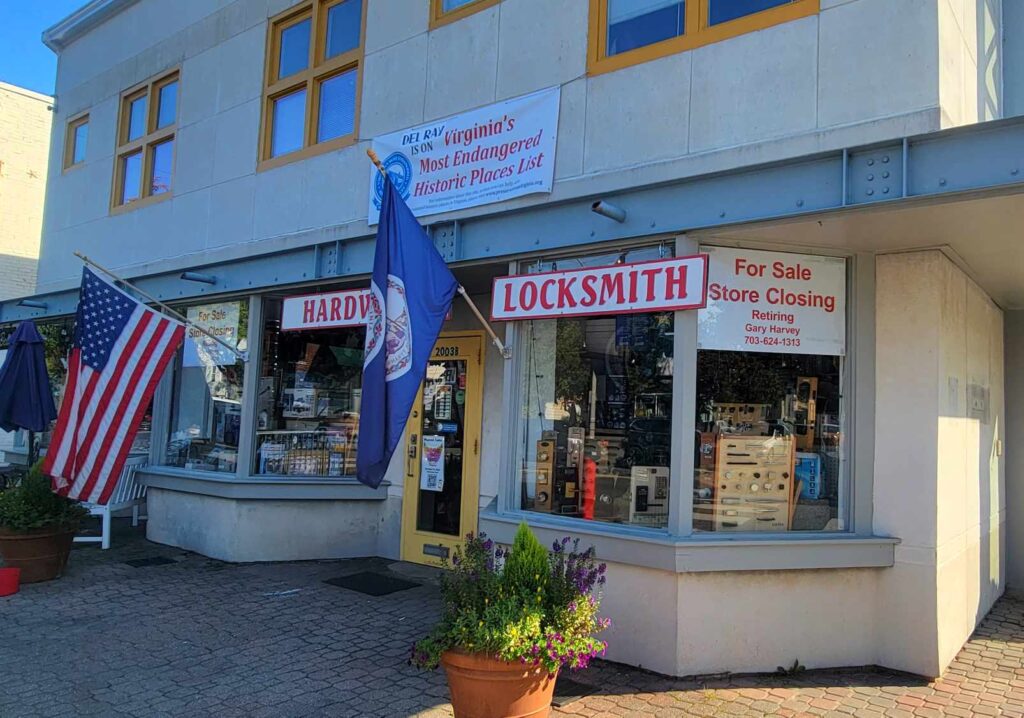 ALEXANDRIA, VA–After almost 30 years of serving the Alexandria community, Del Ray Hardware might be closing for good unless someone decides to buy the place, lock, stock and barrel.  Signs went up in the window last Saturday at 2003 Mt. Vernon Ave. alerting customers.
Owner Chris Harvey, a native Alexandrian and T.C. alumnus, says the time is now to pass it on to a new shop owner. He's thinking it might be time to go fishing.
"Business is thriving," says Harvey. "Even during the pandemic, we were busy every day," he recalled. But he's tired of the daily grind and has "so many other things I want to do" other than get up early every day and run his busy shop. "I'll miss the people the most," said Harvey, "but it's time."
Chris and his brother Gary Harvey had two stores for a while.  First they opened up in Crystal City around 1992, and then came to Mount Vernon Avenue in the late nineties. Back then Mount Vernon Avenue was a bit of a gamble, because so many of the stores had been boarded up and the neighborhood was not overflowing with prosperous businesses.  "We were one of the first to open up here, but we came because of Royce.  Royce had her flower shop next to mine in Crystal City, and she said, 'Chris, you gotta come down to Del Ray.'"
The hardware store, both its exterior and interior, evokes memories of yesteryear, and of apple pie and hometown parades.  The store was the subject of a picture that won a photo contest in the Smithsonian magazine, called 'The American Experience' in 2016. "This hardware store located on Del Ray's Main Street represents the small town feeling that our modern world has long since evolved into mega-Malls. It captured something from my childhood," said the caption Linda Dorfman included with her entry.
Brother Gary, who is handling the sale, turned in his pliers and wood glue a while back for a realtor's license and moved to Culpepper when the brothers sold their Crystal City store. "Chris works all the time," Gary said, and "he's got other stuff he could be doing at this stage of his life. He owns a couple farms and he's running himself ragged."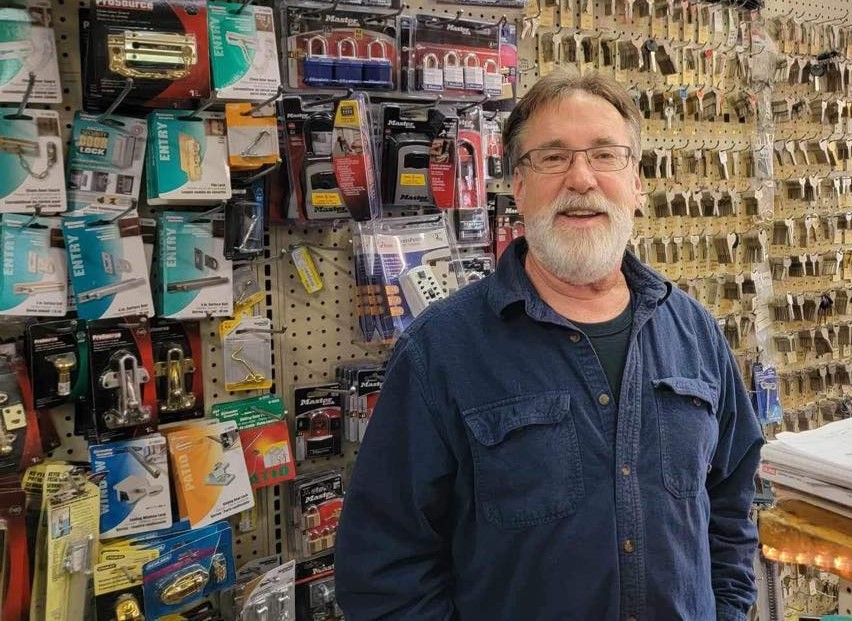 Neighbor and civic leader Gayle Reuter issued a plea on her Facebook page asking someone to please buy the store because it's such a neighborhood stronghold, promising the community would rally around a new owner, adding, "Losing this Del Ray Hardware/Locksmith Store will be devastating. I have never figured out how they seem to have EVERYTHING you need in that little store. Doesn't someone want to buy it and keep it going????? You will get to move into a community that loves you!!!!"
Chris, who has a home in Alexandria's West End, says he doesn't exactly plan to retire. "I have a solid list of about 400 customers, and I'll still do locksmith work a few days a week. I'll get to pick and choose." He's been working on locks since high school graduation in 1975, when he learned the trade working for his sister's first husband.
His plans do include moving out to the country, where he has a house in Front Royal, and enjoying his land.  "I love anything outdoors. It's where I really am happiest."
The store is being sold for $150,000, "which includes $100,000 worth of inventory," says Gary Harvey.  "We don't own the building but we've got an excellent landlord and long term lease and none of that needs to change. It's literally a turn-key business."
The store has a five-star rating on its Facebook page. Yelp rates it 4.4 out of 5 stars. Many reviewers commented on the expert staff and service.
To inquire about the sale, call Gary Harvey at 703-424-1313.
Mary Wadland contributed to this report.