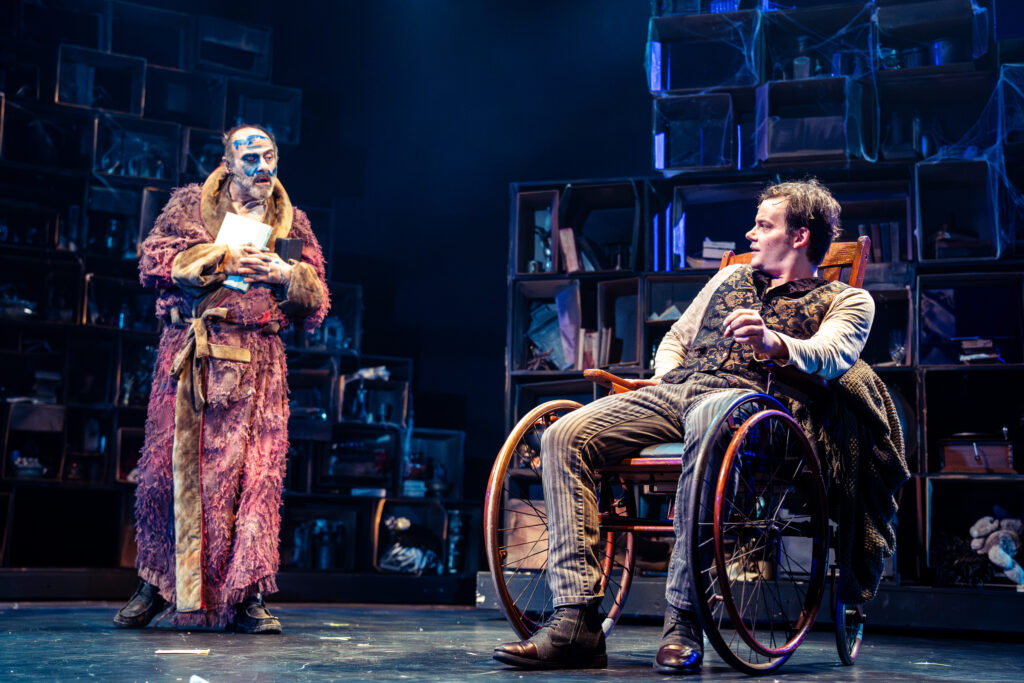 ALEXANDRIA, VA – Yes, I know you read Edgar Allan Poe's The Tell-Tale Heart in high school, but it's certain you've never seen it come to life through the eyes of Synetic's extraordinary creative team of Resident Dramaturg and Adaptor Nathan Weinberger, Synetic's Co-Founder and Director Paata Tsikurishvili, Co-Founder and Choreographer Irina Tsikurishvili, Resident Composer Koki Lortkipanidze, Scenic Designer Daniel Pinha and veteran Costume Designer Erik Teague.
I mention the team up front because I try mightily to imagine them sitting around a table tossing ideas around, coming up with a mind-bendingly original interpretation of this classic horror story, then unifying their wildly experimental approach, and against all odds, producing it. I'd like to be a fly on their wall because I don't know how they do it.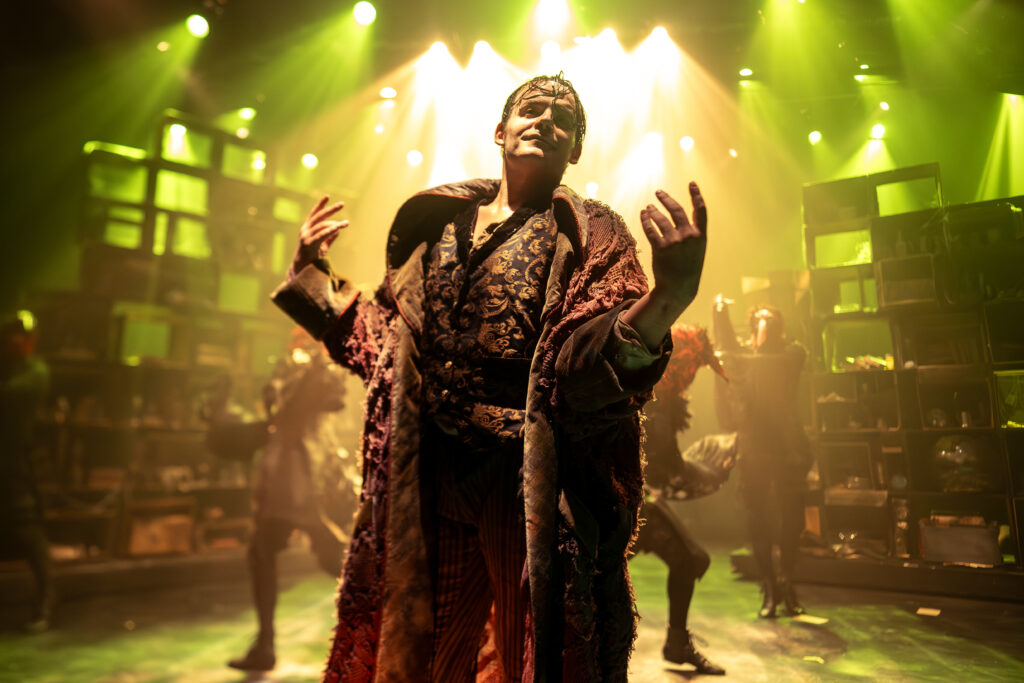 For those of you who have never experienced a Synetic production, I promise you it's like nothing you've ever seen before. Expect highly athletic dancers trained in classical ballet and modern interpretive dance coupled with master class-level mime and pugilistic skills. In this monumentally macabre version of The Tell-Tale Heart, you will witness all of these skills underpinned by a dark, twisted, spooky, and mercilessly disturbing story – just in time for the haunting season. Hello, Halloween!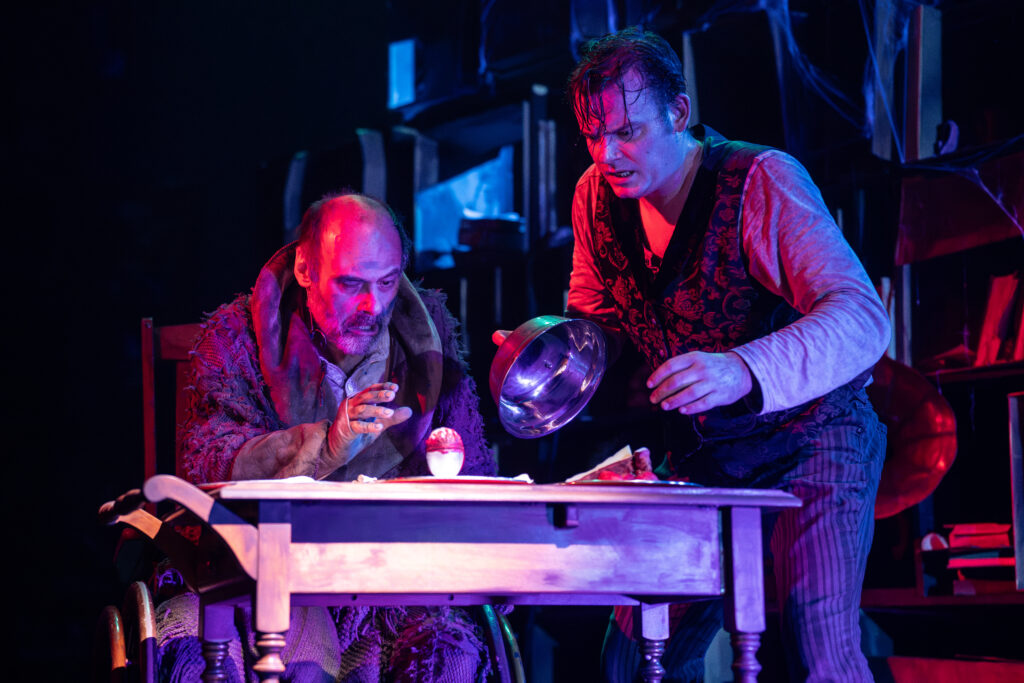 As Act One opens, two central characters command our attention – Edgar (Alex Mills) and Old Man (Irakli Kavsadze). Edgar is the caregiver for the old man who lives in a house filled with oddities and antiquities stacked in dozens of wooden boxes. The Old Man is speechless, communicating through guttural grunts of anger and frustration. He is clearly non compos mentis, spending his days in a wheelchair when not throwing objects willy-nilly and destroying everything within his reach. Edgar patiently cares for him, trying his best to calm the old man's fears. After a time, Edgar becomes gripped by fear and frustration – inhabited by the specter of six ravenous Vultures. When they encircle him and take control of his mind, he, too, descends into madness.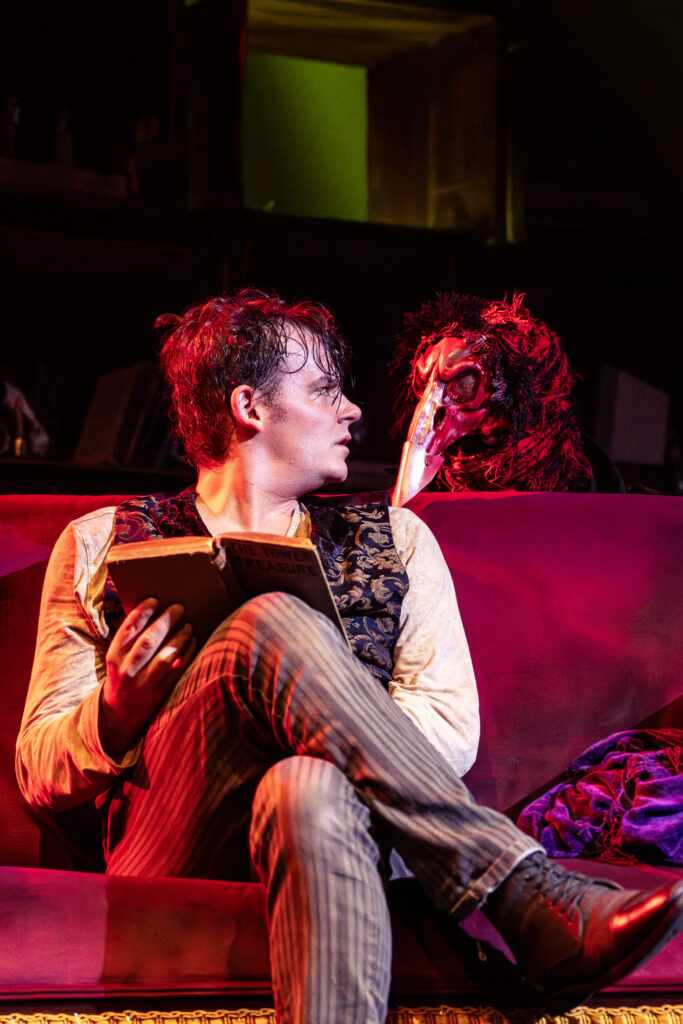 Here fantasy becomes horror as the Vultures mirror his attempts at escape, transmogrifying their flesh-eating desires into Edgar's very self. It is schadenfreude. We cannot help but feel both reviled and attracted as we sense the futility of his plight. The cacophony of the Vultures' caws and the sound of the beating heart echo in the wordless silence.
With extraordinary physicality and precision, Mills' keenly portrayed passion is felt throughout the theater. The audience is dead silent too – watching and waiting. As well, one cannot help but thrill over Kavsadze's performance. His subtle and skillful talents are yet another master class in the art of mime.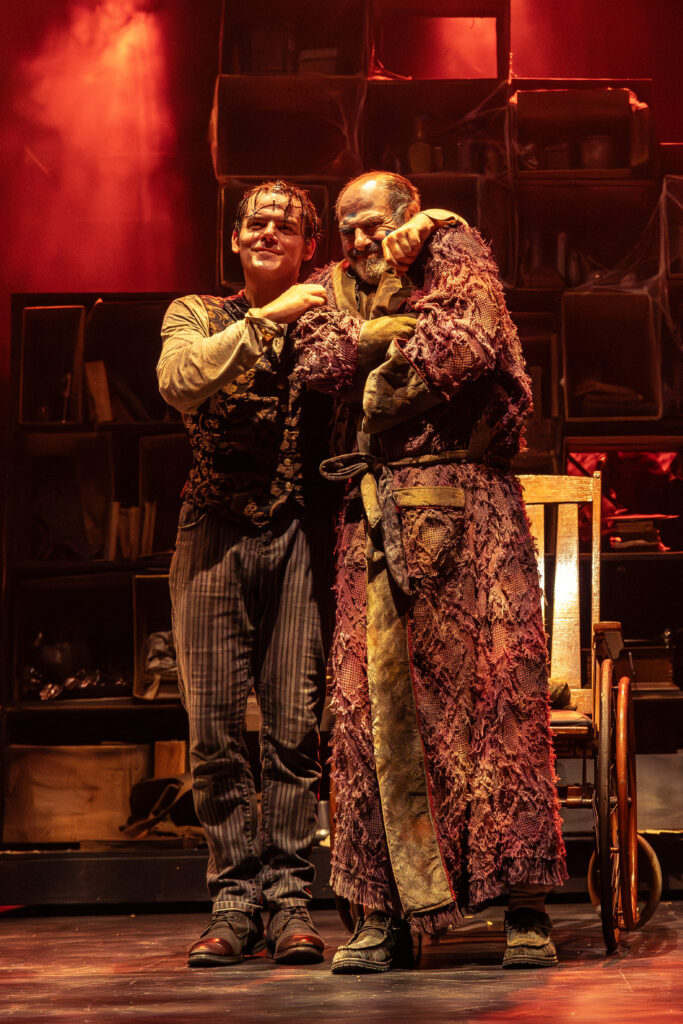 In the end…oh! I'm not going to spoil it for you. See it. It's absolutely brilliant!
The Vultures are played by Lev Belolipetski, Kaitlin Shifflett, Tony Amante, Josh Lucas, Zana Gankhuyag, and Vato Tsikurishvili. Lighting Design by Brian S. Allard, Props Design by Claire Caverly, and Fight Choreography by Vato Tsikurishvili.
Highly recommended. Absolutely brilliant!
Through November 5 at Synetic Theater, 1800 Bell Street, Arlington, VA, at National Landing. For tickets and information, call the box office at 703 824-8060 ext. 117 or visit www.SyneticTheater.org.