POTUS: Or, Behind Every Great Dumbass Are Seven Women Trying to Keep Him Alive.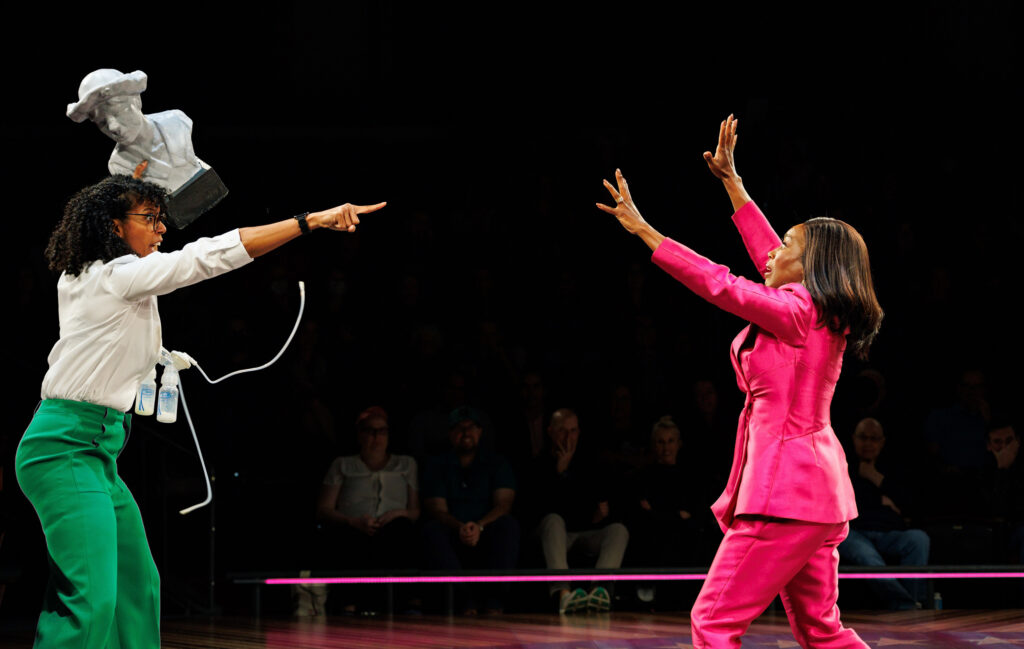 Nothing subtle here, folks. The title tells us everything we should expect – seven women and a nincompoop U.S. President – though I can easily see this zany comedy apply to a few other countries that shall remain nameless. You know who you are.
Playwright Selena Fillinger's POTUS cannily claims to be an amalgamation of U.S. Presidents over the centuries. So, you don't get to choose just one, though you'll see a few buffoons that will seem familiar. To echo the sentiment, the set is decorated with a smattering of their iconic portraits, and a glass White House is suspended high above the stage as in, "People who throw stones shouldn't live in…" yadda, yadda, yadda.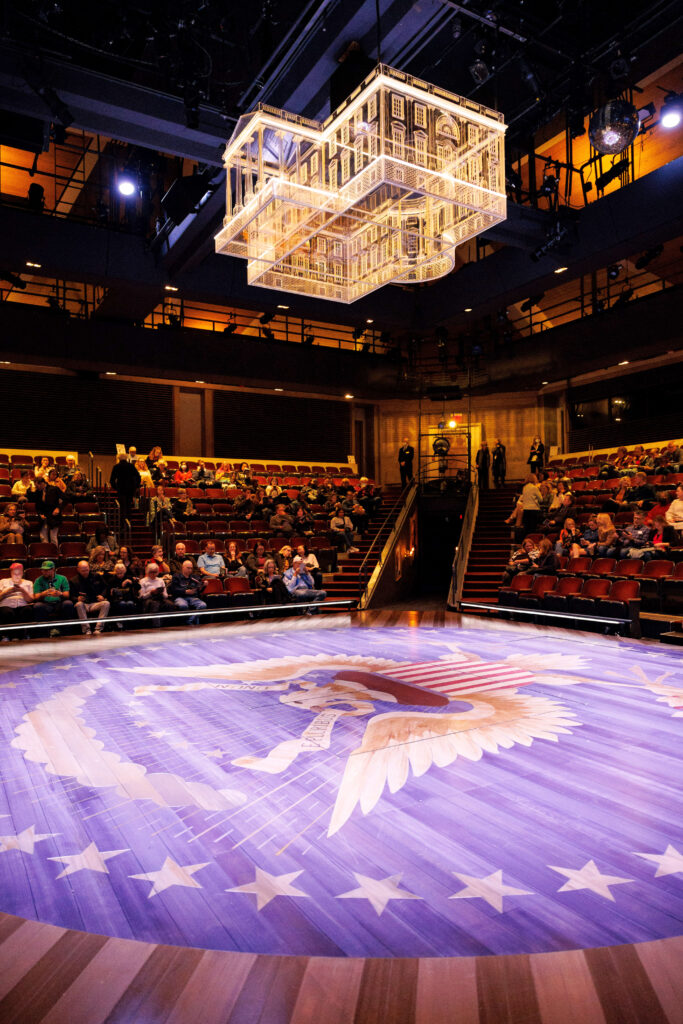 Savvy inside-the-Beltway political junkies will fall head over heels for the wisecracks…that is, after you pick yourselves up off the floor. When you go, and you can't ask for a Presidential pardon if you don't, make sure to have your wits about you. It plays out lightning quick and you don't want to miss one single, snappy line.
Fillinger has already garnered three Tony noms for POTUS, writes tons of network comedy shows, and promises to keep us rolling in the aisles for many years to come. Her idea of comedy is mine, too – loaded with slapstick, pratfalls, parody, witty digs, and wacky setups. This one has them all plus a very, very talented cast who play White House operatives, family members, and insiders navigating a presidential sh*t show.
Here's the premise. The Prez has his typically busy daily schedule and all hands are on deck to see that he is on time and on point. These are our magnificent seven: Harriet, his Chief of Staff (Naomi Jacobson); Jean, his Press Secretary (Natalya Lynette Rathnam); Margaret, his wife – The First Lady (Felicia Curry); Chris, a journalist (Yesenia Iglesias); Dusty, his dalliance (Sarah-Anne Martinez); and Bernadette, his sister (Kelly McAndrew). Just remember they hate each other until they need each other when they will fight to the death to guard the president's reputation above all else.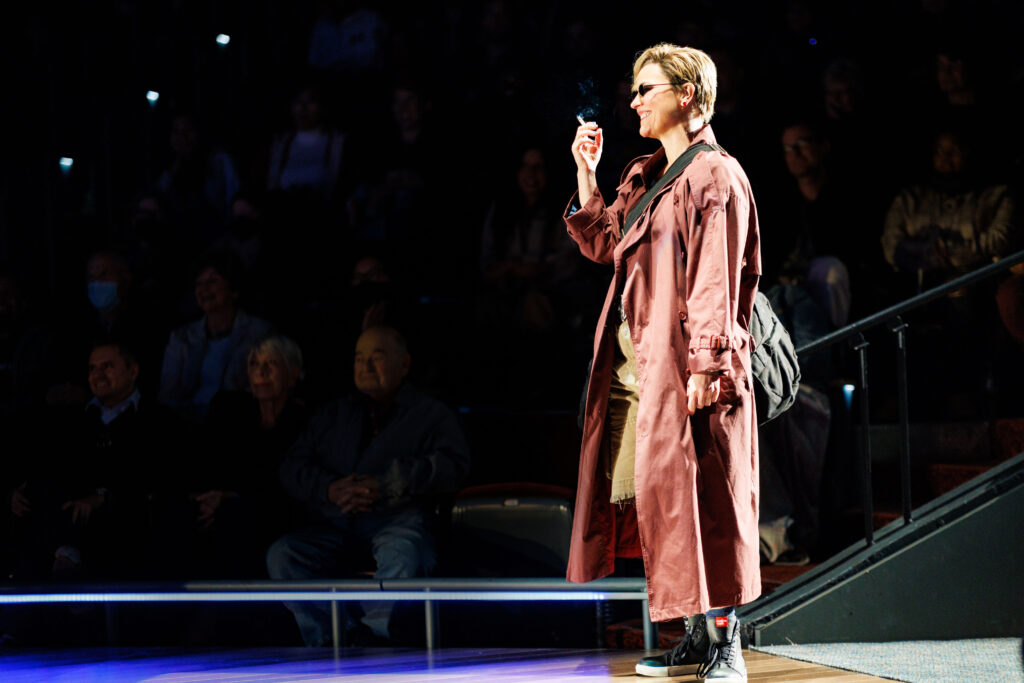 The day begins at a meeting with foreign dignitaries and with POTUS dropping an insulting curse word for female genitalia in describing his wife's mood. We don't hear or see this gaffe, but the West Wing is on high alert trying to put out this five-alarm fire. In fact, the West Wing will be on constant high alert. Calamity is the modus operandi for these nimble spin doctors.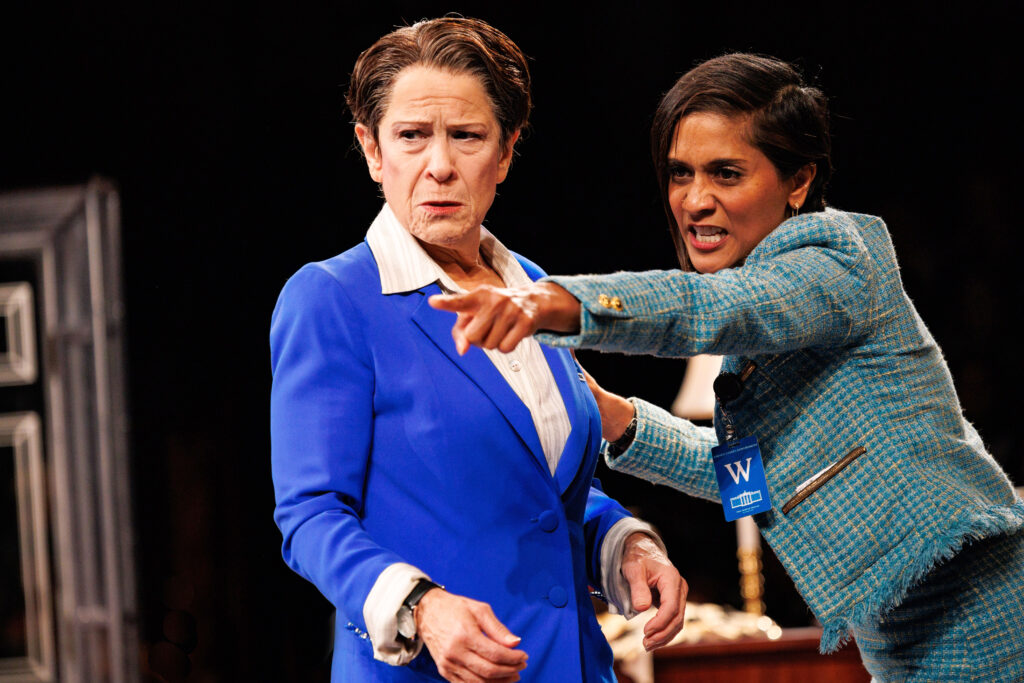 Fillinger's characters are sharply drawn and their intersections are like watching a car crash – riveting but disastrous, and ultimately hilarious. Within the confines of the White House, the infighting is WWE-worthy, the barbs are as sharp as poison darts, and it's absolutely, positively delicious. Compare FLOTUS and Harriet to attack dogs. No one in their sphere of influence remains unscathed. They are the president's gladiators and, in some cases, quite well-armed.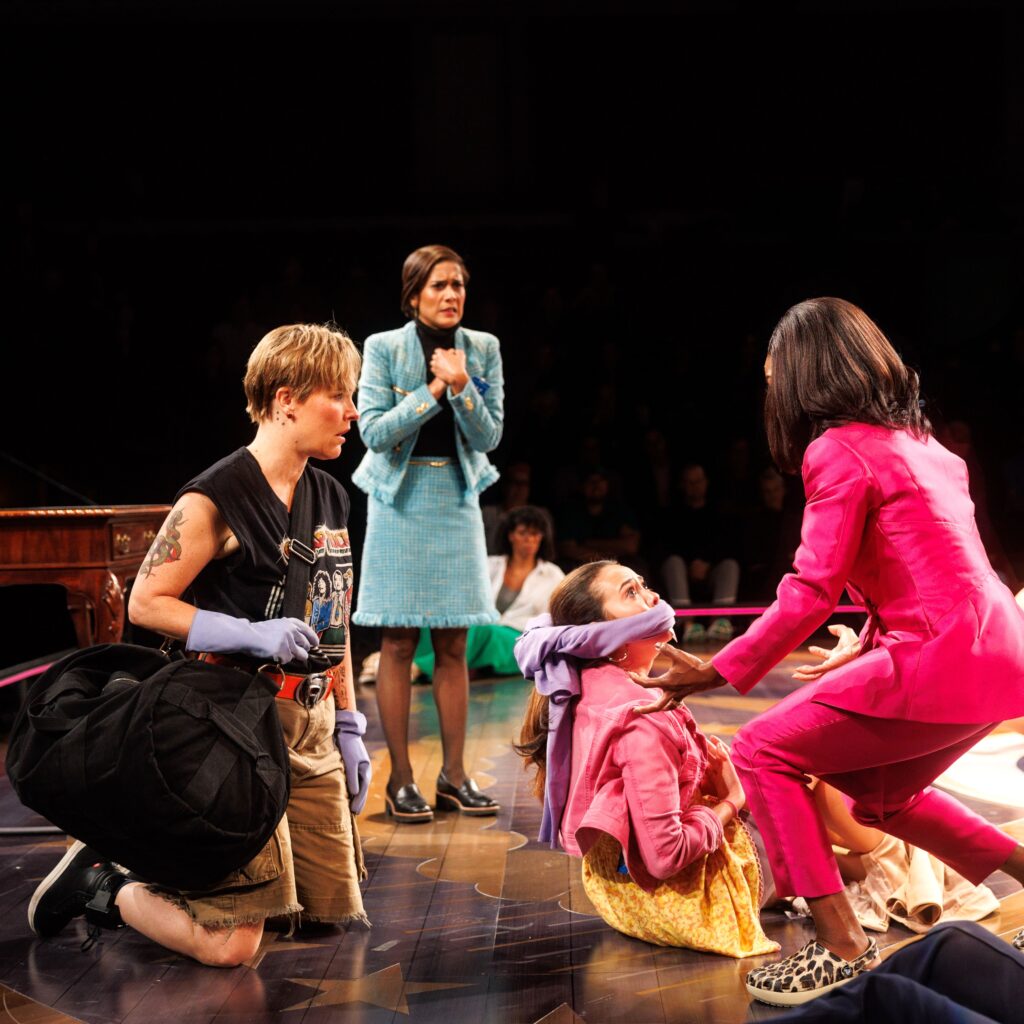 Director Margot Bordelon cleverly uses the theater-in-the-round technique on the Fichandler Stage to reflect the fishbowl that is the West Wing, employing the aisles for the breakneck chases that ensue. Trust me. No one remains unscathed. There is so much cursing I cannot provide a quote without offending delicate ears. So, dear grownups, this is a warning. Don't bring your delicate ears because you won't want to miss any of the profanity.
In her choice of this sharp-as-knives political comedy, I'd say all the stars have aligned for Arena's new Artistic Director, Hana S. Sharif,, who is programming the play for the 2024/25 season. I'll be looking forward to her next selection.
Highly recommended. A flat-out, genius, madcap comedy!
Set Design by Reid Thompson; Costume Design by Ivania Stack; Lighting Design by Marika Kent; Original Music and Sound Design by Sinan Refik Zafar; Dramaturg Otis Ramsey-Zöe: Dialect and Vocal Coach Lisa Nathans; Casting Director; Joseph Pinzon: Stage Manager Christi B. Spann; and Assistant Stage Manager Dayne Sundman.
Through November 12 at Arena Stage, 1101 Sixth Street, SW, Washington, DC 20024. For tickets and information, visit ArenaStage.org or call the box office at 202-488-3300.