Art Newz & Eventz
Home Is Where the Art Is: November Is an Arts Cornucopia Around Town!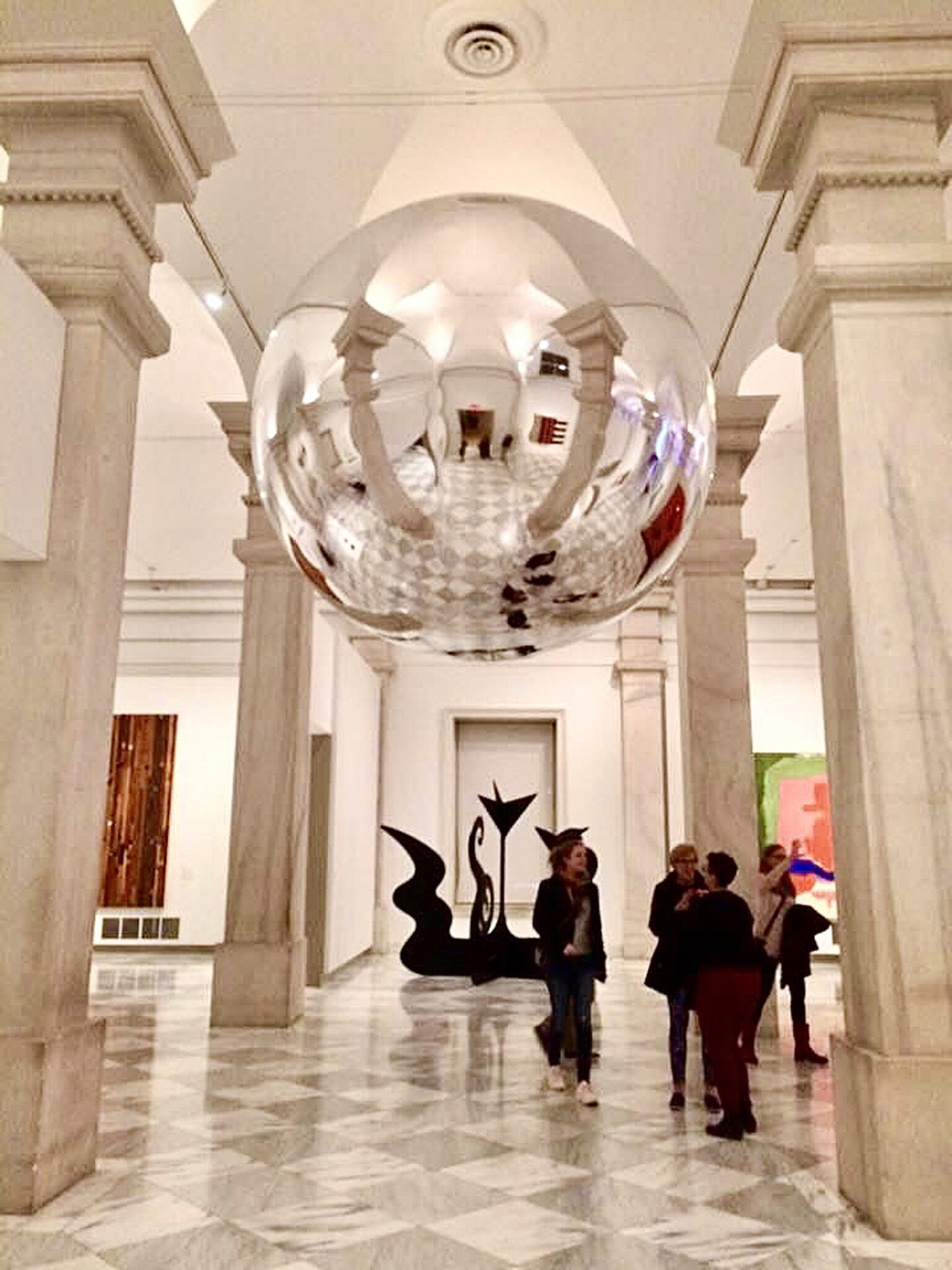 Alexandria, VA – October in ALX went all in for the arts. The 28th annual Art on the Avenue mile-long festival kick-started the month big time with its unwavering rain-or-shine/the-show-must-go-on/can-do determination. The rainfall abated around lunchtime, yielding to sunshine and a picture-perfect azure sky.
Del-Ray art doings never cease. Del Ray Artisans' alternative fall niche-themed art market Halloweird, now in its second year, was the brainchild of Dr. Erica Hughes, professor of art history at NOVA Community College and Director of Programs at the indefatigable non-profit gallery. She was also the curator of Curses Foiled Again! The Art of Swords and Sorcery, the diverting October exhibit at DRA, drew a visitation record of over 1,500 people during Art on the Avenue alone.
Not to be outdone, the North Old Town Arts District reprised the inaugural Chalk Walk of 2022 on October 21. Thirteen gifted chalk artists, working in the al fresco sidewalk studio, created temporal masterpieces along the route beginning at the Canal Center. The successful Party for the Arts instituted last year as an annual event was moved to April. Stay tuned for a springing of the arts celebration in 2024 to rival even the cherry blossoms.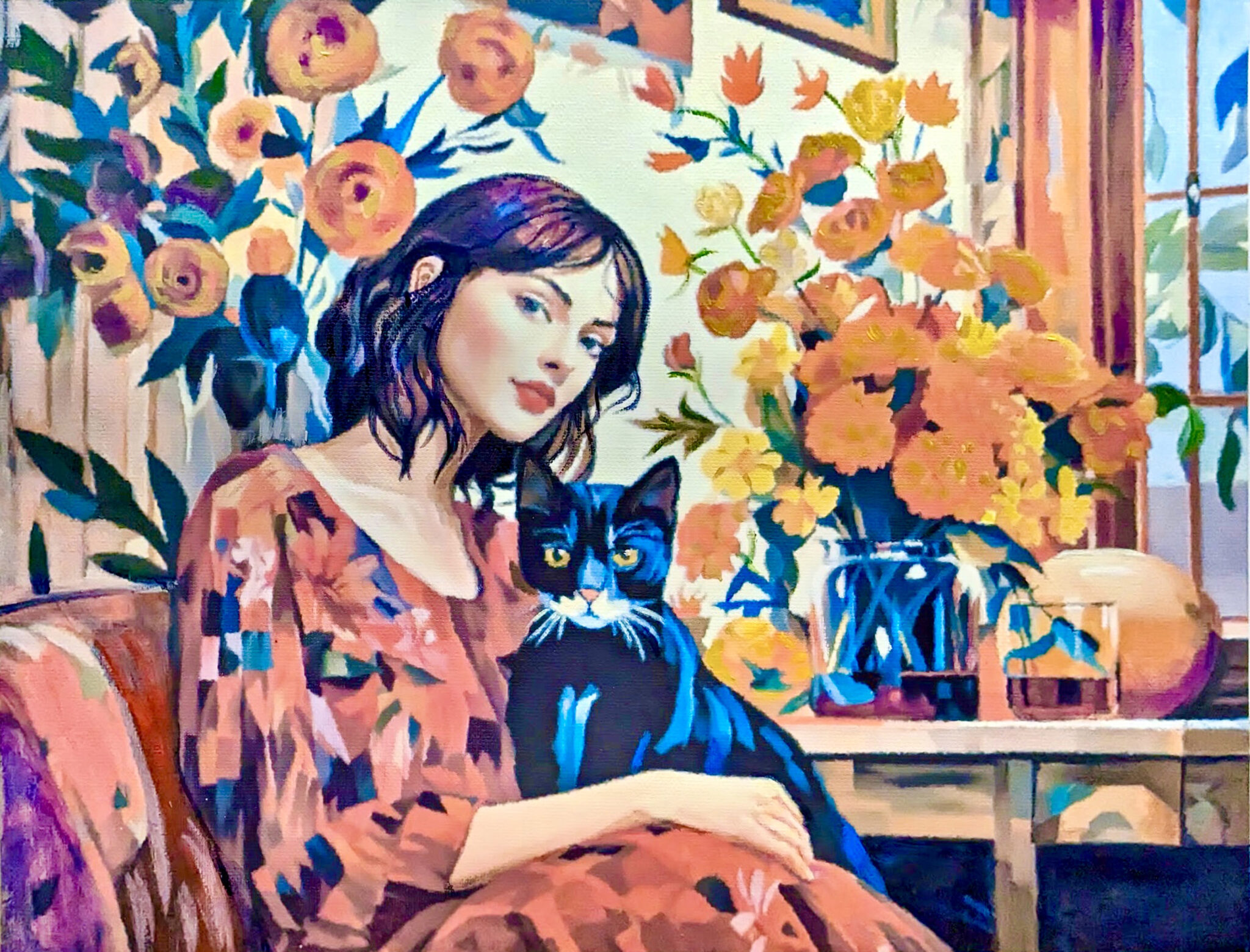 On the west side of Old Town, the ever-eclectic Galactic Panther Gallery kicked off its first Creative Networking Event designed to foster creative connections and forge social connections by spotlighting exciting current topics in art, music, technology, and business. Their first event on October 19, in conjunction with Art Night in Old Town, was an artificial intelligence exhibit by the AI artist Gavi called Quantum Canvas. It's always a party and never an idle moment at Galactic Panther. In addition to the gallery's own vinyl DJ Jay Messenger spinning the deck on the wheels of steel, patrons were eminently entertained by an evening filled with original acoustic music, R&B, Reggae, Soul, and whatever constitutes an artificial intelligence jam.
Check the GP website for a full calendar of art and music happenings, comedy, poetry, improv, yoga, makers workshops, paint, and sips….. the galaxy is the limit.
Across the moat in DC, the National Gallery of Art partied on with the return of NGA Nights. The weather cooperated with the seventh-street soirée set, costumed to the hilt for a Nightmare at the Museum. Outside the East Wing, the plaza was turned into a dance party and movie theater with a screening of the Hallowscream classic Ghostbusters. This year's final evening of art on Thursday, November 9, is called Indigenous Future, celebrating native people's influences on contemporary art and culture. The event spotlights activist/musician/visual artist Nicholas Galanin, who performs electro-soul as Ya Tseen. Gallery curator pop-up talks and make-your-own art inspired by the land and natural environment continue throughout the evening. Activities and admission are all free, but lottery reservations are required. The lottery closed on November 2, but additional passes will be available at the door—first come, first served—starting at 5:30 pm on the 9th. Activities are also available outside on the plaza.
One recent red-letter day in the DMV art scene saw the reopening of the fourth floor of the SAAM (Smithsonian American Art Museum) on September 22. After closing the spacious top-floor contemporary gallery for two years, the throngs of American art aficionados, despite the torrential rain and howling wind outside, explored the once cavernous grand hall, weaving in and out of the artificial, claustrophobic gallery spacing created by new obtrusive walls disrupting the exhibition experience. The day's highlight was an impromptu wedding proposal made in the very room where Abraham Lincoln held his inaugural ball. Mr. Bunch, director of the Smithsonian, tear down those walls!
The long-awaited reopening party for the National Museum of Women in the Arts was held on October 21 and 22, mercifully revealing no significant changes to the grand two-story foyer. Big whew! After another two-year renovation that resulted in once again mostly new wall space, it was exhilarating to celebrate the return of this very special museum dedicated to women makers and movers. The building originally housed the Masons—an ironic conversion to a women's art museum since the Masons did not admit women to their organization.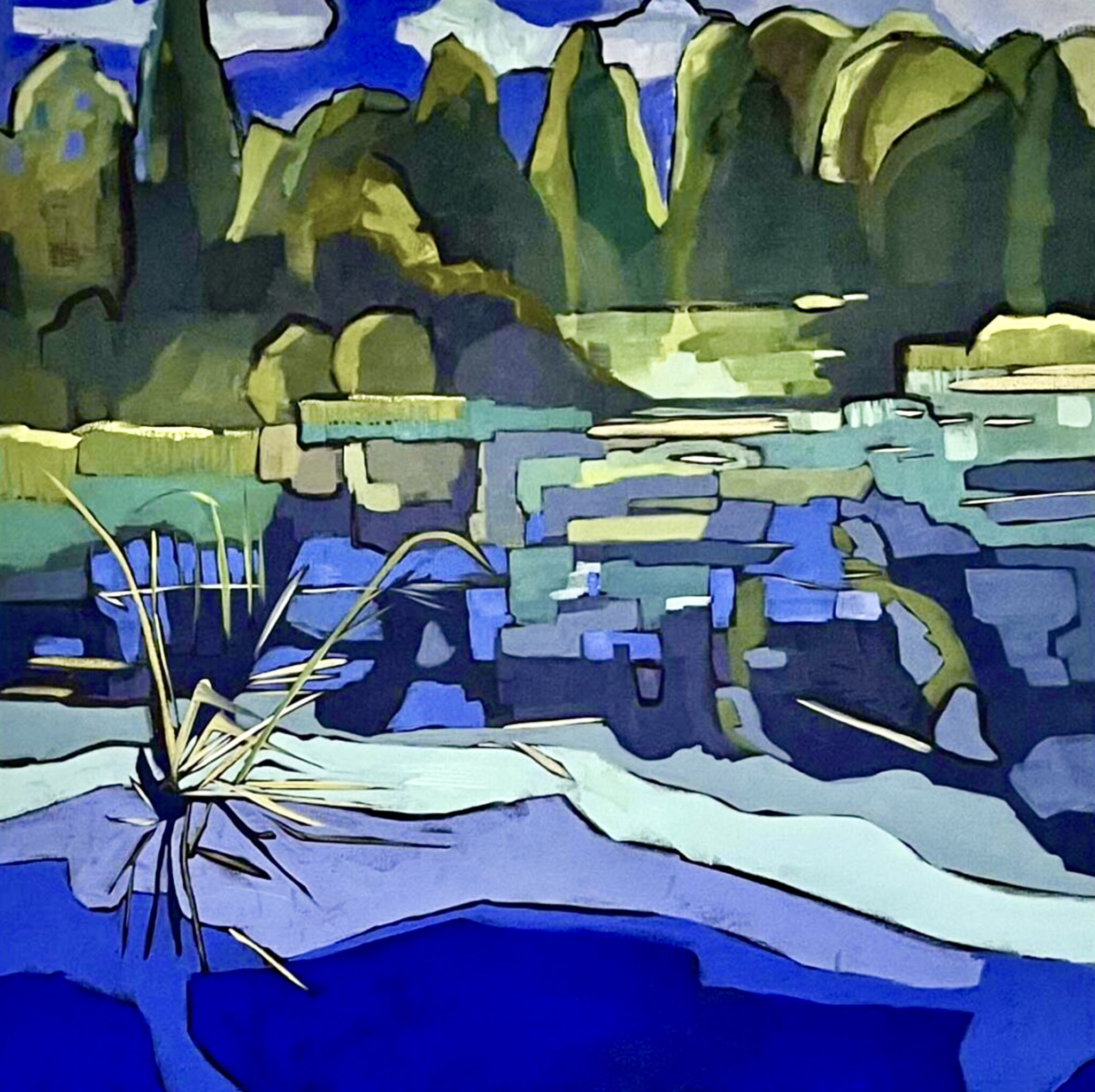 Each month, the first Sunday and Wednesday are Community Days with free admission for all. Online timed reservations are required, however. Book now for the holidays. While the SAAM is always free, the NMWA is privately operated as a non-profit and not affiliated with the Smithsonian.
If you're looking for something instead of shopping with family and friends stopping by or staying over during the holidays, here is just a sample of art doings around Alexandria. Of course, shopping for art is highly encouraged.
* The Art League Gallery ~ November brings another Open Exhibit to the established gallery of the Torpedo Factory. Juried by Chelsey Luster, a Philadelphia-based artist, educator, and curator, there are approximately 100 works in all media on view. This show, called Little Winter, was formerly known as Petite December. Virginian and miniaturist Blake Gore juried the annual exhibit showcasing small works in all media.
* Athenaeum ~ Fleeting Moments | Street Photography is on view through November 26, featuring photographs spotlighting the temporal nature of what in 1943 the New York Times coined as the 'street photography" genre. The Times' review of images by Helen Levitt  described her compositions as "fleeting moments of surpassing lyricism, mystery, and quiet drama." The essence of her motifs is conveyed throughout the work of the twenty-five artists represented in this exhibit.
In the lower gallery, you'll discover the street photography of New Orleans-based Kim Kamra, who prefers to refer to her art as "street style."  "My camera now records how my eyes see the world. Street Style suits me best as I record the times of now." And what times they are!
* Del Ray Artisans ~ Housemates is the November members-only exhibit at Del Ray Artisans Gallery. What better theme to convey the sense of sharing home and place at a time of year when family and friends reunite to share and give thanks? The show is curated by DRA artist Robyn Seaton McGarry and runs through November 26. There is an opening reception on Friday, November 3, from 7-9 pm. The event and gallery admission are free. All are invited and welcome to attend.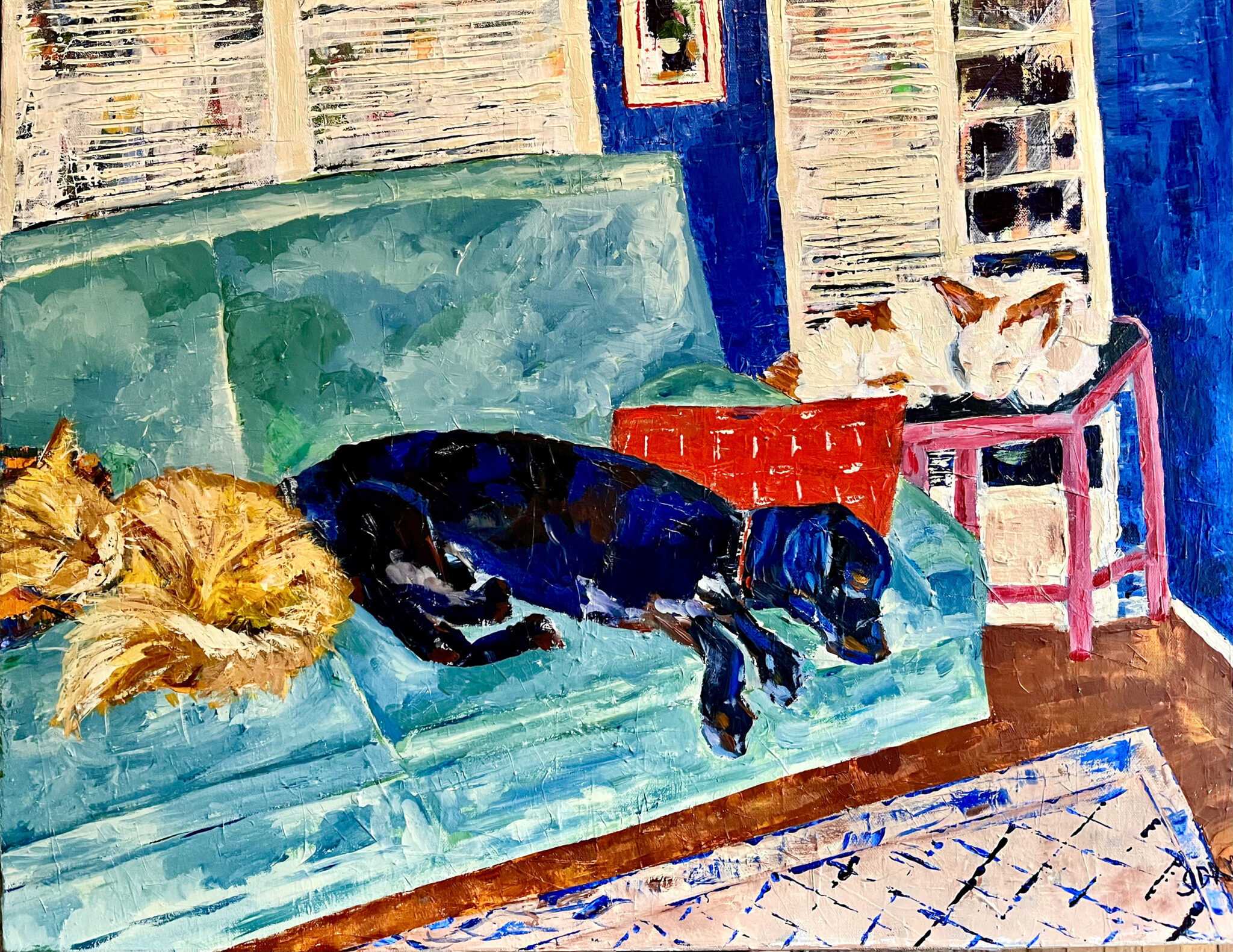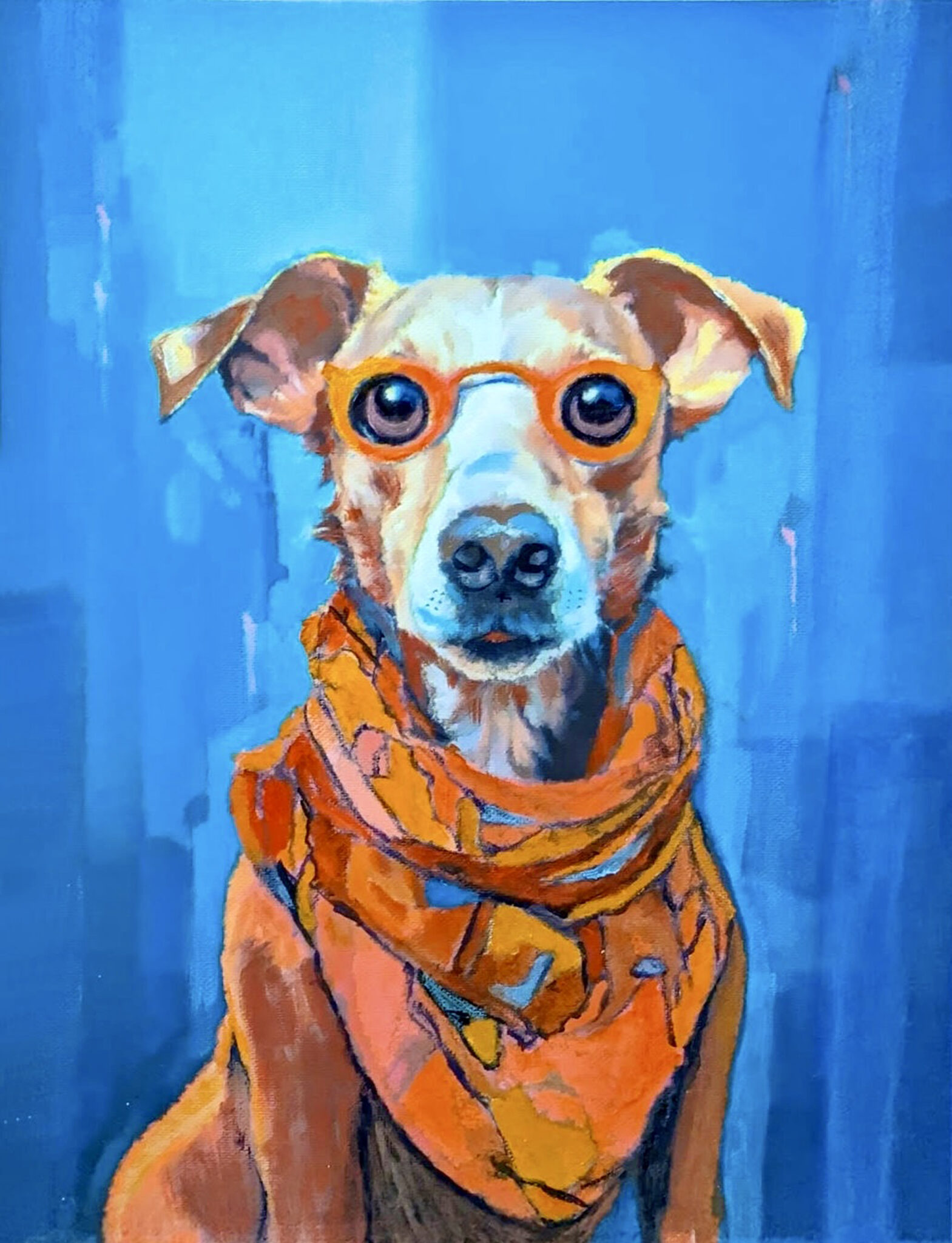 In celebration of our furry, four-legged housemates, the gallery is hosting two volunteer rescue meet-and-greet events:
King Street Cats (KSC) "Caturday," November 4, 1-4 pm
Aussie Rescue of the Mid-Atlantic Saturday, November 18, 1-4 pm
In addition to adoption information, a donation box for cats and dogs will be placed in the gallery entry during the exhibit. For cats, washable cat toys, washcloths, paper towels, large trash bags, and litter (Fresh Step Clay or Feline Pine only, please.) For dogs, leashes, collars, harnesses, and dog toys.
* Galactic Panther ~  It's never a dull moment at Galactic Panther. November is no exception. Their motto is "art takes center stage," and their brand hails the space as a place "where art, music, and comedy collide!" It's the spec, continuing this fall at Galactic Panther with The Circus Orbus — See to Believe show on view. The exhibit theme is inspired by the regional Circus Orbis founded in 1908 by Thaddeus Evergood, based in Jacksboro, Tennessee, which traveled throughout the American South and Midwest. Men, women, and children of all ages…. Step right up! This exhibit perfectly complements the exciting return of the Ringling Brothers and Barnum & Bailey Circus. Having been raised in the birthplace of the American Circus and marrying into the legendary Bailey family, I naturally consider this show a must-see gallery exhibition.
* Serenity Gallery mother and son artists and photographers Nina Tisara and Steven Halperson of Tisara Photography present The Spirit Within, an exhibit of their work at the Mount Vernon Unitarian Church gallery space through November 13. The exhibition features the mosaics of Tisara along with the photographs and etched-copper art by Halperson. The public is invited to an artist reception on November 12 from 2:30-5 pm. RSVP at [email protected]
* Nepenthe Gallery ~ Have you visited this gallery, art consultant, and expert framing service space in Fort Hunt? Nepenthe Gallery hosts ART + WINE + CHEESE during each exhibit opening from 6-7:30 pm. The November events showcase the work of photographer Cara Romero on 11/2. Cara's stunning photogenic images aren't to be missed. She currently has work on view in the National Gallery of Art exhibition "The Land Carries our Ancestors: Contemporary Art by Native Americans." Nepenthe will unveil a numbered photograph by Cara Romero that is on view in the NGA exhibit.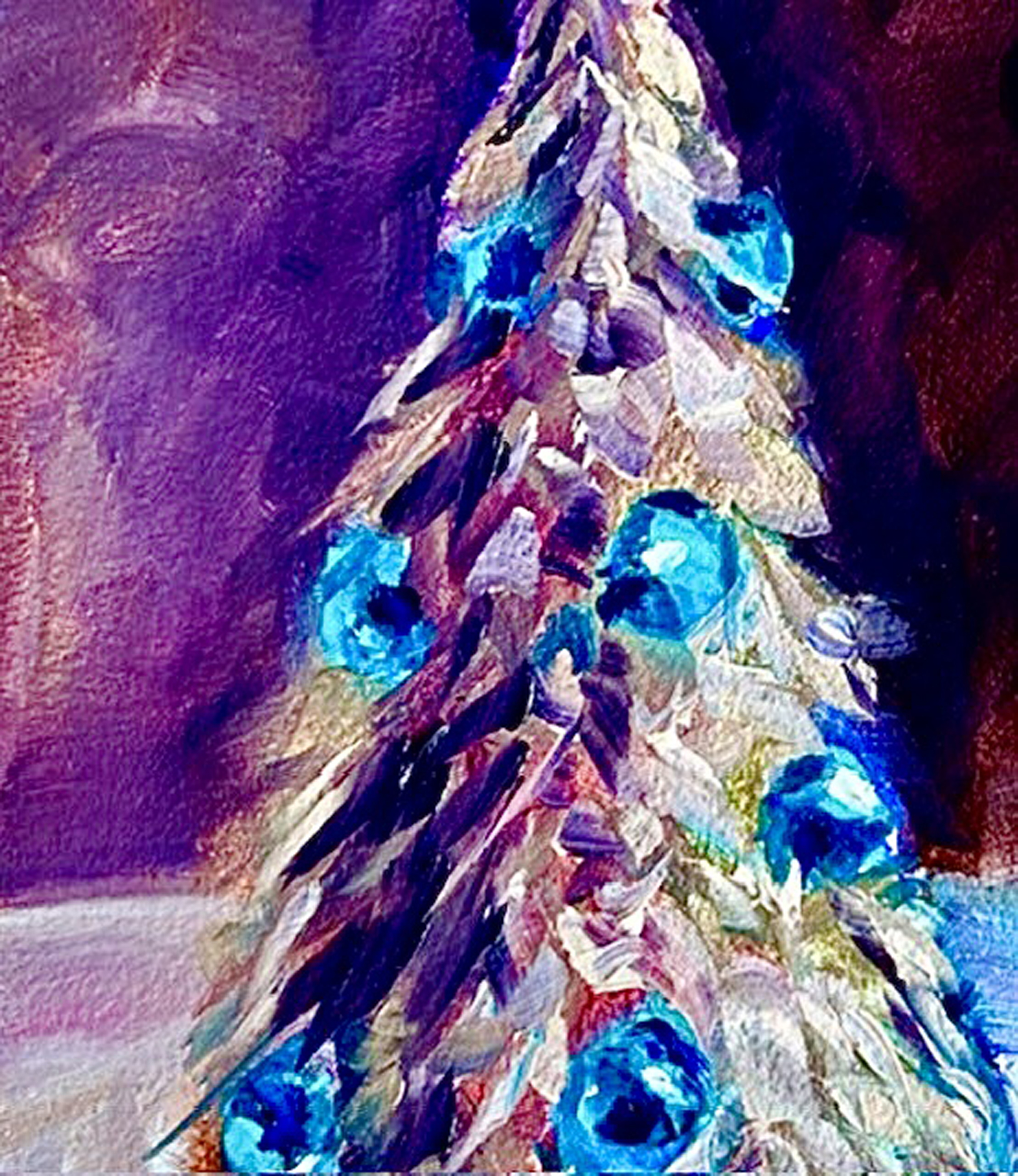 November 9 is Artist — A Night with Lee Jaworek, an artist with autism whose work reveals through the "prismatic lens" of autism his vision of the beauty around him and the challenges and triumph of his creativity.
November 16-19 is Come See What Has Popped in Our Galleries Part 2, when both gallery locations will be hosting a happening: at the Hollin Hall Shopping Center gallery and at the Wine Gallery Pop Up in Old Town.
ART + WINE + CHEESE will be held on the following dates and times:
Thursday 11/16, 6- 7:30 pm
Friday 11/17, 12-7 pm
Saturday 11/18, 11 am – 7 pm
Sunday 11/19, 12-5 pm
Be sure to crayon in Nepenthe's Pop-Up Gallery located at the Wine Gallery, 108 Saint Asaph Street, open Fridays 5-7, Saturdays 11-4, and some Sundays. New England husband and wife Caroline and John Rufo will come to Old Town on November 11 from 11 am to 4 pm. And don't miss the Nepenthe Holiday Market Eve on November 30. There will be wassail, wine, cheese, sweets, and such from 6-7:30 pm, great gift ideas, and ornaments. Oh, and art for sale! Check the website for more information and a full art happenings and events schedule.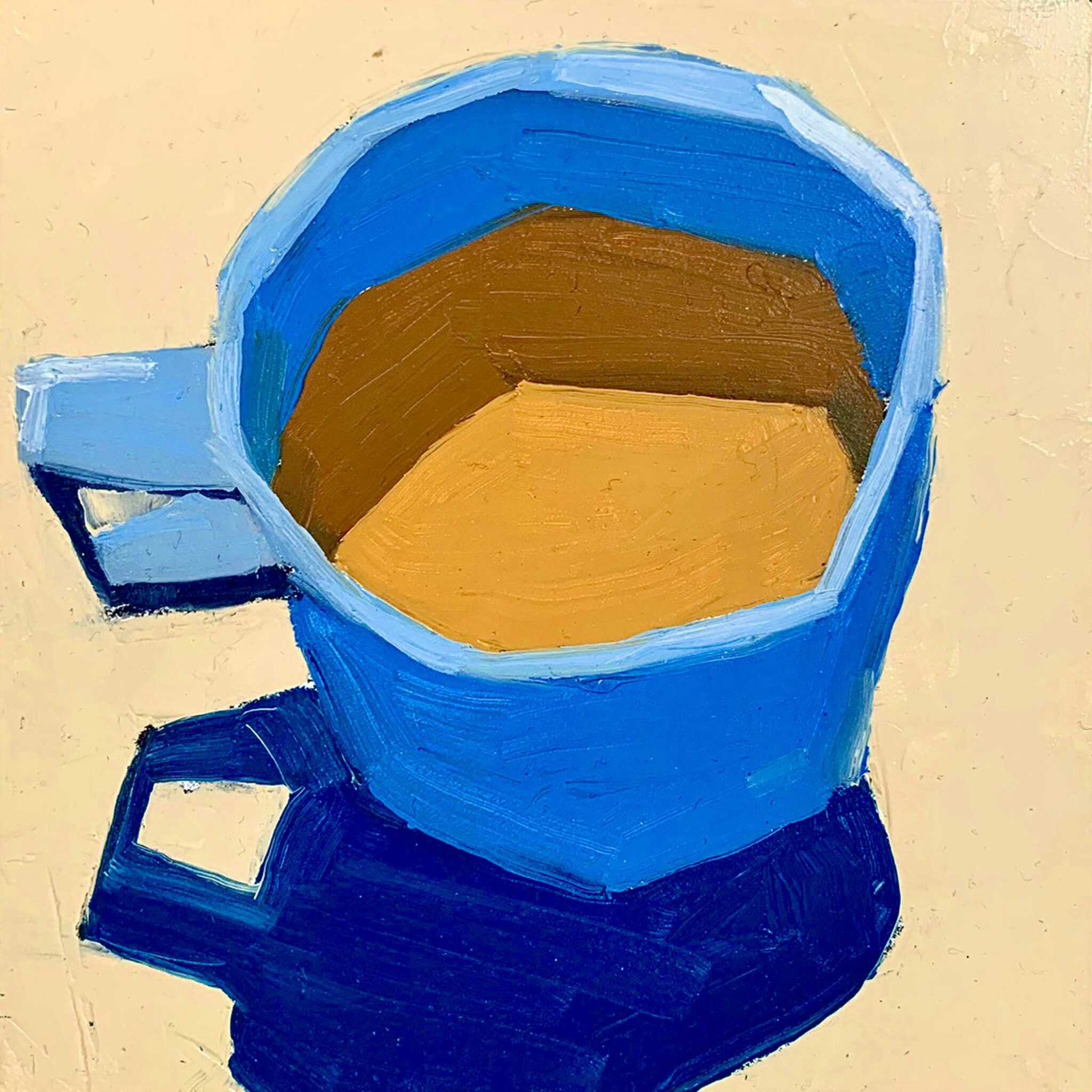 * Principle Gallery ~ Old Town's premier realist art space presents the watercolor art of Yugoslavian plein-air master Joseph Zbukvic. The solo exhibition opens Friday, November 10, with an opening reception from 6-8:30 pm.
* Potomac Fiber Arts ~ Studio 29 of the Torpedo Factory Art Center has Energy, continuing through November 19, along with Celebrations from November 21 – January 7, 2024. Get a jump on holiday shopping by perusing the unique gift offerings at the DMV's first and oldest fiber-arts space.
* Target Gallery of the Torpedo Factory Art Center ~  Sound Horizons, a collaboration with the Virginia Tech Institute for Creativity, Arts, and Technology in partnership with the City of Alexandria Office of the Arts, continues through January 28, 2024. An exploration of "the sonic frontiers of data-driven artistry," this exhibit is part of a year-long Innovation & Creativity program examining art and technology across all disciplines. Bring your holiday houseguests here. You'll thank me later!
* The Van Landingham Gallery of the Torpedo Factory Art Center presents new works by their lineup of talented studio artists in All Member November, a group exhibit showcasing small works by locally and nationally well-known artists through November 30. Crayon these dates onto your calendars so as not to miss Plaid Friday, 11/24, Small Business Saturday, 11/25, and Artists' Sunday, 11/26, from 10 am to 6 pm daily.
ICYMI: Local Mystery and Suspense Writers Hosting Book Signing at Potomac Yard Barnes & Noble in Alexandria