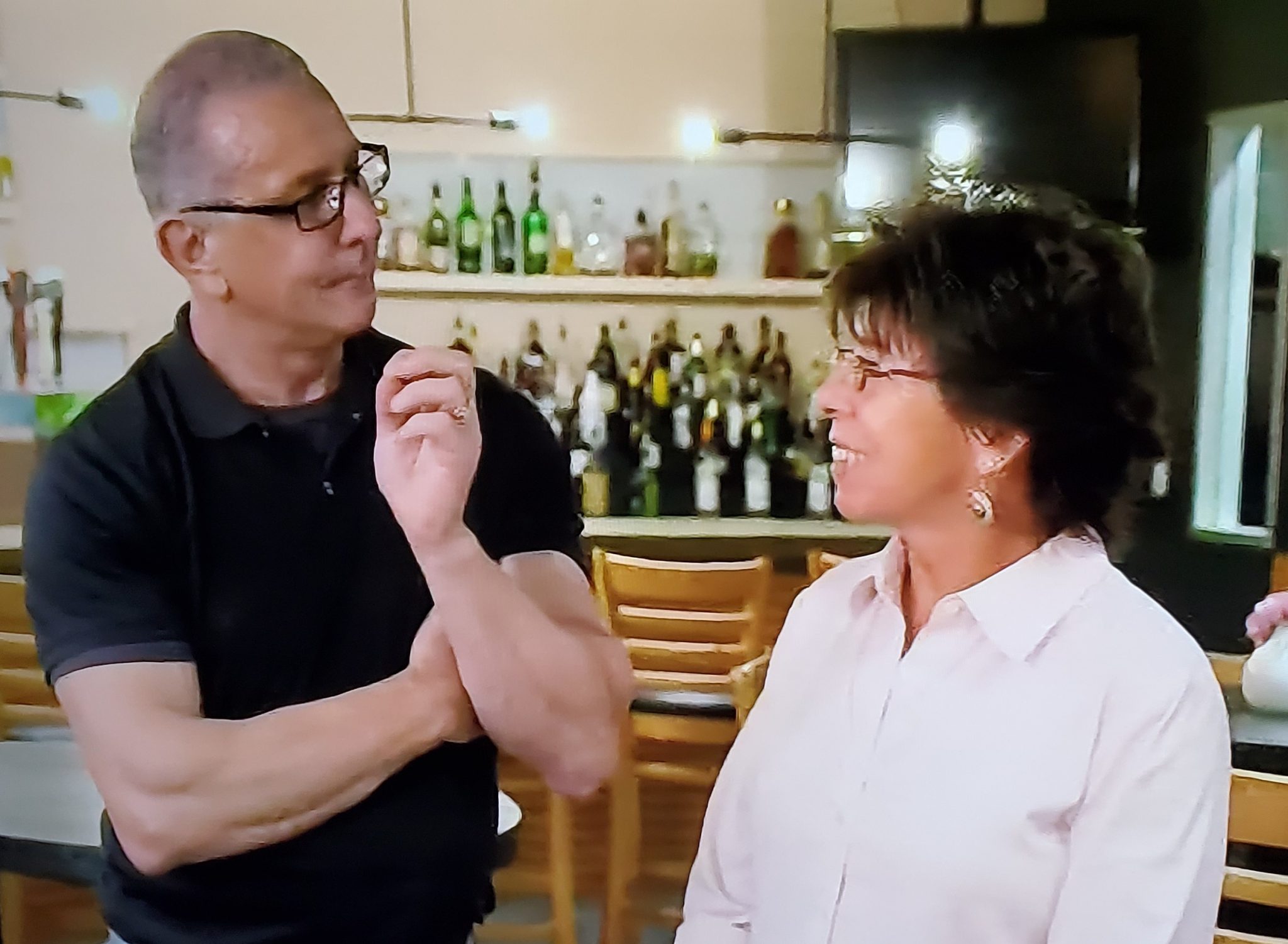 ALEXANDRIA, VA – "Holy Crap! What a vision!" shouted Foxfire Grill owner Terri Fox when celebrity chef and Food Network host of the television show, Restaurant Impossible said, "Open your eyes!"
"How cool is THAT?" exclaimed business partner and wife, Jacki Coppage looking up at the new ceiling light fixture that spells out FOXFIRE in clear Edison bulbs above a new seating area.
Since 2003, owner Terri Fox and her partner and wife Jacki Coppage have been at the helm of Foxfire Grille, a contemporary American eatery in Pinecrest Plaza off Little River Turnpike, serving what they call "American cuisine with no boundaries."
But as Food Network said, "Terri and Jacki simply can't figure out why they aren't making money. Their restaurant has a good location, they're smart, and they work hard. So, what gives?"
In late September 2019, the Restaurant Impossible crew swarmed into Foxfire Grill and discovered the restaurant had excellent bones, a great location, and was clean as a whistle. There was something else holding back these two committed owners, and Chef Irvine delved into the books and the kitchen to figure it out.
Alexandrians were invited to pitch in and volunteer, and even attend the relaunch just 48 hours later.
OTHER RESTAURANT NEWS: Bastille Rings in 2020 with a New Look and Casual, Classic French Menu
"It was exciting to see the cameras, and Chef Robert Irvine swirling around the dining room during the relaunch. He is a hunk. Oh, and the food was incredible too. I especially liked the coconut shrimp and the French Onion burger," said Zebra Food Editor, Debby Critchley.
I was also there to try the food and see the jubilation of the Firefox staff as Chef Irvine, designer Taniya Nayak and construction manager Tom Bury unveiled the revamped modern establishment. In addition to the décor, the food is comforting with an updated  appeal.
I ordered the parmesan crusted chicken, which might sound like a simple dish, but was full of flavor, and popped on the plate. I quickly understood the passion the cooks have for making the "new" Firefox Grill a success.
The episode, entitled, "New Roles, New Results" first aired January 23, 2020 and showcases the humbling journey Terri and Jacki took as they relinquished pride and took constructive criticism, eventually accepting the guidance and mentorship of Chef Irvine.
"Do you trust me?" Chef Irvine asked Fox at the relaunch.
After repeatedly questioning his intentions and suggestions, Fox smiled up at Irvine and said, "I do. You clearly had my best interests at heart."
If you missed the first airing of the Restaurant Impossible: New Roles, New Results (Season 15, Episode 5), it is scheduled to play again on the Food Network on February 1 at 5 pm or you can always watch it on On-Demand.
For more information, or to visit, Foxfire Grill is located at 6550 Little River Turnpike, Alexandria, VA 22312, and opens everyday at 11 am.