Community News
Alexandria Offering Unique Cherry Blossom Tours and Packages
Alexandria, VA
—Cherry blossom fans can zip to the blooms in Washington, D.C. on high-speed water taxis, electric bike tours and Metrorail trains while making Old Town Alexandria their home base for even more cherry blossom tours and experiences in a walkable, historic setting with hotel rates that are 30 percent more affordable than D.C. Named a
Top 3 Best Small City in the U.S.
alongside Charleston and Santa Fe by the Condé Nast Traveler 2019 Readers' Choice Awards, Alexandria is the perfect launchpad for taking in the 3,750 cherry blossom trees that line the Tidal Basin, National Mall and Potomac River, and the activities of the National Cherry Blossom Festival happening March 20 to April 12, 2020.
In addition to boat and bike tours to the blossoms in D.C., visitors can take part in Alexandria's cherry blossom-themed food crawl and pop-up cherry blossom history tour along Old Town's picturesque streets lined with cherry blossoms and flowering trees. Festive events include the Cherry Blossom Jubilee at the Torpedo Factory Art Center, the Blossom Ball at Gadsby's Tavern Museum and more. Insta-worthy desserts and drinks sweeten the season at several eateries, including a new blossom-bedecked café, Yagút St. Blossom-themed hotel packages offer strollable access to even more cherry blossom-inspired happenings and offerings.
Learn more about a cherry blossom getaway in Alexandria at VisitAlexandriaVA.com/CherryBlossoms and find a list of cherry blossom tours, special events, food and drink offerings, and hotel packages below.
Water Taxis & Boat Cruises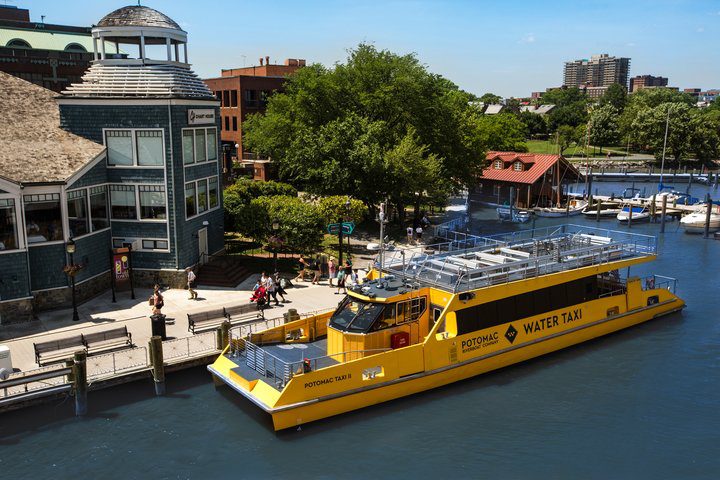 Water Taxi to The Wharf in Washington, D.C.: Cherry Blossom Festival Service
Monday through Sunday, beginning March 1, 2020
Departures beginning at 6:40 a.m. weekdays and 10:00 a.m. weekends; check website for details
Admission: starting at $13 one-way; $21 round-trip for adults
Departs from the Alexandria Marina, 1 Cameron St., Alexandria, VA 22314
888-809-7109
potomacriverboatco.com
Cruise from Old Town Alexandria to Washington, D.C. to stroll among the famous cherry blossoms and take part in events of the National Cherry Blossom Festival, including the Blossom Kite Festival. Potomac Riverboat Company by Hornblower offers a 25-minute direct water taxi from Old Town to The Wharf development in D.C. From the dock at The Wharf, it is a 10-minute walk to the cherry blossoms at the Tidal Basin. The water taxi docks at the Transit Pier, 950 Wharf St. SW, near the Tidal Basin, the National Mall, Hains Point and a Capital Bikeshare station.
Washington Monuments Cruise to the Cherry Blossoms

Saturdays and Sundays, beginning March 21, 2020
Departing at 11:30 a.m., 12:30 p.m., 1:30 p.m., 2:30 p.m., 3:30 p.m., 4:30 p.m. and 5:30 p.m.
Admission: starting at $18 one-way; $32 round-trip for adults
Departs from the Alexandria Marina, 1 Cameron St., Alexandria, VA 22314
888-809-7109
potomacriverboatco.com
Traverse the Potomac River from Old Town Alexandria and cruise past the cherry blossoms in Washington, D.C. on the Washington Monuments Cruise from Potomac Riverboat Company by Hornblower. View and listen to the history of the iconic monuments, memorials and bridges as the D.C. region awakens to spring. See beautiful cherry blossom trees as you glide past Hains Point and head onward to Georgetown. The cruise is 45 minutes one-way and approximately 90 minutes round-trip and is offered Saturdays and Sundays beginning March 21, 2020, and throughout peak cherry blossom season. Riders also have the option to explore Georgetown and return on a later boat.
Bike, Walking & Food Tours
Cherry Blossom Rides with Pedego Electric Bikes Alexandria

March 20 to April 12, 2020 (or as long as the cherry blossoms are in bloom)
Departures at 10:30 a.m. and 2:30 p.m.
Admission: $69 per bike ($10 for passenger riders)
Pedego Alexandria, 210 North Lee St., Alexandria, VA 22314
571-312-5168
pedegoalexandria.com
Pedego Electric Bikes will offer two to three-hour guided tours from Old Town to the cherry blossoms, including riding through East Potomac Park. Pedego bikes offer an up-close-and-personal view of the blossoms, without the exertion of regular bikes or the stress of traffic and parking. All tours are subject to weather, safe riding conditions and bike availability. Individual riders must be at least 16 years old. Child seats, passenger bikes and a tandem are available to accommodate younger participants. Helmets and bike locks are included. Credit card and ID are required for rentals. Please arrive 30 minutes prior to the departure time. Contact Pedego Alexandria to reserve a private group tour.
Alexandria Tastes of Spring Cherry Blossom Food Crawl
April 5, 2020, beginning at 11 a.m.
Admission: $65 for four tastings; $80 for six tasting tickets; $96 for eight tasting tickets
Starting location provided at time of ticket purchase
888-697-2693
carpedcfoodtours.com
Enjoy all the spring flavors Alexandria has to offer on the Tastes of Spring Cherry Blossom Food Crawl. Eat your way through Old Town on a self-guided food tour sampling diverse cuisine at some of Alexandria's most popular restaurants. Buy your tasting tickets online, each valid for one carefully selected tasting at our participating restaurants. Guests can buy four, six or eight tasting tickets, and vegetarian options are available. At check-in, grab your tickets along with a wristband and passport and head out on a culinary crawl of Old Town. At each participating location, show your wristband and give them a ticket to enjoy some delicious tastings. Passport includes map and descriptions for all participating restaurants.
Cherry Blossom Pop-Up History Tour with Discover Alexandria

To be announced one week in advance; two pop-up tours to occur during peak bloom week
Admission: $15 per adult; $8 per child; $12 for military, veterans and students
Tour departs from the Alexandria Visitor Center, 221 King St., Alexandria, VA 22314
discoveralexva.com
Discover Alexandria's Cherry Blossom Pop-Up History Tour will occur twice during the week of peak bloom. The 75-minute tour offers the best of both worlds, combining local history with great cherry blossom sightseeing. The tour dates and times will be announced approximately one week in advance via Discover Alexandria's website and social media platforms. Reservations are required and can be made by emailing [email protected].
Special Events
Cherry Blossom Jubilee at the Torpedo Factory Art Center
March 28, 2020, from 12 to 5 p.m.
Admission: Free; RSVP requested
Torpedo Factory Art Center, 105 N. Union St., Alexandria, VA 22314
703-746-4590
torpedofactory.org
Every year, the region shakes off winter with the arrival of the world-famous pink and white cherry blossoms. The Torpedo Factory Art Center hosts an Alexandria satellite celebration for the National Cherry Blossom Festival. Join the fun with a lively afternoon of hands-on activities, performances and inspired works of art to shop and explore from all three floors.
Cherry Blossom Shop & Sip with the Old Town Boutique District

April 18, 2020, from 11 a.m. to 6 p.m.
Admission: $25
Boutiques throughout Old Town Alexandria, VA 22314
oldtownboutiquedistrict.com
Join the Old Town Boutique District and its restaurant partners for a full day of cherry blossom frenzy. Kick off the morning with brunch and pink cocktails, then spend the day shopping the spring collections at all Old Town Boutique District shops while collecting blossom flare and fabulous swag along the way. For tickets, visit oldtownboutiquedistrict.com.
Blossom Ball at Gadsby's Tavern Museum
May 2, 2020, from 8 to 11 p.m.
Admission: $45 per person
Gadsby's Tavern Museum, 134 N. Royal St., Alexandria, VA 22314
alexandriava.gov/shop
Celebrate spring's arrival with a Regency-era ball with live music, English country dancing, cash bar and seasonal dessert collation. Regency attire or cocktail attire welcome. Those not familiar with this style of dancing should complete at least one full class to become accustomed to the figures and language for the ball. Purchase tickets at alexandriava.gov/shop.
Food & Drink Offerings
Cherry Blossom Sangria at Theismann's
February into spring 2020, while supplies last
Joe Theismann's Restaurant, 1800A Diagonal Road, Alexandria, VA, 22314
703-739-0777
theismanns.com
Theismann's, owned by the namesake Super Bowl champion and Redskins legend, will offer a seasonal sangria made with Wycliff brut rosé, Lustau blanc vermouth, cherry juice and orange flower water, available while supplies last.
Lavender Bada Bing Cherry Gelato at Yagút St.

February through spring 2020
Yagút St., 682 N. St. Asaph St., Alexandria, VA 22314
703-549-7777
yagutst.com
Celebrate springtime at Old Town North's newest Insta-worthy setting with a lavender-based gelato mixed with Bada Bing-brand cherries or a pink-hued, rose-based bubble tea with a cherry syrup and garnish. Snap a pic of your treat in front of the permanent wall of white and pink blossoms and neon "Treat Yourself" sign.
Cherry Blossom Festive Cocktails at Bugsy's
February through April 12, 2020
Bugsy's Pizza Restaurant and Sports Bar, 111 King St., Alexandria, VA, 22314
703-683-0313
bugsyspizza.com
In addition to their one-of-a-kind pizzas, Bugsy's will offer cherry blossom-themed cocktails to savor this season. Sip options including Bugsy's Blossom I and II, in which cherry vodka takes center stage, along with the tropical-inspired Cherry Colada and Cherry Margarita.
Cherry Blossom Specials at Magnolia's On King
March 10-31, 2020
Magnolia's on King, 703 King St., Alexandria, VA, 22314
703-838-9090
magnoliasonking.com
Popular Old Town eatery Magnolia's on King will be serving up two special offerings to celebrate the season. The limited-edition fare includes the #SCCSangria, packed with fruity flavors including strawberry, cranberry and cherry, as well as satisfying bacon-cherry fried pickle sticks.
Cherry Blossom Gelato at Dolci Gelati
March 15 to April 12, 2020, in limited supply
Dolci Gelati Old Town, 107 N. Fairfax St., Alexandria, VA, 22314
571-290-0684
oldtowndolci.com
Dolci Gelati will bring back its popular Cherry Blossom gelato for the National Cherry Blossom Festival this year, offering a light, floral flavor that's perfect for springtime. Dolci founder Gianluigi Dellaccio knows a thing or two about concocting delectable gelato flavors. Dellaccio was appointed a Global Gelato Ambassador by the Italian Gelatoers Association in January 2018 and won "Best Gelato Flavor" at the Inaugural Gelato Festival America in November 2017.
Crispy Quail with Cherry Gastrique at Columbia Firehouse
March 20 to April 15, 2020
Columbia Firehouse, 109 S. St. Asaph St., Alexandria, VA, 22314
703-683-1776
columbiafirehouse.com
To celebrate spring, Columbia Firehouse will offer crispy quail entree with a cherry gastrique from March 20 through April 15, 2020. For $25.99, savor the entrée served alongside spring carrots, cippolini onions and new potatoes. Ring in the season by dining al fresco on the front patio or linger in the sumptuous interior dining rooms.
Hotel Packages
Cherry Blossom Package at Holiday Inn Carlyle
In town for the blossom bonanza? Choose a cherry-themed stay at Holiday Inn Carlyle, redeemable between March 1 and April 12, 2020. As part of the package, guests can enjoy cherry treats, breakfast for two, complimentary hotel parking and two Metro passes to see the D.C. blooms. To learn more, call 703-960-2000 or visit ihg.com/holidayinn.
Cherry Blossom Package at Embassy Suites
Enjoy the beauty of cherry blossom season with a stay at Old Town Alexandria's Embassy Suites. This limited-time package, redeemable from March 12 to April 30, 2020, includes a themed welcome amenity, two complimentary Cherry Blossom Old Fashioned cocktails, $25 one-time food and beverage credit, parking, daily breakfast and manager's reception, plus exclusive festival perks. During the festival, the hotel will have a limited Japanese-inspired menu while the lobby will be decorated with cherry blossom trees. On April 4, 2020, the hotel will host a sushi demo and sake tasting. To learn more, call 703-684-5900 or visit embassysuites3hilton.com.
Pedal to the Petals Package at Kimpton Lorien Hotel & Spa
Travelers taking part in D.C.'s Cherry Blossom festivities can stay just across the Potomac River at Kimpton Lorien Hotel & Spa in Old Town Alexandria by booking the "Pedal to the Petals" package from March 18 to April 13, 2020. Whether traveling with the family in tow or exploring the blooms with buds, guests can enjoy fun perks that allow them to explore the Tidal Basin and National Mall with ease. Guests receive two Capital Bikeshare passes per day for exploring the D.C. area's numerous bike paths and lanes to explore the sights, a dining credit for a post-biking cocktail or appetizers at the hotel's French restaurant, Brabo Brasserie, or casual all-day dining spot, Brabo Tasting Room, and a map that showcases the most popular spots to view the iconic cherry blossoms. Rates for the "Pedal to the Petals" Package start from $180 per night plus taxes and fees. To learn more, call 703-894-3434 or visit lorienhotelandspa.com.
RELATED: Kimpton Named Top Hotel in Alexandria
Alexandria in Bloom Package at The Alexandrian Old Town Alexandria, Autograph Collection and Morrison House Old Town Alexandria, Autograph Collection
To up the ante on the region's most spectacular season, travelers can book a stay at the charming The Alexandrian or Morrison House hotels and take advantage of the special "Alexandria in Bloom" packages, available March 20 through April 19, 2020. Travelers will receive delightful signature cherry blossom-themed cocktails for two and a gourmet picnic basket to take to a nearby park on Alexandria's Potomac River waterfront. The package also includes two water taxi tickets from Potomac Riverboat Company by Hornblower to enjoy a quick 25-minute ride to D.C. where you'll be able to see the cherry blossoms in person. To learn more, call 703-549-6080 or visit thealexandrian.com and morrisonhouse.com.
Cherry Blossom Package at Hotel Indigo
Stay in the heart of Old Town Alexandria and enjoy the cherry blossoms in Washington, D.C. Applicable to stays between March 20 and April 20, 2020 if reserved 48 hours in advance. The Cherry Blossom package includes complimentary valet parking, an upgrade to Riverview Room and a $10 per stay credit for Hotel Indigo's Grab-and-Go, with a two-night minimum. Upgrade is based on hotel's availability. Rates start at $169. To learn more, call 703-721-3800 or visit hotelindigo.com.
COMING UP: Old Town Festival of Speed and Style
ABOUT ALEXANDRIA, VA
Named the #1 Best Value U.S. Travel Destination 2018 by Money magazine, a Top 3 Best Small City in the U.S. 2019 by the Condé Nast Traveler Readers' Choice Awards and one of the South's Prettiest Cities 2018 by Southern Living, Alexandria hums with a cosmopolitan feel and a walkable lifestyle—a welcoming weekend escape next to our nation's capital. A nationally designated historic district founded in 1749, Old Town Alexandria is home to more than 200 independent restaurants and boutiques alongside intimate historic museums and new happenings at the waterfront. At the heart of it all is bustling King Street, a walkable mile recognized as one of the "Great Streets" of America. New restaurants tucked in to 18th– and 19th-century architecture still intact from the city's days as George Washington's hometown ignite historic and off-the-beaten-path neighborhoods as the waterfront district evolves with new energy. Learn more at VisitAlexandriaVA.com.