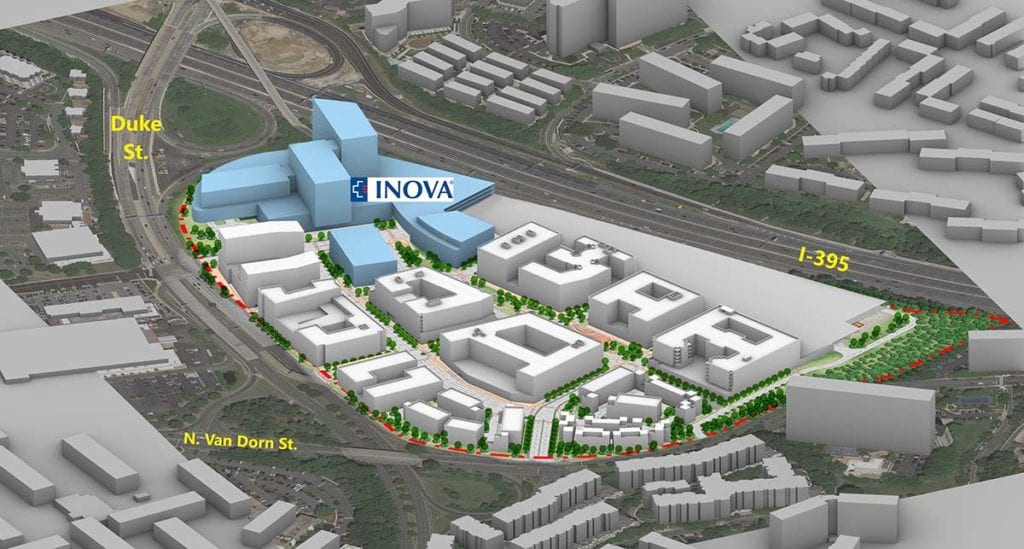 ALEXANDRIA, VA – The City of Alexandria and Inova Health System today reached an initial agreement with a joint venture to move forward with the development of a medical campus and mixed-use community area on the site of the former Landmark Mall.
The joint venture includes Foulger-Pratt, The Howard Hughes Corporation, and Seritage Growth Properties.
"This plan for the future of the Landmark site is exciting, long-awaited news for our community," said Alexandria Mayor Justin Wilson. "The project would be a catalyst for the West End, providing significant benefits for Alexandria and the region at a time when focus on our long-term future is critical. Inova Alexandria Hospital has been an anchor in our city for generations, and a new, modern hospital facility at Landmark would be the perfect site for the world-class care that is synonymous with Inova.​"
The 52-acre site would allow Inova to construct a modern Alexandria Hospital, relocating around 2,000 health care workers. To make the medical campus a reality, the hospital will invest $1 billion.
"The City of Alexandria continues to be a great partner in our mission to provide world-class health care to the communities we have the privilege to serve," said J. Stephen Jones, MD, FACS, President and CEO of Inova. "We are thrilled for the potential to build a new hospital and medical campus, one that would allow us to expand our seamless system of care, increase our services, and elevate the facilities in Alexandria and throughout the region for decades to come."
Development plans include a residential area, as well as entertainment and retail offerings. The space is envisioned as a neighborhood, complete with parks and access to public transportation.
Construction could begin as soon as next year. It is estimated that the buildings will be in use by 2025.
ICYMI: Service Dog Fundraiser for Bonita Van Pelt