Old Town North
From Financial Planner To Foodie: The Genesis of Chewish Deli
How did Gregg Linzey set out on the big bagel quest that would become the beloved Chewish Deli? Find out here!
By Margaret Townsend
Alexandria, VA – In October 2015, financial planner Gregg Linzey relocated to Alexandria from New Hampshire. Upon arrival, his first question was, "Where do you get a good bagel around here?" The answer, "You don't."
Thus began the big bagel quest that would become the beloved Chewish Deli. Gregg started by researching the history and origins of this staple of his Jewish heritage. "I was fascinated," he says.
He discovered that the tradition of boiling the bagel before baking arose as a creative solution in the Middle Ages. Baked goods could only be made and sold by Christian Bakers Guild members, so the bagel was boiled before being baked, putting it into a different category.
The bagel's unique shape symbolizes both the circle of life and, representing the stirrups of a 14th century Polish King's horse, is believed to be a mark of respect for that king. He rescued Jews from a massacre by the Turkish Empire.
Inspired by his research, Gregg began baking and selling bagels in 2018, working in partnership with a local restaurant, Genuine Water Bagels, on South Washington Street. But "GWB was eventually no more, and so I rebranded as Chewish Deli," Gregg says.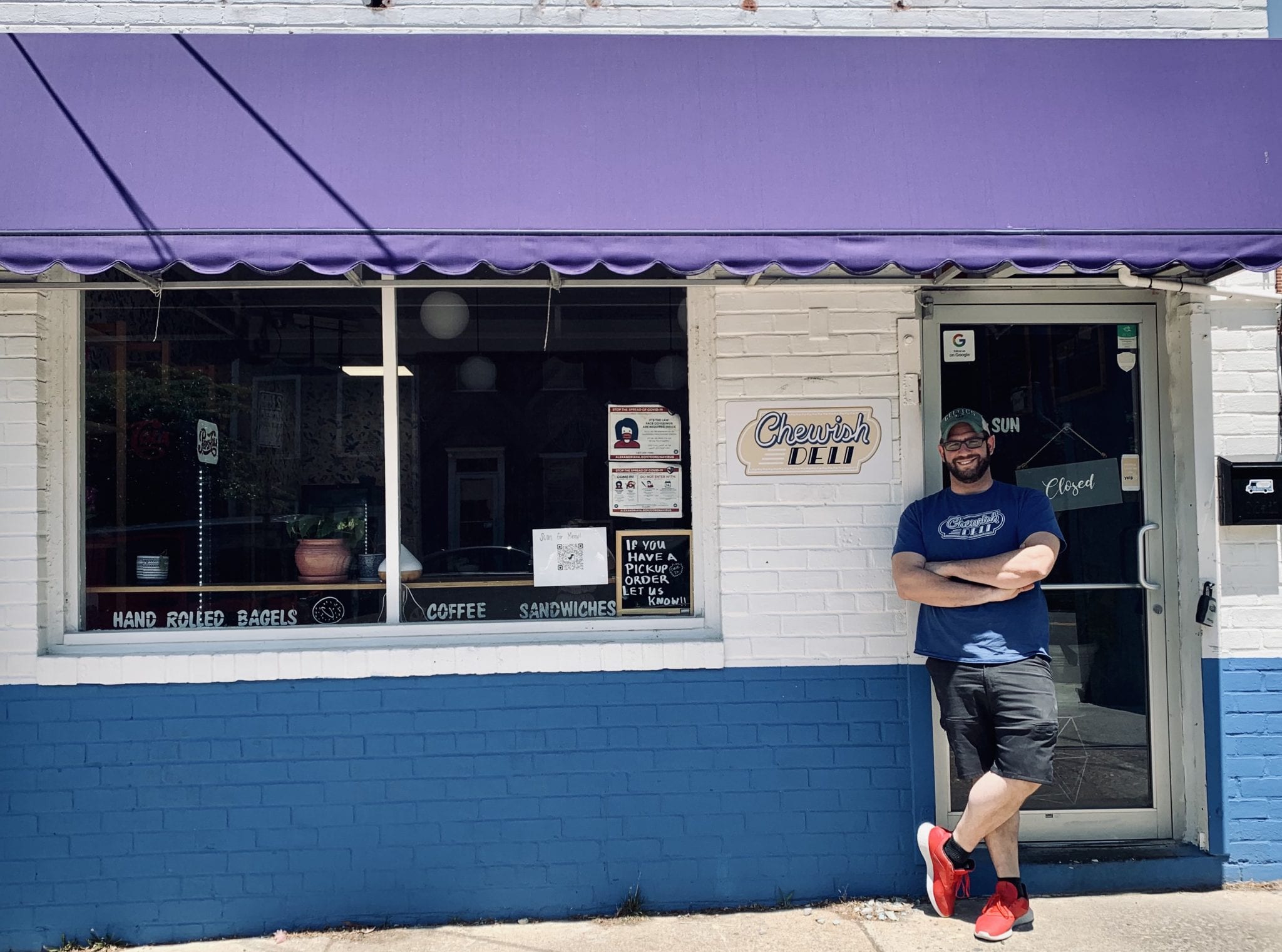 Operating out of a food truck and selling at events such as the Old Town North Farmer's Market, Chewish Deli soon garnered "great support from the local Alexandria community," says Gregg. "And that amazing support led us to find a brick-and-mortar location on South Pendleton Street."
Gregg reached out to Zebra food editor Debby Critchley, who introduced Gregg to the owners of the Pendleton Carry Out. Serendipity! Chewish Deli took root at 807 Pendleton Street in September of 2020.
Despite taking over the new space just as the COVID-19 pandemic took over the world, the support of loyal customers and the dedicated staff of Chewish Deli again prevailed. Since its genesis, the deli has continued to thrive. It has added items beyond bagels to its menu. Who doesn't fancy New York-style pizza by the slice?
Chewish Deli will soon be back at the Old Town North Thursday Farmer's Market, much to the delight of its loyal customers, who might instead be called fans.