Foodie Newz
Blasta Means Delicious at Daniel O'Connell's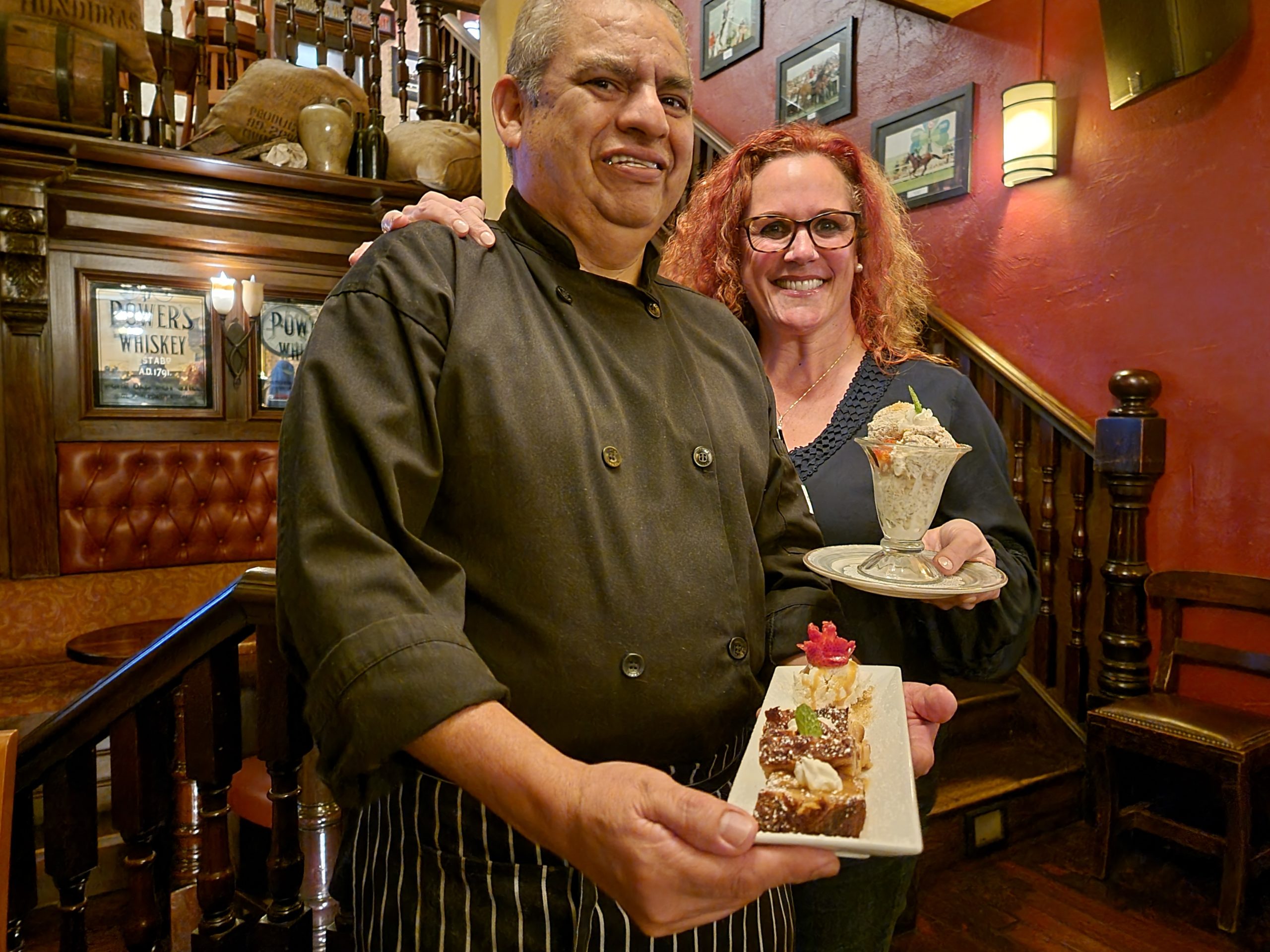 Alexandria, VA – Now you know how to say delicious in Gaelic because that's what you'll say with every bite at Daniel O'Connell's Irish Pub and Restaurant at 112 King St. in Old Town. Whether you sit out on the delightful patio, or the 300 yr. old bar from Waterford Castle in Ireland, or one of the comfortable cozy booths and tables, you will revel in the amazing food and drink to be had. If you decide to dine inside, ask if a snug is available. These cozy little booths are wonderfully snug – you'll dine with lots of privacy. Open seven days a week including Sunday brunch, you'll find the best that Ireland has to offer. Everything (except the French fries) is made daily. There are multiple taps offering a variety of beers, lagers, stouts, etc. from Ireland like Guinness Stout, Harp's Lager, and Smithwick's Amber Ale. There are ales, pilsners, and ciders from around the US and local breweries. Not into beers? Try one of the custom crafted or classic cocktails from the bar in addition to a small but well-chosen wine list.
We were lucky enough to score one of the snugs and it lived up to its name. Níamh O'Donovan, the General Manager, was our host for the evening. She curated our meal and we enjoyed all of her recommendations. The bartender poured the perfect black and tan for my guest while I enjoyed one of the special fall cocktails. The Irish is a comforting mix of Irish Gin, fresh lemon juice, simple syrup, and topped with Magner's Irish Cider. Although served well chilled, it was warmth for the soul.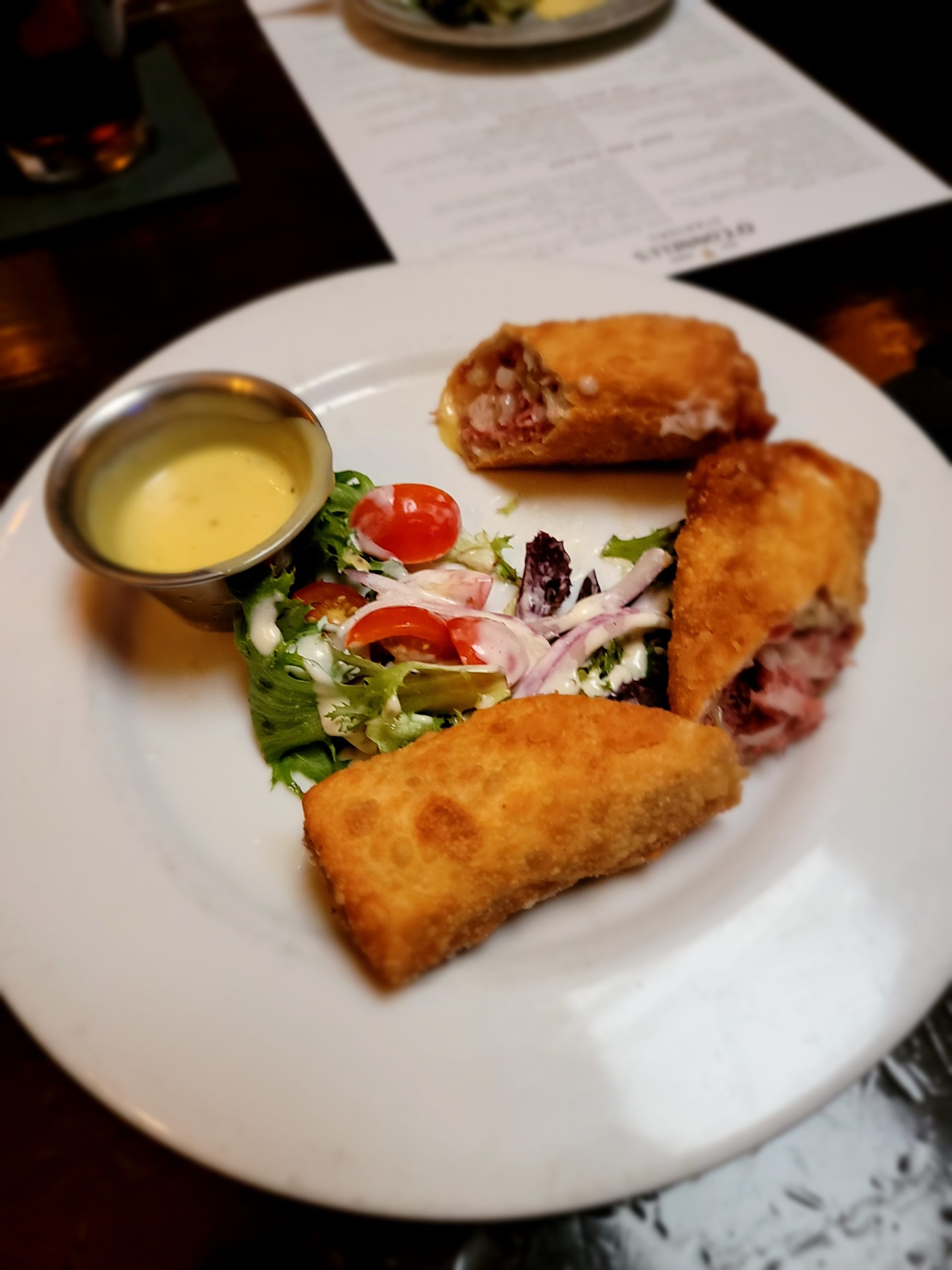 The menu is a treasure trove of Irish and other favorites. We started with the Irish Egg Rolls stuffed with house-made braised corned beef, green cabbage, and Irish cheddar, hand rolled and fried to a golden brown and served with a dipping sauce of honey mustard. If you like corned beef, these are not to be missed. Scotch eggs are rarely seen on menus. Imagine a hard boiled egg covered in house ground Irish pork sausage, coated with panko, and fried. I hadn't had one in years and was in heaven from the first bite. Dipped in that same house-made honey mustard, it was blasta! With such a variety of appetizers, you might consider ordering the Appetizer Sampler. The sampler will provide you with a taste of all the favorite appetizer. There are soups and salads available too. A traditional Potato Leek Soup made creamy with Irish potatoes and leeks is served with house made Irish brown bread. It will warm you to your toes on a cold day.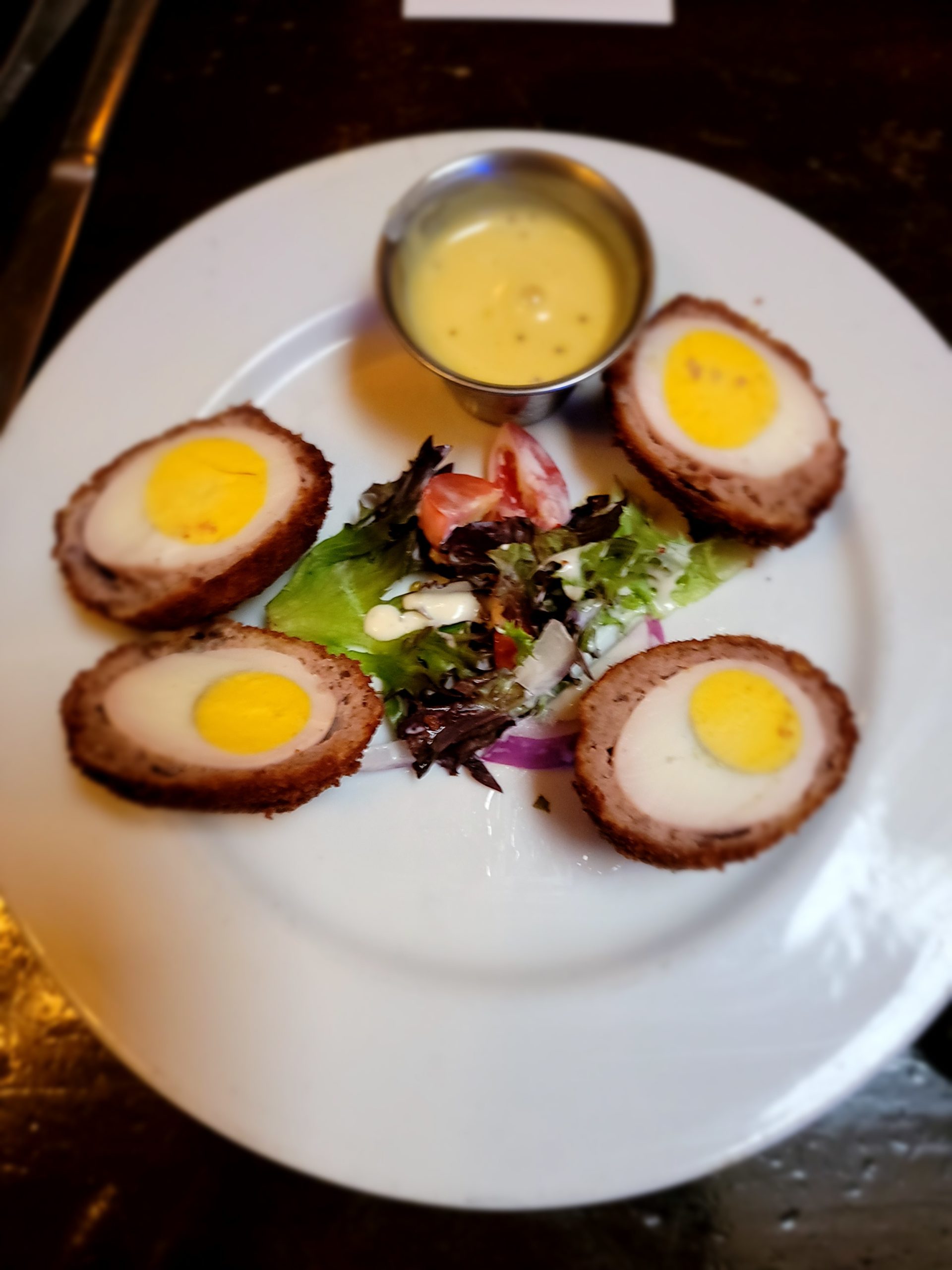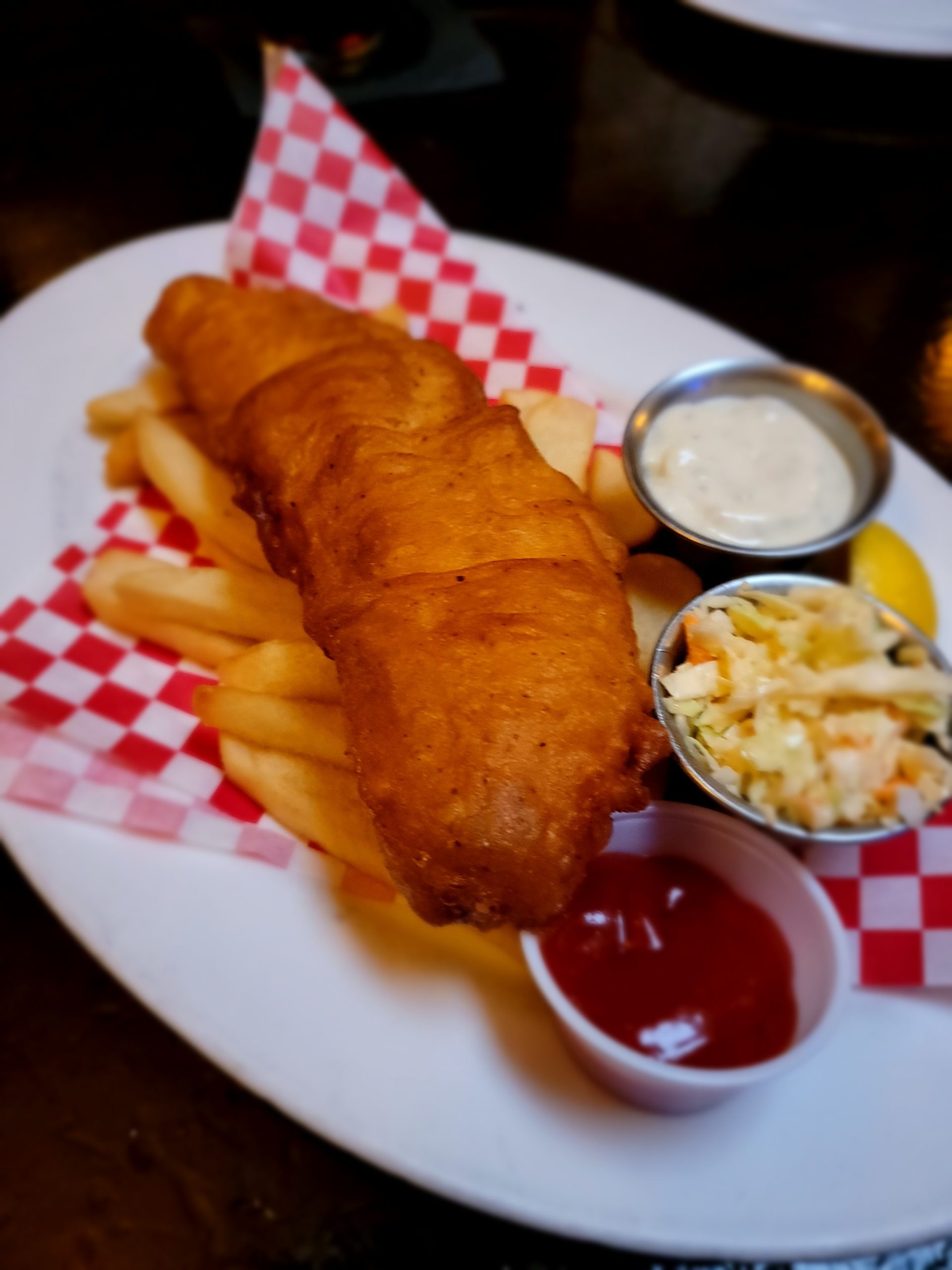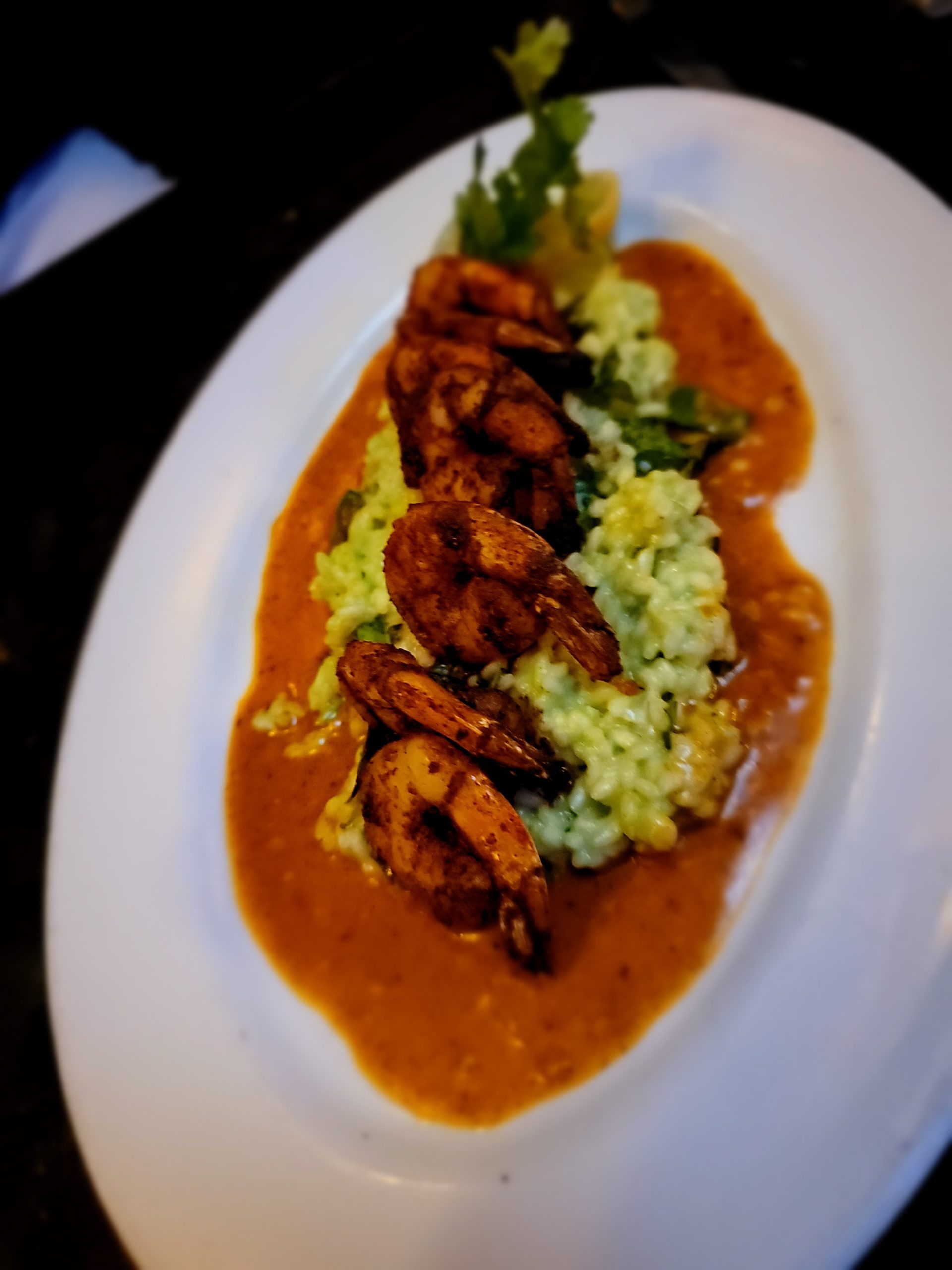 We were all smiles when a plate of Fish and Chips was placed on the table. Fresh Atlantic cod is dip in a beer batter and fried to golden goodness. The crust was crisp and the fish was tender. Paired with coleslaw, pub fries, and house made tartar sauce, it quickly disappeared from the table. If we didn't have more to try, I would have asked for another serving. But, we were rewarded with an amazing dish of the special dish of Old Bay Blackened Shrimp over a bed of spinach risotto seasoned with herbs and a white wine sauce. The risotto was perfect, tender yet with a little bit of 'to the tooth.' The shrimp were highly seasoned in a killer contrast to the rich risotto. This dish may not be on the menu when you visit but based on this preparation, I would order any special that pops up on the menu.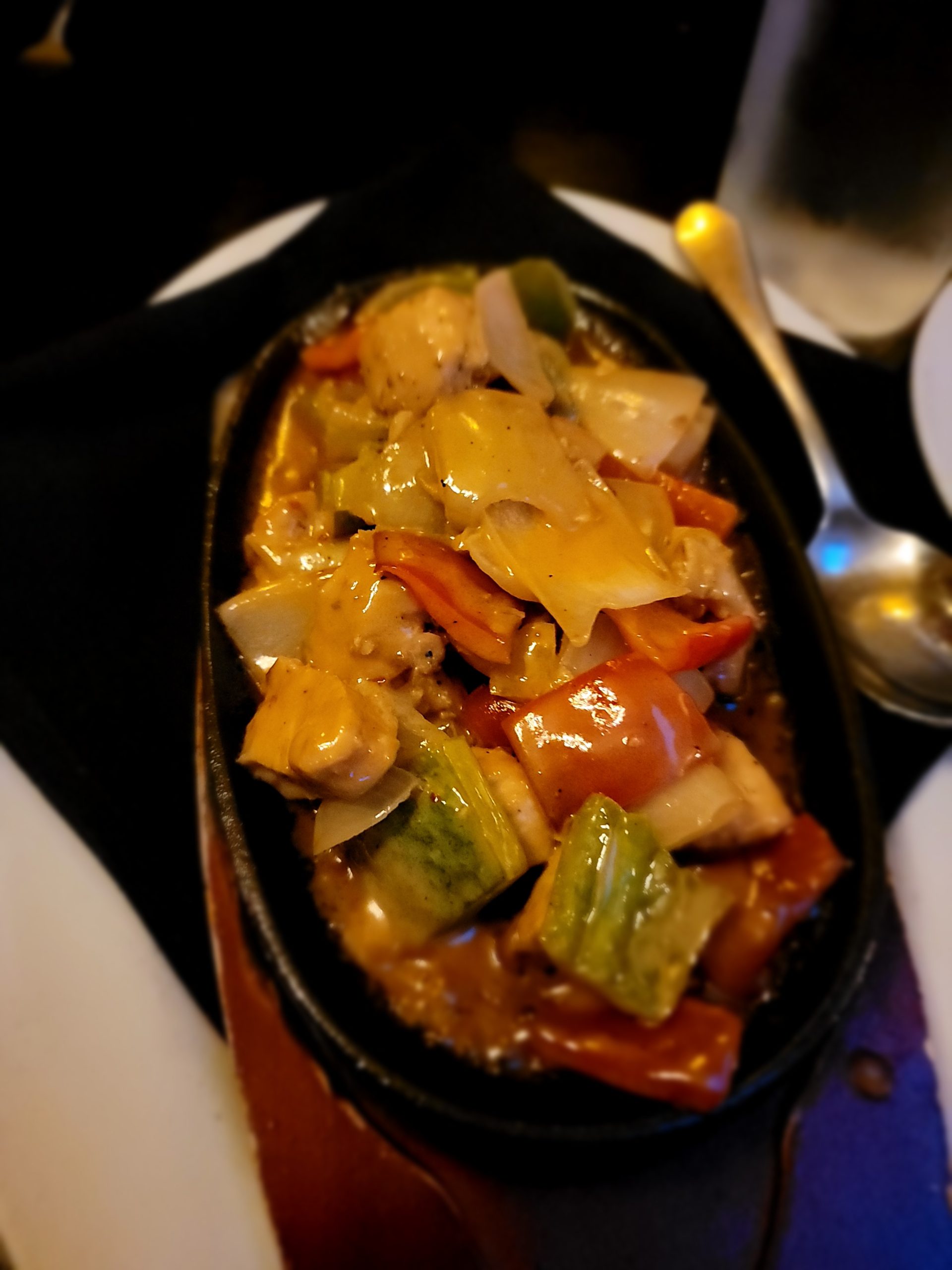 Next up was a stunner of a dish, the Whiskey Sizzler. Níamh said she first tried it at their sister restaurant in Dublin where it is one of the favorites on the menu. She said she had to bring it to Alexandria so we could enjoy it. Imagine chicken (or shrimp or vegetables) in a whiskey peppercorn wine sauce with red peppers and onions with a side of Basmati rice. Keto folks, you have to have the rice to soak up the amazing sauce. It is easy to taste why this dish is so popular. It's a must order. At this point, we were reaching a level of satisfaction that we thought was off the charts when a huge sandwich made with house made pulled pork topped with more of that flavorful cole slaw and fries appeared on the table. Níamh explained that the restaurant recently acquired a smoker that she promptly nicknamed DOC (Daniel O'Connell). Raul, the chef, is experimenting with various meats and veg and we were lucky enough to taste his pulled pork. The sandwich can compete with any BBQ joint you might go to.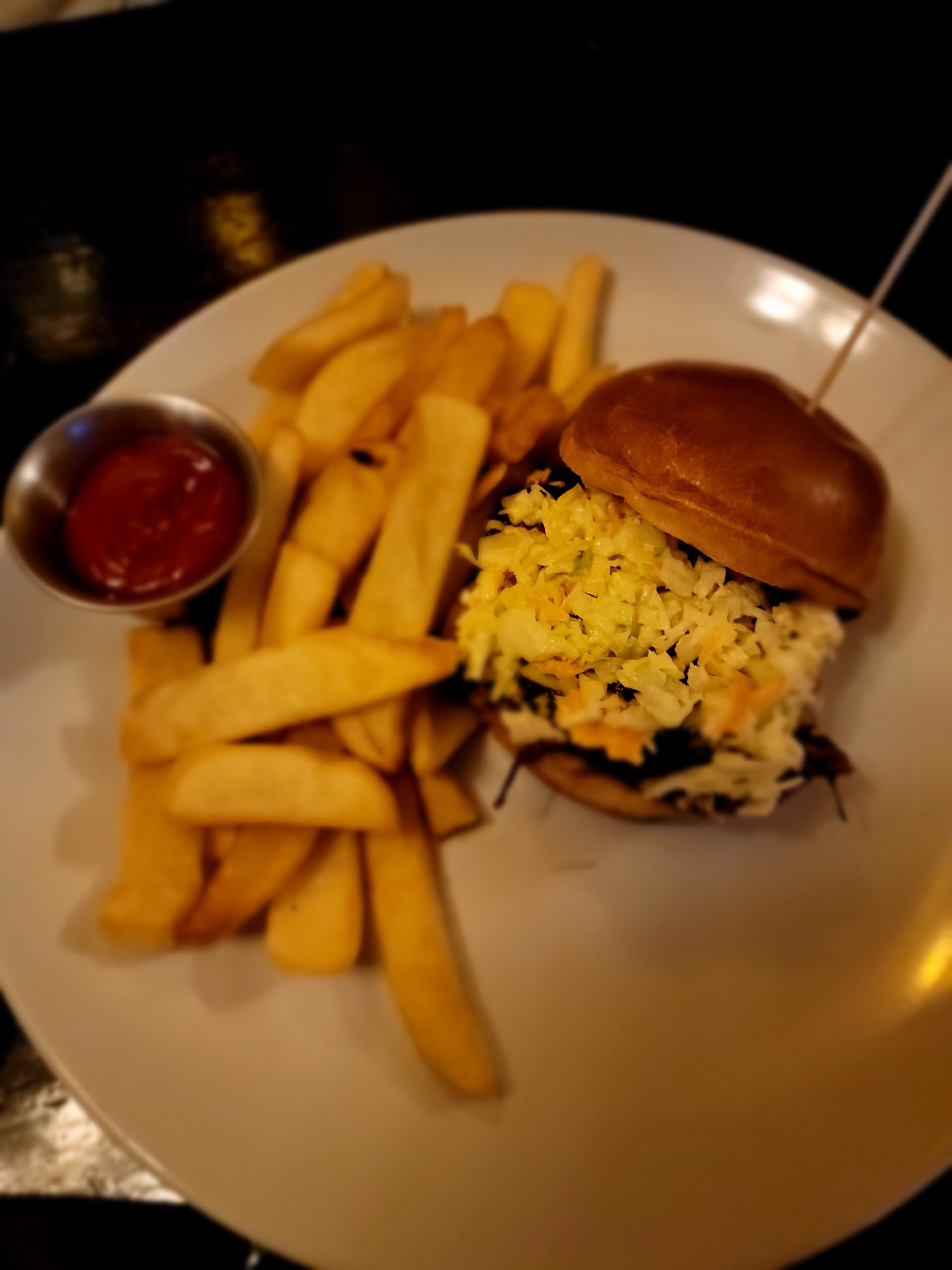 My guests and I are wonderfully happy at this point in the meal but Níamh was not finished with us.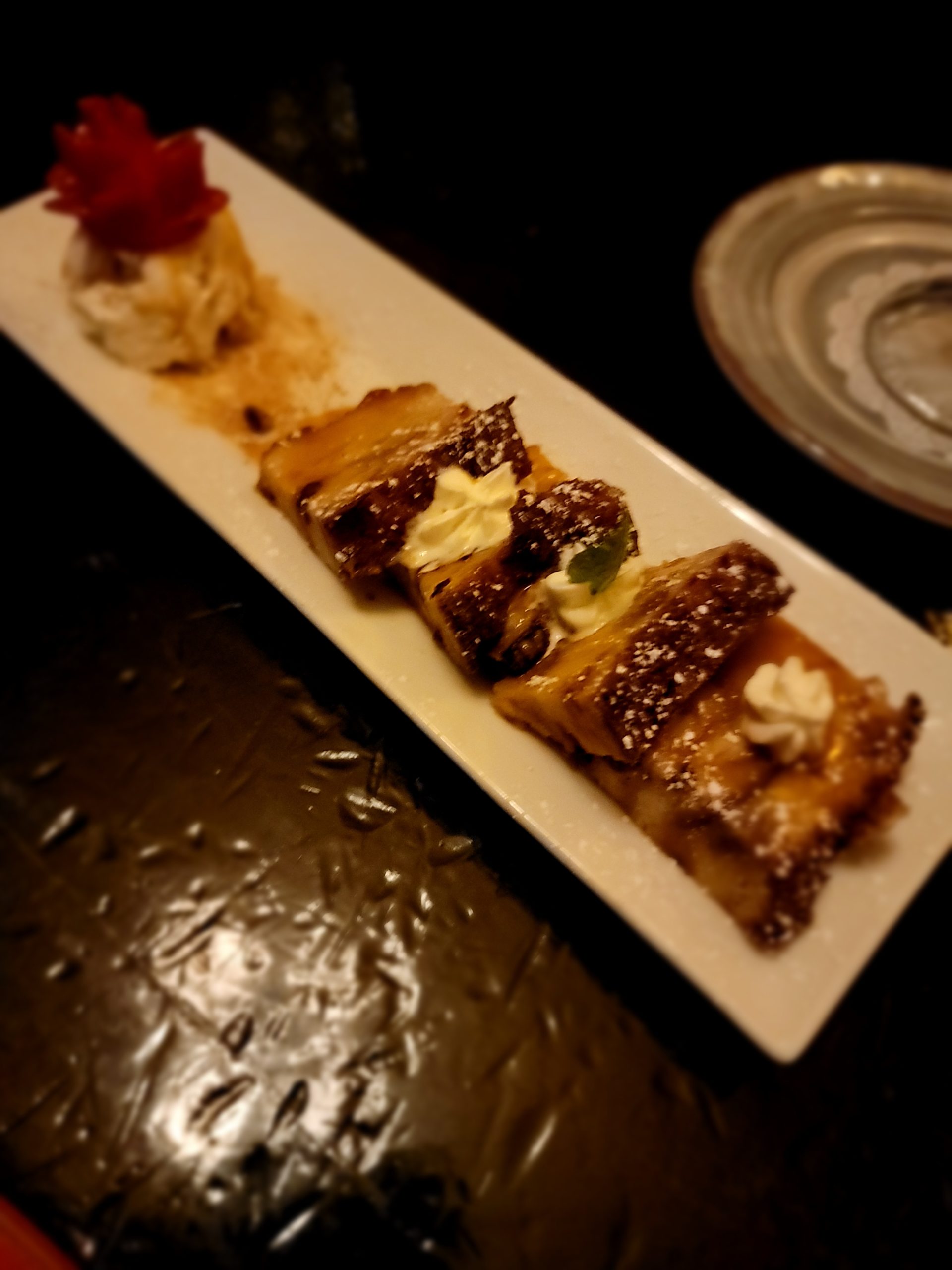 Warm Bread and Butter Pudding appeared along with Bailey's Irish Brown Bread Ice Cream. The bread pudding was all that and more. Not too sweet or rich but so full of flavor, it was remarkable. Were you thinking Irish brown bread ice cream is strange, you would be right but it is strange in such a good way, we couldn't stop eating it. A spoon of ice cream and a bite of bread pudding – quite good.
There are lots of other dishes available. The Full Irish Breakfast was so popular during the day, they added it to the dinner menu. You've got to try the house made Irish baked sausages, Irish bacon, black & white pudding all served with two fried eggs, sauteed mushrooms, breakfast potatoes, smoky baked beans, and toast. It a hearty meal no matter what time of day. Of course there's always the Irish Shepherd's Pie made with brasised beef, carrots, peas, and carrots in a rich brown gravy with mashed potatoes garnished with Parmesan cheese and accompanied by Irish brown bread. You can get it as an entrée of a large family style to serve 4-6 people. It makes a great dinner at home for the whole family.
Do you want more seafood? Try the Grilled Atlantic Salmon cooked to perfection and topped with a lemon dill cream sauce and served with jasmine rice and fresh veggies. There's also a Seafood Linguine filled made with linguini and topped with cod, tilapia, shrimp, and Blue Bay Mussels in a lemon cream sauce and accompanied by garlic bread. There is house-made hummus served with pita and veggies for the vegetarians/vegans in your group. There are several salads that can be made without meat too. Add a tofu, shrimp, or salmon to make it a full meal.
Eating at O'Connell's will prove once and for all that Irish cooking is good cooking. So come on over and enjoy your meal. Blasta!
Would you like your restaurant reviewed? Contact [email protected]
ICYMI: Lena's Wood-Fired Pizza and Tap Named In Top 100 Restaurants in United States