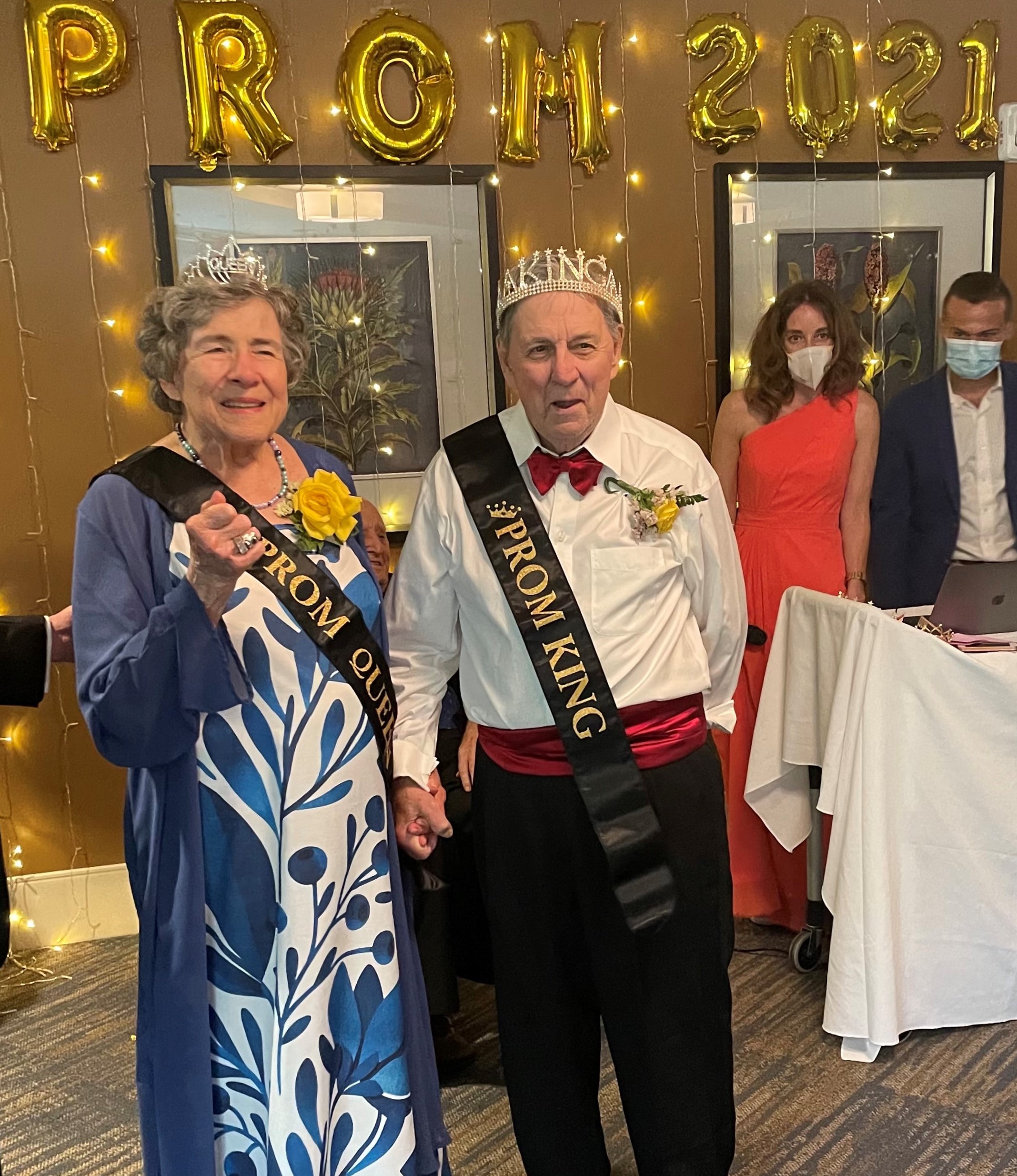 Alexandria, VA – The Silverado Prom has a new queen, and it happens to be Shirley Parks, the mother of Alexandria's very own Clerk of Court, Greg Parks!
Shirley Parks is a resident of Silverado Alexandria Memory Care Community. She has Alzheimer's. A former state senator in Nebraska, Shirley was moved to Silverado in 2019, the year they opened.
"Silverado does a lot of these types of events," explains Greg. "They have in the past had a campfire night where they had s'mores; Safari Saturdays to talk about wildlife in Africa with photos from actual safaris; there is live music frequently; there is painting. They do lots of educational, social, and fun events to enrich the residents."
The latest enrichment event was the prom. "It was just like a high school prom," Greg reminisces. "Every resident could bring a date, they decorated the common room, there was an area for photos, they had a DJ. Everybody dressed up."
In preparation for the prom, families were constantly toting in formal wear for the residents. "With the help of my sister, we got a dress for my mother, and my husband and I put on tuxedos because that is what you wear to a prom!"
Held in the mid-afternoon, the Silverado Prom was a flashback for many of those in attendance or perhaps a foreshadowing for some of the guests. From residents to spouses to children to grandchildren, all ages enjoyed the mixture of music from multiple decades. Silverado provided corsages and boutonnieres, and refreshments were provided for residents only (to uphold Silverado's Covid-19 standards). While masks were worn throughout the night, smiles were shared by all.
The Prom went off without a hitch because Silverado has been super careful with all the protocols—all residents and staff are vaccinated. The Silverado staff even joined in on the occasion, dressing up and busting out some dance moves of their own.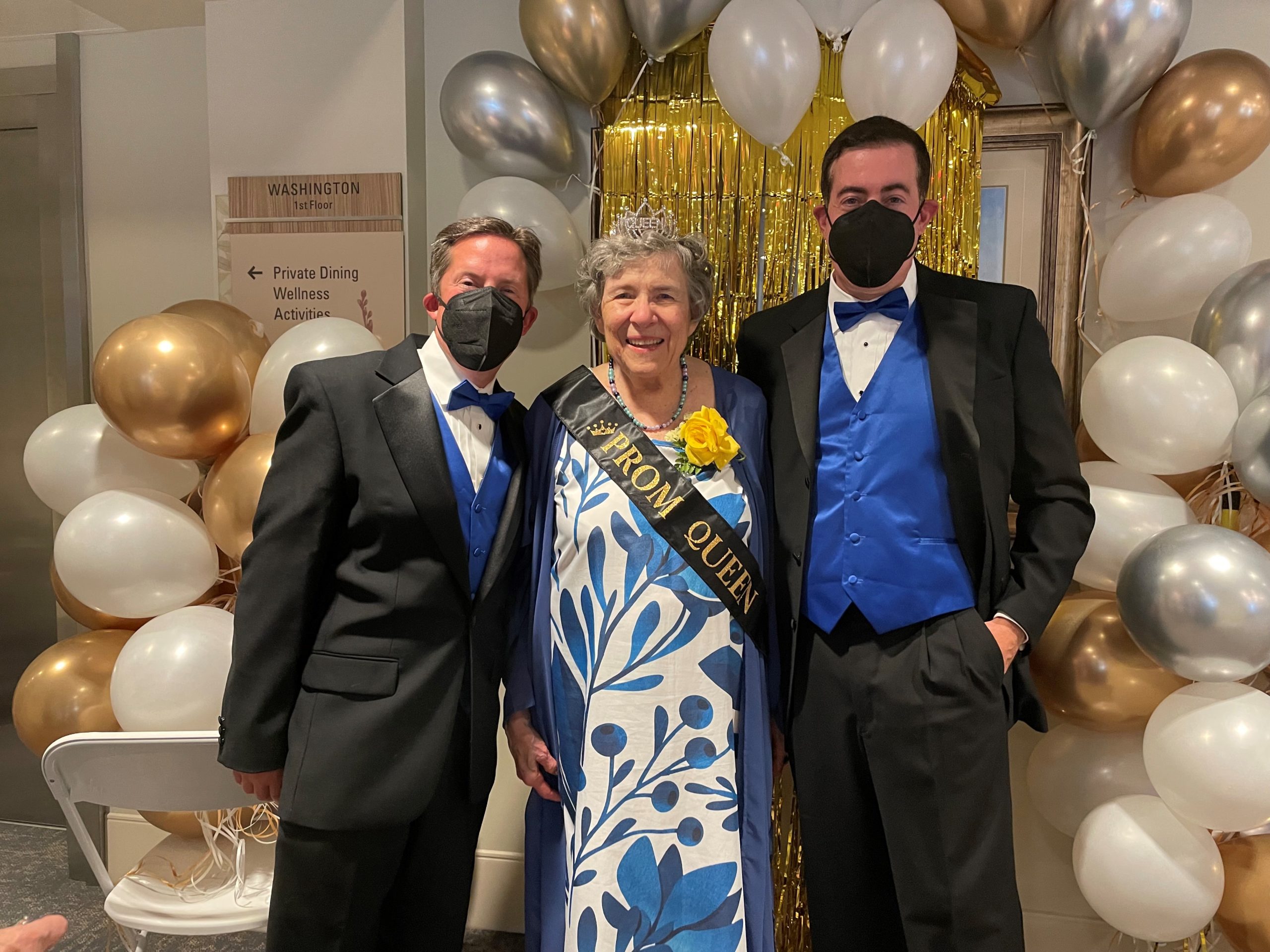 Greg notes his admiration for the quality of staff at Silverado, "I'm just really impressed with the staff. They are super nice, they care, they engage the residents, they are creative, they do lots of exercises to slow down these diseases."
Alzheimer's, dementia, and any mental disease is unbearable to go through or watch a loved one go through. Silverado provides the utmost care, attention, patience, support, and expertise to address the gradual deterioration these diseases trigger and hopefully slow down their progression.
Each program the facility offers is specifically designed with the help of medical experts in these diseases. "If people are more engaged mentally, there is evidence that that slows down the progression of the disease, and Silverado is engaging the residents constantly, every single day," states Greg.
Greg visits Shirley every 3-4 days, but his visit on Prom night was more memorable than usual because Shirley was crowned Prom Queen! "She was tickled," he says of his mother. "Mother is still very functional and outgoing. Since she has been there since 2019, she has helped a lot of the residents in acclimating to living there. So I was not surprised." Shirley's tiara now sits in her room, a symbol of a wonderful evening, with wonderful people, at a wonderful facility.
ICYMI: Captivating Artwork and Architecture Command Center Stage in Hollin Hills House & Garden Tour