Z-Oneology
Three Cheers for the Wine Festival Warriors
Working the Wine Road Less Travelled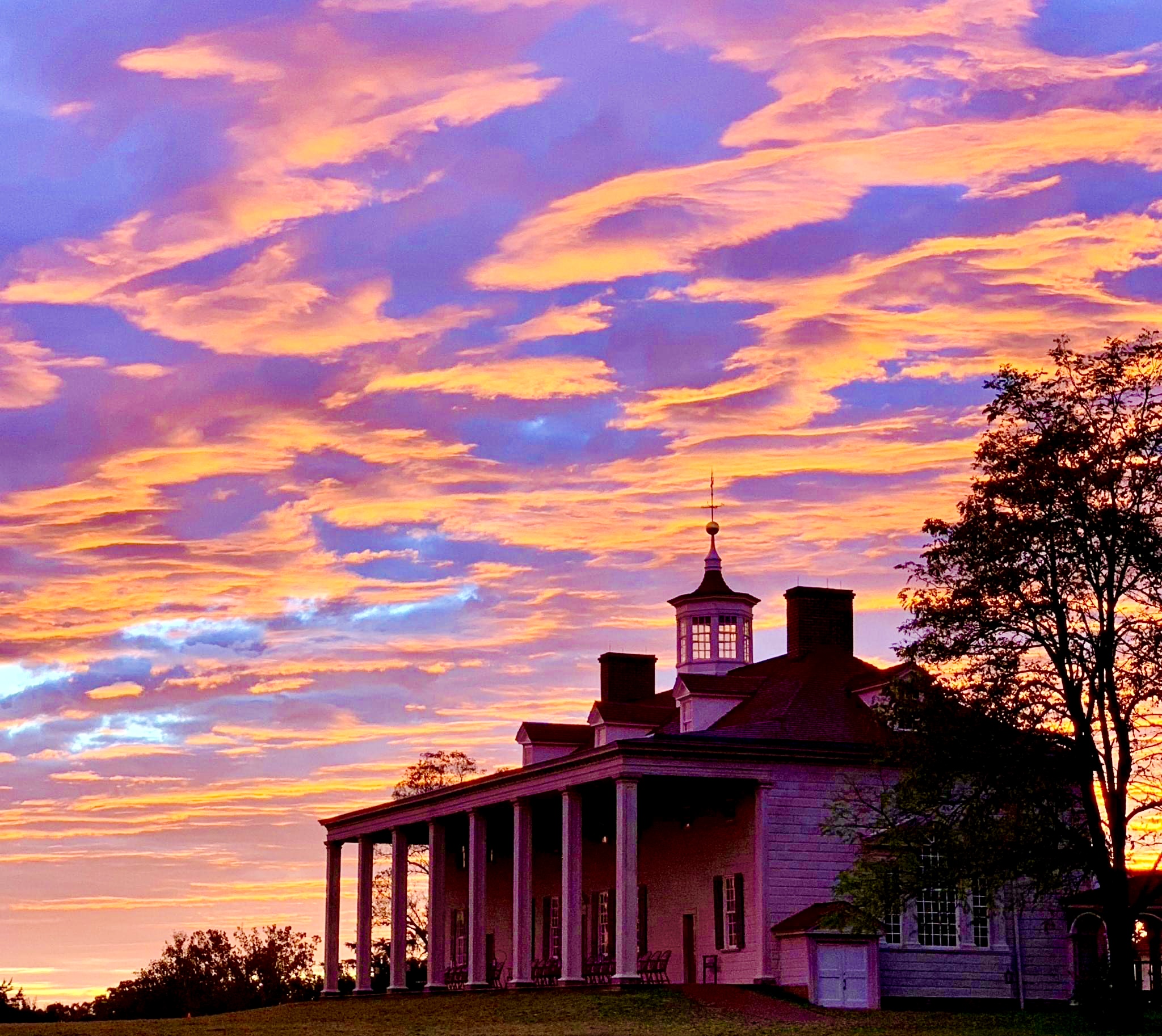 Alexandria, VA – Z~ Oenology has spent the last 23 years cultivating a passionate appreciation for Virginia wine. Virginia vintners have come a long way since The Godfather of Old Dominion Oenology, the late Dennis Horton, first planted those Viognier vines back in 1983 at his small Madison County home. One of the original Rhône Rangers dedicated to promoting American Rhône varietals, Dennis expanded to a 55-acre Orange County vineyard in 1988 with longtime business partner Joan Bieda, adding the ubiquitous Norton grape to the Virginia varietal vinescape.
Over the years, I have come to know many courageous pioneers in the industry: owners, managers, staff, somms, club members, and countless devotees of Virginia viticulture. I've planted Viognier vines, performed cellar checks on racked wines for bottling, created several personal blends, and now I have worked a wine festival.
A wine festival is one of the best ways to discover new wineries and vineyards to explore beyond the NoVa trails. Twenty years ago, the Vintage Virginia Wine Festival held at Bull Run Regional Park in Centreville was an intimate, laid-back wine-tasting experience. Owners were on hand to pitch their Petit Verdot. Bluegrass bands entertained. Hay bales provided seating. Lines were short. Even nonexistent.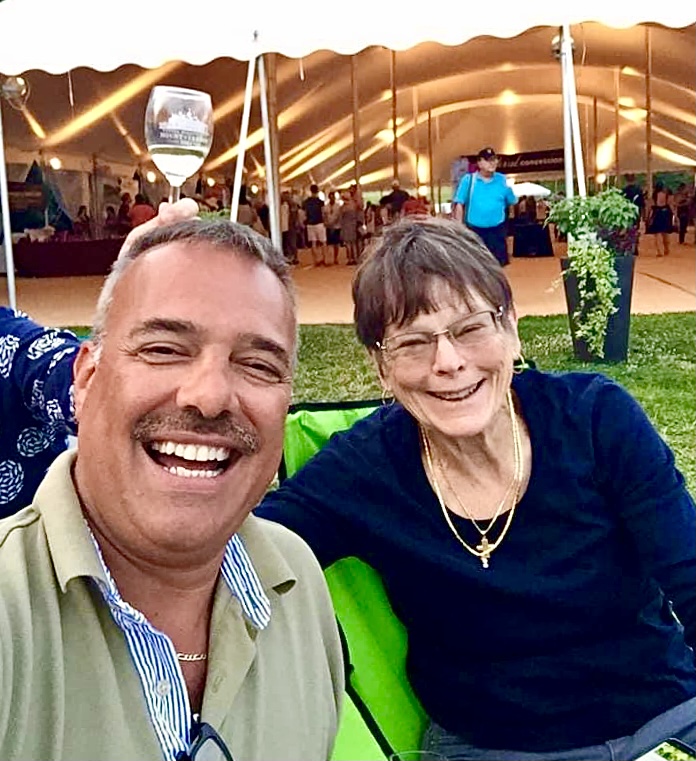 The event has grown considerably over two decades. So much that it can overwhelm newcomers and discourage novice wine enthusiasts from venturing beyond Beltway offerings. In our own Alexandria backyard, the premier Mount Vernon Wine Festival and Sunset Tour is a local de rigeur oenological tradition, a reliable representation of the caliber and breadth of Virginia winemaking varietals. Festivals are held in the spring (May) and fall (October), with a summer event held in July this year after missing the 2020 spring festival due to COVID.
I worked the Mount Vernon Festival and can report that pouring wine at a festival is nonstop work, coupled with endless discussion about the wine and winemakers. It's not necessary to be a winemaker, professional sommelier, or wine expert to staff a festival. But you need to enjoy wine and be enthusiastic about the winery you are representing.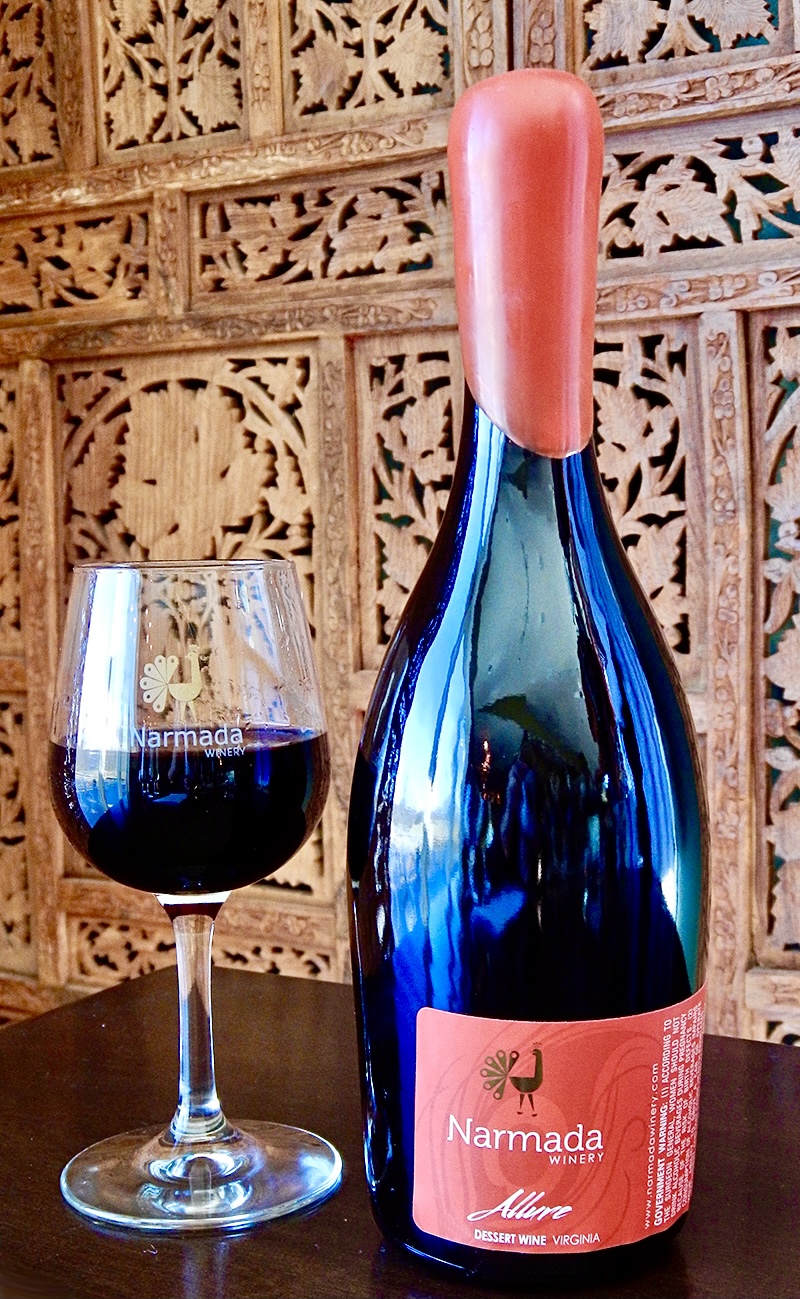 It was easy to be a cheerleader for Narmada Vineyards in Amissville. Just 51.95 miles west of Alexandria, Narmada is in the Rappahannock Wine Trail Group, situated on Route 211 along with several top-flight vineyards comprising the wine-lovers gateway to Shenandoah National Park.
You can see mountains within park boundaries from the winery. The iconic Old Rag makes appearances as you travel southwest along the country highway. The majestic mountain beckons, yet even the most determined leaf peeper drawn to the autumn splendor of Skyline Drive can be sidelined by the Narmada OPEN flag waving travelers into the vineyard.
If you aren't a foliage fanatic or are short on wine tasting time, the Mount Vernon Fall Festival is the place to be. At the winery, Narmada has an extensive wine list offering 20 different labels. For the Mount Vernon Wine Festival, guests tasted one white, three reds, and a dessert wine. Dessert wines have become immensely popular, winning the prestigious Virginia Governor's Cup two years in a row.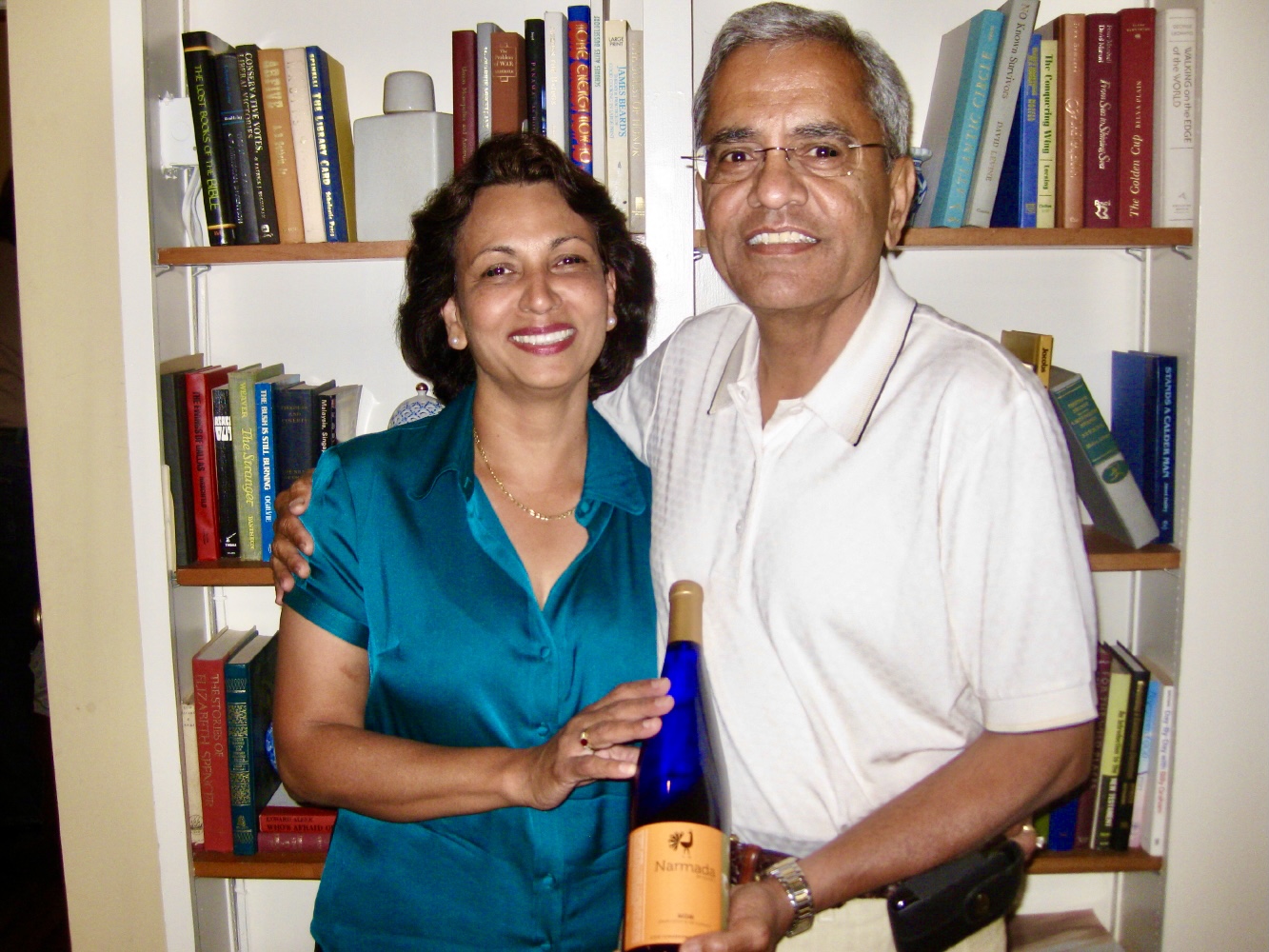 Narmada's signature white blend is the Mom, named as a tribute to Narmada founder Pandit Patil's late mother. Co-owner and winemaker Sudha Patil says her mother-in-law sold her gold and jewels to enable Pandit to come to America for his education and to make a mark on the world.
The 2019 Mom was poured ice-cold, evoking notes of pineapple, coconut, and passion fruit. The steel-fermented Vidal Blanc and Chardonel (sometimes including a splash of Traminette for balanced structure and a soupçon of sweetness) is a big seller around the second week of May. It's a bright, crisp, satisfying companion to a light summer meal. It's equally quaffable on a warm, sultry October day when perfectly chilled and perhaps paired with spicier fare. But while Mom can make anything spicy nice, it holds its own against a classic charcuterie board or antipasto spread too.
Indian dishes complement the kitchen menu and light fare at Narmada. If you are lucky to visit the winery when Sudha has made her incomparable (secret family recipe) papri chaat, order a glass or bottle of the 2017 Dream, 100% Traminette (a hybrid cross of German Gewürztraminer and French American hybrid Joannes Seyve 23.416), a springtime, floral bouquet to the nose, light citrus, more lemony on the palate. Or try the 2019 Viognier, a diverting take on the signature white grape of Virginia.
If red is your preferred vine, the fruit-forward Meritage-blend Mèlange, a Gold Medal winner at the TexSom International Wine and Spirits Awards, is comprised of mostly Cabernet Sauvignon. Its deep purple color indicates jammy blackberry and currant, yielding to the prevailing round tannins and seasoned spicy, earthy oakiness. Perfect for pasta bolognese or arrabbiata, hearty soups and stews, and especially Texas Hill Country barbecue.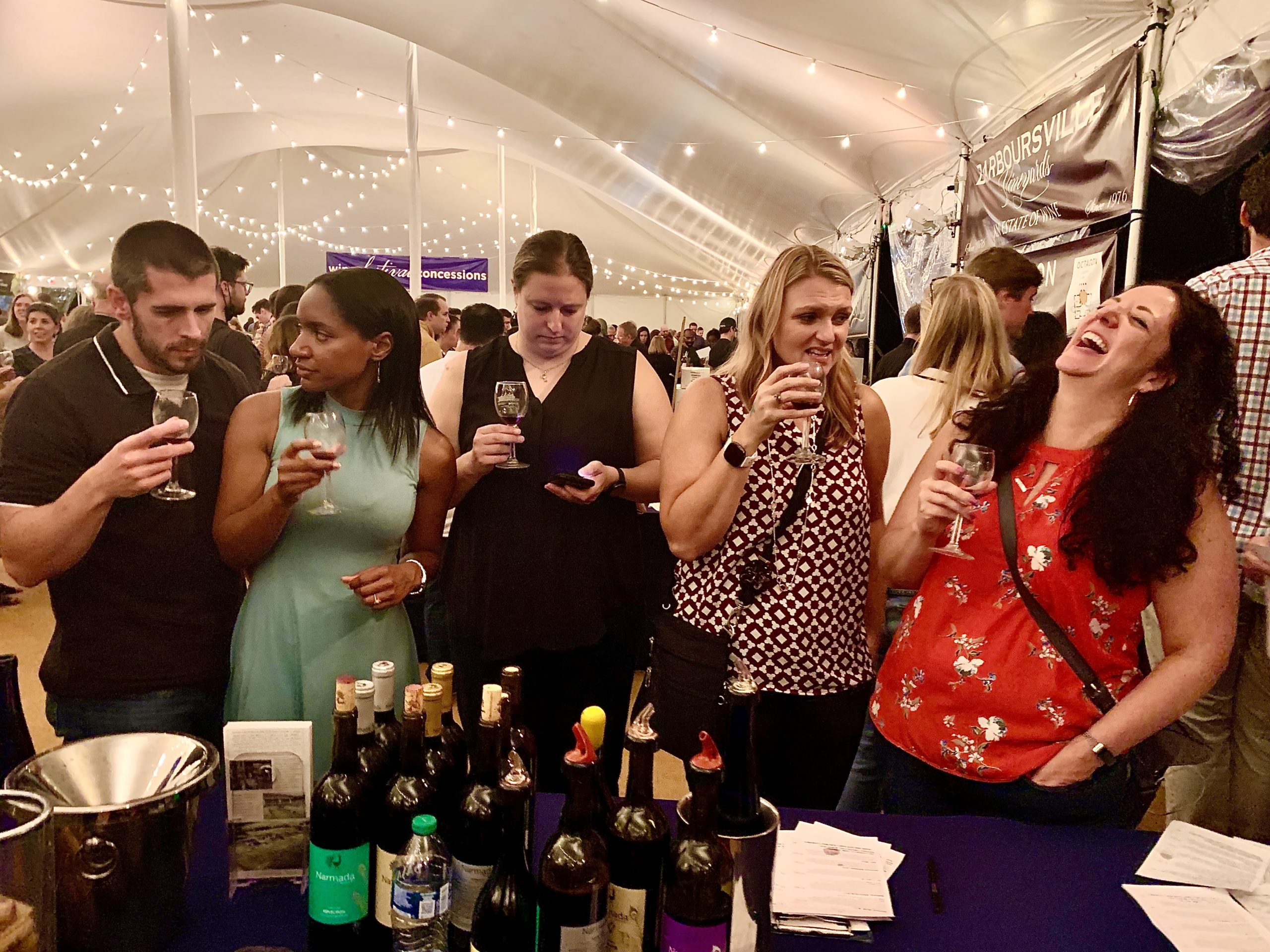 At Mount Vernon last month, the reds Narmada presented were an array of the expertly curated wines almost two decades of Virginia viticulture has perfected. Tasting order went Reflection, Yash-Vir, Midnight, and Allure. Reflection is the driest of the three Chambourcin-style labels, including the Gulabi Rosé, which wasn't tasted. Full-bodied with a smooth finish, dancing with notes of black cherry, blackberry, and plum, Reflection is a must for the holiday table. It will satisfy even the most obstinate "I only drink French red," the "I brought a California Cab" guest, or the biggest Big Tuscan trumpeter.
If your guests live by Bordeaux then the Yash-Vir is a persuasive substitution. It's a classic Bordeaux-style blend of Cabernet Sauvignon, Cabernet Franc, Merlot (yes, Merlot!), and Petit Verdot. Well-structured, balanced, with restrained acidity and tannins, this winner of gold and silver medals from the Finger Lakes to San Francisco is understated yet decadently aromatic – cedar, oak, a suggestion of scented boxwood and pine. The 2010 Yash-Vir was a Case Wine Gold Medal top-12 Virginia wine at the 2015 Virginia Governor's Cup competition.
After Yash-Vir came Midnight, consisting of 100 percent Narmada Vineyards Chambourcin grapes aged in French and American oak. The lush, dark, deep-purple grape color and fruit reminiscent of Concord and Norton grapes is aptly named Midnight. Notes of elusive boysenberry and cranberry married to the more mundane strawberry and cherry are elevated by an unexpected woodsy, kicky spiciness that's wonderfully compatible with Tex-Mex heat and fiery Indian street foods.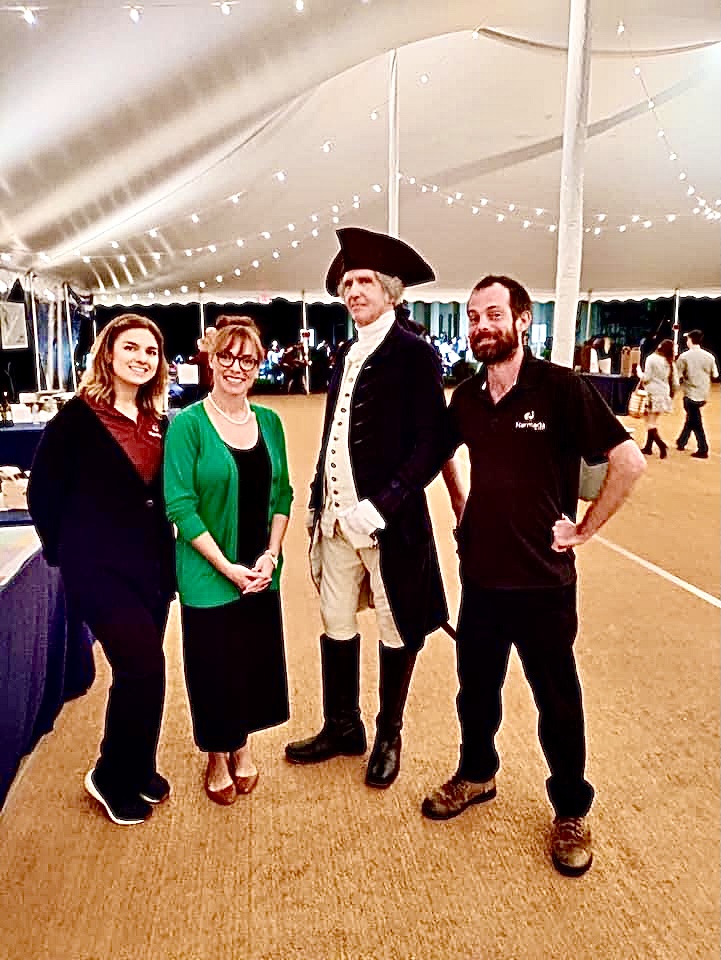 The finale of the tasting was the fortified port-style dessert wine Allure. And alluring it proved to be. Allure comes from 80% Chambourcin, 10% Tannat, and 10 % Cabernet Sauvignon varietals. Due to the extended barrel aging, the alcohol content climbs to 19 percent. With amber and topaz jewel tones, perfumes of aged whiskey and Bourbon, and velvety consistency, Allure sold better than any other wine. Perfect with dessert, after dessert, or as dessert unto itself, Allure is the bomb.
Mount Vernon won't host another Wine Festival and Sunset Tour until spring 2022. However, they schedule beer dinners, often with Alexandria's own Port City Brewing Company, and whiskey-tasting events throughout the fall and winter. George Washington's Distillery celebrates 255 years of making spirits for the General, who spent 30 years harvesting wheat, corn, and rye for whiskey production at the Gristmill.
In channeling my festival wine-pourer persona, I referenced two characters from the vineyard movie Sideways: Stephanie's insouciant pouring charisma and Maya's elegant waxing Pinot poetic. Maya eloquently explains to the Miles character what inspires her about winemaking and wine tasting in words that reflect my own Z-Oenological reveries:
"I like to think about what was going on the year the grapes were growing; how the sun was shining; if it rained. I like to think about all the people who tended and picked the grapes. And If it's an old wine, how many of them must be dead by now. I like how wine continues to evolve, like if I opened a bottle today, it would taste different than if I'd opened it on any other day because a bottle of wine is actually alive. And it's constantly evolving, gaining complexity. Until it peaks. And it begins its steady, inevitable decline. And it tastes so [#%@&] good." For this Z~Oenologist and the thousands of wine-loving guests at Mount Vernon, it certainly does!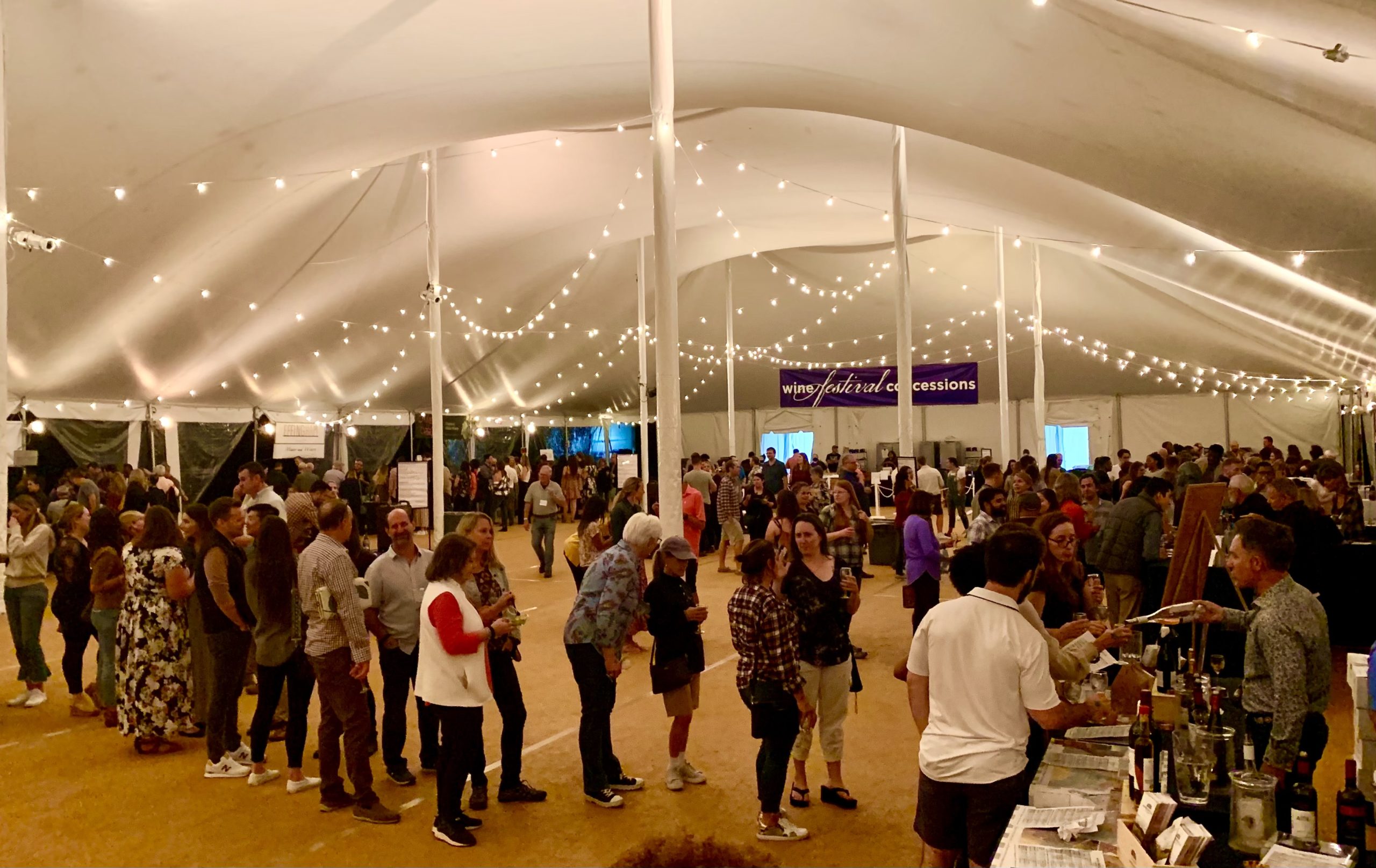 It was my pleasure and privilege to pour for Narmada at the Mount Vernon Wine Festival. The guests were patient, kind, and receptive to trying new wines. Narmada Manager Alexander (Al) Dias kept the tasting table and sales flowing so smoothly that my three hours flew by.
The peacock is the symbol of the winery. Symbolic of re-growth and rejuvenation, honor, integrity, and respect, peacocks serve as the perfect brand for vineyard agritourism and the incredible, die-hard team that makes Narmada a veritable vineyard nirvana.
Narmada Vineyards is located at 43 Narmada Lane, Amissville, VA 20106, 540-937-8215. Hours: Saturday 11:00 am ~ 7:00 pm, Sunday, Monday, Thursday, and Friday; 11:00 am ~ 5:00 pm
When you visit, tell them Kelly and Z~Oenology sent you! Cheers, Happy Thanksgiving, and drink what makes you smile!