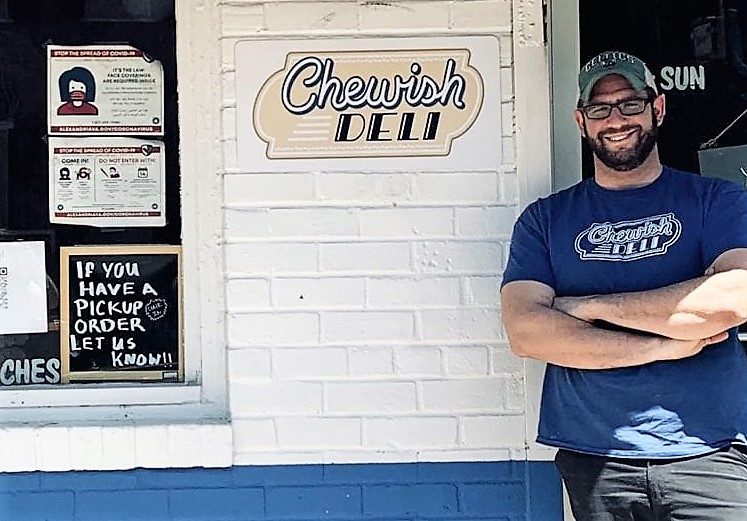 ALEXANDRIA, VA – In paperwork filed with the City, Chewish Deli owner Gregg Linzey is requesting a permit to open up a store at 1640 King Street, which was most recently the site of a Dunkin Donuts.
Gregg's bagel-making business started when he moved to the area from New Hampshire and looked around for an authentic Jewish bagel.  He couldn;t find one so got to work learning how to mak ethem.
He started as a pop up in Old Town in 2018 as "Genuine Water Bagels" and they were such a hit that he bought a food truck and christened the business, The Chewish Deli.
The truck launched right at the beginning of the COVID pandemic. During the height of the shutdowns and stay-at-home orders, the Chewish Deli found a strong fan base inside the online Facebook group called Alexandria Curbside Dining.
Gregg was so backed up with orders at one point that some folks waited up to two weeks and were still happy. In May 2020, Jennifer Beach posted, "Just got my first The Chewish Deli bagel delivery! These bagels are legit! I placed the order almost two weeks ago and this was the first slot open, so I grabbed it, ordered, paid online, and sort of forgot about it until a reminder popped up on my calendar this morning. What a great surprise– these were worth the wait!"
As Linzey said in an interview with Zebra in June 2021,  "That amazing support led to us finding a brick and mortar location in the old Pendleton Carry Out Company space at 807 Pendleton St."
Now if all goes well, it looks like they are expanding over to King Street, the main drag in Old Town, and will be nearer the Metro and commuter crowd. The new spot has a permit for 18 seats and the permit application requests no changes.
The Chewish Deli offers bagels, coffee and both breakfast and lunch sandwiches. The hand-rolled, NY style bagels are available in singles ($2.00 each), half dozen or baker's dozen…, and don't forget the schmear!
MORE ABOUT THE CHEWISH DELI: From Finance to Bagels, Gregg Linzey and the Chewish Deli