Zebra Misc
Washington's Iconic National Cherry Blossom Festivities Return, March 20 – April 17, 2022
Mayor Muriel Bowser, National Park Service, and other partners joined Festival leadership to announce the return of in-person events; revealed 2022 official artwork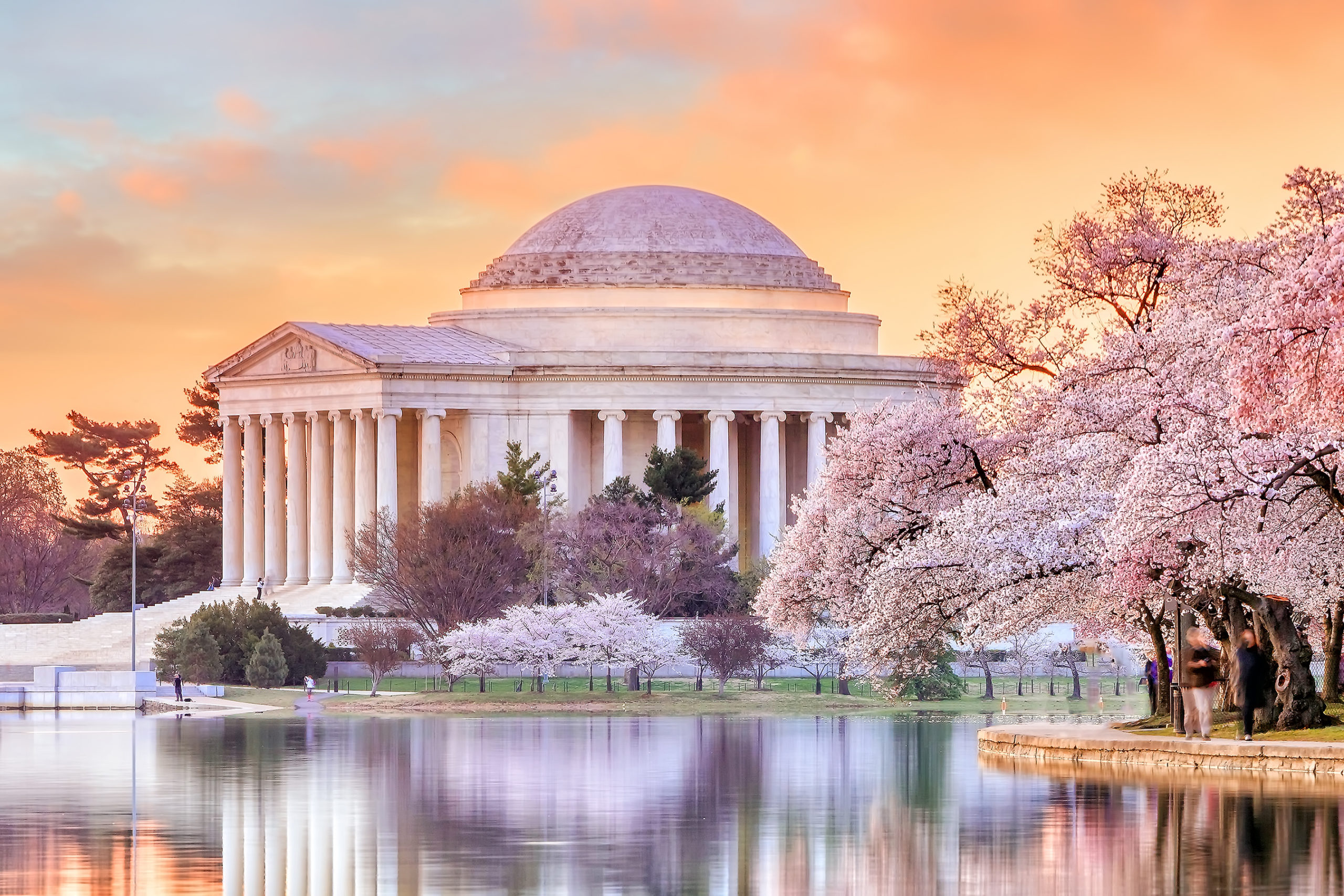 Washington, D.C. [Nov. 9, 2021] — Today, the National Cherry Blossom Festival, in partnership with Washington, D.C. officials, Festival sponsors, and stakeholders, gathered at The Hamilton Live to announce plans for the return of its iconic springtime celebration and revealed 2022 official artwork crafted by local artist Lea Craigie-Marshall.
With only 131 days until spring, Festival President Diana Mayhew announced that the Festival's signature events will be back in person March 20 – April 17, 2022.
Looking forward to the renewal of spring, the Festival is working with the Washington, D.C. mayor's office, the National Park Service, and other officials, partners, and stakeholders to plan a variety of safe, entertaining, and fun programming for the 2021 Festival that will unite communities, help support economic recovery, and embrace springtime in the District.
"DC is open and that means that the National Cherry Blossom Festival is back in person," declared Washington D.C. Mayor Muriel Bowser. "In neighborhoods across DC, the cherry blossoms have been a bright spot during the past two years – a beautiful reminder of hope and renewal. Now, we can't wait to welcome visitors back to Washington, DC to experience the full in-person 2022 National Cherry Blossom Festival and all that DC has to offer."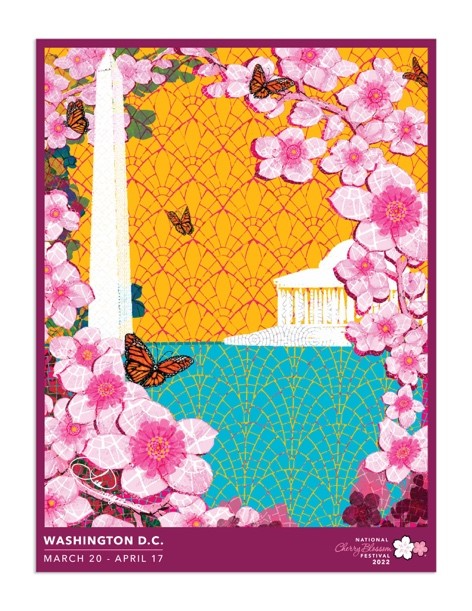 Additionally, the 2022 official artwork (pictured) by artist Lea Craigie-Marshall was unveiled during the event. The piece is inspired by love and respect for the environment and showcases monarch butterflies amongst a plethora of blooms. "Both the blossoms and the monarchs are precious and fleeting, and it's important to protect them both for future generations to enjoy," said Lea Craigie-Marshall. "I wanted to include the Washington Monument and the Jefferson Memorial as well, two of my favorites and really an iconic part of the Festival."
The 2022 Commemorative Poster featuring the artwork is now available for purchase.
The Festival also announced the return of Leadership Circle partners, Amazon and Events DC, as lead sponsors for the 2022 Festival. As a longtime partner of the Festival, Events DC is proud to be the presenting sponsor of the 2022 National Cherry Blossom Parade once again on Constitution Avenue," said Greg O'Dell, President and Chief Executive Officer, Events DC. "This upcoming celebration of spring will be a testament to the power of what it means to come together, revitalizing a tradition that people look forward to every year."
"Amazon is proud to support the National Cherry Blossom Festival for the second year in a row. As our company invests in and expands across the region, we are committed to being a good neighbor and community partner," said Brian Huseman, Vice President of Public Policy for Amazon. "The National Cherry Blossom Festival brings our region and visitors from around the world together to celebrate one of the most unique events in the country, and we are excited to see visitors return for the 2022 festival."
About Lea Craigie-Marshall, 2022 Official Artist   
A native of Falls Church, Virginia, Lea showed talent from an early age. She spent her childhood taking various art classes with her artist grandmother in the mountains of West Virginia. Lea also found inspiration at home in her mother, also an artist. These strong female influences, as well as visiting her beloved first hometown of Washington, DC on weekends served as powerful forces to mold Lea into the dynamic and compelling artist she is today.
Lea is a multidisciplinary, contemporary artist working with various mediums and techniques. She was first connected with the National Cherry Blossom Festival as one of 25 artists selected to paint a 2021 Art in Bloom Giant Cherry Blossom Sculpture titled "Crane's Dance" which now permanently resides at Ward Memorial AME Church in Ward 7.
To view more of Lea's work, visit her social media pages on Instagram and Facebook.
ABOUT NATIONAL CHERRY BLOSSOM FESTIVAL
The National Cherry Blossom Festival is one of the world's great celebrations of spring. Hosted from March 20 – April 17, the 2022 Festival will include four weeks of events featuring diverse and creative programming that promotes traditional and contemporary arts and culture, natural beauty, and community spirit.
Visit NationalCherryBlossomFestival.org or call 877.44.BLOOM for more information, and check out Facebook (@CherryBlossomFestival), Instagram (@CherryBlossFest), Twitter (@CherryBlossFest), and YouTube (@NationalCherryBlossomFestivalDC).
TRENDING IN ALEXANDRIA: Hank's Oyster Bar Moving to North Old Town